Can you use a fire pit on your balcony? – The short answer is yes you can, although you may want to check with your HOA or rental agreement, along with local ordinances. With any sort of fire, you will want to follow some of the safety tips and preparatory tasks listed below.
Check with your HOA or rental agreement. Always follow local ordinances and laws.
Follow the usual safety precautions
Burn only clean, dry hardwoods – kiln-dried preferred
Be aware of your position relative to the rest of the community and which direction the smoke will blow
If an open fire is not allowed, a gas-powered fire pit may be
Check with Your HOA or Rental Agreement & Local Laws
Each contract or agreement varies greatly depending on the neighborhood and geographical location. Areas in the western part of the United States that do not see much rain are often stricter than states sitting on the East coast.
Areas that have a drought season will implement burn bans, which do not allow the use of open, wood-burning fires. Even when used on an apartment or condo balcony, embers can be carried by the wind to drier areas where a fire can start.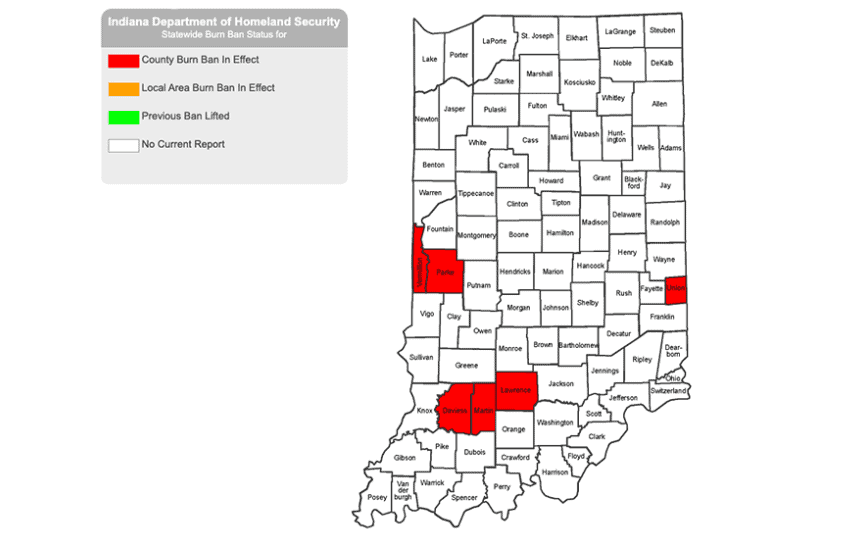 This is what Indiana's burn ban map looks like. To find out whether or not your county is under a burn ban, you can usually Google "[State] + burn ban" or by "[County] [State] + burn ban." For example, Indiana has a map that is regularly updated to show which counties are or aren't under a burn ban.
Some states, like Arizona, have different stages of restrictions. Be sure to verify that your area is not under any restrictions and you are free to do so in accordance with your HOA or rental contract.
Know Your Position and the Direction of the Smoke
While it may be legal, per se, that doesn't mean it'll be desired by your neighbors. Handle it how you will, but it's a good idea to know which direction the smoke will be blowing and to check with your neighbors to know if they'll be out on their balcony for the evening.
Some balconies may be stacked right on top of each other, so know whether you have enough space to safely use a fire pit. Excessive heat over time can weaken the strength of your balcony or the ones around yours. The Landscaping Network cites that around 7 feet of space in all directions of the fire pit is a good rule of thumb.
Burn Only Clean, Dry Hardwoods
At the minimum, you should be burning clean, dry, barkless, hardwoods. Kiln-dried wood is preferred if you have access to it. Any softwoods will create more smoke due to their higher sap content. The soot that is created from this sap can leave a tar-like residue on surrounding structures.
Hardwoods are preferred for burning hotter, longer, and cleaner. Remove the bark if you can, since that'll help to cut down on any soot that may be created.
Kiln-dried wood is more expensive, but it typically burns the cleanest and you can store it indoors. As the name implies, it is dried in a kiln, aka a giant oven. Any molds, funguses, insects, or anything else you wouldn't want near your apartment are killed off before it even makes it to the store.
Consider a Gas Fire Pit
If a wood-burning fire pit is not allowed on your condo or apartment balcony, check to see if a gas grill is. If you can use a propane-powered grill, then you can usually use a gas-powered fire pit, since it is categorized as an appliance, not a fire pit.
Follow Normal Safety Considerations
Keep any flammable sources at least 7 feet away from the fire
Keep a fire extinguisher and bucket of water close by
Make use of a spark shield or ember mat to keep the fire contained
The National Fire Protection Association and ReadyWV offer some additional safety tips.
Do not use any flammable materials or liquids to light or relight a fire
Keep children and pets far away from the fire
Check the direction of the wind before lighting the fire
Do not burn anything other than your seasoned hardwoods
Keep the fire smaller, since it is easier to control
What is the NFPA?
The NFPA is a global, nonprofit organization that is devoted to eliminating death, injury, property, and economic loss due to fire, electrical, and related hazards. They are an information hub that helps to educate and distribute information on codes, standards, research, and much more. More can be learned about the NFPA through their site here.
Why Use a Gas-Powered Fire Pit?
As already touched on, a gas fire pit is an alternative if a wood-burning fire pit is not allowed. However, there are a few other factors you may want to consider:
Gas fire pits do not require wood to be stored anywhere
Starting a fire is easy by just allowing the propane to flow and hitting the starter
The fire is quickly extinguished by turning off the flow of propane
The size of the fire remains constant without smoke
For some models, the fire is elevated higher from the floor
No need to worry about the fire popping or embers jumping
We Recommend the BALI Outdoors Gas Fire Pit Table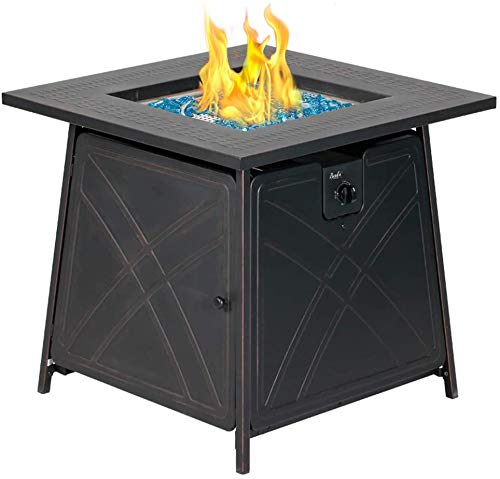 A wood-burning fire pit is nice, but a gas-powered model may be more practical. The fire pit table mentioned above does take some assembly, but is incredibly convenient to use after it's put together.
If you're set on using a wood-burning fire pit, you may want to consider a smokeless option. These fire pits burn more efficiently while producing less smoke. Something like Solo Stove's Campfire model will suffice for making s'mores and hot dogs, while providing just enough heat to keep your feet and legs warm.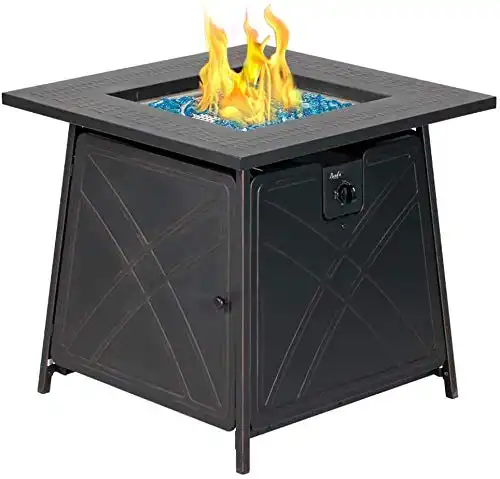 BALI Outdoors Gas Fire Pit Table | Amazon
The edge around the table top of this gas fire pit table is a bonus, you can use it as a place to set a coffee cup or dinner plate, while sitting by the fire on cold morning and evenings.
Buy at Amazon
We earn a commission if you click this link and make a purchase at no additional cost to you.
09/21/2023 01:50 pm GMT
We recommend the Solo Stove Campfire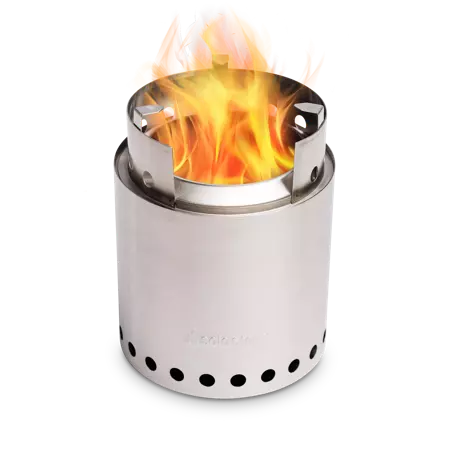 Best Camping Stove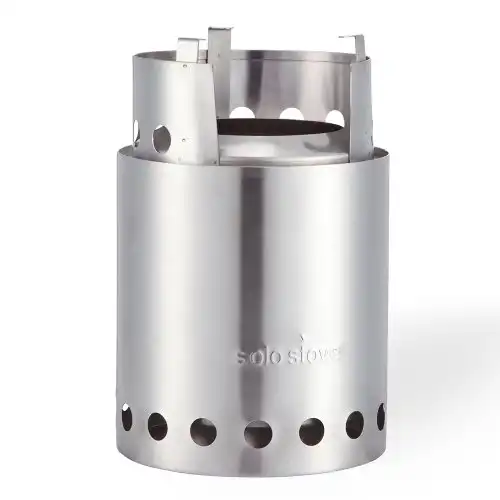 Other Considerations
If you choose to use a wood-burning fire pit, you will need to protect the surface underneath. Especially with a smokeless fire pit, like the Breeo or Solo Stove, the surface underneath gets very hot. A wood or composite deck can be easily damaged with constant exposure to this heat.
Use concrete pavers in addition to a heat shield to dissipate heat and protect the surface underneath.
Leave room for other items in your budget like a cover or roasting sticks.
Know where you'll be buying and storing wood ahead of time.