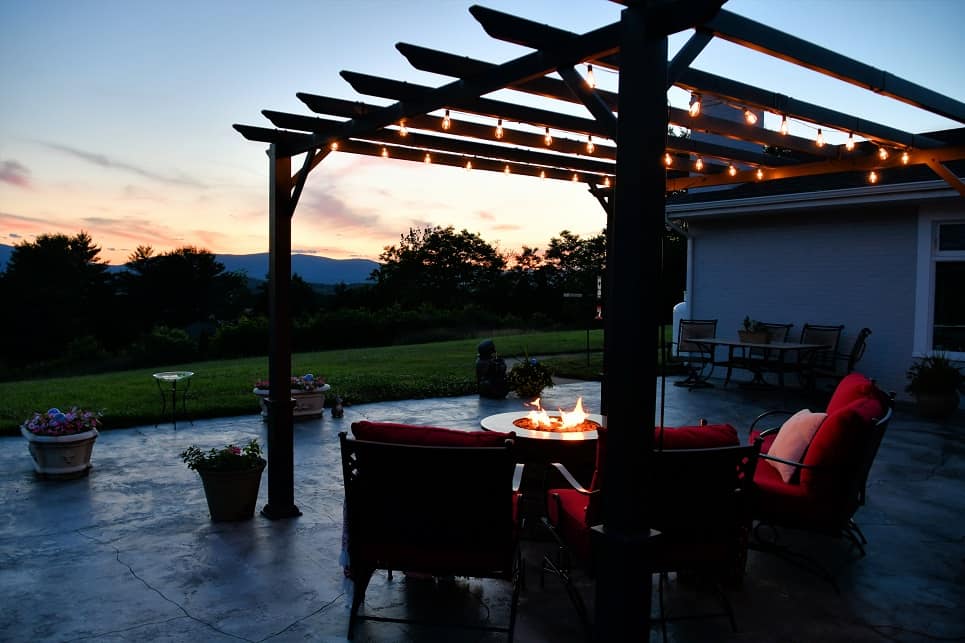 About Us
Your backyard screams potential, no matter how much space you have to work with. If you feel overwhelmed by all of the potentials, don't sweat it; we've been there! 
Turning your backyard into the perfect hangout spot is a fun adventure, but, where should you start? We know that every backyard needs a focal point. Choosing the perfect fit pit to make the focal point in your backyard is one of the best steps you take to get started on revamping your backyard. 
Whether you've never bought a fire pit before or you're thinking about buying your 100th, our team of fire pit experts is here to help you decide between the best fire pits in the world.
Not sure if you're feeling the Breeo Double Flame fire pit or the Biolite fire pit? Our leading experts share their insights into both fire pits, so you can decide which is best for your needs!
Yardiac is here to help you have the yard of your dreams. We know how hard you work and want to help you build an outdoor space that's great for relaxing in, chatting with friends, and roasting weenies on the fire. 
There can be a ton of roadblocks that can slow you down while you're shopping around for everything you need to build your dream escape. That's why we break down everything you need to know before starting your journey. Our leading fire pit experts break down the different types of fire pits, give tips for choosing between traditional vs smokeless fire pits, and choose the best types of wood for your pit. 
We love all fire pits and aim to showcase how to choose the best option, no matter where you're located, your budget, or what fuel you prefer. You can be sure you'll find whatever help you need through our comparisons, reviews, and guides. At Yardiac, we're here to support you!
The Yardiac Way
Our goal is pretty simple. We want you to fall in love with every aspect of your yard! We know how hard you work, so we want to help you build your perfect yard for you to relax and enjoy.
What We Offer To You & Your Yard
We aren't here to give you some generic yard advice. We're all about teaching you the science and art behind building the perfect yard. Our team promises to deliver you all of their best secrets and tricks, with complete honesty.
How We Work
At Yardiac, our team is beyond obsessed with helping you build a yard that you don't feel like you need to escape from. We're dedicated to helping you skip over the pits and accessories that won't work for you, so you can get it right the first time. After reading through our site, you'll have the perfect backyard to hang out with. The only bad news is, you'll likely be asked to host the family reunion every summer.
Our team of experts have been through a frustrating installation (or two) and have a list of tips and tricks they'd love to share with you to make your fireplace installment a breeze. This team is always first in line to try out the latest backyard releases and know by heart which brand of lawn chairs actually hold up in the weather (and which don't).
We dedicate ourselves with a rigorous testing process to help save you time, money, and frustration. No matter what we're reviewing, we take this approach to every single comparison, review, and guide. We want to ensure you have all of the information you need before you buy or try anything new for you.
Some of our reviews require a unique approach to an individual product. However, we do have the same steps we follow to ensure we provide consistent reviews. Here's how we approach our reviews:
The latest and hottest backyard products.
We're always looking around for the latest and hottest backyard products. Whether it's furniture, fire pits, composters, lawn care, or decorations, we order everything ourselves directly from the brand. Then, we (not so patiently) wait for it to arrive at our doorsteps. Once it does, straight to our backyards we go!
We provide honest Information.
While an expert writes the review, they ensure they provide you with the most information possible. Our editorial staff fact-checks all the information the writers too.
We test.
Everything we buy, we test out in our own backyards! Anything that we test out, we make sure to put it through the ringer. We see how everything we review withstands different weather conditions and various levels of usage.
We have the experts.
We only have the person who's testing the product write the review. The expert testing out the product takes note of every single part of their testing process and any problems they run into. They'll record their thoughts and reactions, as well as any process that's been made during the test. In addition, our testers take photos of themselves using the products and updates on progress.
Even if you're not a yard expert now, that doesn't mean you can't be!
We're here to support you with all of the resources you need to fall in love with your backyard.