When shopping for a fire pit to use at your home or cottage, the Solo Stove has earned a remarkable reputation as a trustworthy and high-quality smoke-free pit. But it's not the only option on the market. Many other fire pit alternatives, including a wide range of sizes, stylistic differences, and fuels, may be better suited for your needs.
Since moving into our home a few months ago, my husband and I have put considerable time and attention into setting up the perfect outdoor entertainment space. This includes finding the most comfortable (and functional) fire pit chairs, hanging the ideal lighting to bring the area to life, and finding a functional, high-quality fire pit we can enjoy with our guests. While our first instinct was to purchase a Solo Stove, we ultimately went in a different direction.
This guide will give you a detailed breakdown of your Solo Stove options. We have outlined what you should consider when selecting the best fire pit for your space, including the overall aesthetic of your backyard décor, the size of fire pit needed to accommodate all your guests, the features you value most in a fire pit, and how you intend on using your pit most often. By the end, you will be able to confidently shop for and purchase the best fire pit for you and your home.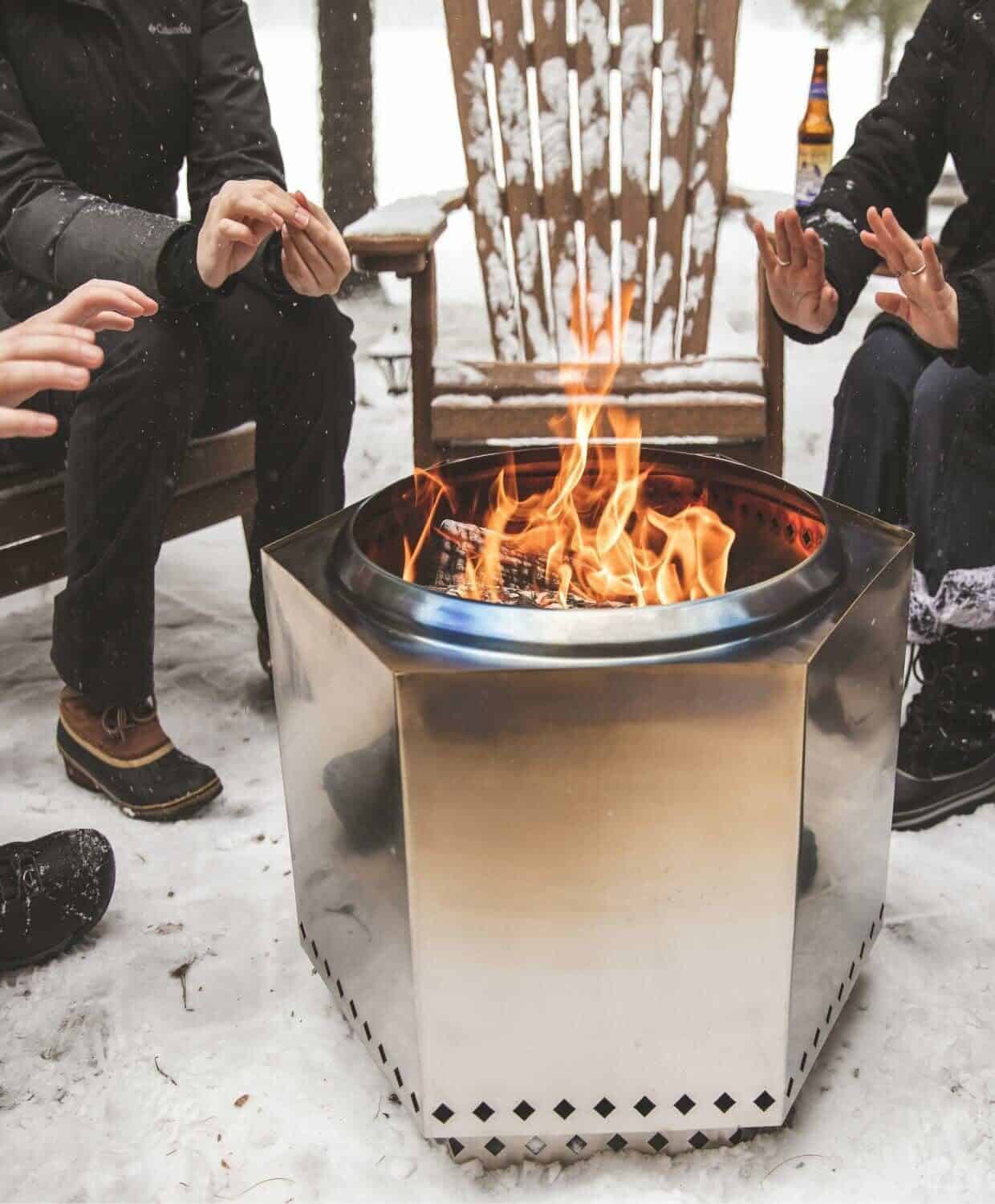 Bottom Line Up Front
Assess your outdoor entertainment area and determine the right size and height of fire pit to accommodate the space. If you have already purchased outdoor seating, this also means determining how high the pit's sides can be before it blocks your view of the crackling fire. Select a fuel source that best suits your lifestyle.
A propane pit may be a better choice for those who want a simple, low-maintenance option, while others may prefer the authentic sight, smell, and sound of a crackling wood fire. There is no "right choice," just the best choice to create your ideal backyard fire experience.
Is It Worth Buying a Smokeless Fire Pit?
During your research, you may have discovered that smokeless fire pits generally come with a higher price tag than a standard fire pit ring. This leads many to ask, are smokeless fire pits worth the added cost? The benefits go beyond allowing you to hang out with your friends and family around the fire without dodging smoke whenever the wind shifts direction.
These fire pits are carefully designed to promote proper airflow into and out of the bowl where the fire is built. This reduces smoke but also allows the fire to burn more effectively by allowing for complete burning. In doing this, you reduce the heat needed, minimize your environmental impact, and still enjoy the experience of watching those mesmerizing flames.
They also protect your fire from the wind using their taller double wall design, allowing it to keep burning in less-than-ideal weather conditions and preventing embers from being blown across your yard. The fires themselves pop and spit less than traditional fires, plus most smokeless fire pits come with a spark guard for added security.
Features to Consider
There are a few essential considerations when shopping for the best smokeless fire pit for your backyard and outdoor entertaining needs. This includes the following:
Space available in your yard or entertaining area
Size of the pit
Fuel options
Budget
Style
Portability
Ease of cleaning
Ensure that you choose a fire pit that will allow you to embrace your favorite outdoor activities. For example, if you are an outdoor grilling enthusiast, you will need to find a fire pit large enough for grilling with either an included grill grate or the ability to combine it with a grate effectively. You should also consider safety features, especially if you share your home with children or pets.
After careful consideration, we have chosen the following smokeless fire pit options that we believe will meet the needs of any lifestyle.
Best Solo Stove Alternatives for Your Backyard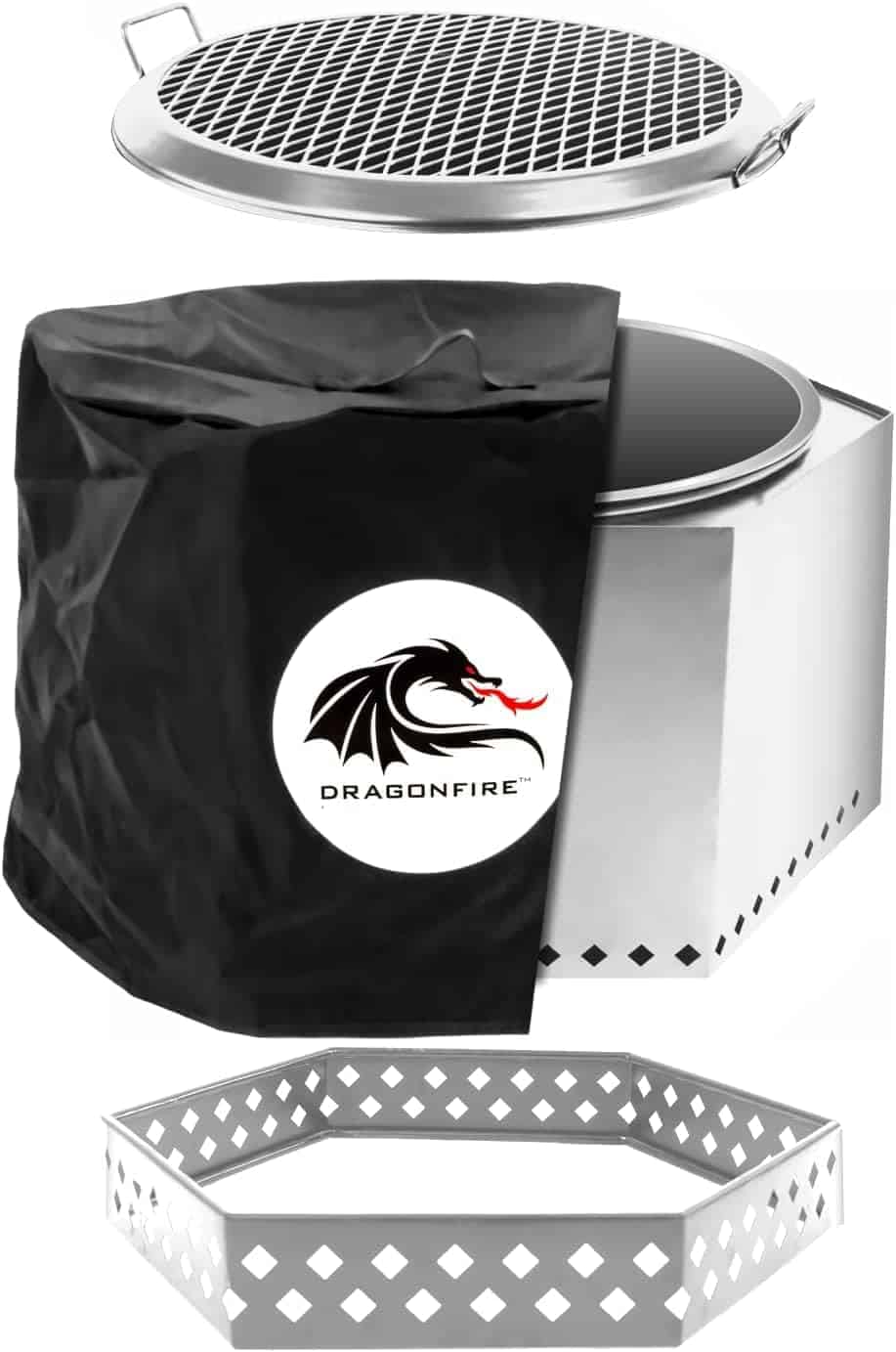 Considering my husband's love of outdoor cooking, we prioritized finding a fire pit for our property that would allow optimal grilling opportunities. We explored many different options and ultimately settled on this pit from Dragonfire. Its 23.5-inch diameter provided significant space for grilling on top of the flames. The included grill grate fits securely on top of the pit, creating a secure surface for cooking anything from vegetables and kabobs to a top sirloin steak.
The large size of the pit allows it to accommodate most average-sized logs of wood, although any oversized pieces will still need to be cut down further. It burns up, not out, meaning that you will enjoy tall flames, but the exterior of the pit won't become overly hot, making it a safer choice for households with children or pets. However, this also reduces the heat you will feel when sitting around the fire.
We only had one complaint about it, which wasn't related to the pit itself. Instead, our issues revolved around the claimed "waterproof" cover provided with the pit. We quickly learned that it did possess water-resistant properties but couldn't be trusted to fully protect the pit during heavier rainfall. Luckily, the pit only weighs 35 lbs., making it feasible to move it into a sheltered area like a garage or shed between uses to protect it from the elements.
| | |
| --- | --- |
| Pros | Cons |
| Includes a grill grate designed to fit securely on the top of the pit to prevent slipping | Cleaning out ash requires lifting and dumping the pit, which can be challenging for some |
| Designed to be lightweight considering its size, making it feasible to transport the pit to the campground or cottage | Steel exterior does show discoloration after use, making it look "used" faster |
| Large pit bowl can accommodate logs up to 16 inches long | Cover is stated to be waterproof but doesn't appear to offer complete protection |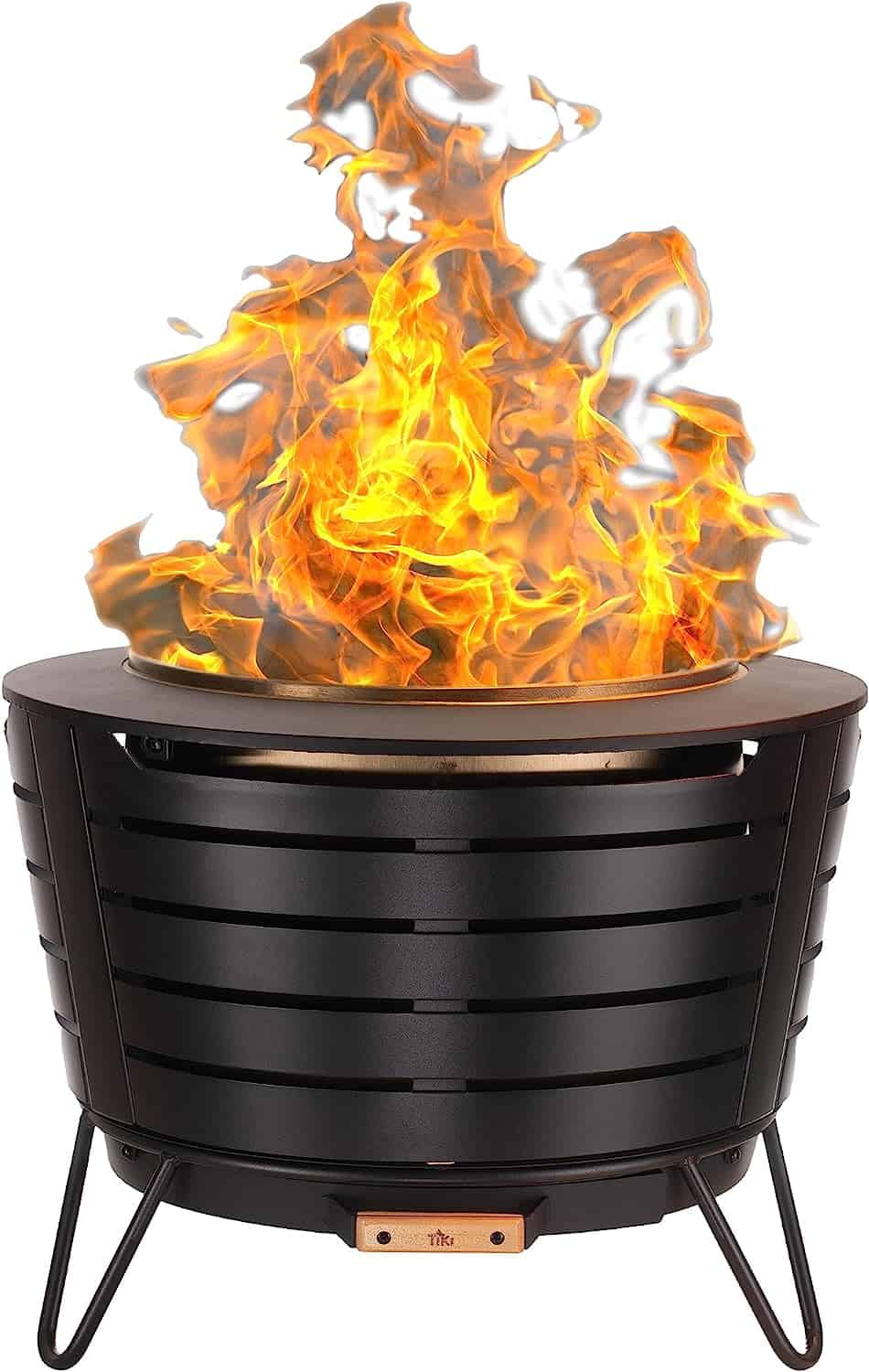 Are you looking for a Solo Stove alternative that will add to your backyard décor or even act as a conversation piece when hosting gatherings? If so, the design of this fire pit from Tiki may be the perfect solution for all your fire pit needs. The shallow bowl means that the fire itself sits higher in the pit, making it easy to see by everyone in the vicinity. This, combined with the pit's 24.75-inch diameter, makes it an excellent option for those regularly hosting larger groups.
The pit can be fueled by traditional wood or wood pellets, and the company even offers a monthly pellet subscription with pre-portioned packages for ease of use. But the size of the pit's bowl and opening requires you to cut any logs down to a smaller than standard size for them to fit entirely within the pit. If the wood does stick out of the pit, this will cause it to smoke.
Compared to the others on the list, one of the most significant benefits of this pit is the easy-to-clean ashtray. It slides out of the bottom of the pit like a drawer, eliminating the need to lift off the pit or disassemble a portion of it to access the ash after a fire. When the pit has had an opportunity to cool off fully, it can be stored safely outdoors with its weather-resistant cover until the next use.
| | |
| --- | --- |
| Pros | Cons |
| Aesthetically-pleasing design will add to your backyard décor beautifully | Higher price point than other options on the list |
| Removable ash pan design for easy cleaning | Shallow bowl requires you to cut down wood smaller to keep it from sticking out and, therefore, creating smoke during the burn |
| Comes with a weather-resistant cover to keep it safe from the elements over time | Several customers report quality control issues, although Tiki does appear to stand behind their work and address concerns quickly |
Read More: Tiki Fire Pit vs Solo Stove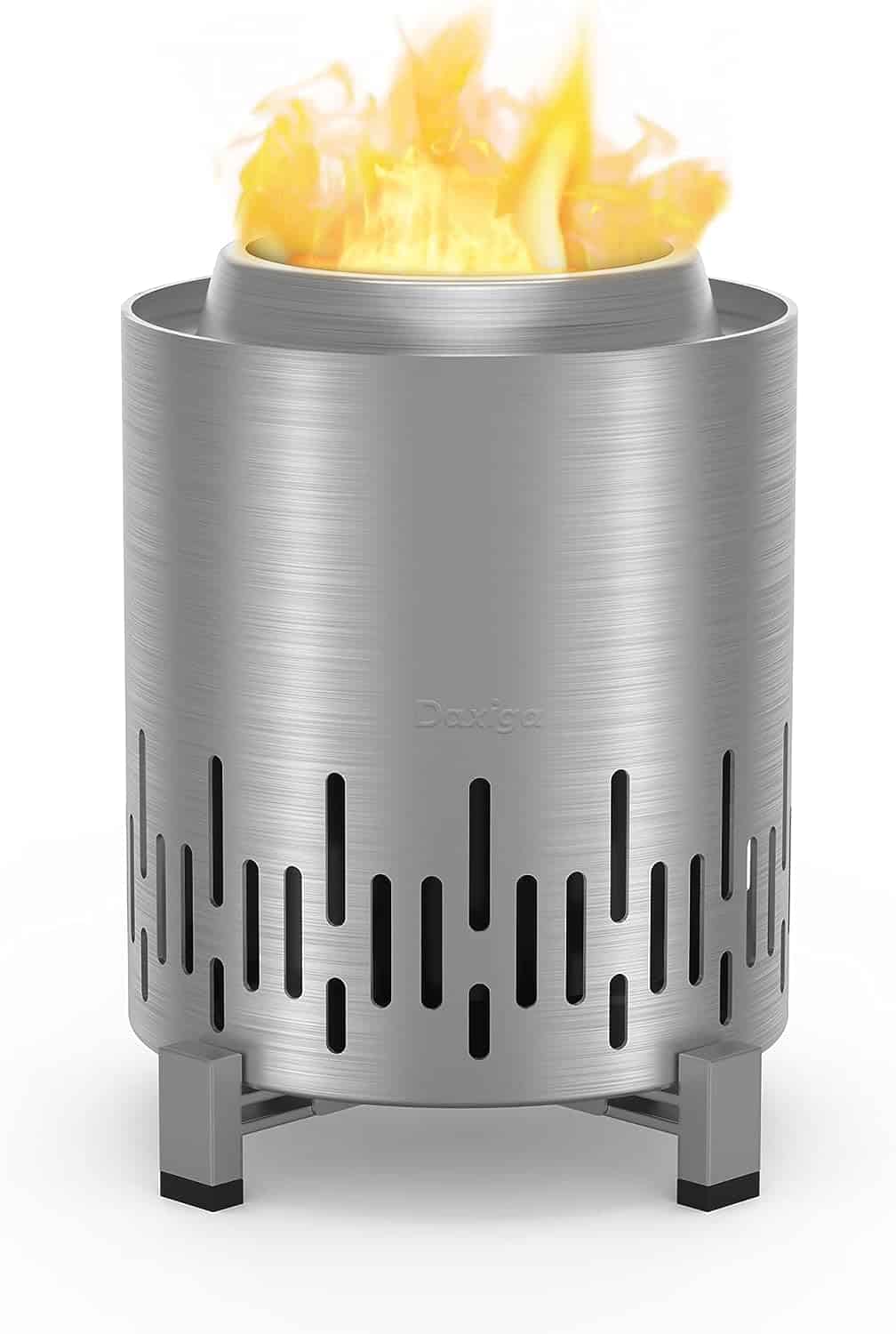 If you are looking for a smokeless fire pit that can be used in an urban setting where you don't have a large deck or backyard area to get set up, this is the perfect solution. Measuring just 5.1 inches across and 7 inches high, it can easily be set up on a tabletop or apartment balcony.
The pit also comes with a tabletop base that creates a safe and secure surface for it to sit on while also keeping it carefully distanced from the ground below, as the pit's exterior gets extremely hot during use. That being said, if you have a delicate table surface, you may wish to place a small heat field or fire-resistant mat under it during use to protect your furniture.
Don't be discouraged by this fire pit's small size. It can put out a surprising amount of heat, creating a heating range of 2 feet. This isn't enough to use as a primary heating source, but it will keep you and your guests comfortable around the table on a cool fall day.
The signature 360-degree Airflow ensures that your fire will burn hot regardless of the fuel option you choose (standard wood, pressed wood briquettes or pellets), but the hot flame means that it will burn through fuel at a fast pace, needing to be fed more frequently than the larger fire pits you may be used to.
| | |
| --- | --- |
| Pros | Cons |
| Compact size is perfect for apartment balconies and other urban settings | Too small to be used for grilling outside of roasting marshmallows or hotdogs on a stick over the flames |
| Small size comes with a lower price, making it budget-friendly | Burns wood quickly and needs to be fed regularly to keep the fire going |
| Can be used with pellets, pressed wood briquettes, or standard wood | Does not come with any instructions, leaving some users with questions |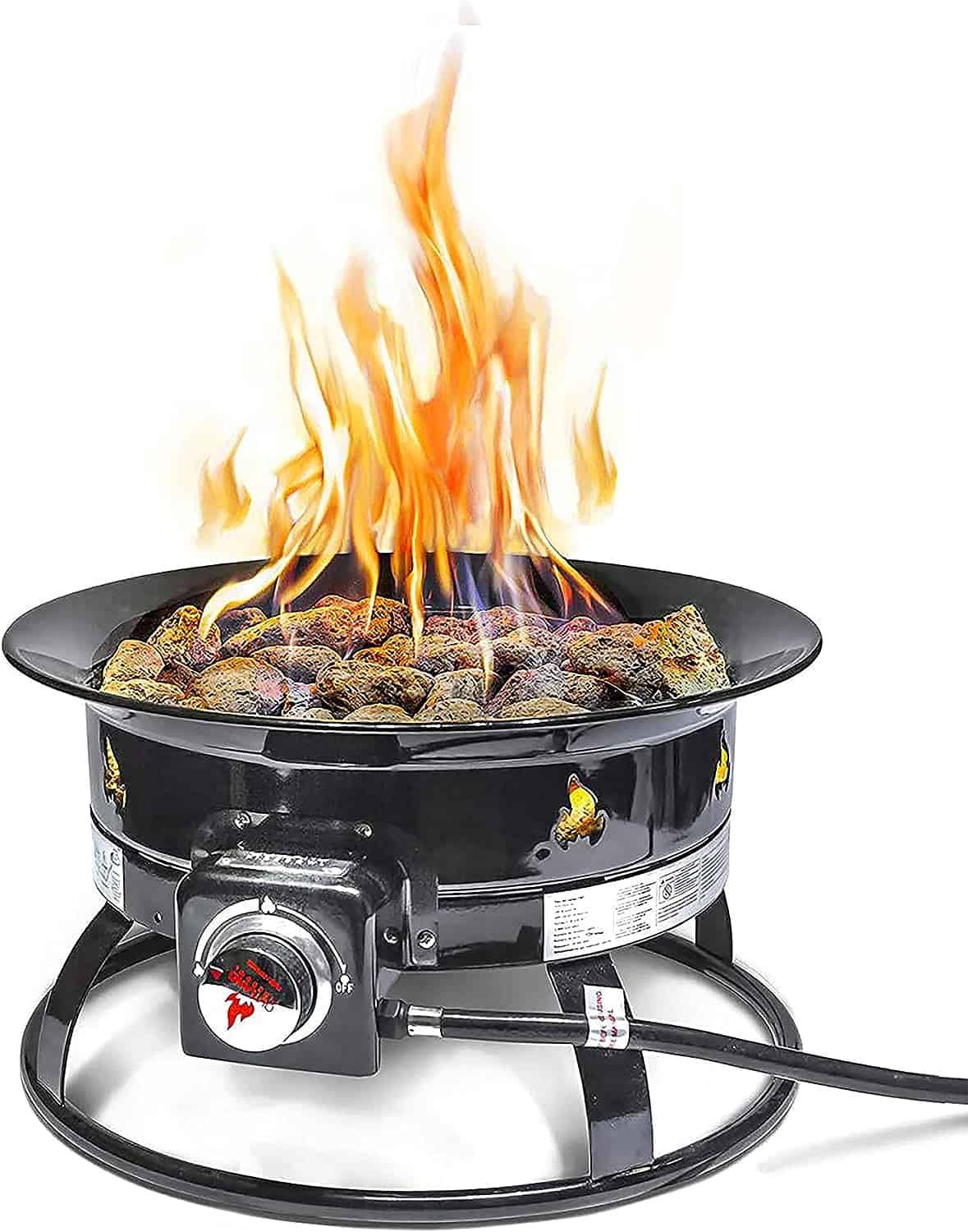 Many traditionalists will turn their noses up at the idea of using a propane-fueled fire pit instead of a wood-burning pit. I'll be honest, I was one of them until my husband and I were forced to use a propane pit or give up on having a fire during a recent long-lasting fire ban. We purchased the Outland Living Portable Propane Fire Pit and quickly fell in love with its portability and ease of use. For those who often have difficulty starting a fire in a wood-burning pit, this option will remove all the frustration.
This pit from Outland Living runs exclusively on propane gas, an easily accessible fuel in most areas. Once the fire has been lit, no ongoing maintenance is needed unless your propane tank runs out. For those who simply want to "set it and forget it" when spending time with friends and family, it's the ideal solution. There is also no cleanup afterward, as there is no ash to address.
Burning with propane, this pit provides a smokeless flame and a source of heat that will keep you and your guests warm on a chilly day. It can even be used for outdoor grilling if you pair it with a grilling surface (the company doesn't offer one specifically designed to work with the pit). But be warned that propane costs can add up, making it a more expensive solution for ongoing use.
| | |
| --- | --- |
| Pros | Cons |
| Portable design makes it easy to take the pit camping, tailgating, etc. | Doesn't offer the satisfying crackle or smell of a wood-burning fire |
| CSA-approved propane pit can be used even under most fire bans, allowing you to still enjoy an outdoor fire safely | Propane generally costs more than wood, resulting in higher ongoing fuel costs |
| Propane valve allows for easy control over the burning temperature of the fire, as well as the ability to instantly extinguish the flames if needed | Flame height is limited for those who usually build large wood fires |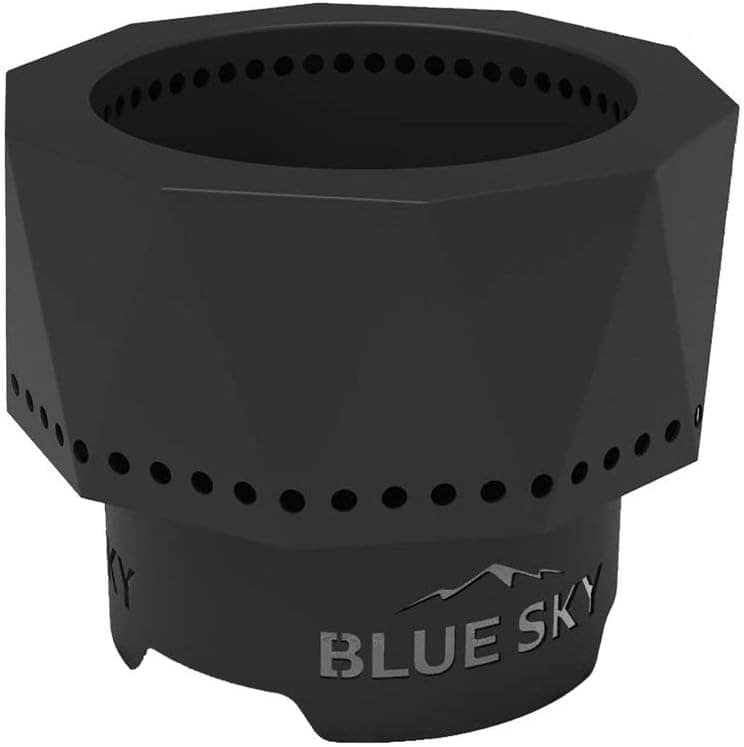 Often smokeless fire pits come with a high price tag, but you can still incorporate a fire pit into your backyard setup while sticking to your budget. Don't let the low price of this pit influence your opinion, as it offers excellent basic functionality for those who don't need all the bells and whistles that some pits provide.
This durable pit is built to withstand the elements and the demands of ongoing use over time. It is made from heavy-duty steel with a high-temperature, heat-resistant black powder-coated finish. Outdoor grilling lovers will be happy to know that its construction makes it safe to burn at temperatures up to 1400 degrees Fahrenheit. However, it should be noted that the stove does take longer to heat up to the temperature needed to keep smoke at bay.
Blue Sky didn't create this stove with a focus on aesthetics, meaning it may not provide the eye-catching addition to your space that you are looking for. The sleek black color allows the stove to fit into almost any space but be prepared for ongoing maintenance if you want to keep it looking nice, as many users report the paint will peel and flake off with use.
| | |
| --- | --- |
| Pros | Cons |
| Budget-friendly price point | Stove is only considered "smokeless" when burning wood pellets, not standard firewood |
| Dual fuel design can burn both standard firewood and wood pellets | Design is focused on functionality, resulting in a less aesthetic appearance |
| Convenient carry bag for easy transportation | Many people report the paint on the exterior of the stove starts peeling after the first couple of burns |
FAQs
Question: What Size of Smokeless Fire Pit Do I Need?
Answer: Deciding on the ideal size of fire pit will depend on the space where you intend to use it and your expectations for its use. While this pit style keeps the fire contained within a double-walled bowl, you must consider basic fire safety. If you are setting up an entertaining space on a small balcony or patio, you won't safely be able to accommodate the largest fire pit options. You need to account for space between the pit and surrounding furniture or structures.
Secondly, consider how you plan on using your pit. If you plan on cooking larger, elaborate meals over the fire, you will need a larger pit to provide the space necessary for your grilling. However, a smaller pit may be all you need if you are interested in a pit for aesthetic reasons while relaxing outside or want to allow the children to toast marshmallows.
Question: Can You Pour Water on a Smokeless Fire Pit?
Answer: Pouring water in your pit will cause ash or leftover wood pellets to become a muddy, soupy mess. This makes cleaning out the pit far more challenging and increases the risk of your pit rusting. Instead, it is recommended that you allow the fire to burn out naturally.
If you are trying to speed up the process and put out your fire pit safely, you can remove the remaining coals and place them in a metal bucket where they can be safely submerged. With the coals removed, your fire pit will cool down faster, soon allowing you to cover it or store it as needed to protect it from the elements.
Question: Can You Put Stone Around a Smokeless Fire Pit?
Answer: There are ways to build up stone around your smokeless fire pit, but you must account for the airflow the pit needs to burn effectively and reduce the smoke it puts out. The best way to do this is to contact the company to purchase an insert ring designed specifically for your pit. You can then build an exterior wall using traditional brick, stone, concrete, or heat-resistant tile.
This not only allows the opportunity to customize your pit's aesthetic but also provides a layer of protection for those concerned about having children or pets around the fire. If you are handy and don't wish to purchase a commercial fire pit insert, or the company doesn't offer one, you can build a DIY smokeless fire pit. Just be sure to properly account for the needed airflow and build it into your plans.
Top Solo Stove Alternatives: Final Thoughts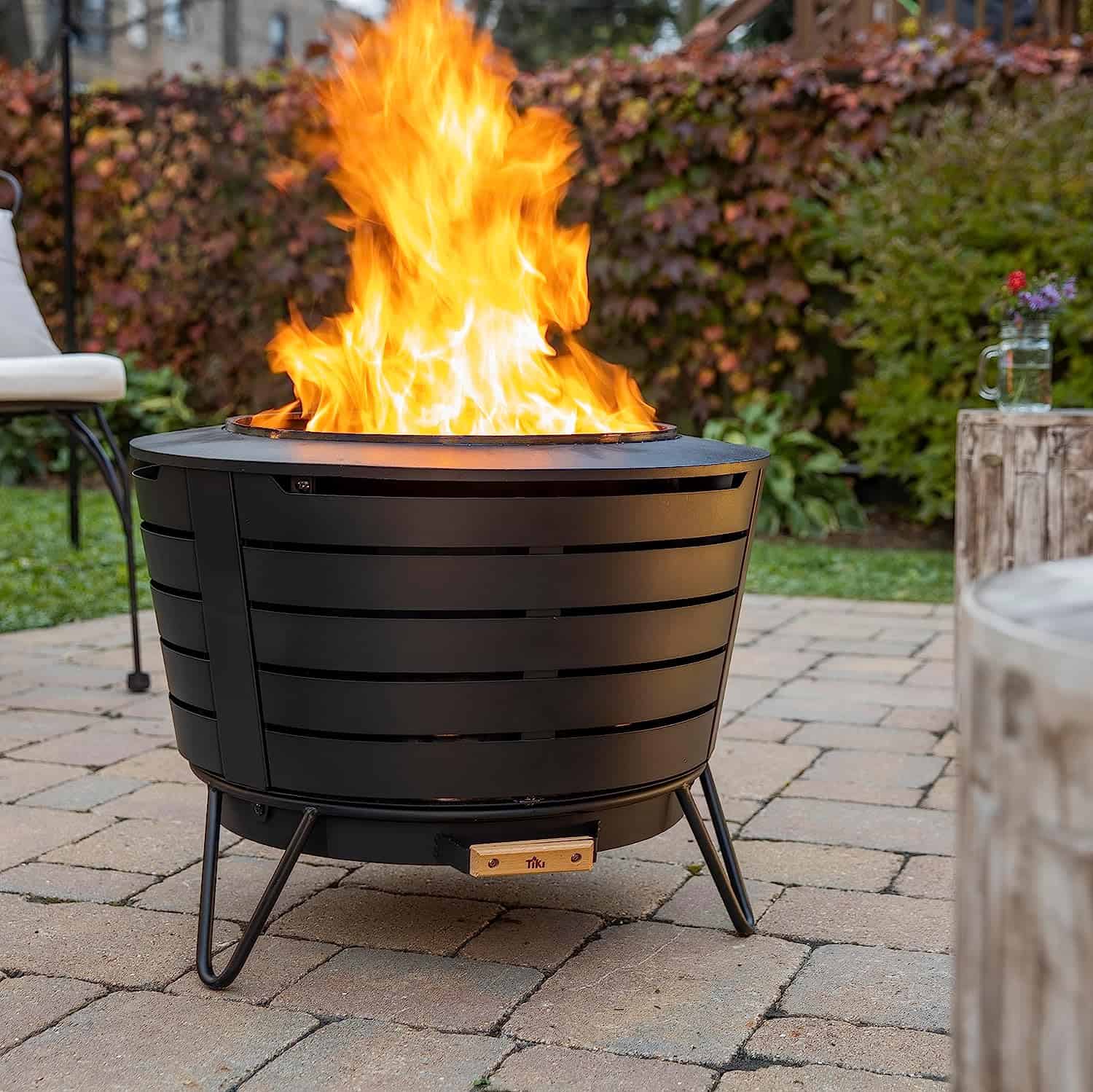 There is no arguing against the quality and performance of Solo Stove's line of smokeless fire pits. However, that doesn't mean the company produces the best pit for every situation.
When shopping for your ideal smokeless fire pit, you must consider the available space, size, appearance, budget, fuel types, and desired use. Someone who plans on grilling regularly on their fire pit will have different needs than someone who simply wants to enjoy the experience of a crackling fire while sitting around and having a drink with a friend.
Our top choice is the Dragonfire Smokeless Wood Burning Fire Pit due to its versatility, ability to accommodate full-sized logs of wood and the secure, well-thought-out grill grate that can be used for all your outdoor grilling needs. But any of the options on our list are sure to offer a cozy and enjoyable smokeless fire experience.