The best places to buy the Solo Stove online are from the company directly (you'd be surprised at how quickly they ship), from Amazon (check for 'used but new' models for some savings), Ace Hardware (yes, you can order online and pick it up or get free member shipping), or Best Buy (same thing as Ace, but without the member requirement for free shipping).
I became an expert in the best places to buy the Solo Stove because a year before the COVID shutdown, we had booked killer tickets for a ten-day camp/hike. It was one of those "book-a-year-in-advance, but-only-on-this-one-day, starting-at-7:13, first-come-first-serve, our-phones-will-be-busy-the-whole-day-and-our-website-will-be-down" sort of places. 
But there were propane restrictions so we needed a new camp stove, the Solo Stove. In the end, I narrowed it to the four above, but selected fast shipping time over cost because I was really impatient (and bored) and wanted to pack all my gear so that I could walk by the backpack every day for three weeks and question whether I had left anything out. 
Bottom Line Up Front
So now I am here to tell you the best options, and my top four picks are Solo Stove, Amazon, Ace Hardware, or Best Buy. Best Buy and Ace Hardware let you pick up your order directly from a store, so if you want fast shipping as a priority, head here. If you are concerned about cost, Solo Stove and Ace Hardware have great options for interest-free payment plans, which I have grown to love.
What Makes a Top Four Pick?
How did I make this selection out of the dozens of sites?
I focused on which sites 

reliably 

carried it in stock. There is no point in mentioning a site that only has 1 and might not carry them again. That sort of thing annoyed me during my COVID hunt. 

I looked at the shipping rates because sometimes you really want that new Solo Stove by a specific (birthday, anniversary, or Christmas) date. 

I also looked at the cost. I used to avoid buying directly from the manufacturer or printer for just about anything if I could find it cheaper elsewhere, but now I also consider which sites give me options to pay over time that way, the final bill hurts less, emotionally. 
Buy From Solo Stove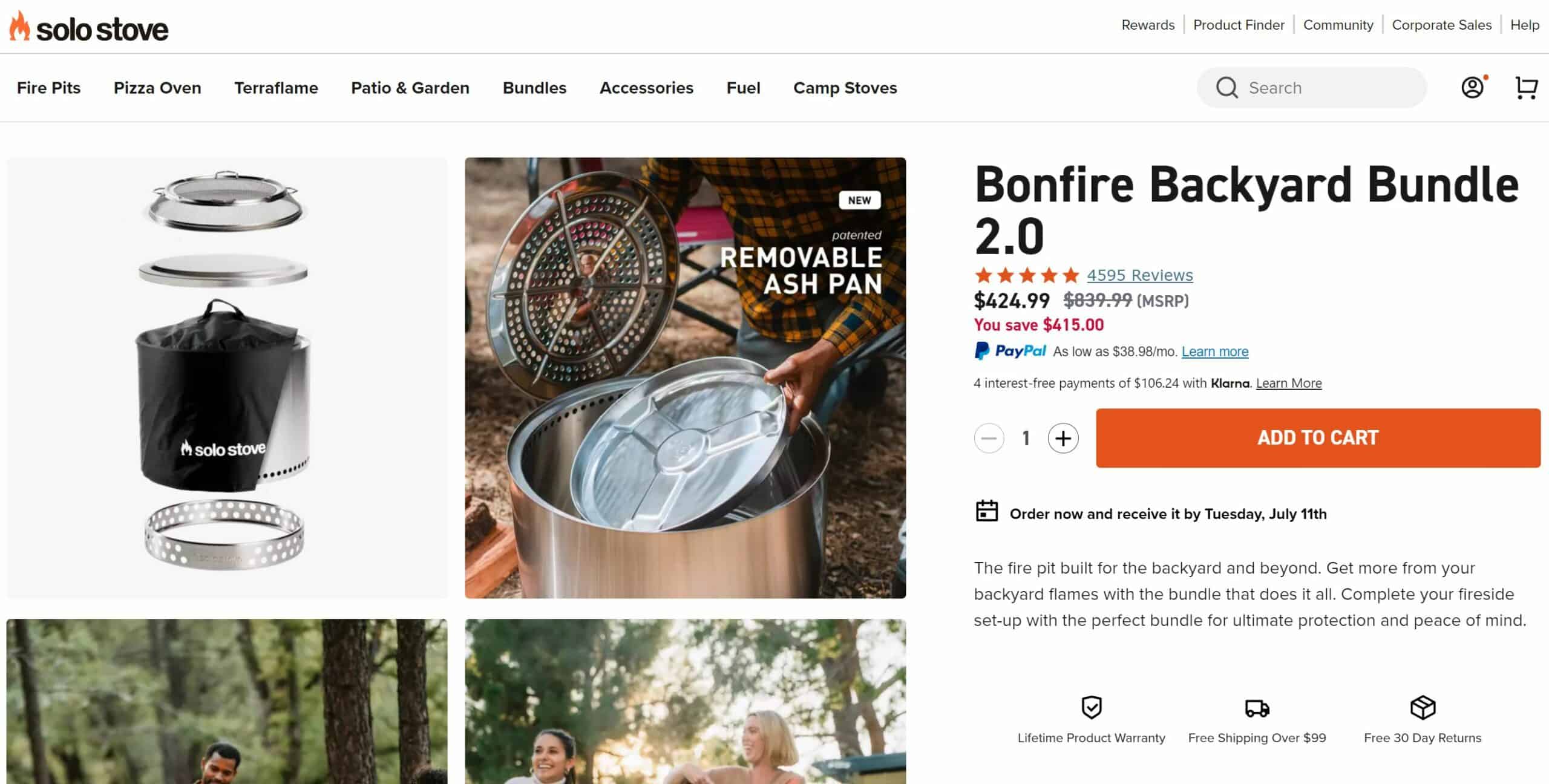 You can buy directly from Solo Stove, and your order gets shipped within a few days. As I said, I used to avoid buying directly from manufacturers because things always cost about 10-15% more. Now, however, I look for payment plans, especially because I have PayPal. 
Solo Stove is great because:
Their website tells you exactly when you'll receive your solo stove if you were to purchase it right now. For example, when I looked at their shipping rates, it told me that I would receive it by Sunday, July 2nd if I ordered it today.

The second is that you can use PayPal for your purchase, and with PayPal, you can divide your cost into four interest-free payments of the same amount spread out over two-week increments. 
Tip: If you have a PayPal account and don't want to spend a few hundred dollars upfront (again, to avoid the emotional pain of such a costly purchase), you can buy directly from the company and use PayPal interest-free payments. I've done this a few times, and it has always helped me cope with how expensive my outdoor activities really are. 
You can also buy things like a stand here so you can safely rest your fire pit outside. 
Buy From Amazon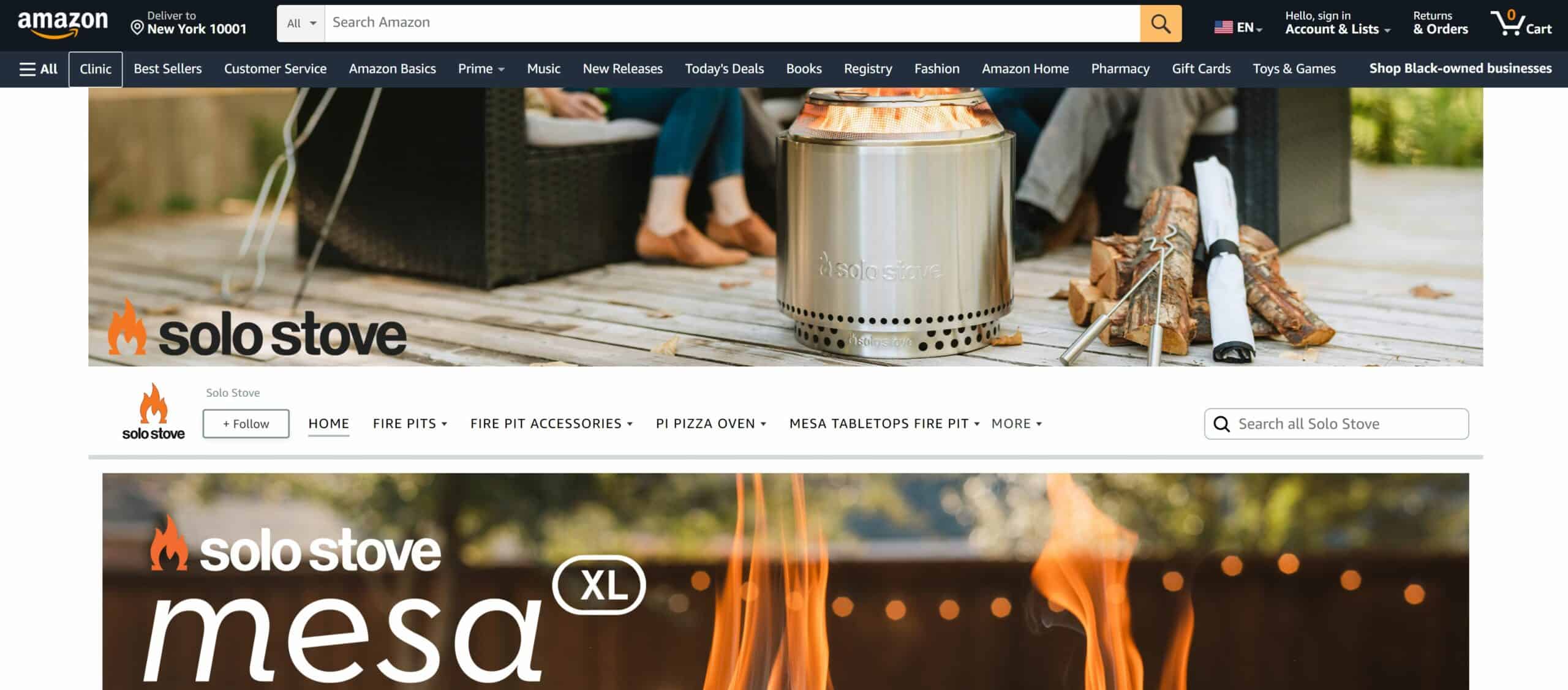 Like most people, if I look up a new product on a company website, the next place I look is Amazon. I almost don't have to open a new tab; Google knows so well it does it automatically.  I was impressed that Amazon had a lot of different solo stove options and that Solo Stove had a store page. 
Alas, Amazon has betrayed my trust in the past and might do it again in the future: there are times when even if something has Prime Shipping included, it still takes weeks to arrive. This is the case with some of the Solo Stoves (I don't pay a perpetually-increasing annual fee to teach me patience, Amazon), and it makes my heart cry. 
BUT you might luck out and find one with faster shipping or just enjoy the fact that older (and cheaper) models are readily available on Amazon. 
Tip: Amazon also offers different payment plans, including smaller payments over the span of 18 months or the Amazon Prime Visa credit card. These may or may not be available to you, but if they are, they could help you stifle that emotional pain and spread it out.
Buy From Ace Hardware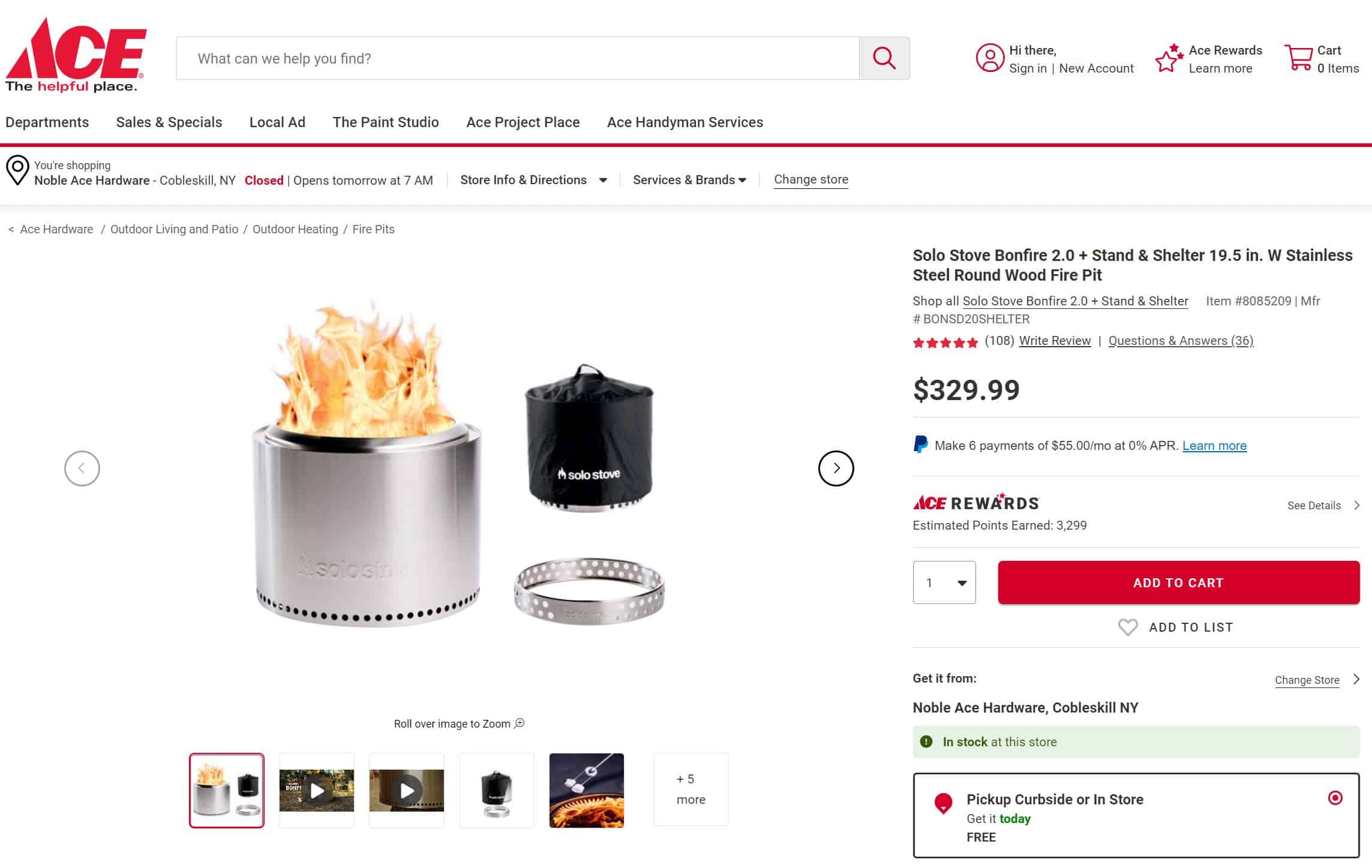 Ace Hardware has a lot of options that include the accessory packages such as the stand and the cover. What I like most about buying online from Ace Hardware is that you can apply any discounts you have with the company, such as:
Ace Hardware loyalty points

Military Discount
We have both, so obviously, we have to consider how much cheaper that makes a product compared to Amazon.
More importantly, sometimes I want to be able to purchase something that I know is local and will ship to me within a day, or I can go pick it up without having to interact with a lot of people. I ended up doing this to get my hands on that new camping Solo Stove because I was simply that impatient. 
I was also quite impressed that Ace Hardware lets you purchase online using PayPal (again, you have the option of spreading out the emotional pain of the purchase) and has lots of shipping options like picking up from the store or delivering to you.
The only potential hiccup is that you are subject to whatever is available at a given store.
Tip: You can change the store from which you are shopping, and it doesn't have to be within close proximity to you. So if you find a model that you prefer available at a physical location a few hours away, you can still have it shipped to you. 
Buy From Best Buy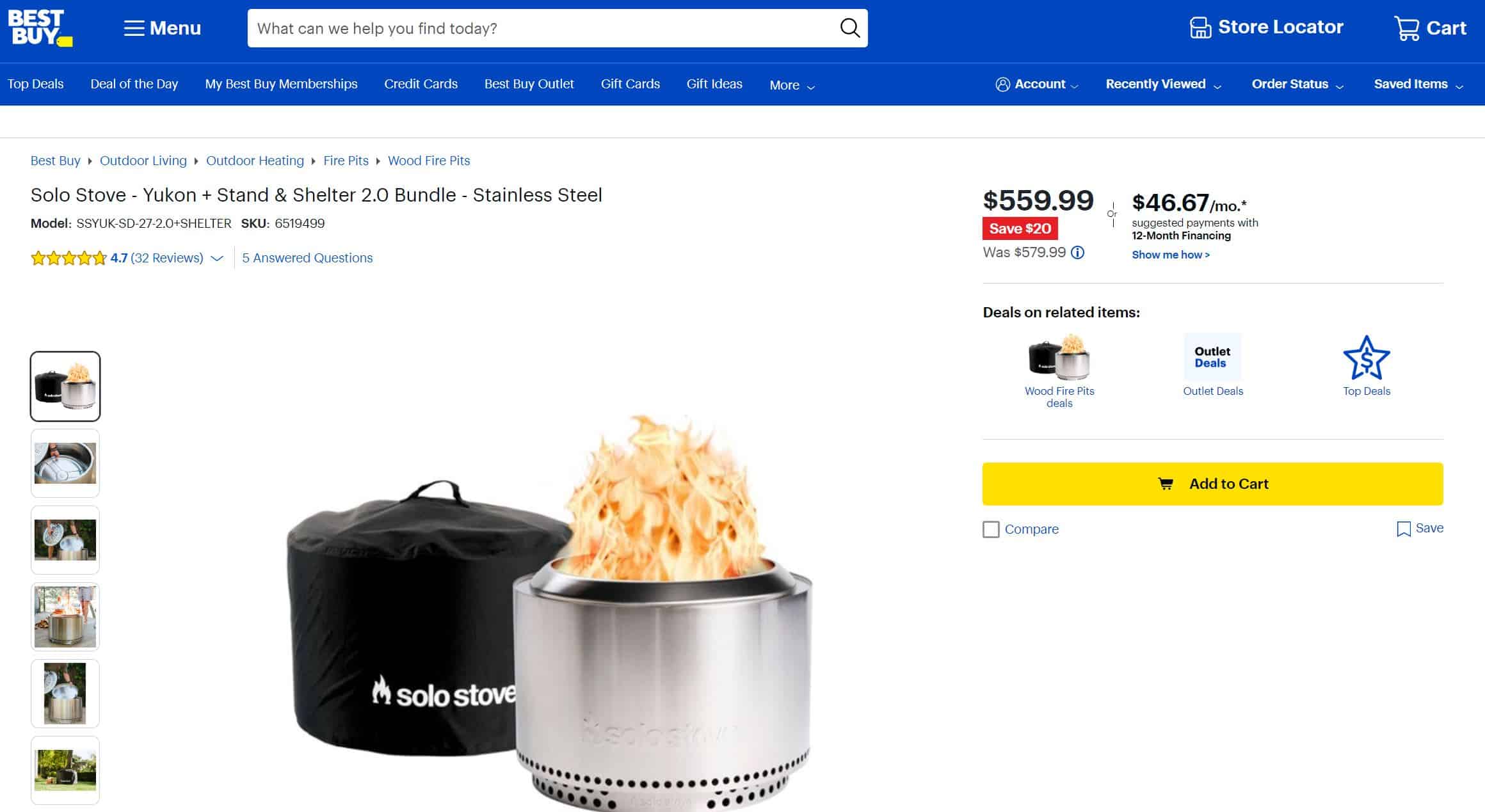 Best Buy offers fast, free shipping. If they have it in stock, you can have it shipped within 2 days, which is faster than Amazon. Alternatively, like Ace Hardware, you can pick it up directly in the store. I haven't lived in a city with Best Buy in years, so this wasn't an option for me during my COVID spending spree, but it might be for you. 
 Best Buy also has financing, but much like Amazon, it is subject to credit approval and comes with an interest rate. 
Best Places to Buy the Solo Stove Online: Wrap Up
What are the best places to buy the Solo Stove online? Directly from Solo Stoves the best if you want all available options and accessory bundles. If you are worried about shipping, Ace Hardware and Best Buy have fast shipping options and let you pick up directly from a nearby store (score!). If money is an issue, you can choose the type of payment plan you prefer with any of these online sites, but Solo Stove and Ace Hardware are the best for PayPal users. 
Read More: Top Solo Stove Alternatives to Consider
If you're interested how Solo Stove compares to other fire pits, check out some of our comparissons: