Breeo has quickly made a name for itself in the world of outdoor grilling, providing a high-quality fire pit that offers an unmatched grilling experience. These smokeless fire pits are designed to leverage secondary combustion, directing the heat up and out to create an effective grilling surface.
They also offer several optional accessories to further level up your grilling, such as the outpost grill and sear plate. But what if your primary purpose of purchasing a smokeless fire pit isn't for grilling? Is a Breeo fire pit still worth the higher price tag?
As the popularity of smokeless fire pits continues to grow, many new brands have entered the space, bringing their original and innovative spin to the product. This includes fire pits designed to be more aesthetically pleasing for those setting up a fully decorated outdoor entertaining space, smaller pits for anyone looking to enjoy the crackle of a fire on an apartment balcony, and more. For my husband and I, this has led to purchasing multiple fire pits.
This guide will explore the best Breeo stove alternatives, including what you should consider when deciding on the best smokeless fire pit for your needs. We have also compiled a list of the top Breeo stove alternatives for various situations, including the best portable fire pit, the easiest fire pit for cleaning, and the best smart fire pit for all gadget lovers.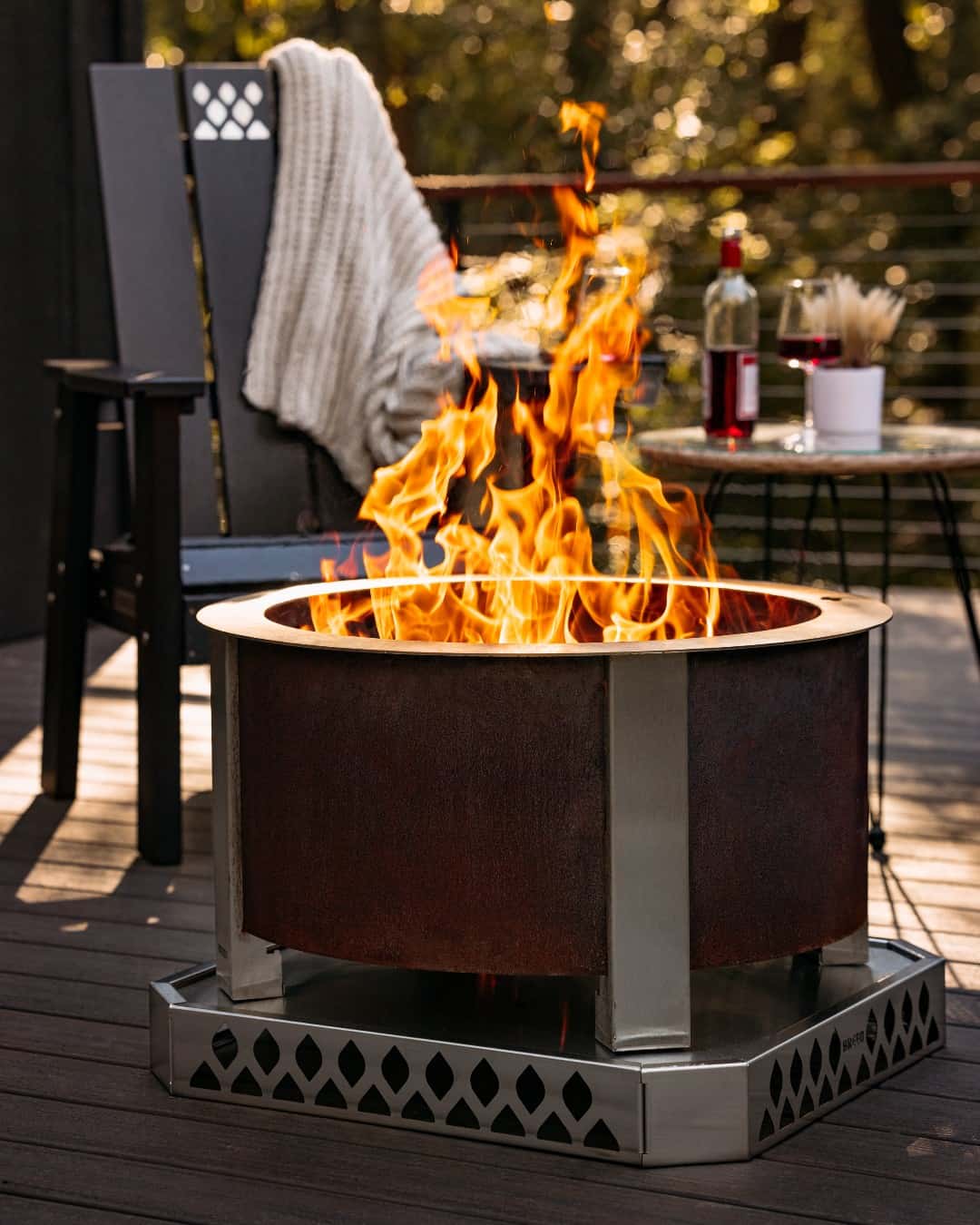 Bottom Line Up Front
While we would love to say that there is a perfect "one-size-fits-all" fire pit that will suit the needs of every outdoor lover, it's not quite that simple. There are many different factors to consider during your search that will vary from person to person, including the size of your space, the appearance of the pit, your preferred fuel type, the maintenance required, and how you plan on using it.
Luckily, there are many smokeless fire pits currently on the market, ranging from smaller tabletop pits that can be used safely on an apartment balcony to elaborate grilling setups for those who love outdoor cooking.
Features to Consider
Before you head out shopping for your new smokeless fire pit, there are a few important features and decisions that you should consider. Take a moment to ask yourself these questions:
What is my total budget?
What size of space do I have available for the pit?
How tall are the chairs around my fire pit (if you already have them)?
What fuel options do I prefer (traditional wood logs, pellets, and briquettes)?
Do I plan on using the pit in one location or bringing it to other locations with me?
How important is the ease of cleaning in my decision-making?
Are you hoping to achieve a specific style or aesthetic in your outdoor space?
What is your desired use? Cooking? A source of heat? Entertaining/Aesthetic?
Do you have children or pets that may have access to the pit?
These answers will help you narrow down the many quality fire pits on the market to a smaller list best suited for your lifestyle. Keep in mind that you may need to sacrifice one option for another of a greater priority, so keep your top priorities in mind throughout your search.
With all this information in mind, we selected the following Breeo Fire Pit alternatives that we believe will meet the needs of any lifestyle and suit any space.
Top Breeo Fire Pit Alternatives for Your Backyard
Best Overall Smokeless Fire Pit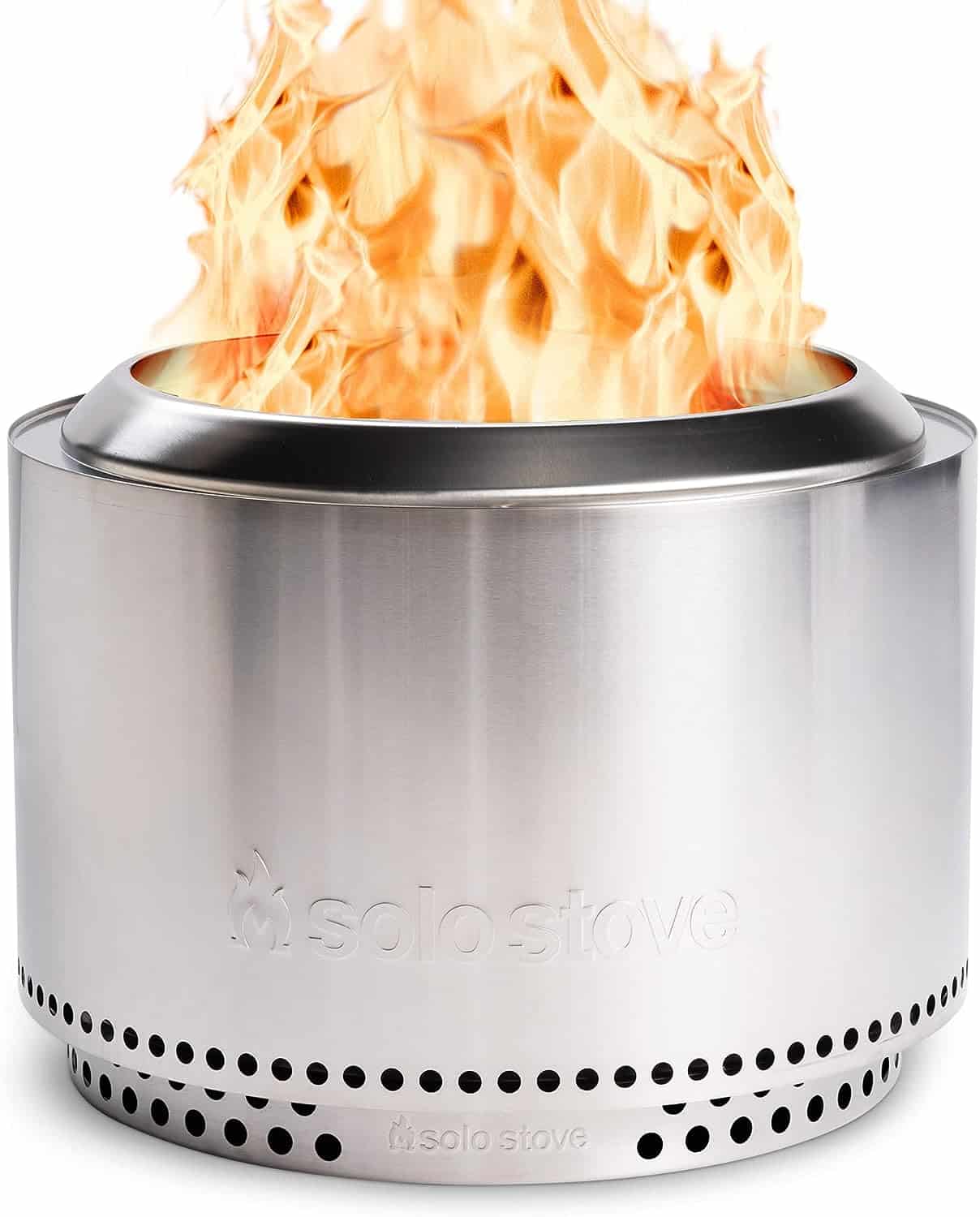 If you are searching for a high-quality fire pit to gather around with your friends and family, the Solo Stove Yukon is a great option. Made from stainless steel with durability in mind, this pit has been designed to stand up to continue serving you and your family for years to come. The pit measures 27 inches in diameter, offering plenty of space for you and your loved ones to gather.
While the size is great for entertaining, it does mean that the pit is heavier and more challenging to move if you want to store it or set it up in another location.
The pit is designed specifically for burning firewood logs, providing the experience of a crackling wood fire without needing to dodge the smoke each time the breeze changes direction. But there is the option to purchase a pellet adapter. The 360-degree Signature Airflow Design burns wood more efficiently than a standard fire pit, producing nothing more than fine ash. However, in doing so, it does burn through wood faster, meaning you will need to feed your fire more frequently.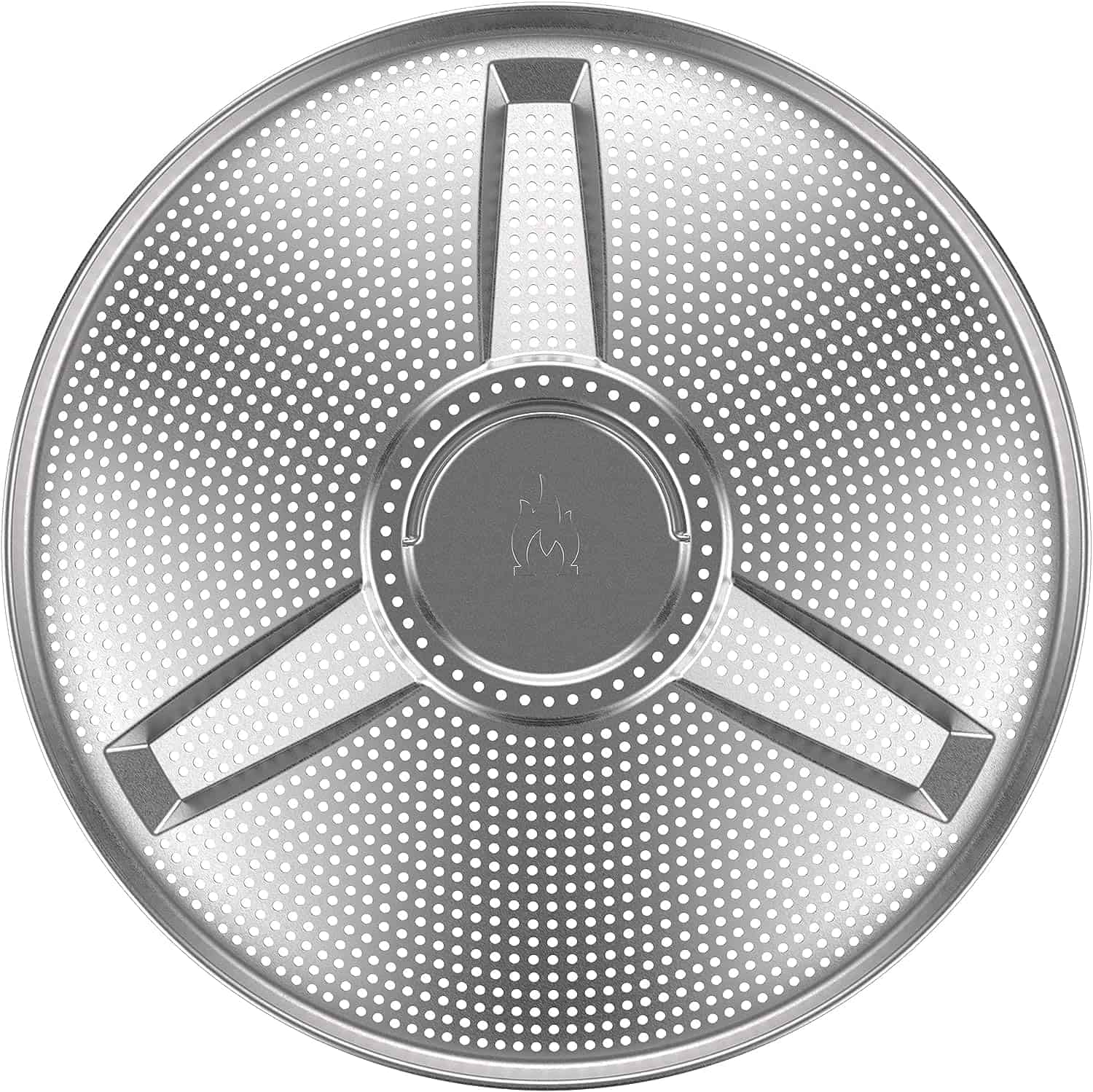 The included stand offers a much-needed buffer between the fire pit and the surface of your grass, deck, or seating area. However, if you are concerned about the surface, you can use a heat shield fire pit mat to provide an extra layer of protection.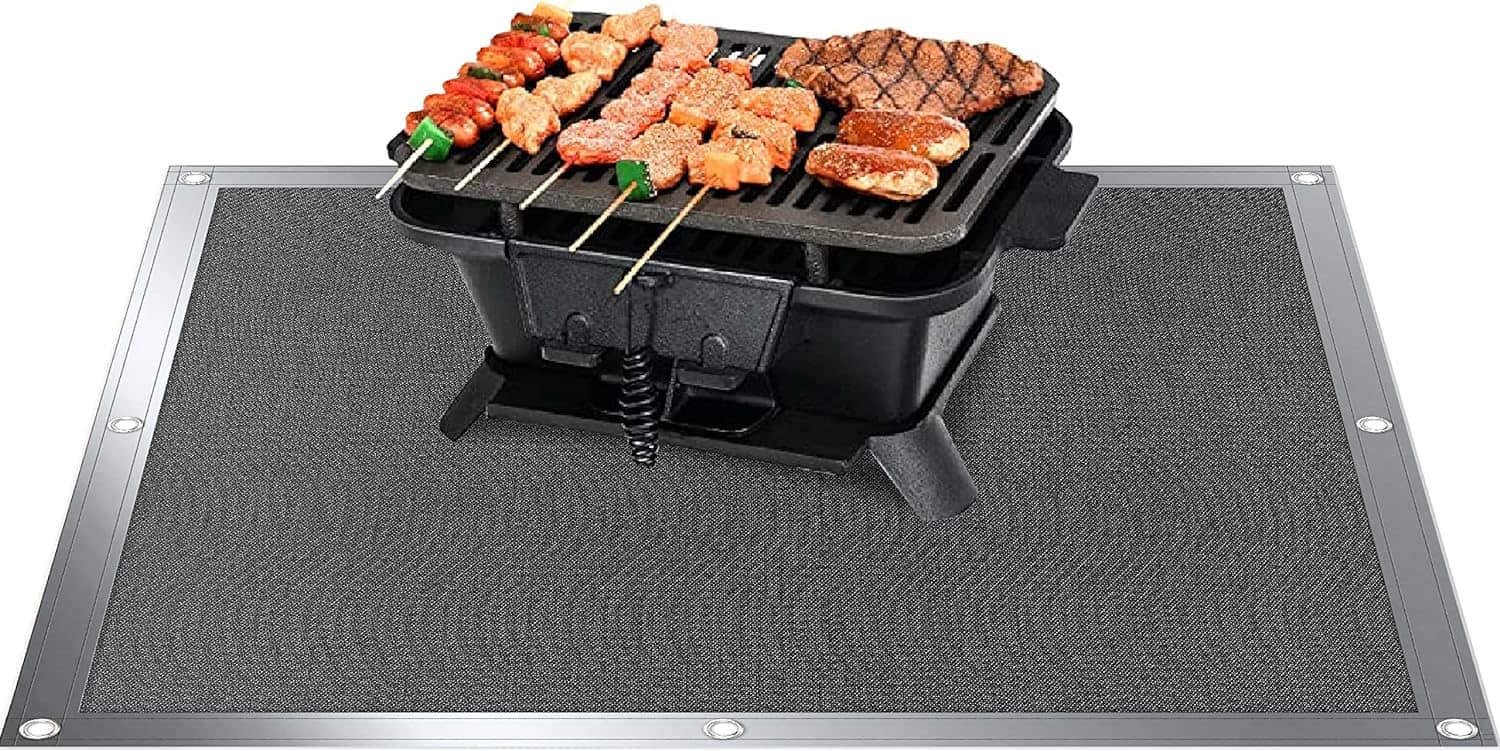 | | |
| --- | --- |
| Pros | Cons |
| Removable ash tray for easier cleaning | Higher price point |
| Larger size easily accommodates standard firewood logs | Burns through wood faster than many alternatives, requiring regular feeding of the fire |
| Offers a variety of accessories designed to work with the pit | Large size makes it harder to move the pit to other locations or for storage |
Read More: Solo Stove Review – Bonfire, Yukon, and Ranger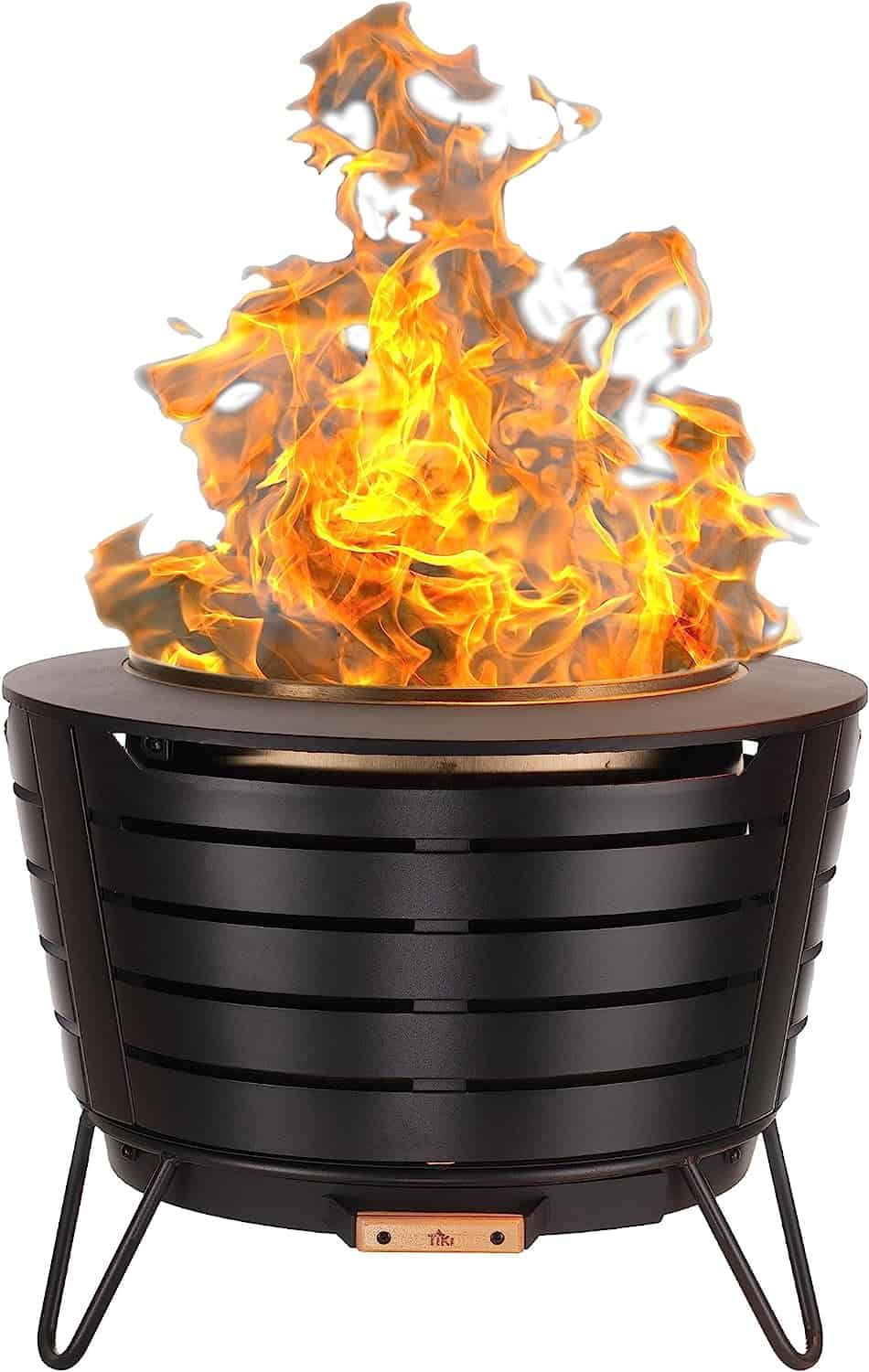 For those trying to create a space to entertain outdoors that looks as incredible as it functions, finding a fire pit that adds to the décor is a key deciding factor. While most smokeless fire pits offer a cleaner, more efficient burn, they often stick to a straightforward look. Tiki Brand created fire pits to bridge the gap, providing a pit that performs exceptionally well and looks great.
The modern design features rings of stainless steel that are powder-coated with a black finish to offer an elevated appearance and a degree of weatherproofing.
Another great feature this pit offers is the removable ash pan. Pull it out from the bottom of the pit like a drawer and empty it for easy cleaning without the effort of dumping the whole pit. This is especially important, considering the pit weighs over 40 lbs.
You can burn standard firewood in this pit, but the fire bowl itself is shallow compared to other options, and there is an elevated platform in the bottom for the brand's wood pack, limiting the space even further. If you are burning traditional firewood, logs must be cut shorter to prevent them from sticking out the top, which causes the pit to smoke. Wood pellets can also be used, and the company offers a convenient subscription service with pre-packaged wood pellets measured to support a single use.
| | |
| --- | --- |
| Pros | Cons |
| Easy to clean with the removable ash pan | Higher price point |
| Attractive design adds a statement to any outdoor entertaining space | Shallow fire bowl means that you must cut logs shorter to avoid them sticking out, causing the pit to smoke |
| Tiki Wood Pellet subscription is available to keep you supplied with fuel | Heavy weight makes it more challenging to move or store |
Read More: Tiki Fire Pit vs Solo Stove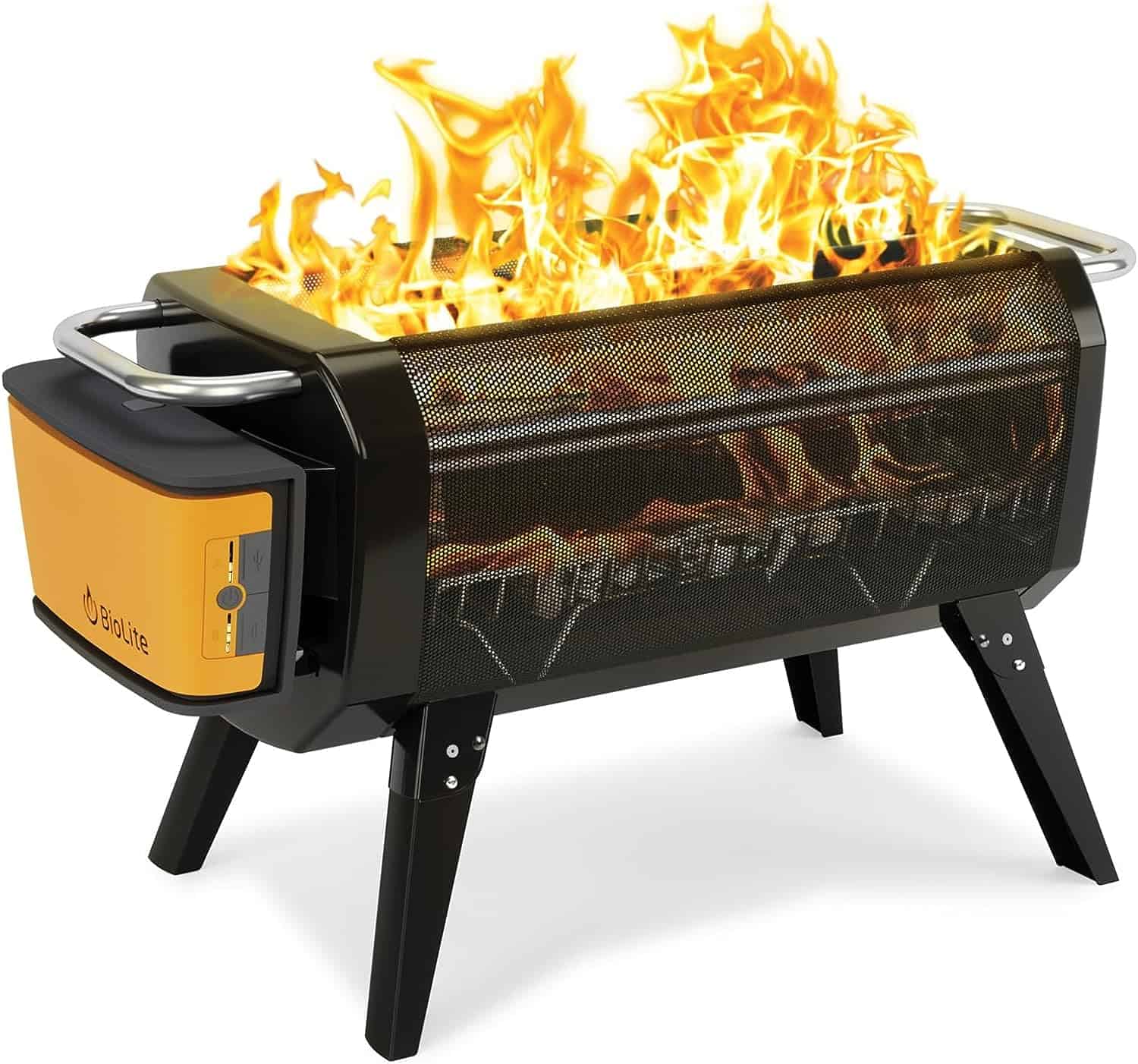 Are you a lover of all forms of technology? If so, you may be interested in a smart fire pit. When creating this smokeless fire pit, BioLite incorporated Bluetooth technology, allowing you to easily control the fan on the side of the pit using the app. This means you have complete control over the size of the flames by adjusting the oxygen feeding the fire.
The fan contains a 12,8000 mAh rechargeable battery that can run for up to 30 hours on a single charge. It also doubles as a power bank for your devices, supporting USB-A out, a great feature if you spend time outdoors on the beach or somewhere without an electric connection. Unfortunately, the fan is not replaceable. This means that when the battery does hit the end of its lifespan, as every battery eventually does, the whole pit will need to be replaced.
The design of the pit is unique compared to most other smokeless fire pits on the list. It uses the company's X-Ray Mesh to create the illusion of a floating fire, providing a stunning show for your guests to enjoy. It does need to be stored between uses and can't be left out in the elements, but the folding legs make it easy to tuck it away in your garage or storage shed. You can also purchase an additional carry bag for easier portability.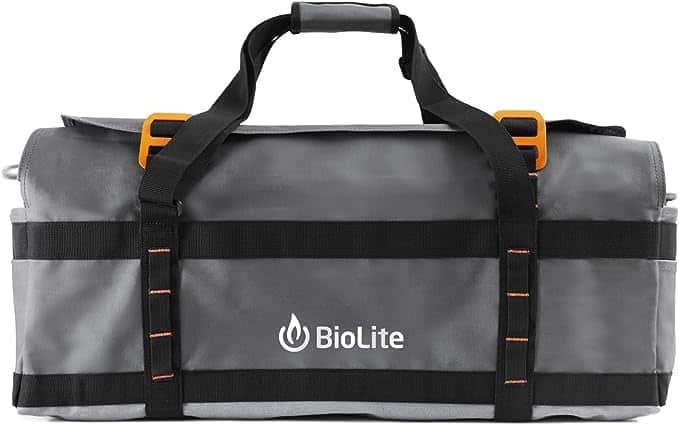 | | |
| --- | --- |
| Pros | Cons |
| Bluetooth app allows for easy manual control of the size of the flames | Higher price point |
| X-Ray Mesh ensures you and your guests can all see and enjoy the fire | Battery can't be replaced when it hits the end of its lifespan; you have to replace the whole unit |
| Foldable legs and optional carry bag for easy portability | Must be stored between uses to prevent damage, can't be left outside |
Read More: Solo Stove vs Biolite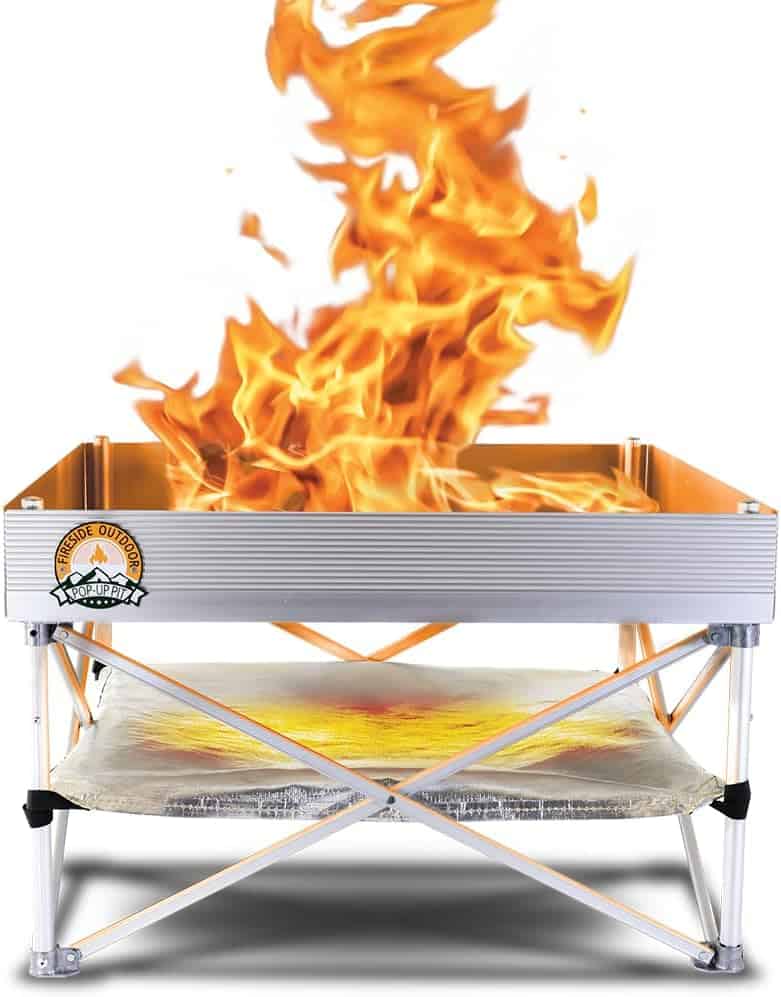 As an outdoor travel lover, there may be additional considerations in selecting the best fire pit for your family. Most importantly, the ability to pack up and transport your new fire pit wherever your outdoor adventures take you. The ideal pit will be lightweight, easy to carry (or with a carry case that offers convenient handles), and straightforward to set up when you arrive at your destination. This pop-up fire pit easily hits all three of those points!
When fully assembled, the pit sits 15 inches tall and 24 inches square, with an elevated base that safely holds the actual fire bowl up off the ground and away from low-lying grass and vegetation. It only weighs 8 lbs, but don't let that fool you. Carefully constructed with aluminum and stainless-steel fire mesh, it can support up to 125 lbs. However, while it can handle the weight of many logs, the lower 3.5-inch sides on the fire bowl do limit the amount of wood that can be safely burned at one time.
This fire pit features a low center of gravity, allowing it to stand firm on any surface, including uneven outdoor terrain. Be careful if you are enjoying the fire with children or pets playing nearby, as it's lightweight and can easily be knocked over.
| | |
| --- | --- |
| Pros | Cons |
| Packs up into a small carry bag for campers and outdoor travelers | Shallow fire bowl limits the size and number of logs it can hold |
| Can be set up on any surface including uneven terrain | Low sides of the pit offer limited protection from the wind compared to other pits |
| Set up takes less than 2 minutes for most users | Lightweight design can be knocked over easily by children or pets |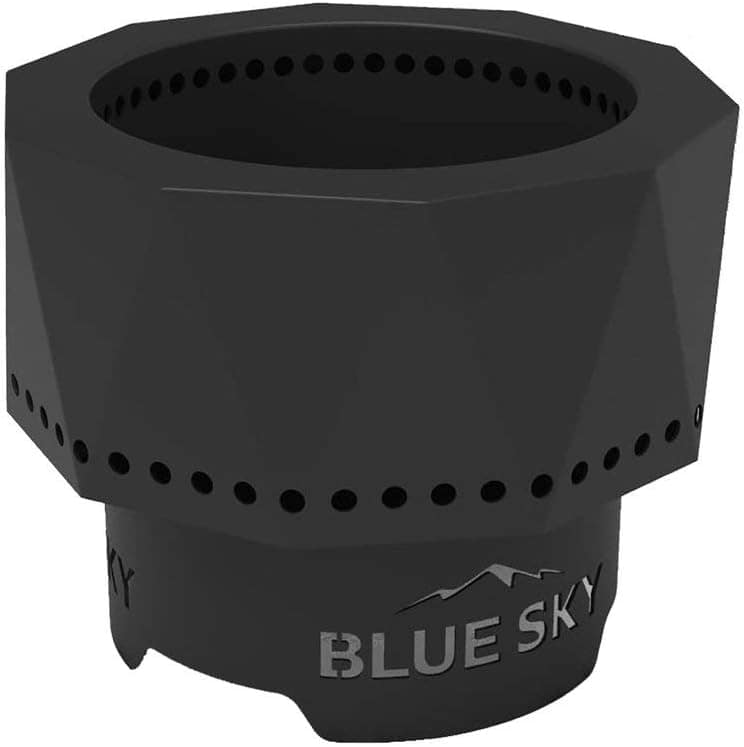 As a firm believer that everyone should be able to enjoy the comfort of a cozy outdoor fire, I was excited to find a smokeless fire pit at such a budget-friendly price point. Made from heavy-duty steel construction, this durable fire pit is rated to safely support fires exceeding 1400 degrees Fahrenheit.
Many users find that the black exterior paint on the pit starts peeling as early as the first use from the high heat. However, you can keep your pit looking new by repainting it with a specialty high-heat paint like Rust-Oleum.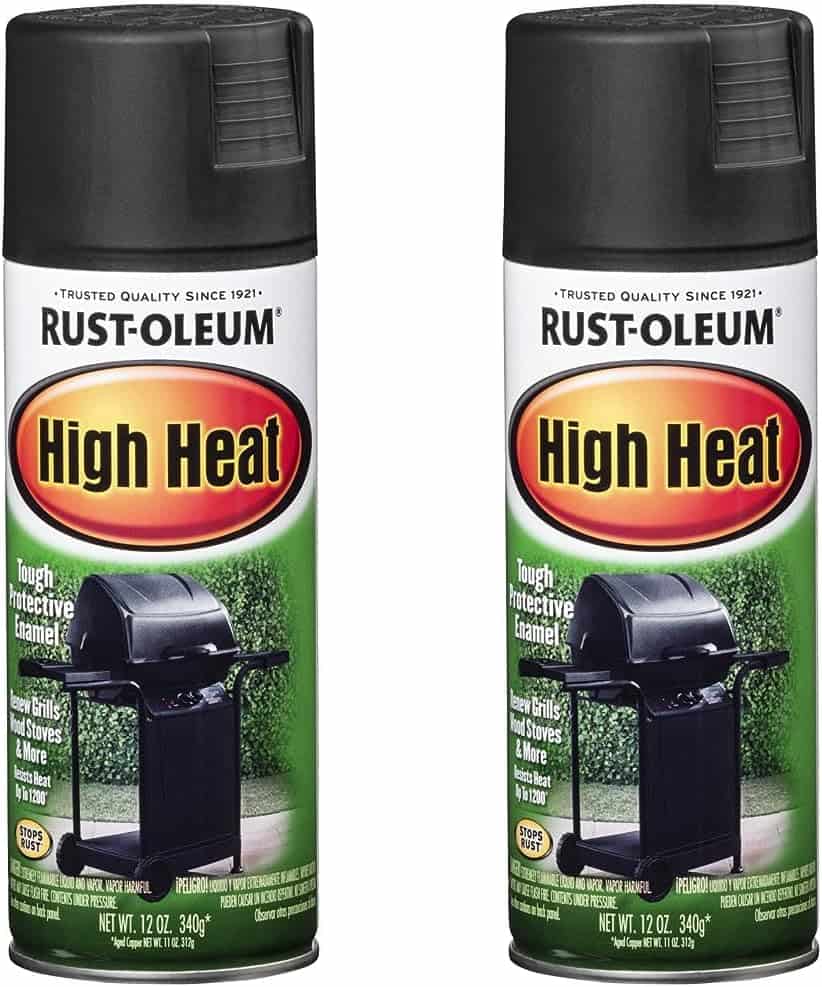 One of the best features this smokeless fire pit offers is its portability. When not in use, the base can be placed inside the fire pit, significantly reducing its size. It fits into the included carry bag, so you can easily take it to the beach, campsite, cottage, or any other outdoor adventure.
This pit can be used to burn either traditional firewood or wood pellets. Avoid filling it too much as that can lead to excessive smoking, as will adding too much fuel to the fire at any given time. Regardless of your chosen fuel type, the pit puts off a lot of heat to those sitting in the vicinity, making it an excellent choice for those planning on warming up by the fire on a chilly day.
| | |
| --- | --- |
| Pros | Cons |
| Budget-friendly price point | Burns through fuel quickly, requiring regular feeding if you want a longer fire |
| Portable design and included carry bag make the pit easy to take on outdoor adventures | Users report the exterior paint starts peeling as early as the first use |
| Provides a higher ambient temperature, allowing it to be used as a source of heat in colder temperatures | If you add too much fuel or wait too long to refuel, the pit produces a lot of smoke |
FAQs
Question: What is the Best Material for a Fire Pit?
Answer: There is no single material that is going to be the best option for every situation. Instead, you must consider the pros and cons of each available material. Cast iron fire pits are generally considered the most durable but extremely heavy. This makes them difficult to transport. On the other hand, steel fire pits have a lower weight, allowing companies to make fire pits uniquely suited for camping or the cottage. But steel is thinner than cast iron, so the pit will lose heat at a faster rate.
Question: Do Steel Fire Pits Rust?
Answer: Another potential downfall of purchasing a steel fire pit that you must be familiar with is that steel is prone to rust when exposed to the elements. This isn't to say that you can't maintain a steel fire pit for years with a little planning and maintenance. Many great paints and other products can be applied to the steel to offer a layer of protection from surface rust.
Another factor is how your fire pit is stored between uses. Consider using a waterproof cover or moving your pit into a garage or shed when not in use.
Question: Is it Okay to Have a Fire Pit on a Deck or Balcony?
Answer: Whether it is safe to have a fire pit on your deck or balcony will depend on several key factors, including any rules or bylaws that may restrict burning in the area, the size of the space you have available, and the size and style of the fire pit that you are considering. If you have a small apartment balcony, a 27-inch diameter pit like the Solo Stove Yukon 2.0 isn't going to fit safely. However, you may be permitted to set up a smaller tabletop stove to enjoy the outdoor fire experience still.
Top Breeo Fire Pit Alternatives: Final Thoughts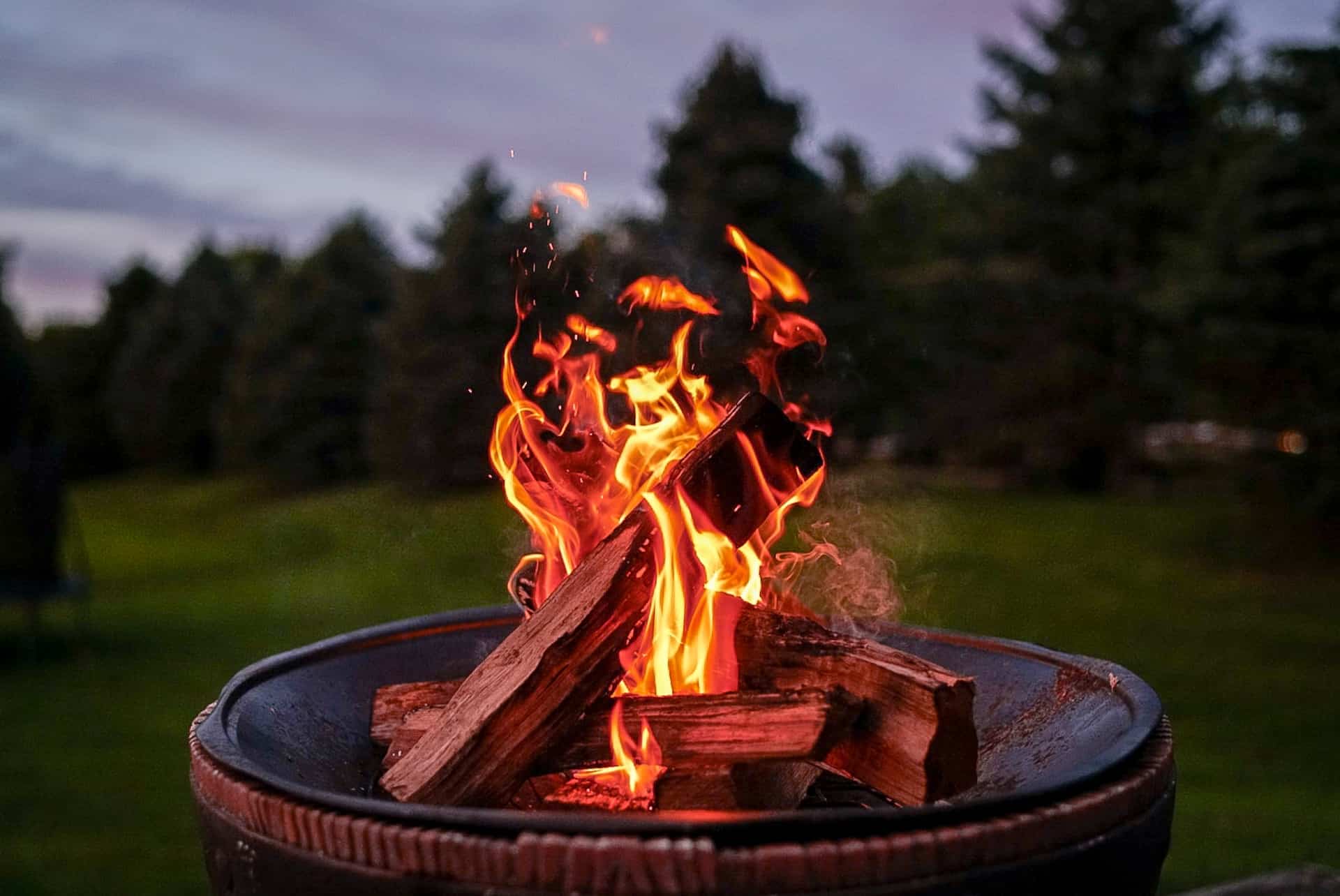 Selecting the "right" fire pit for your backyard or outdoor space may seem overwhelming. There are many factors to consider, including size, fuel type, style, portability, accessories, and desired function. While Breeo's line of smokeless fire pits is well known among outdoor enthusiasts and grilling masters, they aren't necessarily the best choice in every situation.
Our top choice for a Breeo Fire Pit alternative is the Solo Stove Yukon 2.0. This high-quality smokeless fire pit measures an impressive 27 inches in diameter, providing plenty of space for you and your guests to gather. The pit is designed for burning traditional wood logs, but a pellet adapter can be purchased for those who prefer wood pellets. When you're finished with the stove, the convenient removable ash tray makes cleaning a breeze.
However, depending on your needs, any option on our list will surely provide you with an incredible outdoor fire experience without all the smoke!
Before you go, you might also want to check out the Best Pellet Grill Under $500 that we have reviewed here.