The classic fire pit has been reinvented and engineered to be better than ever and will help turn your outdoor space into an actual outdoor living space!
Smokeless fire pits offer all of the warmth and ambiance of a traditional fire pit yet without the annoying and pesky smoke. We hope you enjoy this deep dive into the efficient design and vastly improved combustion created by two of the top manufacturers of backyard fire pits.
From our testing, we believe these are the best smokeless fire pits available on the market. If you like wood fires in a backyard-friendly wood-burning fire pit please take a few minutes to see what we saw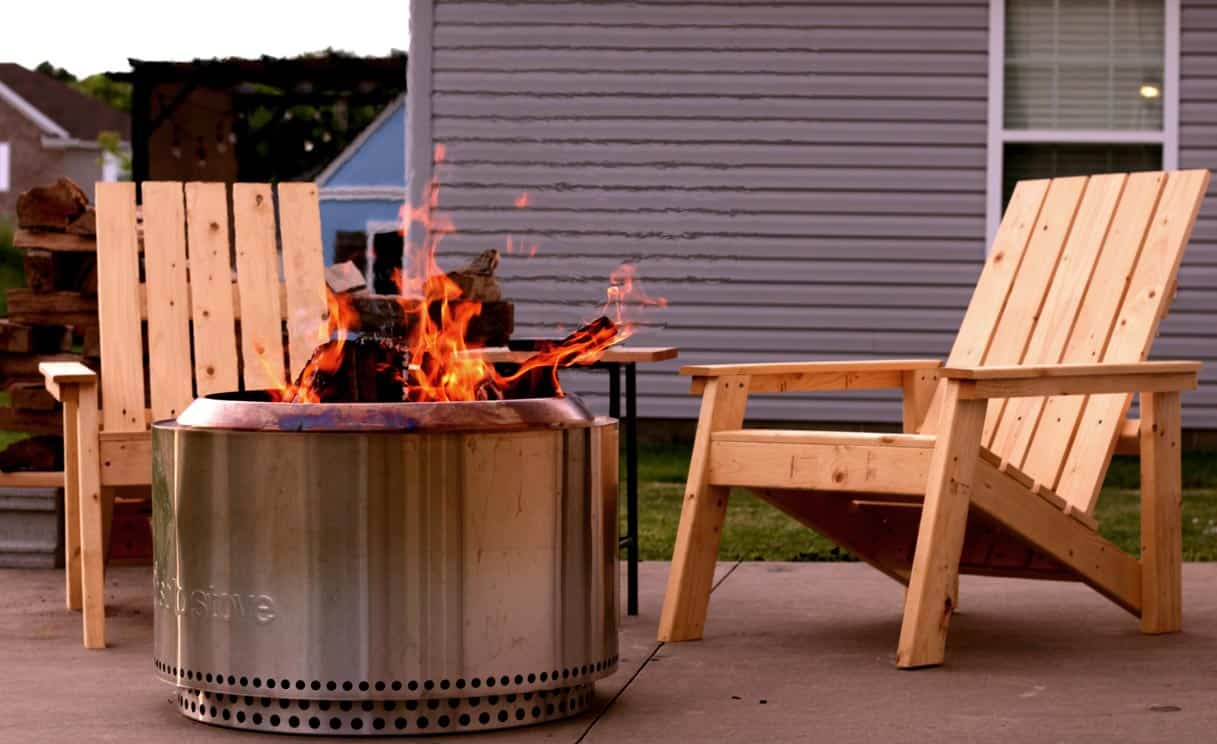 Solo Stove's Yukon model is seen above with the stand. Our pick for the best overall smokeless wood fire pit also happens to be the best option for one with all stainless steel construction – Solo Stove's Bonfire or Yukon model. Both models use the same design with the Yukon being the larger of the two.
Solo Stove has built a durable and attractive product that makes it easy to keep a high-temp burn all evening and with minimal effort.
The Bonfire model can easily handle logs that are split to the standard 16" length, with the Yukon able to take several logs that are up to a full 24" in length. Once a glowing ember base has been established, we found it easy to toss in whole logs or even logs that are a little damp and they'll burn without any hesitation.
The compact size of the Ranger makes for easy transportation on a road trip and qualifies it as the best of the portable smokeless fire pits. For those of you who enjoy camping but dislike smelling like smoke the entire trip, the Ranger might be the perfect fit for you.
And out in the wilderness, you will have an endless supply of your heat source – wood…and more wood. And even if it is of lower quality the better combustion from the internal airflow system should still create the desired intense heat and minimal smoke.
Best Backyard Fire Pit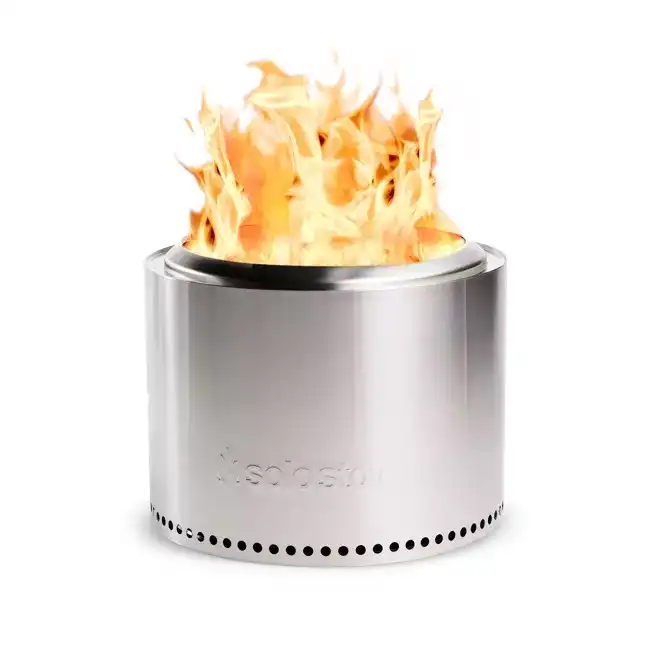 Bonfire 2.0 Solo Stove
Fire pit built for the backyard and beyond. Easily light up smokeless fires anywhere life takes you.
Check Price
We earn a commission if you click this link and make a purchase at no additional cost to you.
Pros of the Solo Stove Fire Pit
Three sizes available | Small – Ranger, Medium – Bonfire, Yukon – Large | Medium and Large recommended for families of 3 or more.
The fire remains smoke-free even with low-quality wood.
Consistent airflow design makes the fire maintenance-free, with no more turning the logs or adjusting the fire.
Cons of the Solo Stove Fire Pit
Stand not included, but highly recommended if placing on a deck or grass.

A practical grill attachment is not available.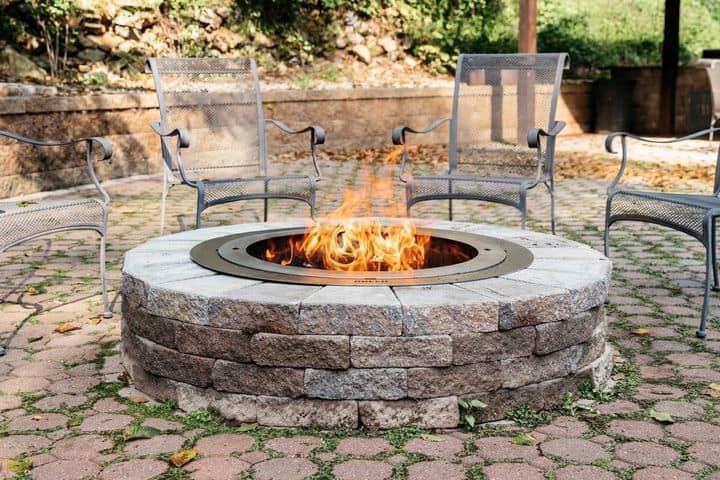 As its name implies, the X30 Smokeless Fire Pit Insert Bundle incorporates Breeo's patented X airflow system with double wall design convection that eliminates most smoke and creates a very efficient burn with much higher temperatures than a traditional fire pit.
The X airflow system pushes hot air to the top of the fire, mixes it with smoke, and then re-burns the smoke before it ever leaves the fire. It creates a much cleaner burn with this secondary combustion.
This innovative and trendy backyard accessory boasts a 30-inch diameter making it an enormous smokeless fire pit. The insert bundle includes an X-series fire pit with a matching insert ring allowing you to place it within any stone fire pit surround to create a beautiful and unique design. As an added bonus, it offers the flexibility to pull your fire pit out whether for winter storage or to use elsewhere.
The insert bundle is designed with optimal cooking capabilities and adaptability for any size group. This is possible due to the customizable capabilities that allow customers to personalize the size of the fire pit. The X Series insert bundles come in all of Breeo's standard sizes–19 in., 24 in., and 30″.
During the customization process, you can choose between the sleek 304 stainless steel or the ageless corten steel. Over time, the latter develops a nicely "aged steel" patina which is a weathered iron oxide coating that builds naturally over time. This also helps protect your fire pit insert from damaging corrosion or weathering.
You can opt for the sear plate or the attachable outpost grill when cooking. Through the firemaster package, the latter maximizes the potential of the X30 smokeless fire pit insert bundle, making it possible to cook for the whole family and a multitude of friends. In sum, this is among the few fully customizable fire pits on the market.
Most importantly, the insert bundle is durable, considering it consists of heavy-duty corten steel or 304 stainless steel. Whatever your preference, this fire pit can withstand harsh weather and serve you for a lifetime.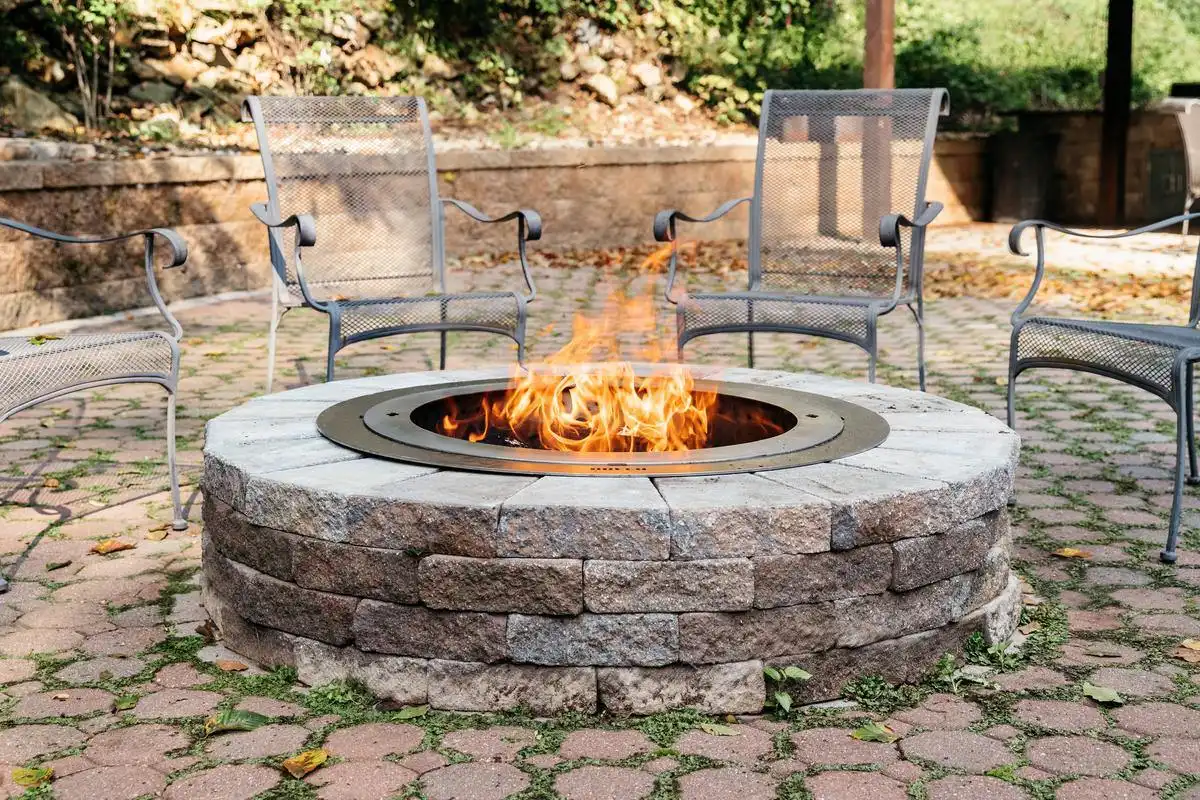 X30 Smokeless Fire Pit Insert Bundle | Breeo
The Insert Bundle includes an X Series Fire Pit with a matching Insert Ring so you can place your fire pit in any stone surround for a complete look and a show-stopping centerpiece for your patio space.
Check Price
We earn a commission if you click this link and make a purchase at no additional cost to you.
Pros of X30 Smokeless Fire Pit Insert
Incorporates smokeless technology with an innovative airflow design
Can slowly roast several items while concurrently grilling at high temperatures
Built to last
Fully customizable
Cons of X30 Smokeless Fire Pit Insert
The X30 smokeless fire pit insert bundle is a larger model making it challenging to move.
Fire Pit 'Ring' vs. Fire Pit ' Insert'
It's very easy to mix up a ring and an insert in terms of which is which. Many use the words interchangeably. The major difference between a ring and insert is this: a ring is a temporary structure, often shorter and only meant to contain a smaller fire. An insert is usually larger and fits into a permanent structure, like a decorative rock surrounding.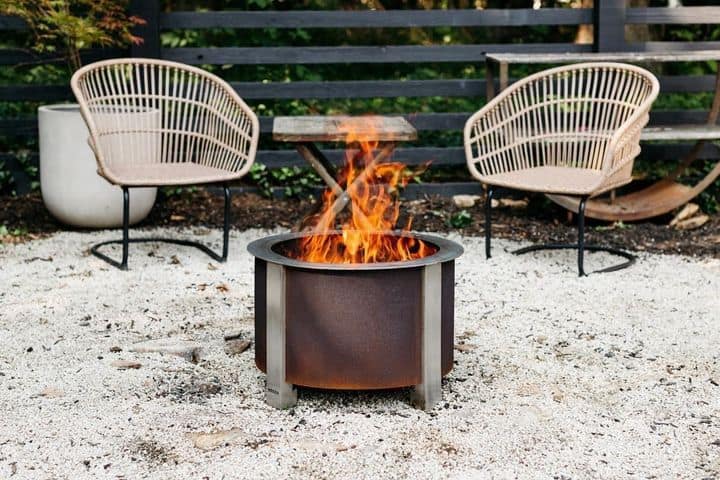 The awesome X Series 19 Smokeless Fire Pit elevates any campfire, tailgate or cookout experience by eliminating the hassle and frustrations of conventional fires.
As the name gives away, the X Series 19 Smokeless Fire Pit has virtually zero smoke output thanks to its patented X-flow air system and double-wall convection. All of Breeo's fire pits are of exceptionally high quality which you can feel the first time you pick one up.
Although the fire pit is relatively heavy ( 47 pounds or 21.3 kgs ), it's the ideal size for small backyards with the portability to tag along when needed. Moreover, it lacks movable parts making it an elementary installation.  The X Series 19 smokeless fire pit comes with an instruction manual on building the ultimate low smoke fire for a great outdoor experience.
You can choose your aesthetic, either the sleek stainless or the ageless corten steel. The latter arrives in a blue steel finish, and gradually, it will develop an iron oxide surface coating or a patina. The patina helps protect the fire pit from corrosion or weathering. Alternatively, corten steel fire pits have guidelines for seasoning the surface and quickly getting the aesthetic patina.
Another appealing feature of the X Series 19 smokeless fire pit is its durability. Its thick and heavy steel and corten steel can withstand heavy rainstorms, winter snow, high winds and smattering hail without exhibiting any signs of wear.
When it comes to grilling, the inbuilt accessory post sleeve and locking mechanism make this fire pit compatible with the Outpost™ Grilling System.
The Outpost grilling accessory is built with 304 stainless steel and can easily be removed and taken along into the wilderness for your next camping trip and used over an open fire. If you want the smokeless experience on your camping trip as well just clean and pack your Breeo X Series 19.
The Outpost Grill is fully height adjustable along with being able to swivel to a complete 360-degree rotation. We will discuss the sear plate further with the next fire pit in the line-up but it can certainly be paired here with the Outpost Grill to provide flexible and varied cooking positions.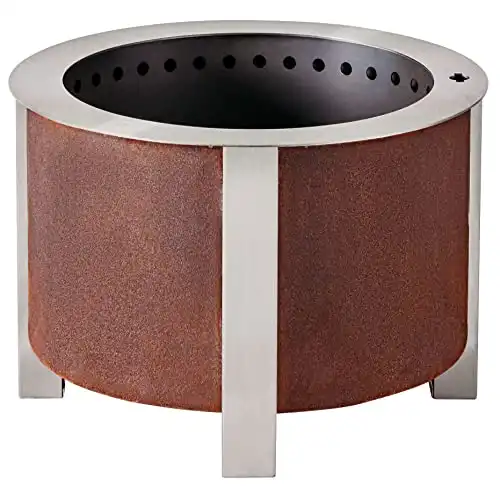 Pros of X Series 19 Smokeless Fire Pit 
Built to last
A smokeless fire that will never smoke you out
Perfect for grilling and small enough to be portable for travel
Cons of X Series 19 Smokeless Fire Pit
Ash tends to accumulate in the bottom of the fire pit and might clog the lower air channels.
Since this fire pit burns efficiently, you will go through wood faster than you would with traditional fire.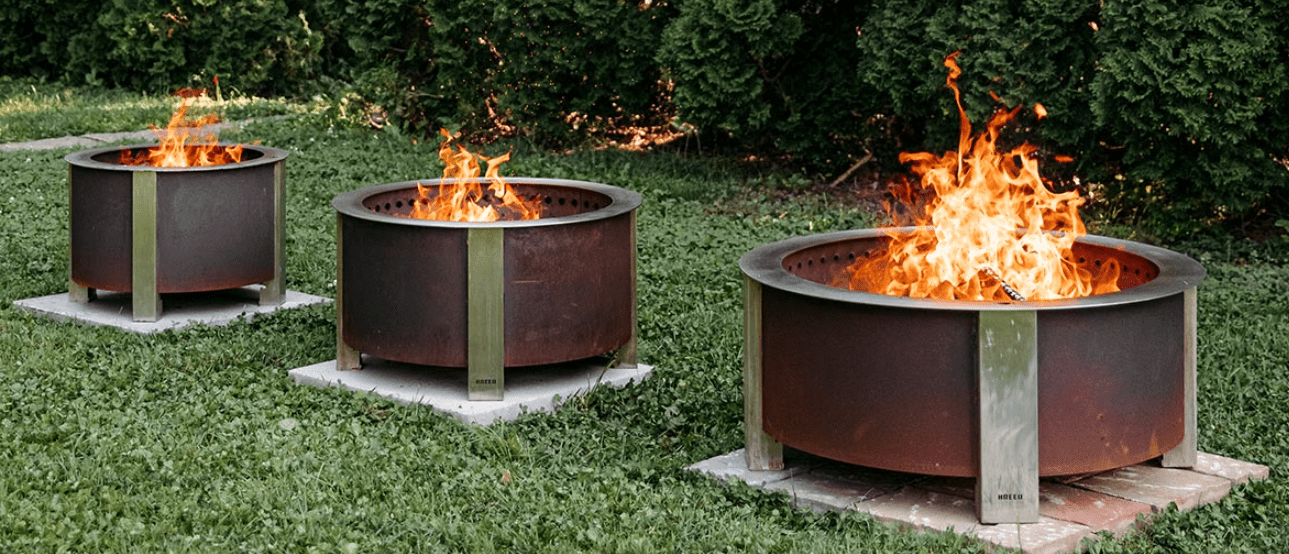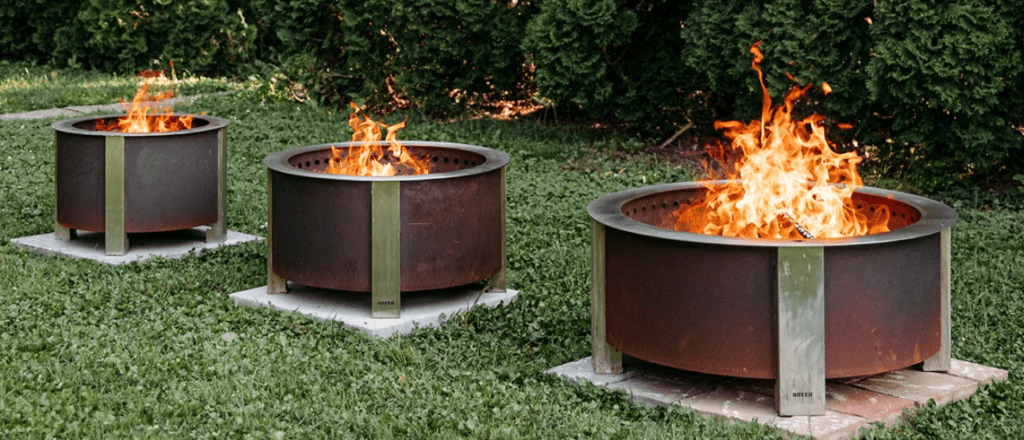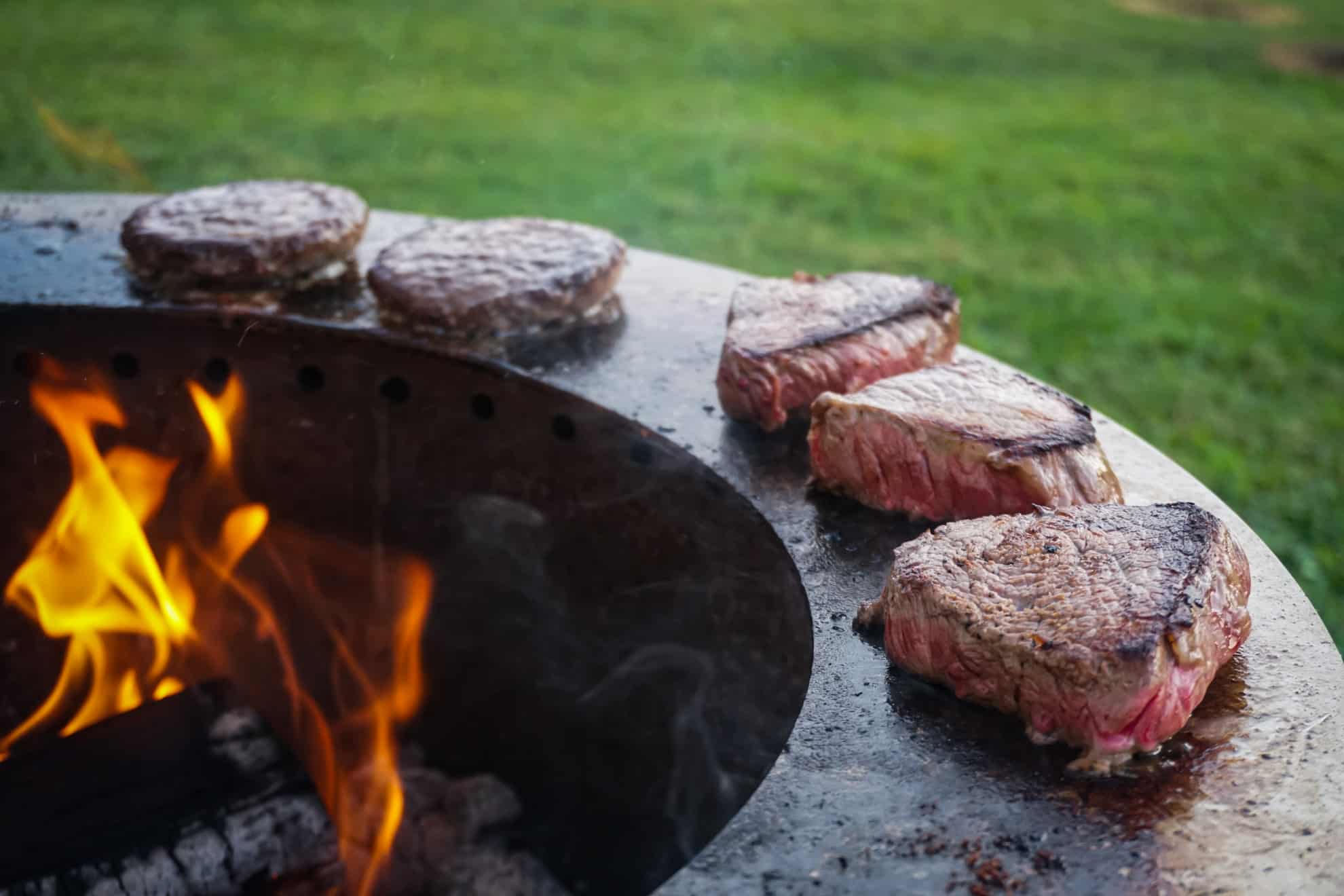 For the ultimate backyard cooking experience, Breeo's X-Series smokeless fire pits are the premium option. A 7-gauge stainless steel sear plate can be added onto the upper ring of the fire pit and offers 384 square inches of cooking space, which is enough to fit bout 15 of your average-size burgers. This is not one of your typical fire pits.
Due to the high heat of the fire at the top of the burn chamber, the sear plate naturally sanitizes itself. Because of this, you can choose to clean it as often or as little as you like. The corten steel body is built for the elements and will develop a very nice aged patina over time.  It just improves with age.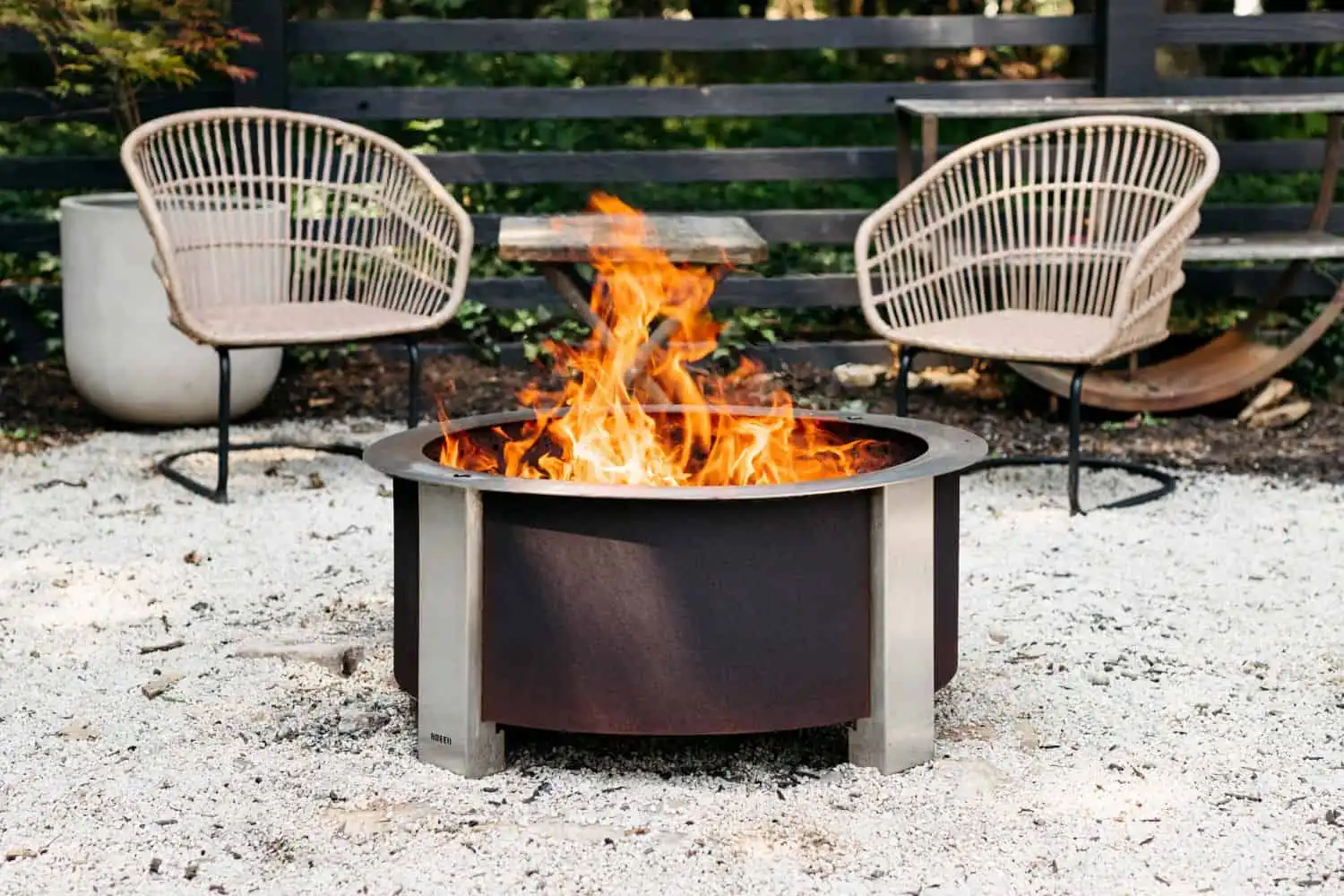 X Series 30 Smokeless Fire Pit | Breeo
Host the biggest parties and grill the most burgers (46 to be exact) with the X30, our largest fire pit and the ultimate grilling machine.
Check Price
We earn a commission if you click this link and make a purchase at no additional cost to you.
Pros of Breeo X Series 30 
Built-in sear plate for meats and veggies
Corten steel body requires no cover
Can be used in conjunction with the Outpost Grilling System and Kettle Hook
Cons of Breeo X Series 30
Not portable.  Or, at least, it is not a fun move to make.
Features and Characteristics
With a smokeless fire pit, there are several features you'll want to pay attention to. Most of these characteristics overlap with a traditional fire pit; however, some are exclusive to this type only.
Material
For the most obvious reasons, material matters since it contributes to the durability and overall lifespan of the fire pit. The most common material you'll see for a smokeless fire pit is stainless steel.
Why?
Stainless steel has a higher resistance to corrosion, and its shiny appearance makes it a showroom favorite. The stainless steel shines due to its Chromium content, along with Nickel, and a few other elements that create a protective layer that locks out moisture and oxygen from causing the metal to rust.
Stainless steel will lose its showroom luster over time, and with enough exposure to the elements, it will eventually rust. However, even without taking any extra care precautions, it's unlikely you'll see any significant rust or corrosion for 5-10 years. Let alone any rust or corrosion that will cause any damage that may affect performance.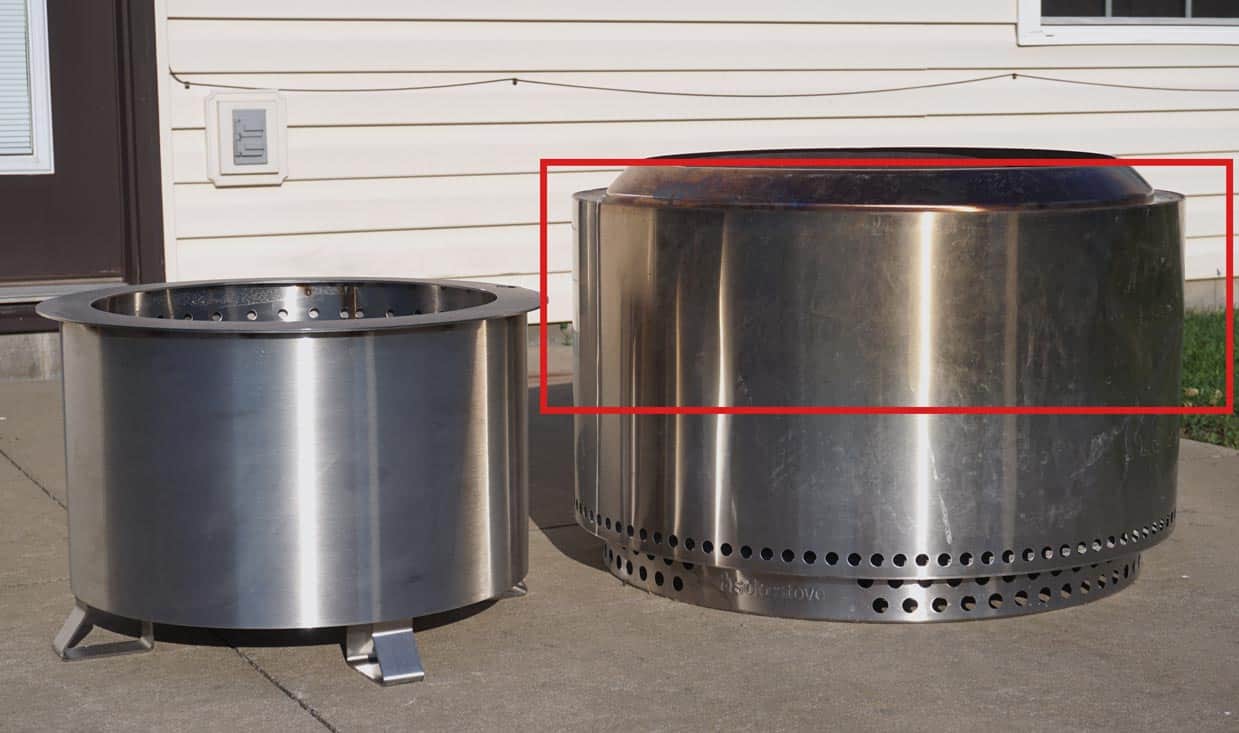 Your smokeless fire pit will develop a 'patina' after many uses. The patina will become more pronounced over time. This is normal and is to be desired. On the left is a brand new Breeo Double Flame and on the right is a Solo Stove Yukon 30″ (30″ now discontinued).
If you want a Solo Stove with a black finish, that's a little harder to come by. For a truly high-temperature resistant finish, it must be cured in a kiln. Regular high-temperature spray paint will work, but baking in a large oven allows the coating to adhere properly.
Lastly, powder coat is a less common finish but is seen on budget options like the Flame Genie. While powder coating is a great option for many applications, it is not the best for repeated high-heat usage, like in a fire pit. At the same time, this varies from application to application, repeated exposure to the sun and other elements will likely breakdown the powder coat before the two materials mentioned prior.
The stand
You'll notice that for some smokeless fire pits, the stand is built-in. Pay attention to this because it will affect where you place your fire pit. This doesn't apply to the Breeo fire pit insert, but it does apply to their other models, the BioLite, Flame Genie, and Solo Stove.
Most notably, the Solo Stove does not include a stand; however, they do often run promotions that include a free stand. If one is running, a link will appear in the box below to claim the offer.
Heat can and will transfer from fire pit to whatever it is sitting on. This could kill parts of your grass or cause your damage to your wood or composite outdoor deck. When the Solo Stove Yukon's temperature was tracked at the base, it reached about 200 degrees Fahrenheit throughout an intense 45-minute burn.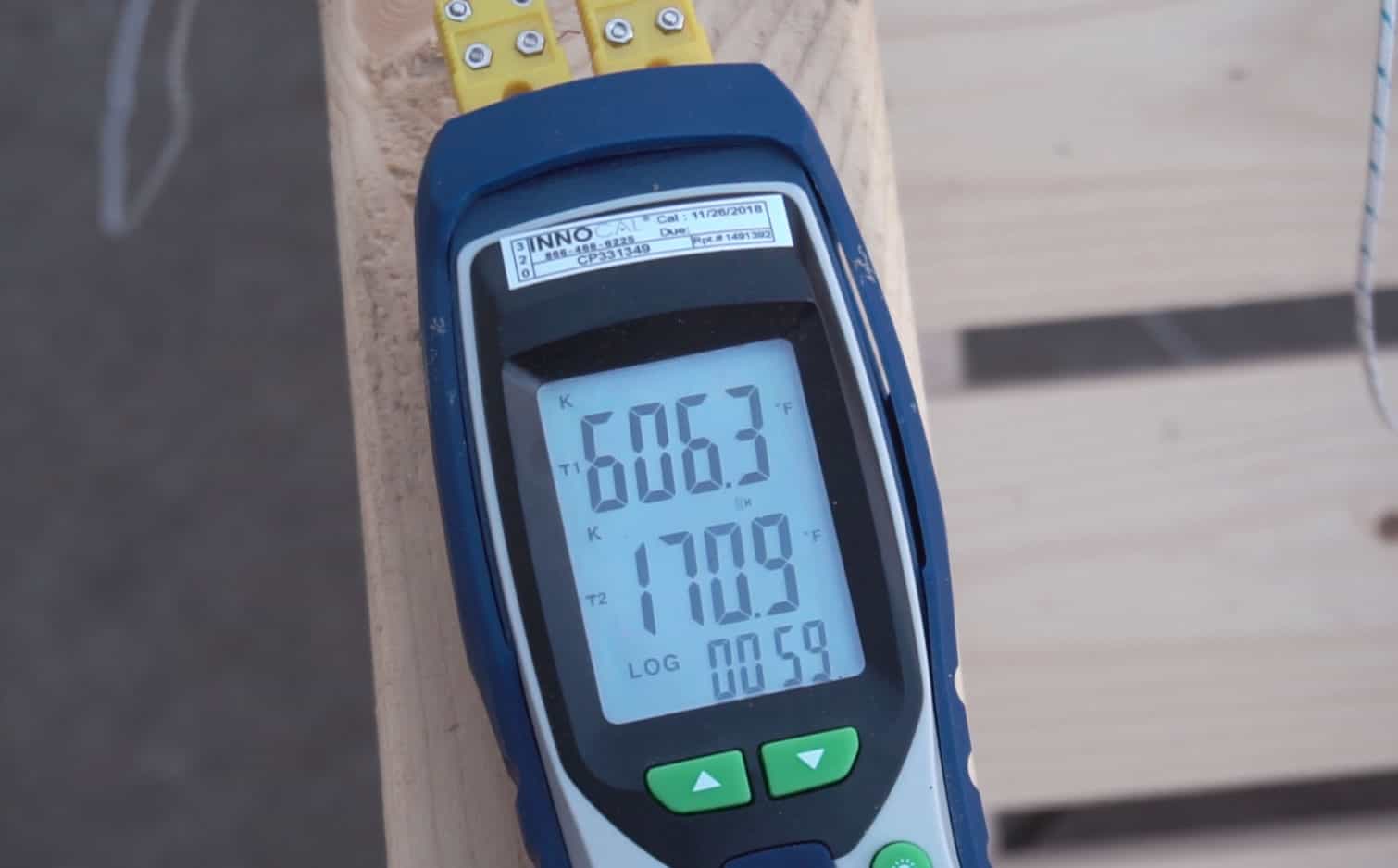 This was one of the readings from the thermocouple. The top reading is from the rim of the Solo Stove. The bottom number is the metal at the bottom.
This isn't anything to fret over; however, you'll want to have something in between your deck or the grass if that's where you choose to place it. Something as cheap and as simple a couple of concrete pavers can go a long way.This was one of the readings from the thermocouple. The top reading is from the rim of the Solo Stove. The bottom number is the metal at the bottom.
This isn't anything to fret over; however, you'll want to have something in between your deck or the grass if that's where you choose to place it. Something as cheap and as simple a couple of concrete pavers can go a long way.
Size, Weight, Portability, Volume
This section is somewhat self-explanatory. Except for Solo Stove's Yukon, each of the fire pits in this list can be moved by one person, when cooled down. With the exception of the ring insert (not listed), each fire pit is technically portable; however, some are easier to move than others.
You will need to wait until the fire pit cools down, or use some other heat-resistant means of moving.  Volume is likely the most important detail here. The larger the volume, the more wood you can place in the fire pit, the hotter it will burn, and the fewer times you'll need to get up to put another log on.
Most firewood suppliers cut their logs to 16" in length and then split them. Be sure that whatever wood you choose to use, it will fit in the fire pit and be below the secondary burn level.
Performance Requirements
With the exception of the BioLite, the smokeless feature is built into the design, with no batteries or external power needed. Air is drafted from the bottom of these fire pits and brought up through the sides. For the BioLite, the air is forced in via a battery-powered fan.
For the BioLite to be smokeless, you will need to have the battery charged at all times. Otherwise, you're stuck with an undersized grill and mediocre fire.
The other fire pits are not without their faults. Ensuring you're using good wood is a must for all of these fire pits. Hardwoods are preferred, and the less bark, the better. For the fire pits like the Breeo or Solo Stove, there is a sort of minimum amount of wood that needs to be burning to achieve the secondary burn effect.
While the Breeo or Solo Stove will still be 90% smokeless even if below this threshold, the secondary burn is a very practical and cool effect, unless you're purposely skimping on wood, you shouldn't have a problem achieving this effect.
Easy to Light
Because of the added airflow in each of these fire pits, getting a fire going is easier than a traditional fire pit. While you still should aim to build a teepee or log cabin to get the kindling started, you have the added airflow underneath to help breathe life into the fire.
Factors to Consider
Even if the Solo Stove Yukon sounds great, you might want to make sure you're going to make the most of it. Some folks may find a smaller size is more appropriate depending on a number of factors including, their surroundings, frequency of use, wood budget, and more.
Surroundings and location
Here's some questions you'll want to ask yourself.
Will it be left outside while not in use? Is your climate dry or usually humid?
How close is it to the house, trees, shrubs, or other flammable items?
Will it be used on a deck, grass, or another non-heat-resistant surface?
Will you be taking this on the go for camping, tailgating, or other activities? How often?
Does your county have any ordinances against open fires? Or is your neighbor a jerk?
If you're going to spend any significant amount of money on a fire pit, you want to ensure it's going to last as long as possible. While these fire pits are built significantly better than your home-improvement-store-Memorial-Day-special, they're not bulletproof, and spending a little extra goes a long way.
Family and Guest Size
Any of the options listed here will be sufficient for a family of four. You may find the BioLite to be on the smaller side and not put out as much heat. If this is mainly for home use, you are better off buying a separate grill and a Solo Stove or Breeo.
Keep in mind that if you opt for a smaller-sized fire pit, you may find yourself wanting something larger in the future. Some nights get colder than others, and having that extra volume to burn wood makes a significant difference in the heat output.
For any group larger than 5 or 6, go with one of the larger options offered by Solo Stove or Breeo.
Grilling or Cooking Capabilities
Breeo offers its X Series line that allows you to add a wide cooking ring, or sear plate, on the top of the fire pit as you are building out your customization on their site. This added ledge acts as a flat top grill that is used to cook burgers, chicken, sear steaks, cook veggies, and more.
Additionally, the Outpost Grill can be used for other items you would like to cook at a greater distance from the flame. You'll often see many Breeo owners using a cast-iron skillet on the upper portion in addition to meats on the rim. It's a great design that's simple and effective.
The Solo Stove has cooking capabilities, although the attachment or accessory is a hassle to setup. The Solo Stove uses a teepee style of pole attachments that takes up a lot of space and requires you to hang the cooking grate from the top of the poles.
If you're on the go and won't be cooking large amounts of food, the BioLite easily takes the win. Even without battery power, you can still grill food, although due to its small size, you can't grill a lot at once.
Accessory options and their costs
As mentioned earlier, you want to invest in your fire pit. Part of that is buying the accessories needed for proper upkeep and maintenance. The article below lists all the possible accessories you might want and more. However, for most home use fire pits, a stand and cover will be enough to get you started.
Here's a summarized list of the article above of items you may want to also purchase.
Fire pit cover
All metal bucket
Marshmallow roasting sticks
Fire extinguisher
Heat resistant gloves
Spark screen
Lid or suffer
First aid kit
Cast iron skillet
Tiki torches
Wood Availability, Cost, Frequency of Use
The more fires you have, the more wood you'll burn, which means more wood you'll need to buy. Make sure you get some prices from local suppliers for seasoned hardwoods. Check out the guide below if you've never bought wood from a local dealer. Do not buy wood from the home improvement store or your gas station. You're almost better off burning the dollars instead.
For a full cord of seasoned hardwood, expect to pay in the $300 range. While that may sound high, that's a very, very large amount of wood. 128 cubic feet, to be exact. Again, more info in the article above. To go through that much wood in a single year, you would need to be having a raging fire every weekend.
Pellets vs Firewood
You may notice that some options like the Flame Genie and Blue Sky use wood pellets. Wood pellets are a good option for people who live in urban areas where firewood is not readily available or is difficult to store. You can use pellets in the Solo Stove or Breeo too, but you'll get better results with wood.
Pellets have two major downsides. For one, they're expensive and don't last as long as wood, dollar for dollar. You'll be adding pellets to the fire at least every half hour to keep a good fire going.
Secondly, if you want to roast marshmallows, hot dogs, or any other food over the fire, you need to buy food-grade wood pellets. These can be more expensive than normal pellets because they don't contain the chemicals or binding agents used to hold regular pellets together.
Propane vs Wood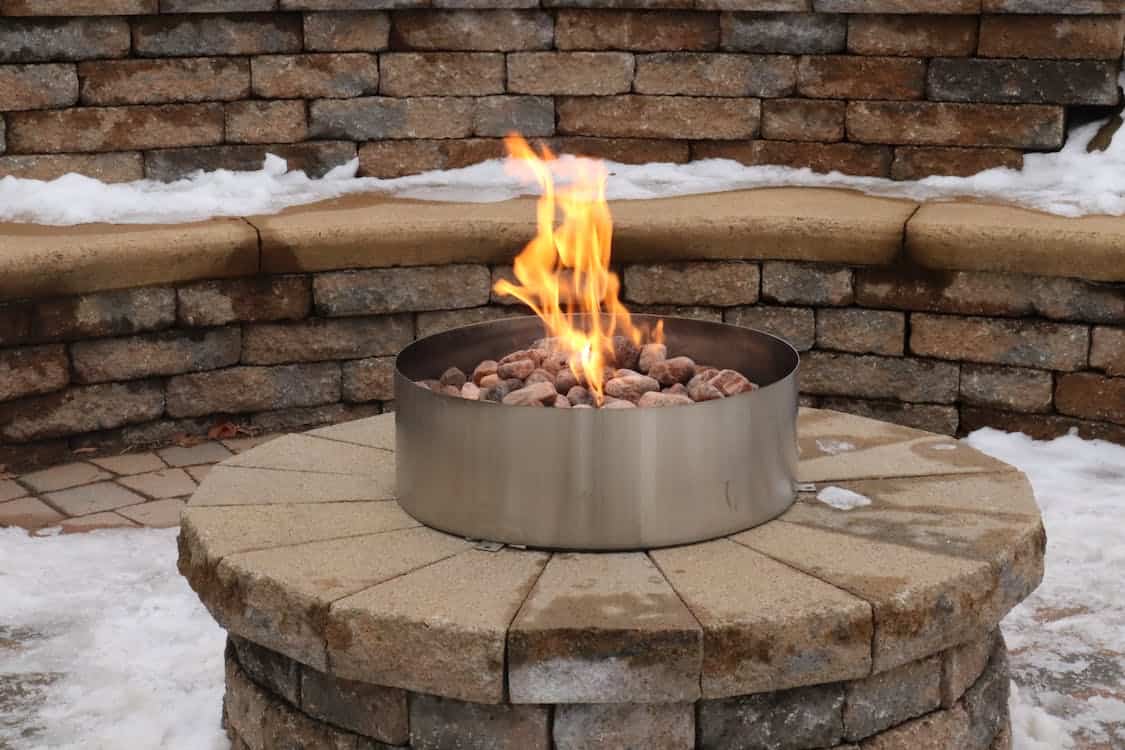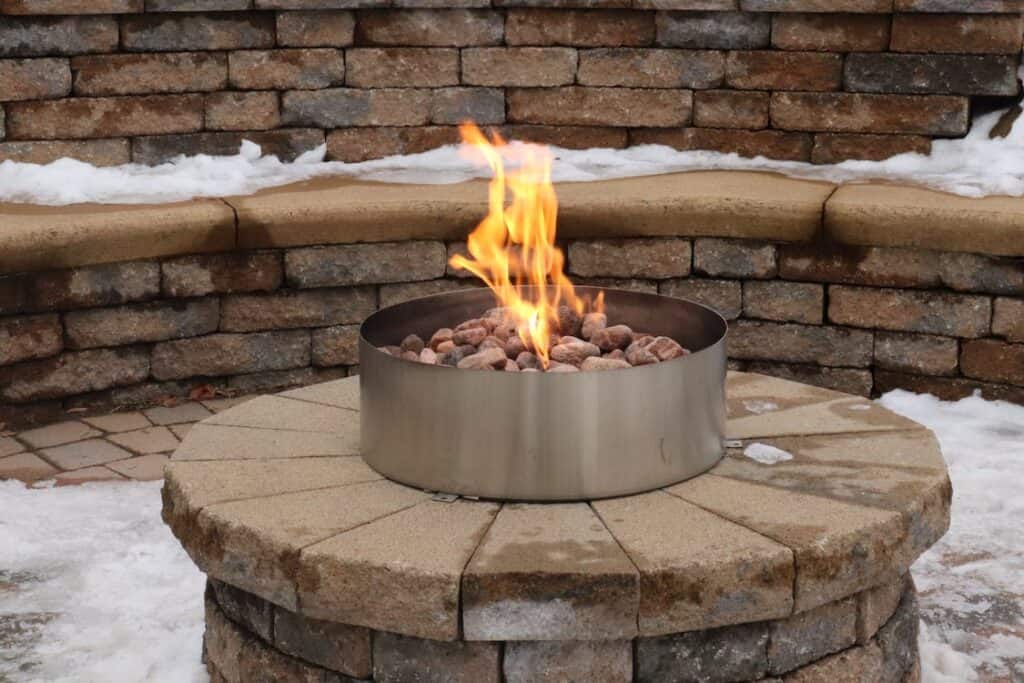 Some love the smell of a good bonfire, while others hate it. With a smokeless fire pit, you'll still get the smell of bonfire on you, but it won't be as nearly as intense because there's significantly less smoke.
With a wood fire, you get a truly authentic bonfire. The smell, the crackling, and the glowing embers that are simply mesmerizing – especially after a couple of drinks. No need to worry about maintaining gas lines or running out of fuel on a chilly night.
Long term use
The simpler the design, the better. The fewer moving parts there are, the lesser the risk of something breaking or wearing out. This is what gives Solo Stove and Breeo huge advantages over their competitors. You can count the number of movable pieces on one hand. In essence, these fire pits are simply hunks of stainless steel formed to move air efficiently – pretty tough to beat.
Compare this to the BioLite, which has a battery that will eventually wear out, and a fan that already has vibration issues. More can be learned about that issue in this article.
You can damage the Solo Stove or Breeo, but that's not easy to do. Even if you do manage to put a significant dent in one of them, it does not affect the overall performance of the fire pit in any significant way.
Community Options
Lastly, you may want to consider the communities around each of these products. There are Facebook groups that anyone can join, ask questions, and get ideas, inspiration, or helpful advice. You can check out those groups by following the links below:
Solo Stove: https://www.facebook.com/groups/201583924000120/ | Size: ~12,000 Members
Breeo: https://www.facebook.com/groups/2124405267782315/ | Size: ~12,000 Members
BioLite: https://www.facebook.com/groups/439998786464401/ | Size: ~600 Members
Where Should You Buy Your Smokeless Fire Pit?
For a smaller fire pit like the BioLite or Flame Genie, buying on Amazon is fine. However, if you decide to go with the Breeo or Solo Stove, it's almost always better to buy direct from the manufacturer.
Why? Here are a couple of reasons
Guaranteed support, no need to go through Amazon or another third party. The manufacturer has a greater incentive to help you than the 3rd party does passing the buck.
Exclusive discounts and deals are only available through the manufacturer. As mentioned earlier, promotions are often ran that may include a free stand or other items. Military, Medical, and First Responders also receive a special discount on Solo Stove items.
Guaranteed proof of warranty. Try going through a warranty claim with Amazon involved, and the only guarantee is a headache. It's much easier since you're directly saved into the manufacturer's database.
Best Fire Pit Brands
We've already covered a few of the larger, more well-known brands. Below are company profiles on other brands that have similar offerings, but didn't make the cut on our list.
Solo Stove Company Profile


Solo Stove was started in 2010 and originally started out making portable camping stoves for outdoor enthusiasts alike. Fire pits did not enter Solo Stove's offerings until 2016 when the original Bonfire reached nearly 5,000 backers with pledges totaling over $1.1M. Solo Stove went on to launch the smaller Ranger, and larger Yukon on KickStarter and Indiegogo with both projects funded in less than an hour.
Breeo Company Profile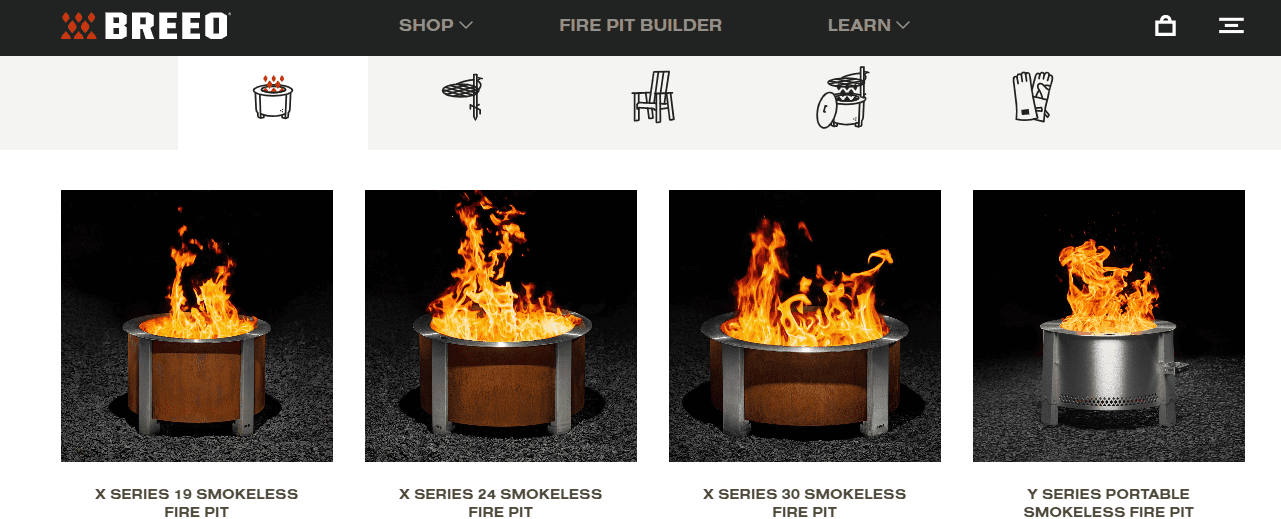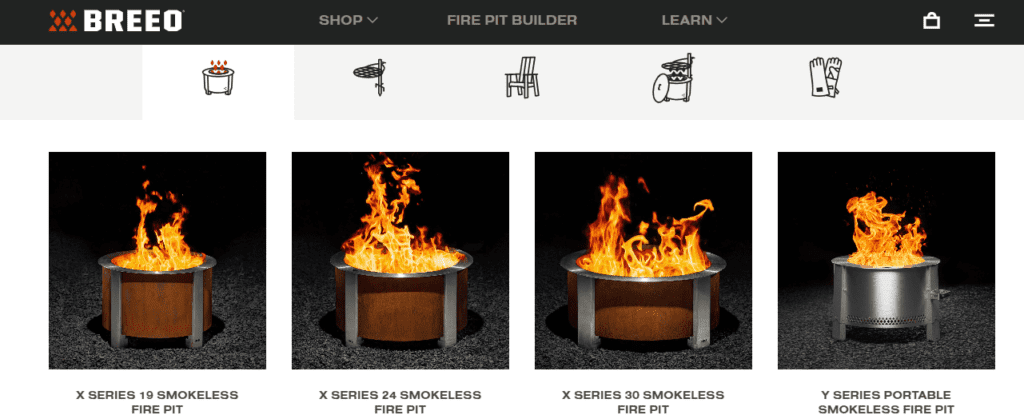 Website:https://breeo.co/
Founded: 2011
Headquarters: Lancaster, Pennsylvania
Manufacturing Location: Lancaster, Pennsylvania
Breeo's story is a simple one. The first smokeless fire pit they produced was made in the same location as their headquarters and their present-day manufacturing location. Each fire pit has been American made since the very beginning, and as they continue to innovate, there does not seem to be any inclination to move manufacturing outside of the United States.
Breeo's goal is to create the ultimate campfire experience that brings communities together for generations to come. Breeo's sole product line revolves around fire pits, fire rings, and the accessories associated with them.
BioLite Energy Company Profile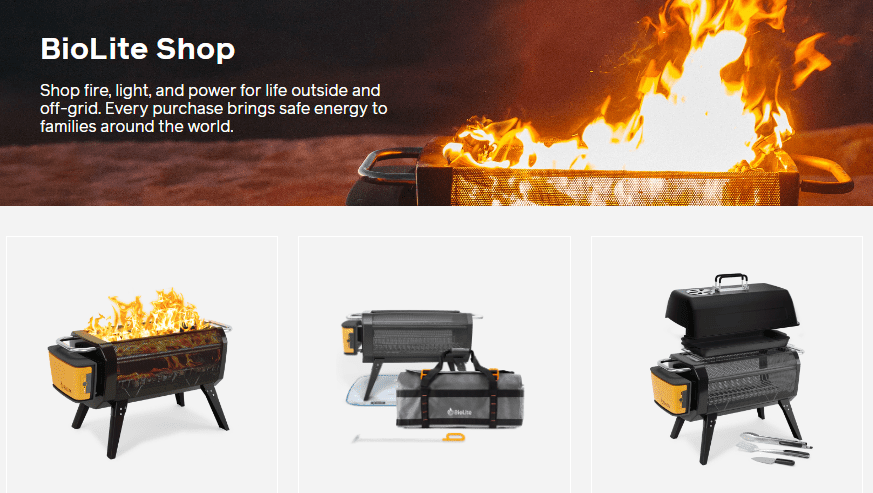 BioLite is a start-up company based in Brooklyn, New York whose product line consists of products intended to provide light, heat, and the ability to cook in areas where there would otherwise be no access to those as mentioned above.
BioLite's main office is in the United States; however, they also have two other offices in Kenya and Uganda. The BioLite Team's mission and goals revolve around creating revolutionary products and innovative designs that bring clean, renewable energy to poverty-stricken areas, particularly in India and Africa. These products and designs serve a dual purpose by satisfying off-grid product demand to those in the United States and other more developed countries.
Flame Genie [Parent Company HY-C] Company Profile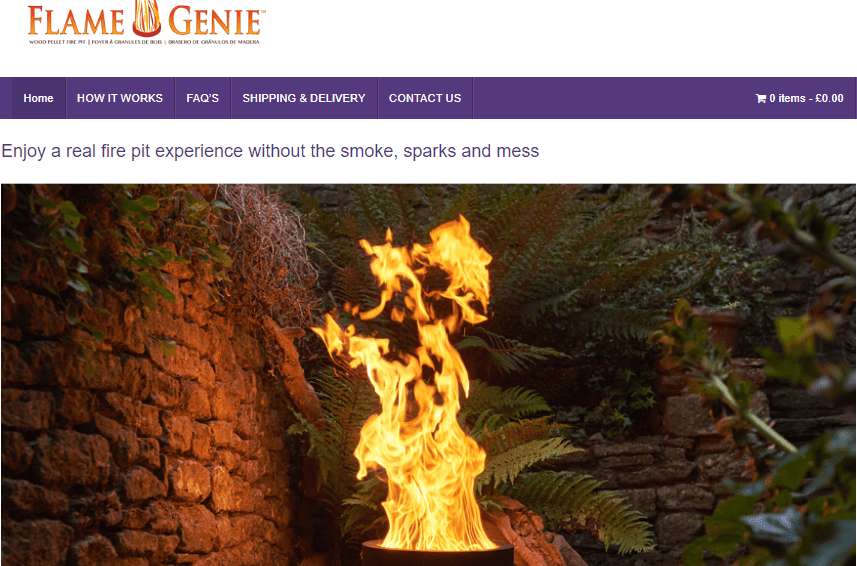 Website:https://www.flamegenie.co.uk/
Founded: 1947
Headquarters: St. Louis, MO
Manufacturing Location: United States
HY-C Home Solutions is the company that owns the Flame Genie brand. HY-C Home Solutions is a company that focuses on creating products that make everyday life easier. Whether it's cleaning the gutters, covering chimneys, or even screens to keep out wildlife, HY-C does it all.
The Flame Genie brand is another brand that lives under the HY-C umbrella. HY-C's products are manufactured with a minimum of 85% of materials in the United States, if not more. Their goal is to provide safety, comfort, and sustainable living products to improve your life and the life of your home.
Best Smokeless Fire Pits: FAQs
Question: How do smokeless fire pits work?
Answer: Smoke is a byproduct of unburned particles from the wood or whatever matter is burning. Smokeless fire pits produce a burn above the actual fire to burn off this remaining particulate before it enters the air (and ultimately your face). 
These fire pits do this by providing heated air to the top of the fire, where the remaining particulate escapes. The heated air provides the extra energy the fire needs to burn the remaining particulate.
Question: Do smokeless fire pits keep mosquitoes away?
Answer: Generally speaking, yes, but a fire is not the ideal solution for keeping mosquitoes away. It's widely accepted that it's the smoke that keeps the mosquitoes away. You can rest assured the heat output of these fire pits is a strong deterrent of mosquitoes. While it's not a perfect solution, it's better than nothing. 
If mosquitoes are a constant problem, keep some plants like citronella, basil, or lavender nearby that help to repel mosquitoes. These will do a better job of keeping mosquitoes away all day and night than a fire will.