A backyard fire pit can transform your outdoor space, creating a central space for everyone to gather and connect. Whether you enjoy cooking over your fire pit, serving up mouth-watering meals, or simply engaging in a deep conversation while staring into the mesmerizing flames, you need a comfortable seating arrangement that can accommodate everyone.
My husband and I spend much of our time entertaining outdoors. When setting up our backyard space, we wanted to ensure sufficient seating was available for our loved ones to relax, socialize and enjoy the fire pit. But with so many options available, it can be challenging to narrow your options to the seating best suited for your space. It took us a while to arrive at a decision!
To help you create an outdoor space you will be proud to show off, we have compiled the following guide. Here you will learn what you should consider when shopping for fire pit seating options, including the ideal height and materials for your yard. We will also share a list of the best fire pit chairs for backyard setups of all sizes and styles. There is sure to be an option for every space.
Bottom Line Up Front
If they are tall enough to accommodate the height of your backyard fire pit, nearly any outdoor chair can be used for seating. However, the best options will offer a comfortable place to relax while also matching your design aesthetic. Select seating that fits your available space while allowing room to move safely when the fire is burning. For households with young children or pets joining you by the fire, you may need to incorporate additional room as a safety precaution.
How Do You Arrange Seating Around a Fire Pit?
When arranging your fire pit seating, there are a few key elements to consider. You want to arrange the space to allow your guests to see the fire pit, engage with one another, and still be able to move safely throughout the area. This starts with selecting the ideal location for your fire pit, then complementing it with seating and accessories.
Find a location in your yard that provides ample open space. Consider the size and shape of your pit when shopping for and arranging furniture. A small, round pit is better suited for several chairs, while a long, rectangular pit can be complemented nicely by adding bench seating or a couch. This will extend seating in a way that is both comfortable and functional.
How Far Should a Chair Be from a Fire Pit?
The distance recommended between seating and the edge of the fire pit will depend on the type of fire pit you are using. More specifically, it will depend on the fuel being used.
There is an increased risk of sparks for wood-burning pits like the one we have in our backyard. It is recommended that chairs and other seating be placed at least 3 feet away from the edge of your pit. Gas and stone fire pits don't present the same level of risk. You can move closer, placing your chair approximately 2 feet away from the fire pit.
An ideal backyard fire pit setup will also allow your chairs to move closer to the fire for added warmth on a cool day or shift further away from the fire if it is burning too hot.
Features to Consider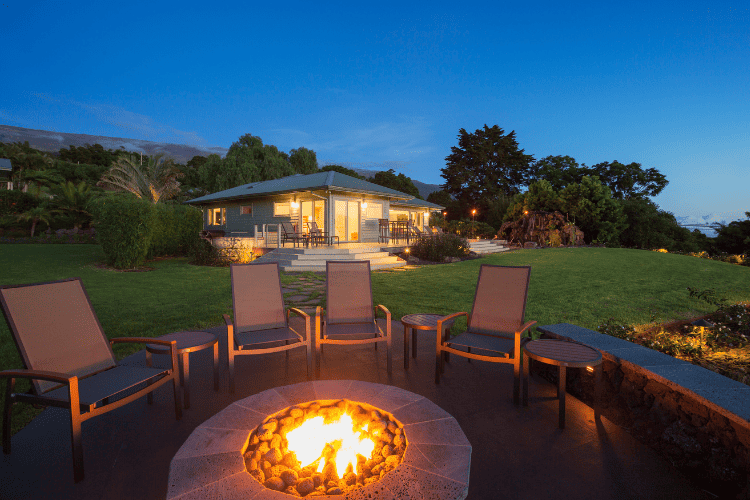 When selecting the best fire pit chairs for backyard setups, there are a few critical factors to consider. This includes:
Style

Size

Portability

Materials

Comfort level

Budget

Ongoing maintenance required
Pay careful attention to the chair's height in relation to your fire pit. You want to ensure that you and your guests will sit high enough to view the crackling flames of your fire. Your seating should fit around your pit with enough room for people to move through the space safely.
After carefully reviewing the many seating options available with these considerations in mind, we believe the following chairs will include an ideal solution for any lifestyle or backyard setup.
Best Fire Pit Chairs for Backyard Setups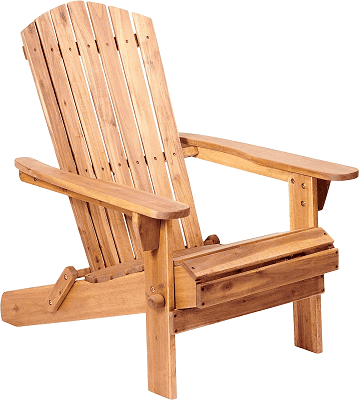 These beautiful Acacia wood Adirondack chairs are the ideal blend of comfort, style, and functionality. The wood is stained and oiled. This, combined with the natural weather-resistant properties of the wood, allow it to stand up beautifully in the elements. However, it is recommended that you treat the chair with teak oil twice a year to maintain its appearance.
The chair featured a sloped seat and slatted fanned back to create a surprisingly comfortable place to sit without the need for added cushions. If you prefer a more padded seat, you can purchase high-back cushions from the company separately.
During the off-season, the chair folds up to easily store in your shed or garage. It can also be taken with you when traveling, but it is bulkier than most travel chairs and weighs nearly 31 lbs.
The chair sits relatively low to the ground, like most Adirondack chairs. It may not be ideal for taller fire pits, older individuals, or those with mobility issues that could make getting down into or out of the chair difficult.
| | |
| --- | --- |
| Pros | Cons |
| Chair easily folds up to be stored when not in use | Higher price point |
| Designed with an extra wide seat for added comfort | Requires ongoing maintenance with teak oil to keep the chair in peak condition |
| Constructed from naturally weather-resistant Acacia wood | Chairs are relatively low to the ground, which may not suit those with taller fire pits |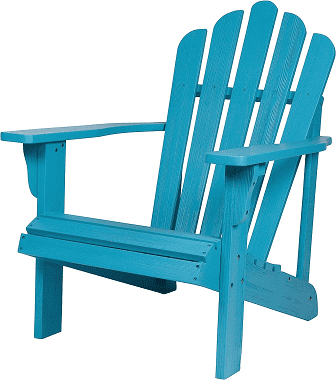 This stylish Adirondack chair from Shine Company comes in a variety of colors, including more traditional brown tones and vibrant shades like aqua, red, and lime green. This variety makes it easy to match the chair to any décor style, from a more traditional rustic appearance to a bold modern look.
The chair is constructed from sustainably harvested cedar wood, which is naturally resistant to the elements. It can be left outdoors throughout the season safely. With extended exposure to the sun, the chair's color will fade. But it can be refreshed easily with a fresh coat of paint. It does not fold up, meaning that it will require more room for storage during the off-season.
The chair offers a deep, contoured seat and ergonomic back for comfort. It has a maximum weight limit of 250 lbs, which isn't ideal for larger individuals or for sharing a seat with your young children. Like the Plant Theatre Adirondack chair, this chair sits low to the ground. While it will work well with many fire pits, it is not ideal for pits that sit taller or have high sides.
| | |
| --- | --- |
| Pros | Cons |
| Available in a wide range of colors | Lower maximum weight limit at 250 lbs |
| Made from 100% Asian cedarwood with natural resistance to the elements | Color does fade over time due to sun exposure |
| Ergonomic back for optimal comfort | Chairs are too bulky to easily move around the yard to other locations if desired |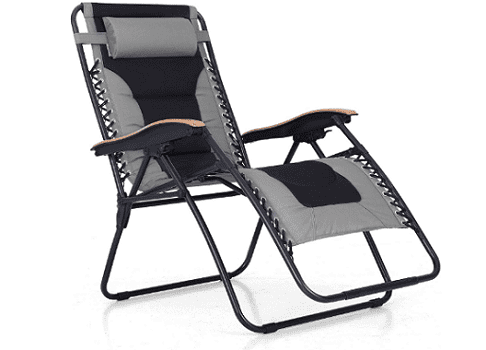 If you are searching for a chair that you can use around the fire pit in your yard and at the campground, this is an excellent solution. The Maison Arts Oversize XL Padded Zero Gravity Lawn Chair allows you to kick back and relax with its reclining system. You can position and lock the chair anywhere from 0 to 168 degrees.
The chair features durable Oxford fabric and is rated for up to 350 lbs. But despite its larger size, the chair is still better suited to those who are shorter to average height. My husband is over 6' tall and finds the chair too short to sit comfortably for extended periods.
On the side of the chair, a small cup holder and tray can hold a drink or your phone. It offers padding on the seat and the back, a headrest, lumbar support, and a wide frame for added comfort.
However, the label does warn that the chair isn't designed to be left outside in the elements for an extended time. It should be stored out of the elements when not in use.
| | |
| --- | --- |
| Pros | Cons |
| Folds up for easy transport from location to location | Attached cup holder is small and can't support much weight |
| Padded seat and back for added comfort | Needs to be stored out of the elements |
| Lockable reclining system can be adjusted from 0 to 168 degrees | Chair length isn't ideal for taller individuals |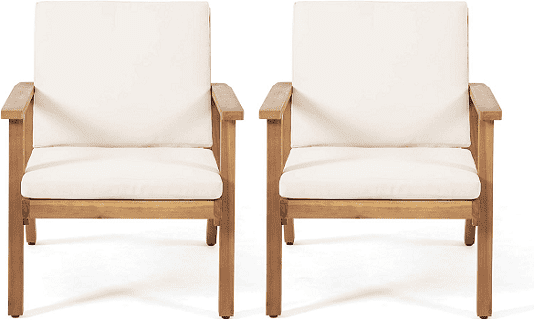 For those seeking a complete furniture set to create unity in their fire pit area, the outdoor seating from Christopher Knight Home offers the flexibility you're looking for.
The company offers several combinations to suit any space, including two chairs, two chairs with a side table, and two chairs with a matching daybed. The table can be purchased either in a square or circular design, each with an Acacia wood slat top design to match the seating.
The chairs feature a durable Acacia wood frame that naturally holds up well in the elements. However, it is recommended that you bring the cushions indoors when not in use to avoid too much sun exposure.
While these chairs can be moved if you wish to use them in another part of your yard, the hardwood construction does mean that they can be heavy. They are best suited for those interested in setting up a static seating area to entertain guests.
| | |
| --- | --- |
| Pros | Cons |
| Water-resistant cushions make cleaning spills easy | Higher price point |
| Padded cushions and slightly reclined back for comfort | Lighter cushion colors show dirty quickly |
| Acacia wood naturally stands up to the elements | Lower maximum weight limit at 300 lbs |
This set is a great option to decorate your backyard fire pit area without breaking the budget. It includes two chairs and a glass-top coffee table with heat-resistant glass. The set does have to be assembled, and the instructions are a little challenging. But once set up, it's lightweight and easy to move around your yard wherever needed.
The chairs feature a steel frame and high-tensile textilene material and are rated for up to 350 lbs. While this suits most people, it may not be strong enough for those with children or pets like that to cuddle up with them by the fire.
The material used on the chairs is water and UV-resistant, and the frame has been sprayed with anti-rust and anti-corrosion paint. This allows the set to be left outdoors between uses. It's a multi-functional set that will work great around the fire pit, on your deck, or by the pool.
| | |
| --- | --- |
| Pros | Cons |
| Budget-friendly price point | Smaller, narrow design may not be comfortable for all body types |
| Includes a table for your drinks or snacks when entertaining | Lack of padding isn't as comfortable as some other chair options |
| Made from strong, weather-resistant materials | Poor instructions make assembly challenging |
FAQs
Question: What is the Best Base for a Fire Pit Seating Area?
Answer: If you want to define your fire pit seating area while creating a space that will stand up to the test of time, you should consider the ground around the pit. Choose a non-flammable material that will allow you to create a solid and level surface. This will reduce the risk of fire from a stray ash or ember. It will also create a space where guests can move about safely and comfortably.
The most common choice for a base is gravel. This budget-friendly option can be easily leveled and set up by even the most inexperienced DIYer. It can also be moved or readjusted if your needs for the space change. A concrete pad is another ideal surface if you are ready to invest in a more permanent solution.
Question: Are Adirondack Chairs Too Low for a Fire Pit?
Answer: Adirondack chairs are one of the most common choices for fire pit seating, but they may not be ideal for every backyard setup. Whether they will work in your yard will depend on the height of your fire pit. Most standard fire pits are low enough that you and your guests can easily view the fire in these low-to-the-ground chairs.
However, if you have a taller pit, a pit with taller walls containing the fire, or if your pit is elevated, you may need taller chairs to accommodate it.
Question: Is it Better to Get Wood or Plastic Adirondack Chairs?
Answer: Both wood and plastic Adirondack chairs have pros and cons, meaning neither is considered the better option.
Wooden chairs are a little more expensive and require regular upkeep by staining or repainting to keep them looking their best. But they are highly durable, can last decades, and add a beautiful touch to any outdoor space. They are an excellent long-term investment.
Plastic Adirondack chairs are more budget-friendly short-term. They can easily be cleaned and maintained by simply wiping them down with a damp cloth occasionally to remove dirt and debris.
However, they will fade and weaken if left in the sun over time. Plastic chairs don't offer as long a lifespan as wooden options, needing to be replaced more frequently, which can add up over time.
Best Fire Pit Chairs for Backyard Setups: Final Thoughts
While any chair could be used to sit around your backyard fire pit, the best chairs will provide the perfect balance of comfort, style, and functionality.
To determine the best seating for your space, you will need to consider size, space, appearance, budget, comfort, and ongoing maintenance. Additionally, you must determine if your lifestyle is better suited to a permanent seating arrangement or chairs that can easily travel with you to the campsite, beach, or other outdoor settings.
Our top choice of the chairs listed above is the Plant Theatre Wooden Adirondack Chair. The traditional Adirondack design is known for its comfort and durability. While these chairs will require ongoing maintenance to keep them looking sharp, they will only need to be attended to twice a year.  Whether you're snuggling up close to the fire pit in the middle of winter for a bit of warmth or enjoying a summer backyard BBQ with friends, this chair is an excellent option for creating an entertaining space you and your loved ones can enjoy.