A wood-burning fire pit offers the natural feel of being outdoors with the iconic smell of a well-made fire. On the other hand, propane-powered fire pits put a modern twist on an experience that is old as time itself and offers convenience and ease of use.
Let's take a look at the pros and cons of each, then look at the factors you'll want to consider, and then end with our recommendations of what to purchase.
Gas vs Wood Burning Fire Pits
Wood Fire Pits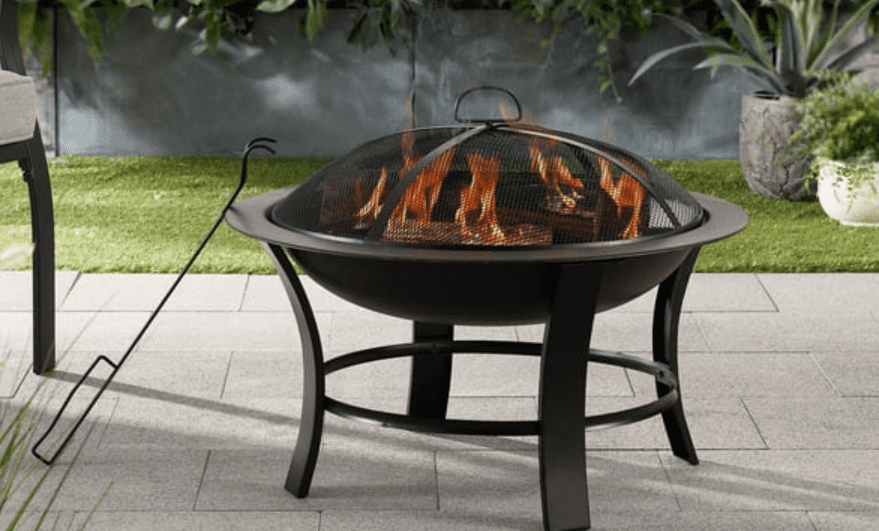 Pros:
Wood usually burns hotter and produces more heat than propane or natural gas
Inexpensive to install and often portable
Better for cooking (not just s'mores, but steaks, chicken, and more too!)
Ideal for small and larger groups
Smokeless fire pits require minimal cleaning
Cons:
An area for storing wood is necessary
Requires some effort, in the beginning, to get the fire started
Requires a few trips for additional wood
Must let the fire die down before it is completely out
Gas Fire Pits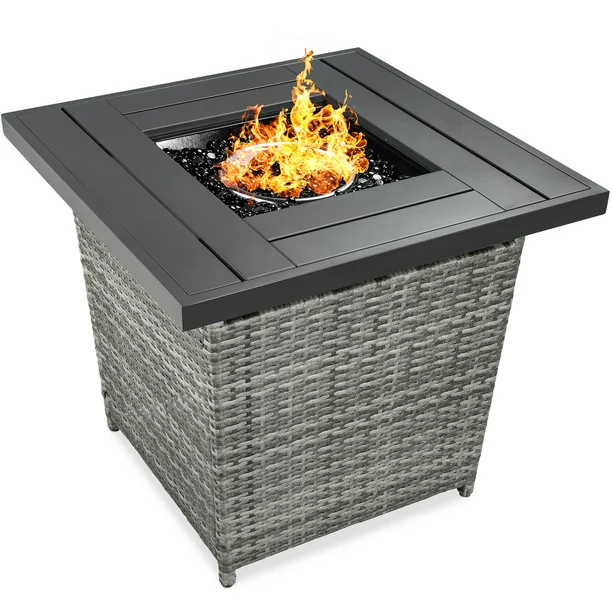 Pros:
Quick and easy to light
Runs continuously, with no trips for wood
Easy to put out at the end of the night
No mess or ash to clean up
No wood to store
No 'bonfire smell' lingering on clothes
Cons:
Regular maintenance on the fuel line, igniter, and gas ring
Propane tanks are required unless a natural gas line is run to the fire pit
Gas fire pits require some assembly
Can be expensive if a gas line needs to be installed
Factors to Consider
Affordability and Cost
In the long run, a wood-burning fire pit will almost always be cheaper and without a doubt, last longer. Many of the higher-end stainless steel fire pits will last 10-15+ years before needing to be replaced. These fire pits cost almost double what your entry-level gas model costs, but if you prefer wood, you'll have a much better experience.
With a gas fire pit, you can expect around 2-3 years of use on entry-level models before needing to replace components. Igniters, gas lines, gas rings, etc. need to be regularly checked and sometimes replaced depending on use.
Installation
If you opt for a permanent gas installation you will need to hire a plumber to direct a gas line to your outdoor area. Depending on the difficulty and distance to your outdoor seating area, this can run anywhere from $500 to $1000 or more. This installation is not easy and should only be done by a professional.
Quality of the Burn
Natural gas and propane burn clean without any residual smoke. Traditional wood-burning fire pits often have a lot of excess smoke, even when good quality wood is used. Not to mention the 'bonfire smell' that tends to linger on clothes.
PRO-TIP
Always use well-seasoned hardwood for burning when available. It burns the hottest and longest. Kiln-dried firewood is a great option if you wish to store it indoors or near the home.
If you still desire a wood-burning fire pit, with less smoke and a bonfire smell, a smokeless fire pit is a way to go. Breeo and Solo Stove are two companies that offer smoke-free fire pits. These fire pits use a patented airflow system that significantly reduces the smoke output of fire to where it's hardly even perceivable, especially after a few drinks.
Maintaining the Fire
A gas-powered fire pit has the upper hand here. Once you turn the gas on and light the fire, that's all there is to it. You may want to keep a spare propane tank on hand in case your primary one runs out.
No need to store firewood or make the trek in the dark to retrieve more firewood if the fire goes on longer than expected. While storing firewood isn't difficult, you need to spend about $20-$30 to keep it elevated off the ground.
Fire Pit Maintenance and Durability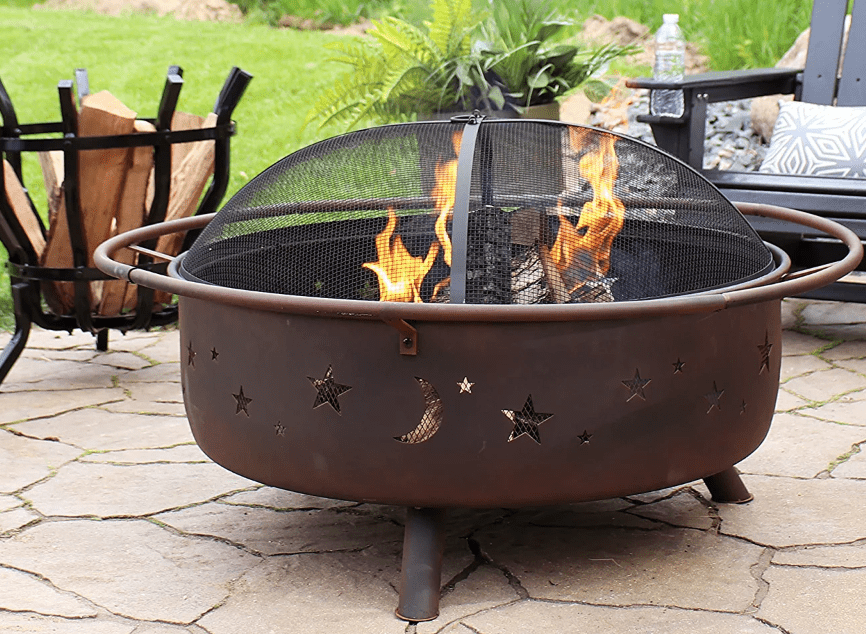 With a wood-burning fire pit, whether a traditional or of the modern smokeless variety, all you need to do is occasionally clean out the ash and protect it with cover. A gas-powered fire pit requires a little more effort. Below are areas you'll want to check at least every few months for wear and tear.
Gas line, ensure there is no dry rot or splits in the rubber
Control igniter, check the connection point to ensure it's still creating a spark
Hose connections, ensure connection points are secure and not dry rotted
On the outer surface, check for any rust or paint chipping. Repair as necessary
Burner, check for blockages or any rust damage
For higher-end fire pits, like Breeo's X-Series, durability, function, and aesthetics are at the top of the priority list. The X-Series is made out of COR-TEN, the type of steel used to manufacture bridges and large steel structures. It wouldn't be out of the question for these fire pits to last 30 or more years.
Fuel Storage
For gas-powered fire pits, fuel storage is trivial. An extra propane tank in the garage is all you need. For wood-burning fire pits, you will want to purchase at least a face cord of wood to have on hand. Storing the wood is a different story. It's recommended to:
Keep the wood elevated from the ground, to prevent moisture from collecting
Covering the wood to protect it from rain
Keeping the stack as far away from the home as possible, although not everyone follows this, and most don't have any issue
You'll also want to keep in mind where you'll purchase firewood. This is usually an issue for people living in very dense urban areas. Storing firewood isn't practical, nor is purchasing it in large quantities. Kiln dried firewood can be stored indoors.
For those in an apartment or with limited outdoor space, you can still enjoy a wood-burning fire pit with something like Solo Stove's Ranger Bundle. You can buy wood in smaller quantities and store it on your deck or patio without needing to worry about any major problems.
CAUTION
Pay attention to city and county ordinances. Some areas have restrictions on open fires or those within the city. Gas fire pits are usually an exception to this rule due to their classification, however, double-check with your local authority.
Combination Gas vs Wood Burning Fire Pits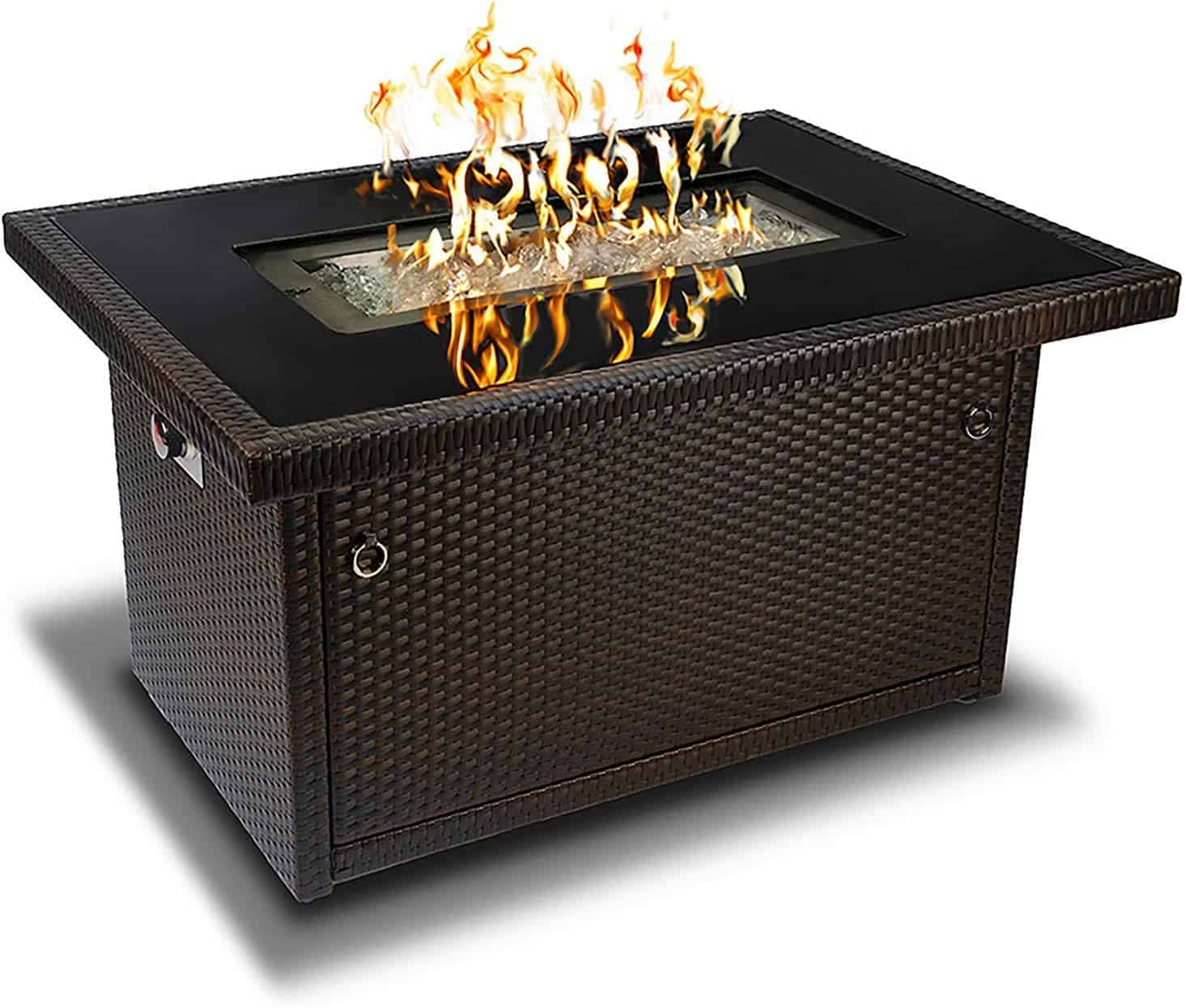 Yes, a combination wood and gas fire pit is possible, however, you'll find they are more trouble than they're worth. The setup is the biggest headache. Anytime you'll want to use gas, you'll need to reset the burner and connect the gas line. On the other hand, when you want to burn wood, you'll need to disconnect the gas line and remove the burner.
You'll then need to find a place to store the burner and not damage it. After the wood fire is out, you'll need to clean the fire pit and remove all the ash so it does not clog any of the burner's holes when you are ready to use gas again.
Did we mention moving the fire glass or lava rock to and from the fire pit? Oh yeah, you'll need to do that too.
If you really want both a wood and gas fire pit, spend a little more money on the one you think you'll use more. If that's a wood-burning model, see our review of the Breeo and Solo Stove through their respective links. For a gas-powered model, our choice is the Outland Fire Pit Table.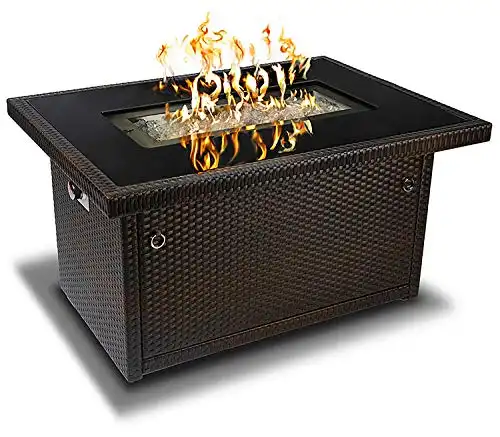 Outland Fire Pit Table | Amazon
This stunning rectangular fire Table creates a truly unique fire feature that perfectly compliments any outdoor space that will draw the attention of your family and guests.
Buy at Amazon
We earn a commission if you click this link and make a purchase at no additional cost to you.
12/04/2023 08:35 pm GMT
Then buy a cheaper, entry-level model for the one you think you'll use less.