If you are looking for a budget pellet grill, you probably know the benefits one will bring to your yard, even if funds are tight. Pellet grills have become popular because of the unlimited application options for outdoor cooking enthusiasts of all skill levels. They are easy to use and allow you to entertain your guests as you cook because they are self-regulating.
It might seem impossible to get a quality pellet grill when you are handicapped in the form of a price ceiling. It requires a lot of balancing between features and their cost implications, and you might end up with a great bargain that is not applicable in your situation if you are not careful.
This article reviews some of the most practical pellet grills with price tags below $500. Each of them is here courtesy of special attributes that made them stand out from the pack. As a guideline, we have highlighted why we feel they are the best pellet grill under 500 in the current market.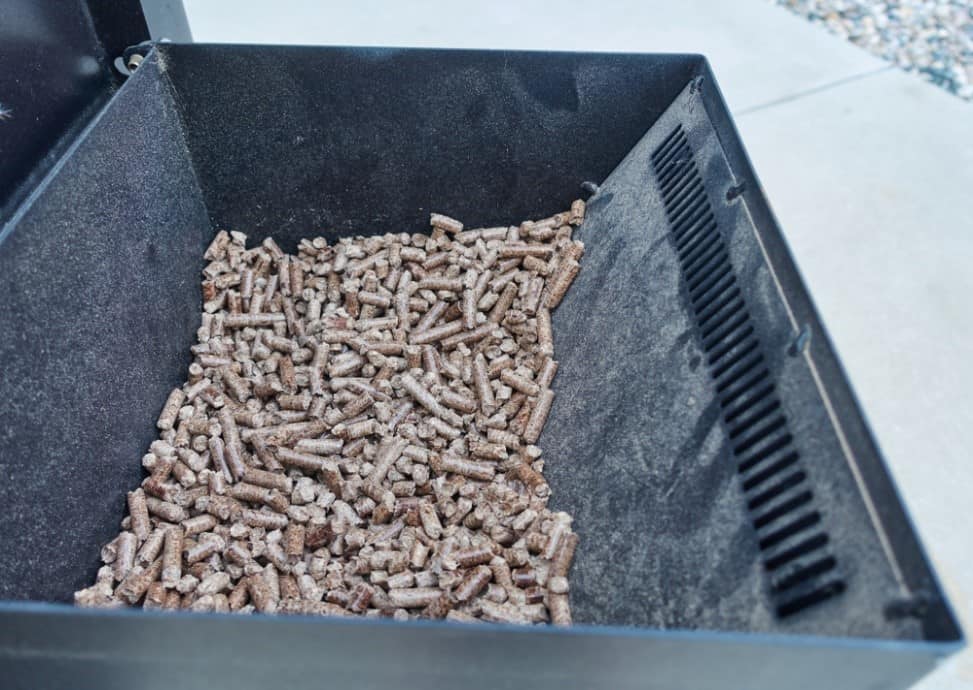 The Best Pellet Grill Under 500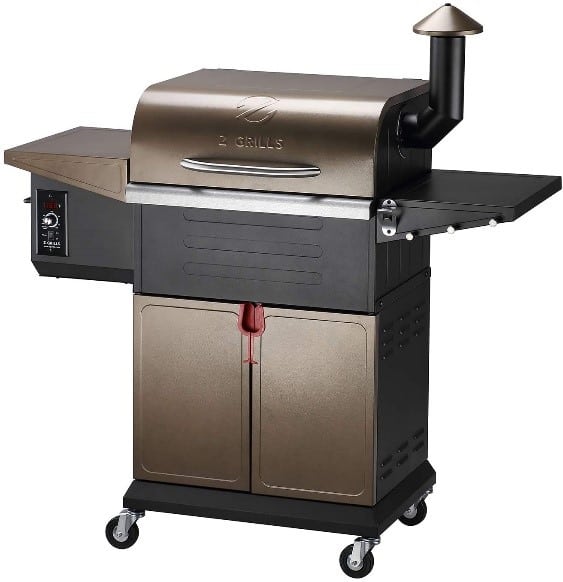 Specifications
Total Cooking Space: 572 square inches
Cooking Temperature Range: 180°F to 450°F
Pellet Hopper Capacity: 8lbs
The generous cooking space of this Z Grill is distributed between 332 square inches in the main cooking area and 240 square inches on the top rack. To bring perspective, you get enough capacity for 4 chicken, 5 rib racks, or 24 burgers in one cooking cycle. It is supported by a convenient 8lb hopper which allows you to let the grill cook without interference.
It can handle this seamlessly thanks to a smart digital control system that uses a proportional integrative derivative (PID) algorithm to regulate the cooking temperature accurately. It works by adjusting the number of pellets being fed to the grill and the intensity of the fan to stabilize the temperature at your set point. It is constantly measuring the ambient heat to detect any deviations.
The 8-in-1 grill lets you explore a wide range of culinary experiences; you can grill, char-grill, sear, braise, smoke, barbeque, roast, or bake using the same unit. The sear function, which allows you to cook some ingredients directly by the fire, helps bring out new flavors, dehydrate veggies and lock those juices inside your steaks. It can produce temperatures as high as 750°F when in sear mode.
This 600D best wood pellet grill has a side shelf, providing extra space to prepare your food and place items, so you don't need to look for another worktop.
Each unit comes with Z Grills 3-year quality assurance, which promotes peace of mind, especially considering Z Grills has more than 30 years of experience in grill manufacturing.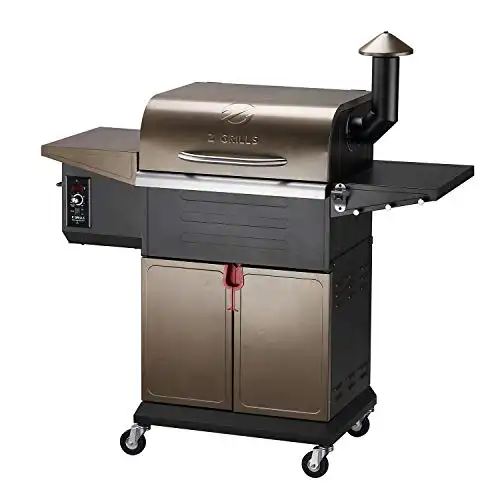 Z Grill 600D Wood Pellet Grill | Amazon
The 572 sq. in cooking area provides more than enough space for any home grill fans, suitable for family and friends to BBQ in the courtyard or outdoors, easy to assemble and move.
Buy at Amazon
We earn a commission if you click this link and make a purchase at no additional cost to you.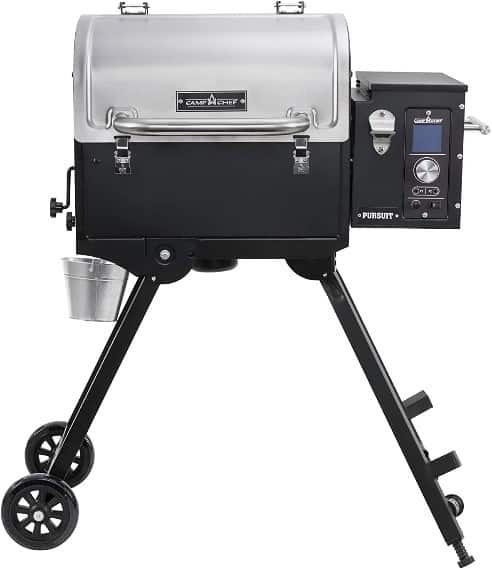 Specifications
Total Cooking Space: 501 square inches
Cooking Temperature Range: 160°F to 500°F
Pellet Hopper Capacity: 10lbs
This pellet grill only comes after Z Grills 600D because it is heavier, has a smaller cooking surface area, and has a higher ticket price. Its features are also quite remarkable. It has a wider cooking temperature range, and the pellet hopper can hold up to 10lbs.
It also has a direct pellet grilling feature whose searing temperatures can get as high as 650°F. Its wide temperature range for regular cooking gives it the most versatility as far as cooking temperatures are concerned in this list. They have included a meat probe or two to help you optimize this advantage.
The high-visibility, low-glare digital display, and control panel grant you access to new-age technology, including a smart PID control system that even has smoke control (along with the wide cooking temperature ranges with adjustable smoke settings from 1 to 10). The slide and grill technology allows you to switch between direct and indirect flame modes without interfering with the cooking setup.
It has been designed for portability with heavy-duty wheels and push-button folding legs, making its profile extra compact. The barrel and hopper lids are even lockable, making transportation less messy.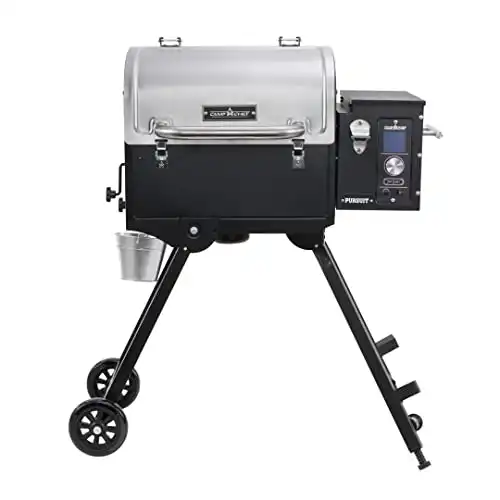 Camp Chef Pursuit 20" Portable Pellet Grill | Amazon
Enjoy an extensive 160°F to 500°F temperature range fueled by premium hardwood pellets. Switch seamlessly between indirect and direct flame broil mode with our Slide and Grill Technology.
Buy at Amazon
We earn a commission if you click this link and make a purchase at no additional cost to you.
06/04/2023 08:52 pm GMT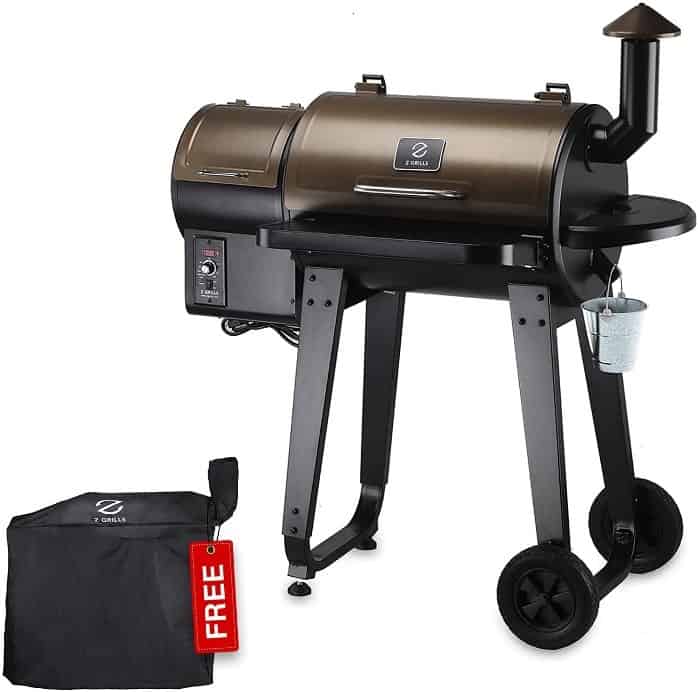 Specifications
Total Cooking Space: 452 square inches
Cooking Temperature Range: 180°F to 450°F
Pellet Hopper Capacity: 15lbs
This grill and pellet smoker comes with a queen-sized pellet hopper that can hold up to 15lbs of pellets, making it stand out from other grills in its range. It has sufficient cooking space to justify the huge pellet appetite; the 452 square inches are distributed between the main cooking area, and a secondary cooking rack doubles as a warming rack, so the ready food doesn't get cold. You reduce the time you take filling up the hopper, which can be used for other engagements.
It was upgraded in 2021 with a smart temperature control and pellet feed system that manipulates how the auger carries pellets to the fire pit and the intensity with which the induction fan stokes the fire. This upgrade provides the accuracy needed for it to function as an 8-in-1 grill so you can deploy all the cooking styles mentioned earlier.
It features a foldable working shelf which is deployed when needed and retracted when not in use so that the grill can maintain a compact profile. The package also includes a cover that will protect the grill from the elements outdoors and indoors, extending its lifespan. It has been built to last using sturdy steel finished with a high-temperature powder coating.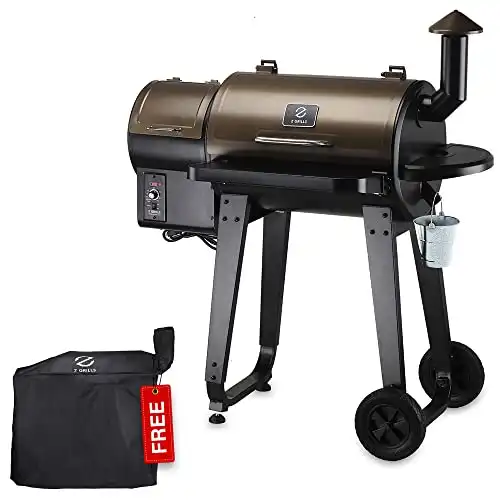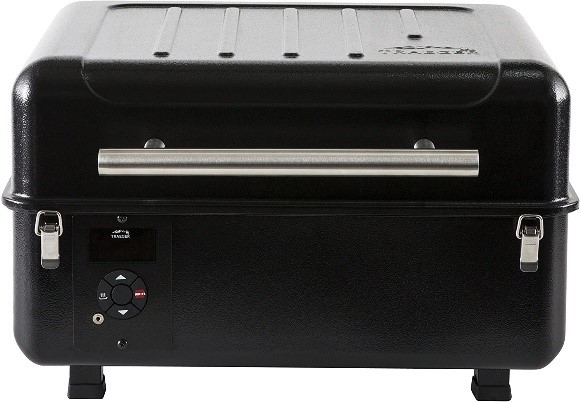 Specifications
Total Cooking Space: 184 square inches
Cooking Temperature Range: 450°F max
Pellet Hopper Capacity: 8lbs
This Traeger grill was designed for those on the move and does not disappoint. It is only 21 inches long, 20 inches wide, and has a height of 13 inches. Its latched lid is also lockable, so the entire grill will fit snugly with the rest of your luggage in your RV.
The compact profile doesn't necessarily mean you will struggle to feed a small party; it has 184 square inches of cooking space which translates to a whole chicken, 1 beef rack, or 6 regular-sized burgers. The 8lb pellet hopper is also more than adequate for this task.
The Traeger pellet grill features a digital arc controller equipped with advanced grilling logic to ensure your preset temperature is accurately maintained. It is supported by a cooking timer which will alert you when the food is ready or when it's time to sauce it.
There is even a 'keep warm' mode for instances where the food is ready, but you are not set to eat yet. The insulated compartment can retain the ambient temperature as long as you need it to. The package includes a meat probe that keeps you aware of the actual temperature of the food and a cast-iron griddle that you can use to sear your meat or make the perfect sunny-side-up egg for breakfast.
Each unit is covered by a 3-year warranty which comes with Traeger Grills' assurance that they build the best and stand by it. It shows their confidence in their performance and should also boost your confidence.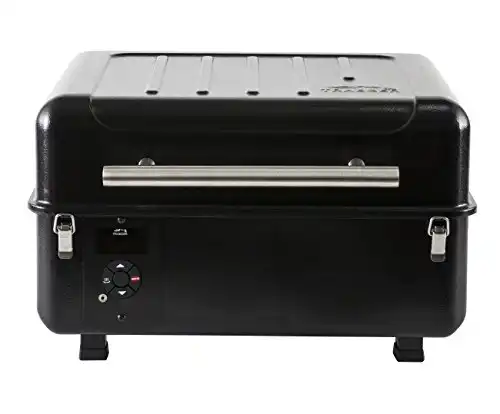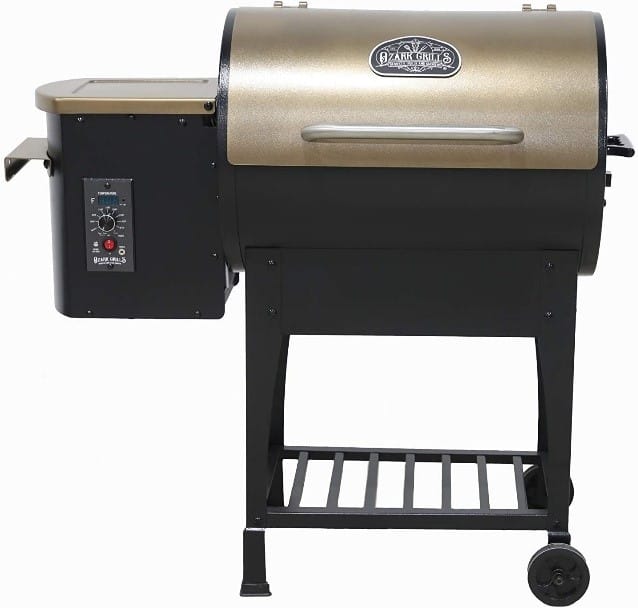 Specifications
Total Cooking Space: 305 square inches
Cooking Temperature Range: 165°F to 450°F
Pellet Hopper Capacity: 11lbs
This grill is surprisingly affordable for its capacity, making it our recommendation for buyers operating on a tight budget. It's shy of 300 dollars, yet it provides more than 300 square inches of cooking space and can accommodate up to 11 pounds of the best wood pellets for uninterrupted cooking cycles.
The heavy-gauge steel exterior has been powder-coated for toughness against the elements. The auger is cast iron, the grill porcelain-coated, and the firepot forged from refractory steel to withstand the heat.
There is no skimping on the material to reduce production costs as far as we can tell with Ozark Grills. Expect some heat loss from the uninsulated chamber, so there will be a slight variation from your setting.
Ozark Grills use an advanced PID system to regulate temperatures by controlling airflow and fuel injection, so you don't need to babysit the grill as your food is cooked. You can set the time and the temperature straight off your recipe when pellet grilling.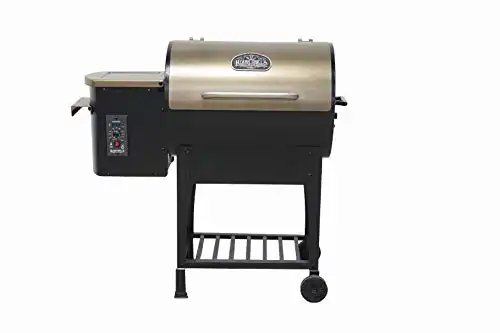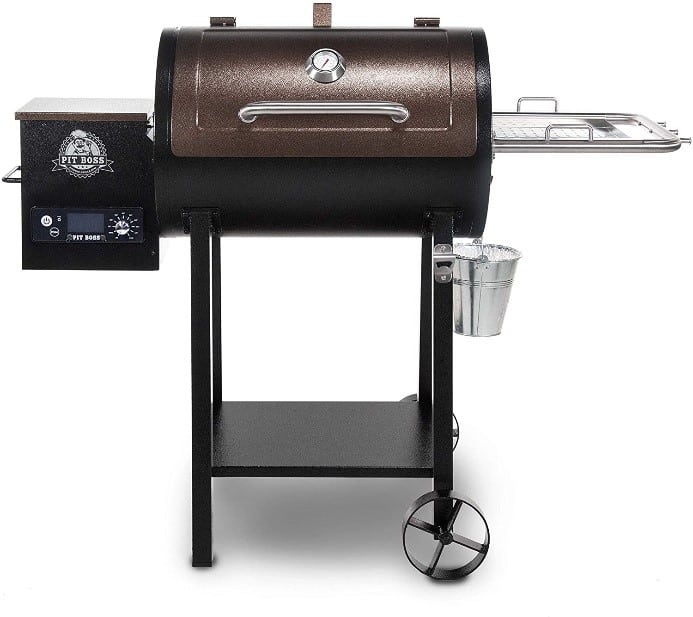 Specifications
Total Cooking Space: 465 square inches
Cooking Temperature Range: 180°F to 500°F
Pellet Hopper Capacity: 5lbs
This grill makes the list because it has a bit of everything, yet it stays affordable. The 465 square inches of cooking space can accommodate up to 20 4-inch burgers, which is more than higher-priced grills in the category.
It has a generous temperature range with which you can explore different cooking methods. It even has a flame broiler in the form of a slide plate that can be adjusted for direct and indirect flame grilling. Your searing needs are adequately covered.
It has a dial-in digital control with an LED display that you can use to manipulate the airflow to adjust temperatures for accurate convection cooking.
There is extra storage and workspace in the form of a side shelf and a bottom shelf. The side shelf is retractable to keep the profile small, while the bottom shelf fits neatly between the legs, so the extra storage doesn't cost you storage space.
There is a bonus stainless steel bottle opener so you can enjoy your favorite beverages. You will be able to do this with the peace of mind enforced by Pit Boss' 5-year warranty, which covers these grills.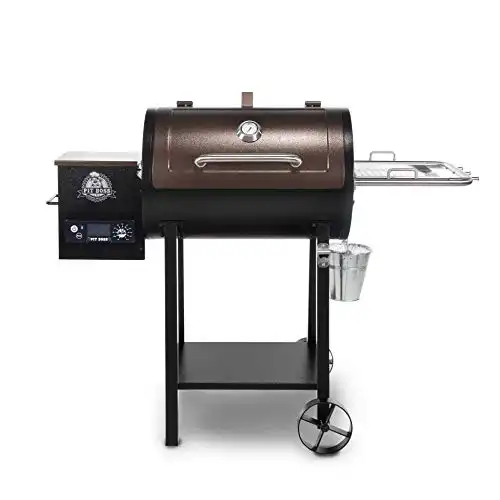 PIT BOSS PB440D2 Wood Pellet Grill | Amazon
The Pit Boss 440D2 is made with a Heavy-duty steel construction complete with two large metal wheels for easy transportation.
Buy at Amazon
We earn a commission if you click this link and make a purchase at no additional cost to you.
06/05/2023 05:16 am GMT
Choosing the Best Pellet Grill for Your Needs
The pellet grills we have reviewed throughout this article are all quality equipment that are reasonably priced. However, if you are shopping on a budget, you will have to make peace with the lack of some premium features that higher-end grills might have.
The best approach is to start by assessing your grilling needs to find the best pellet grill or pellet smoker. Establish how often you will be grilling, the type of grilling you intend to do, the number of people you will be grilling for, and how much you are willing and able to spend.
This makes it easy to prioritize features so that the grill you end up with will satisfy most of your needs. We shall single out the most critical features in this section so that your decision can be logical and practical when the time comes.
Some pellet grills will be excellent in some areas and poor in others. You should consider all features before making a decision.
The Cooking Surface
The bigger the cooking surface, the larger the grill needs to be, which means the cost of production will be higher. You need to ask yourself if you will be using the extra space to justify the required premium.
If the grill grate is too small for your regular cookouts, you might end up spending so much more on fuel from too many cooking cycles, which eventually overrides any savings you might have made. A lot of time will also be wasted setting up for each grilling cycle.
If the grill is too big, you will be incurring unnecessary expenses, and you will never optimize the grill's capacity to make it worth the trouble. Fuel efficiency will also be compromised because a lot of the heat in the cooking chambers will be warming empty spaces.
Cooking Temperature Range
A pellet grill allows you to set the exact temperature your food will be cooked. This makes it a great piece of equipment as it opens up countless cooking options. Different cooking methods are best executed at different temperatures, so the wider the temperature range, the more versatile the pellet grill will be.
However, you may be getting a pellet grill for a specific purpose, or you are the kind of person who is not very adventurous with your cooking. In such situations, the range does not need to be very wide. You should focus on other relevant qualities.
The Capacity of the Pellet Hopper
The hopper holds all your best wood pellets for the auger to supply the firepit. Because this process is automated, your pellet grill enables you to focus on other things as the cooking proceeds. A large capacity allows you to sit through the entire cookout without having to reload the pellet hopper.
Your cooking method will also have a bearing on the rate at which the pellets are depleted, and, in some cases, the large hopper will not be necessary. The length of the cooking session also dictates the number of pellets you require.
Is It Covered by a Warranty?
A warranty is an indicator of the manufacturer's confidence in its product. The longer the warranty cover is, the more at ease you will be with the pellet grill. Not all warranties are worth their promises; however, they should come from reputable companies to instill confidence that they will be honored.