Here at Yardiac, we talk mostly about smokeless wood fire pits like Solo Stove and Breeo. If you are interested in their branded accessories you can check their pricing at:
But fire pits come in so many varieties and these accessories will benefit you no matter what type you own.
So here's our list of over 30 accessories to build out the experience.
Best Outdoor Fire Pit Accessories
Adirondack Chairs
There's nothing more picturesque than reclining in the white adirondack chairs you see in almost every backyard setting. Spend a little money and get a high quality set of these chairs and you'll be thanking yourself every time you get the chance to kick your feet up.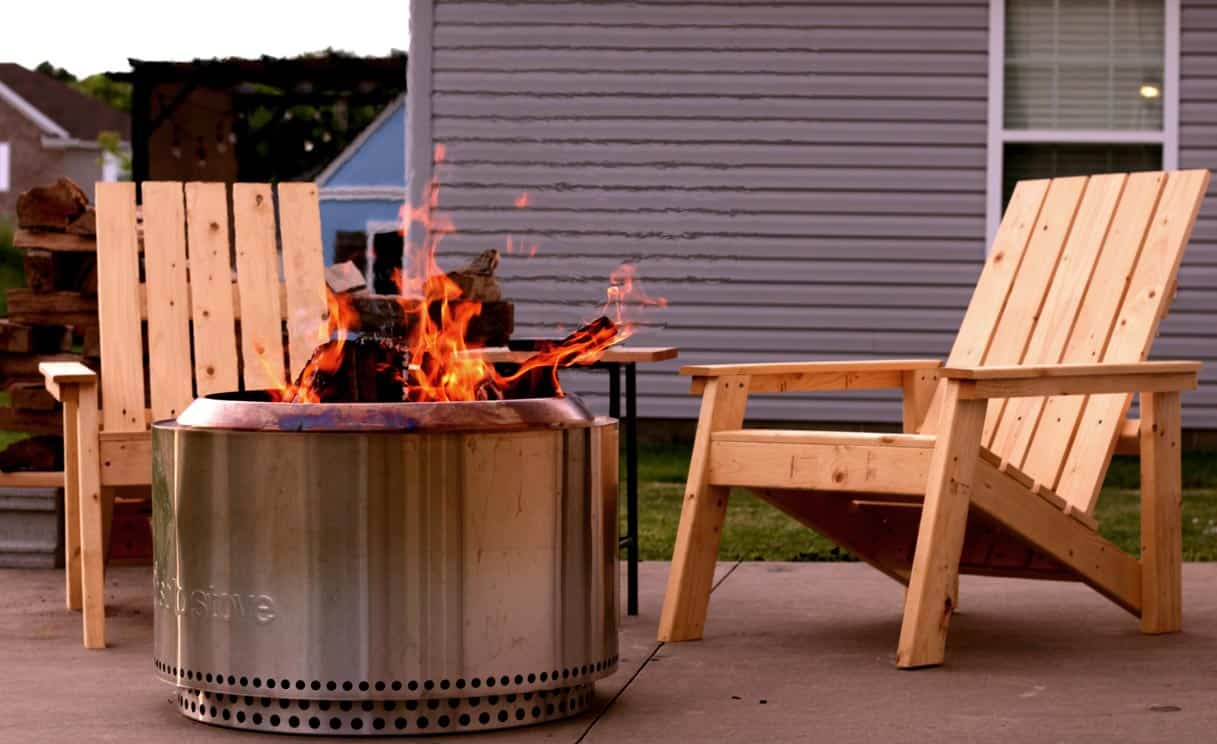 DIY Adirondack chairs seen here with the Solo Stove Yukon
Want to take the DIY route? Use these plans from Ana White's blog. We used these same plans to build 2 Adirondack chairs for less than $30 each. We didn't put a finish on ours, but you can purchase a can of spray lacquer for a couple of dollars that are easy enough to apply.
If you are not a do-it-yourselfer, this option below at Amazon is a nice way to go.
We recommend PolyTEAK's Modern Folding Adirondack Chair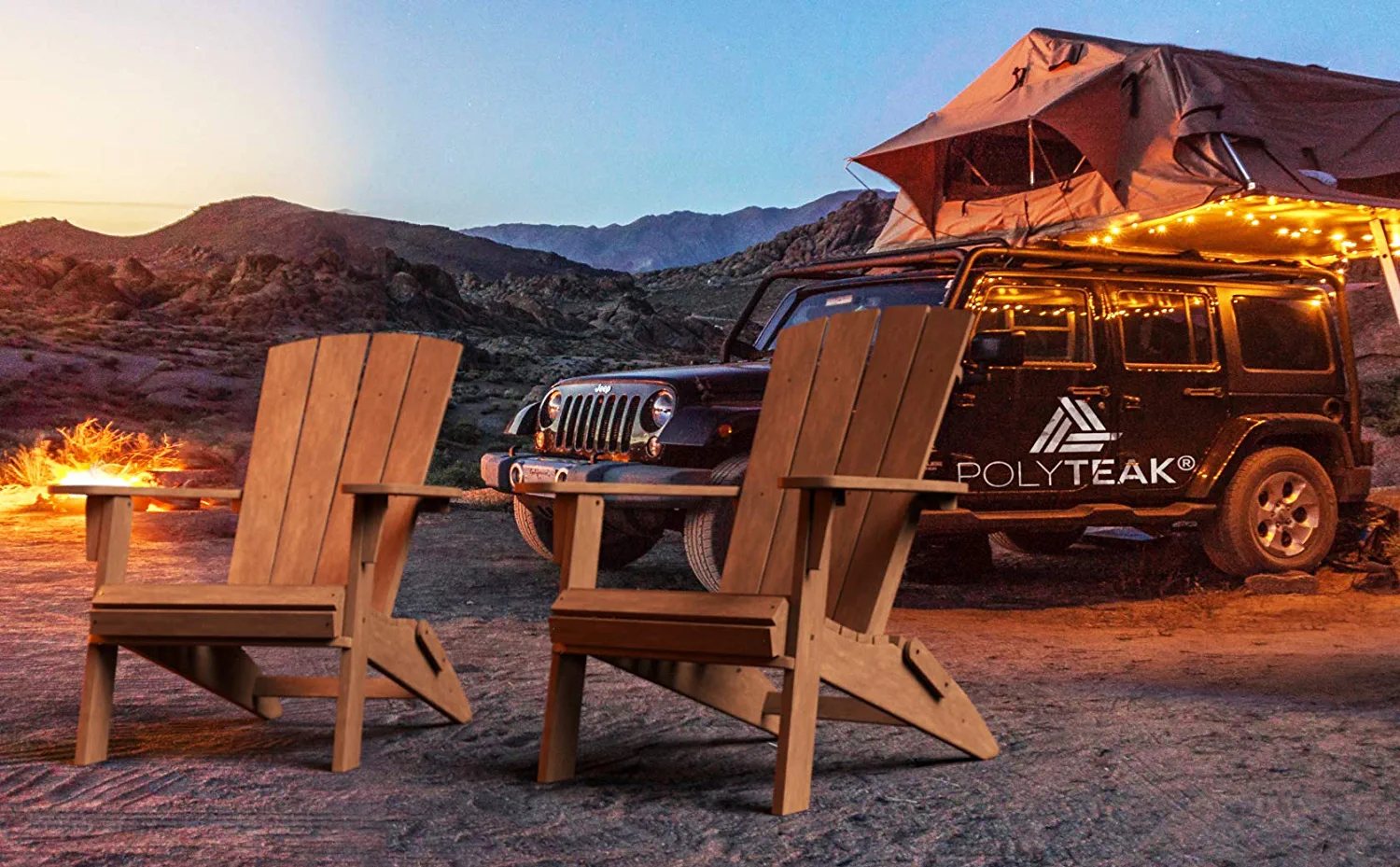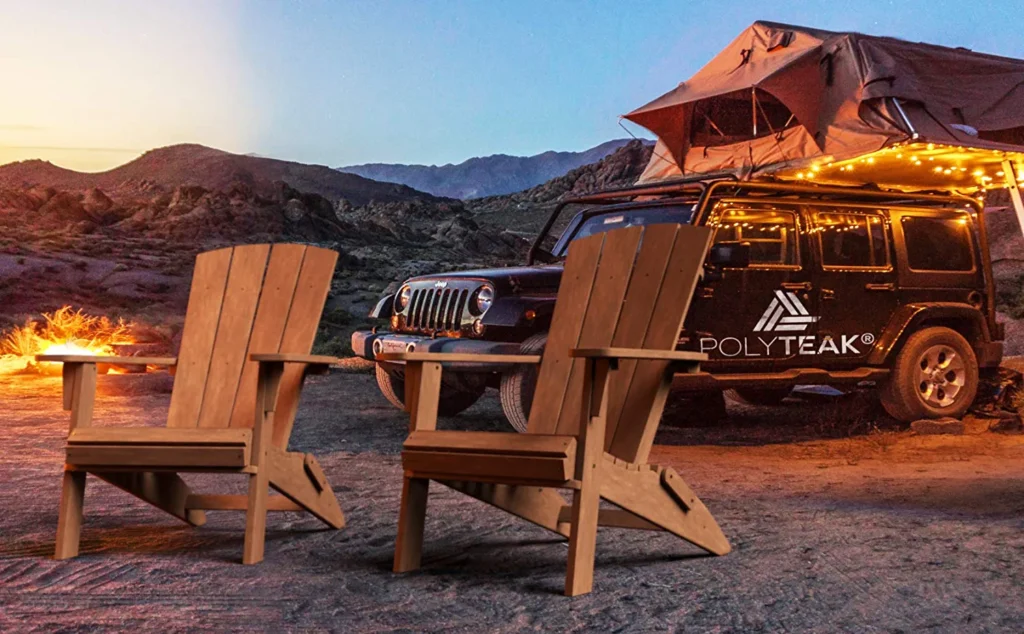 DON'T FORGET
If you have any parents or older guests joining you for the evening traditional Adirondack chairs may be difficult for them to get in and out of. An upright Adirondack chair removes the angled seating and makes it easier for people to stand up.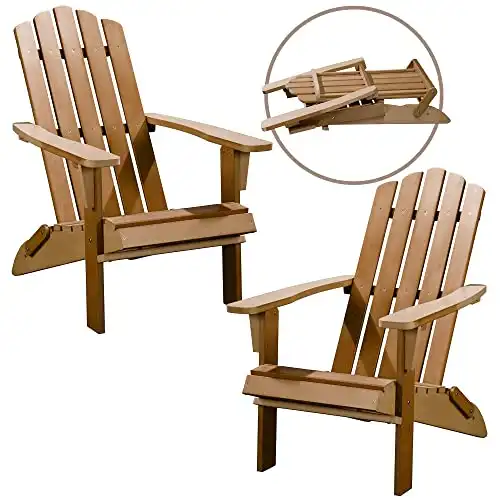 PolyTEAK Folding Adirondack Chair | Amazon
The Classic Adirondack chair folds away easily for quick storage. Features a 5-Slat Back that Fans into a Pointed Curved Top Silhouette and has Sturdy Wide Armrests.
Buy at Amazon
We earn a commission if you click this link and make a purchase at no additional cost to you.
12/04/2023 11:01 pm GMT
Fire Extinguisher
You, like me, may always forget to grab a fire extinguisher at the store, but it really is necessary for a safe fire environment. And, for sure, you'll be thanking yourself later if you ever need it.
When it comes to buying a fire extinguisher here are a few tips:
• Buy one that is "ABC" rated. Each letter indicates the type of fire it can extinguish.
• Generally speaking, the larger the better. A 5lb tank is a good starting point for most home fire pits.
Fire extinguishers ratings as provided by the University of Texas at Austin Fire Prevention Services. Odds are you'll be taking the fire extinguisher in at the end of the night and storing it indoors. Hopefully, it never has to be used!
However, if you have a fire in the home, having one that is rated for different types of fires comes in handy.  A quick visit to your local Home Depot or Ace Hardware and you'll be ready to go.
Metal Bucket
Very boring, but quite practical! A metal bucket filled with water is a second fire extinguisher to have on hand, but it also serves an additional purpose. For smokeless fire pits, it's not recommended to extinguish the fire with water. Rather, you should let the fire die on its own.
For those that are not comfortable leaving the fire on its own, you can remove any still-burning logs from the fire pit and drop them in the metal bucket to help speed up the process. Wider buckets are available for larger logs.
We recommend Behren's 5.5 Gallon Steel Oval Tub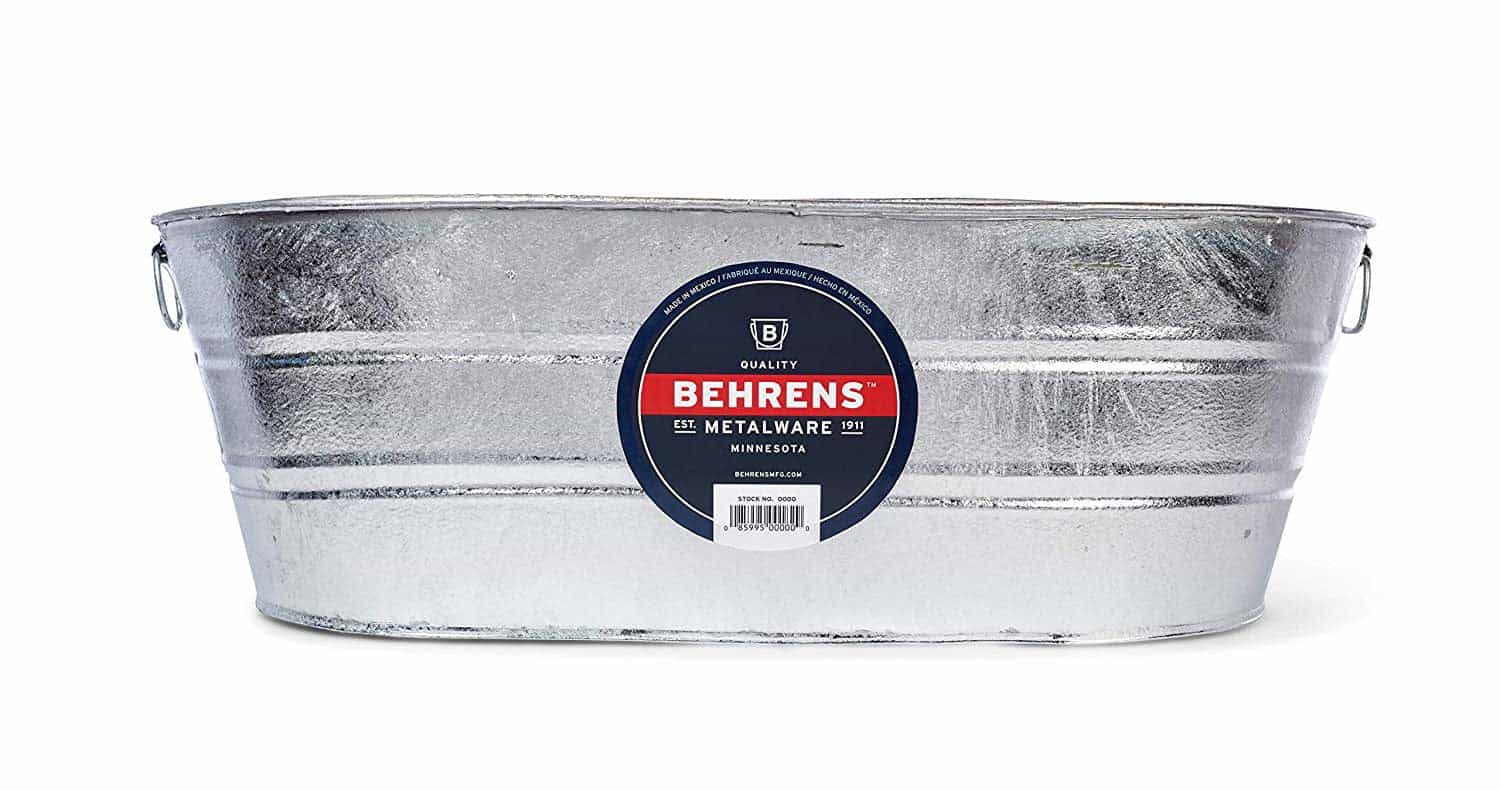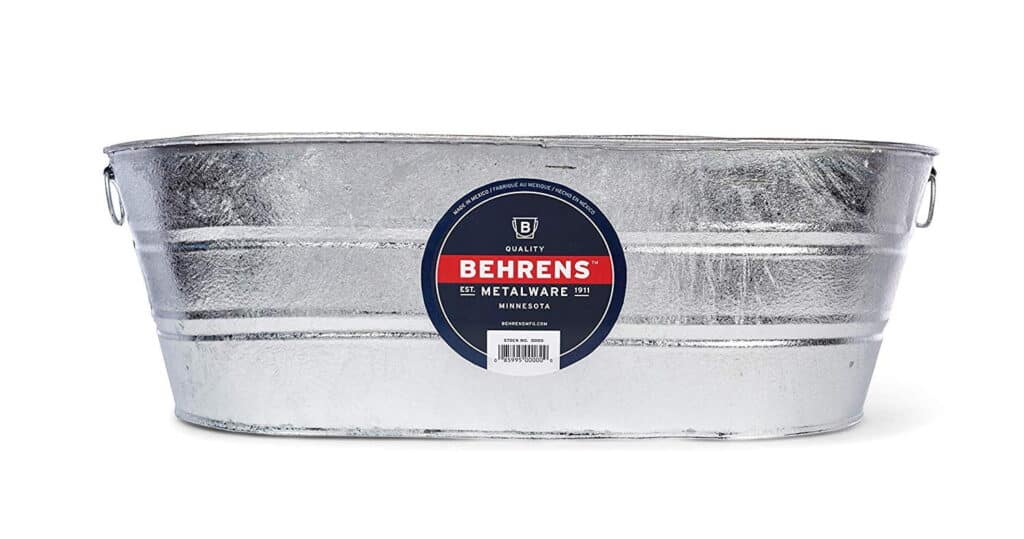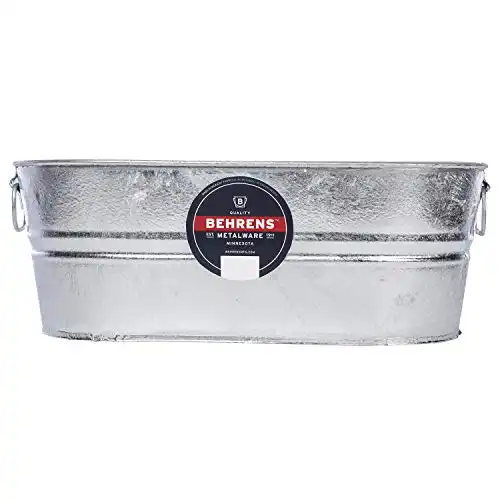 Behren's 5.5 Gallon Steel Oval Tub | Amazon
Built with the highest quality hot dipped steel for a vintage/classic look, the 5.5 gallon galvanized oval tub is durable and made to last.
Buy at Amazon
We earn a commission if you click this link and make a purchase at no additional cost to you.
12/05/2023 12:38 am GMT
Blow Torch
Give your thumbs a break and stop messing with those weak stick lighters!  Or matches that have you burning your fingers. A blow torch head is less than $20 and the refill tanks are only about $3. If you're only using it to light fires (and fireworks on the 4th of July – you're welcome), these tanks will probably last well over a year before running empty.
It's inexpensive and makes starting a fire so much easier.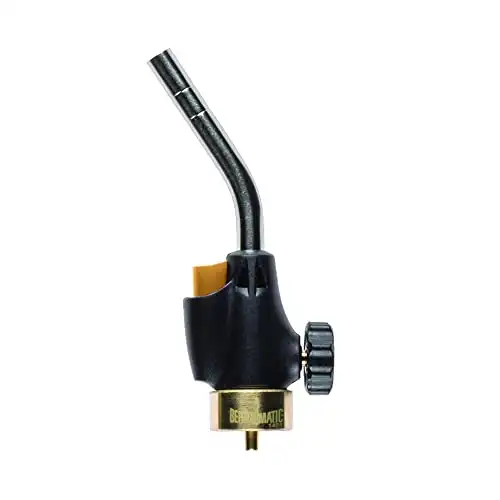 Fire Pit Cover
Seems like a no-brainer right? With most covers costing less than $30, why would you not buy one to extend the life of your fire pit? Even stainless steel fire pits will begin to rust when exposed to the sun's UV rays day after day!
Couple this with the stone table top (see below) and you have a usable drinks table when the fire pit is not in use.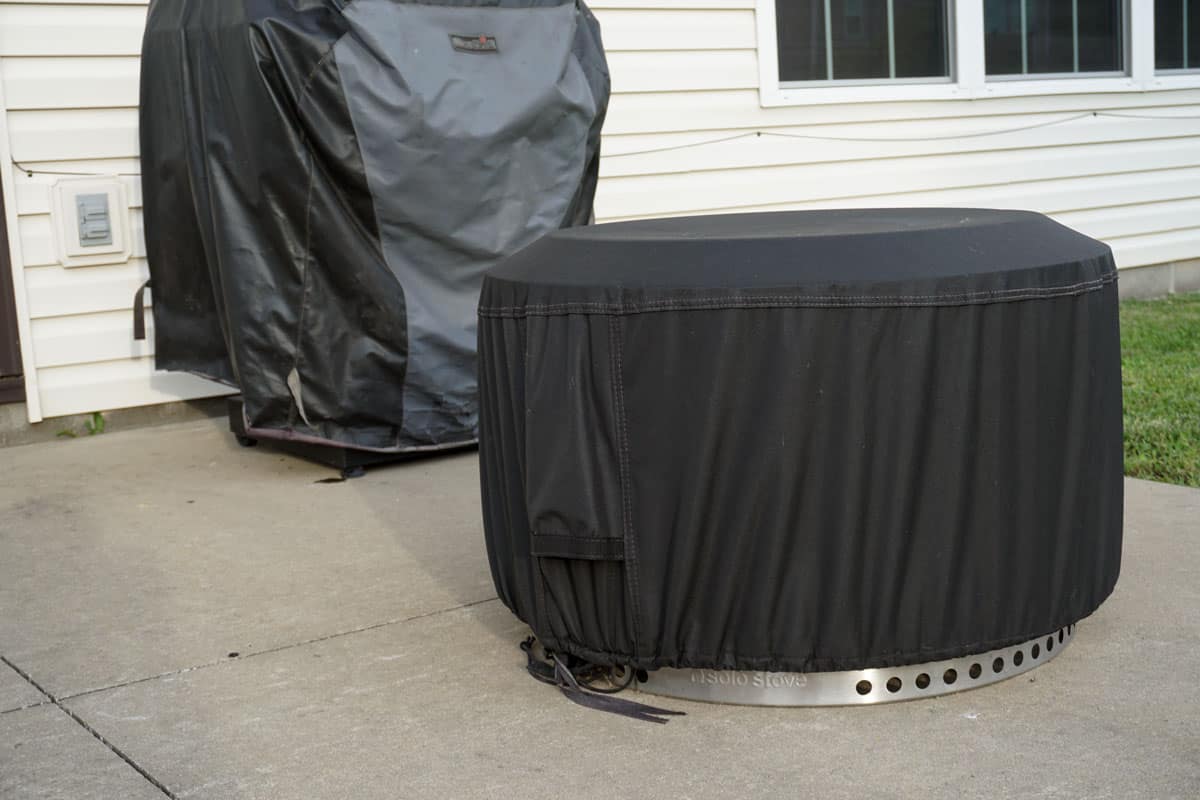 This cover has worked fantastic for me over the past few seasons. Not a single drop of water gets through the fabric.
We recommend Porch Shield's 600D Fire Pit Cover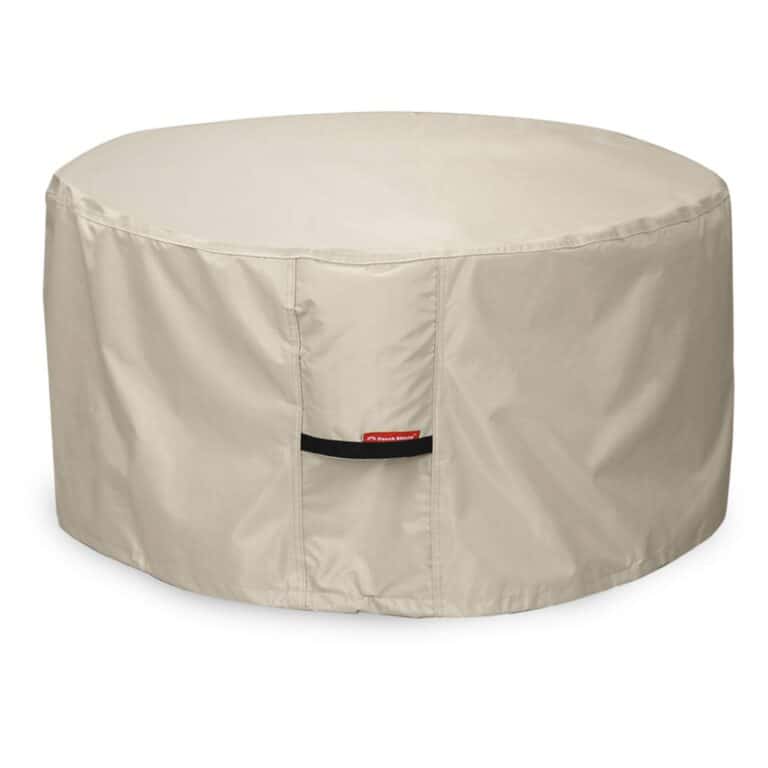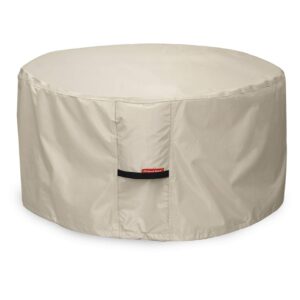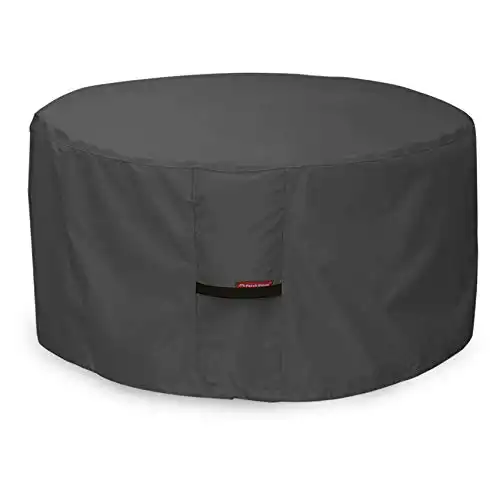 Porch Shield's 600D Fire Pit Cover | Amazon
Made of 600D Polyester fabric with added waterproof laminated undercoating. High-level double stitching sewn, all seams sealing taped can prevent tearing, fight wind and leaks.
Buy at Amazon
We earn a commission if you click this link and make a purchase at no additional cost to you.
12/04/2023 03:03 pm GMT
Stone Table Top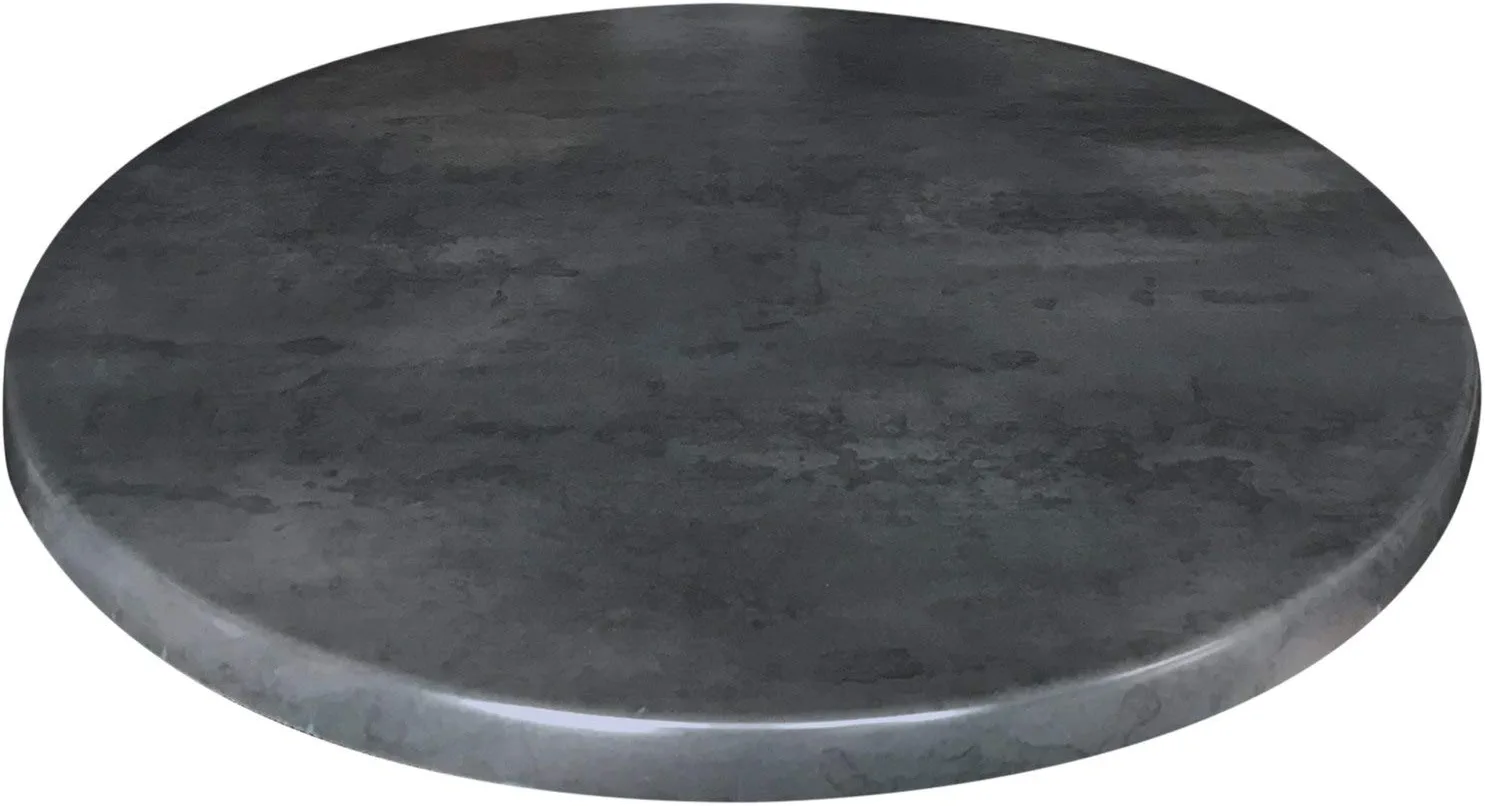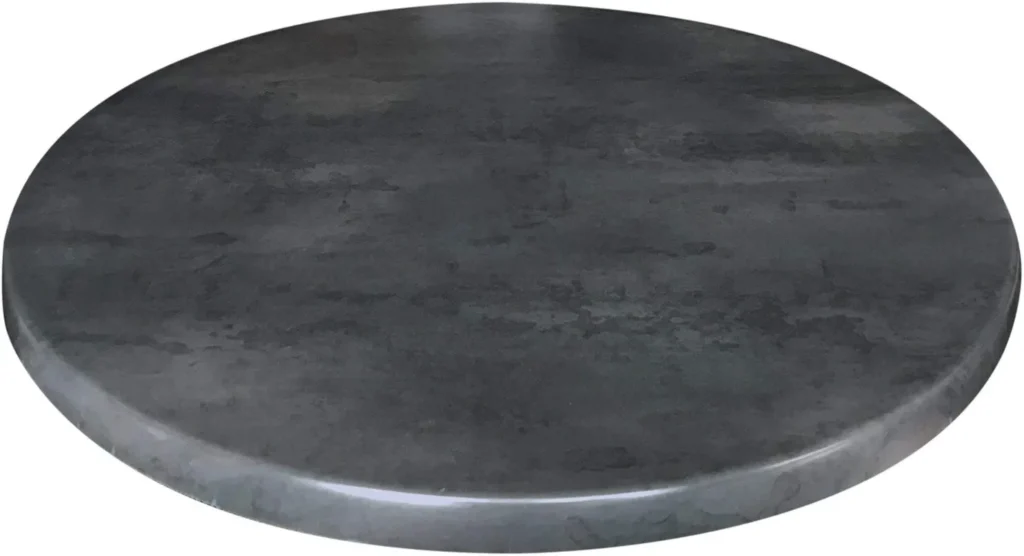 Whenever the fire pit is not burning the night away, why not get some use out of it? Holland's Stone Table Top can be set right on top of the fire pit when it's not being used and the fire pit can double as a side table between chairs for drinks, food, etc.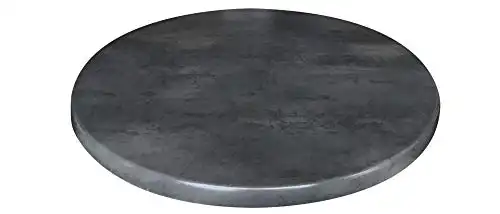 Holland Bar Stool Co. Stone Table Top | Amazon
The all-season, indoor/outdoor line of table Tops from the Holland Bar Stool Co. are a perfect addition to your patio, deck, dining area, or Rec room.
Buy at Amazon
We earn a commission if you click this link and make a purchase at no additional cost to you.
12/04/2023 05:44 pm GMT
Outdoor Side Table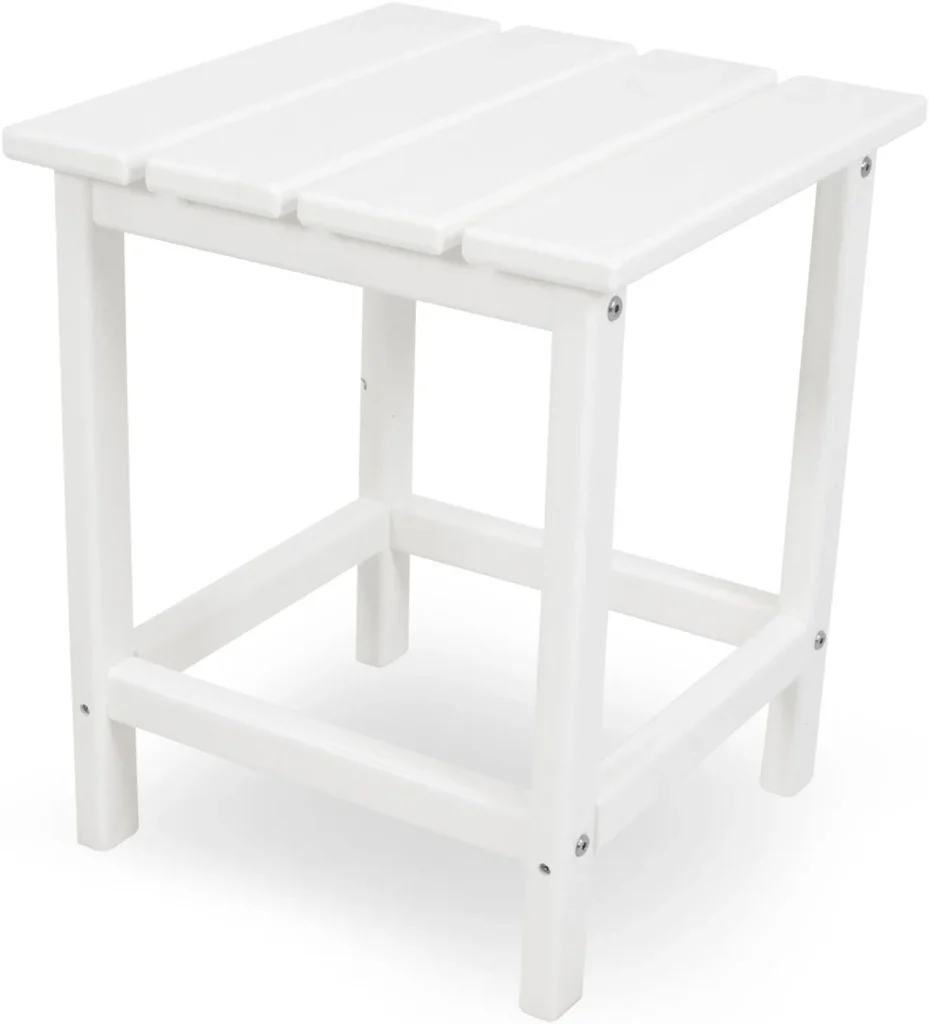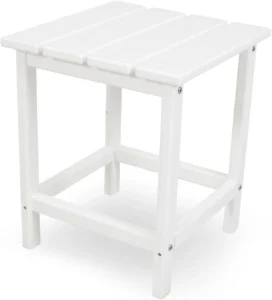 Even if you do buy a stone table top, you'll want to have a side table you can use while the fire is burning. You can follow the plans in the video below with very basic tools and 2×4's to make a stand for the stone table top. This side table is perfect for drinks, phones, food, and other items you'll want to have close by.
Otherwise, something simple like this side table will work for most people.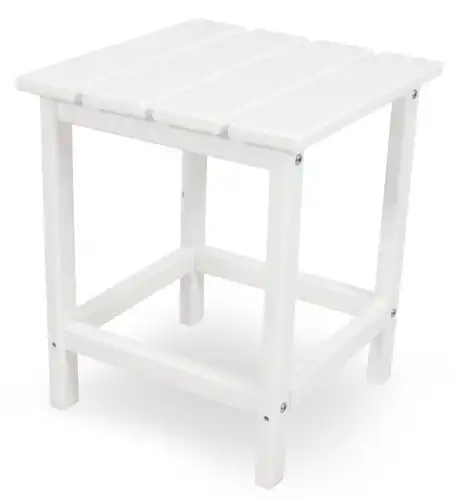 Polywood Outdoor Side Table | Amazon
Constructed of genuine polywood lumber, a proprietary blend of recycled plastics which includes recycled milk jugs and detergent bottles.
Buy at Amazon
We earn a commission if you click this link and make a purchase at no additional cost to you.
12/04/2023 08:40 pm GMT
Firewood Carrier
If you've bought a wood-burning fire pit, be sure to plan your night ahead and stack some wood near the fire pit during the daylight hours. You'll save yourself a couple of trips in the dark. Day or night, carrying firewood isn't fun or easy.
An old towel is a good DIY firewood carrier, but you're better off spending $20 to get a canvas carrier with straps. Using one of these will keep the dirt off your clothes and allow you to carry more wood per trip.
We recommend MyFirePlaceDirect's Waxed Canvas Firewood Carrier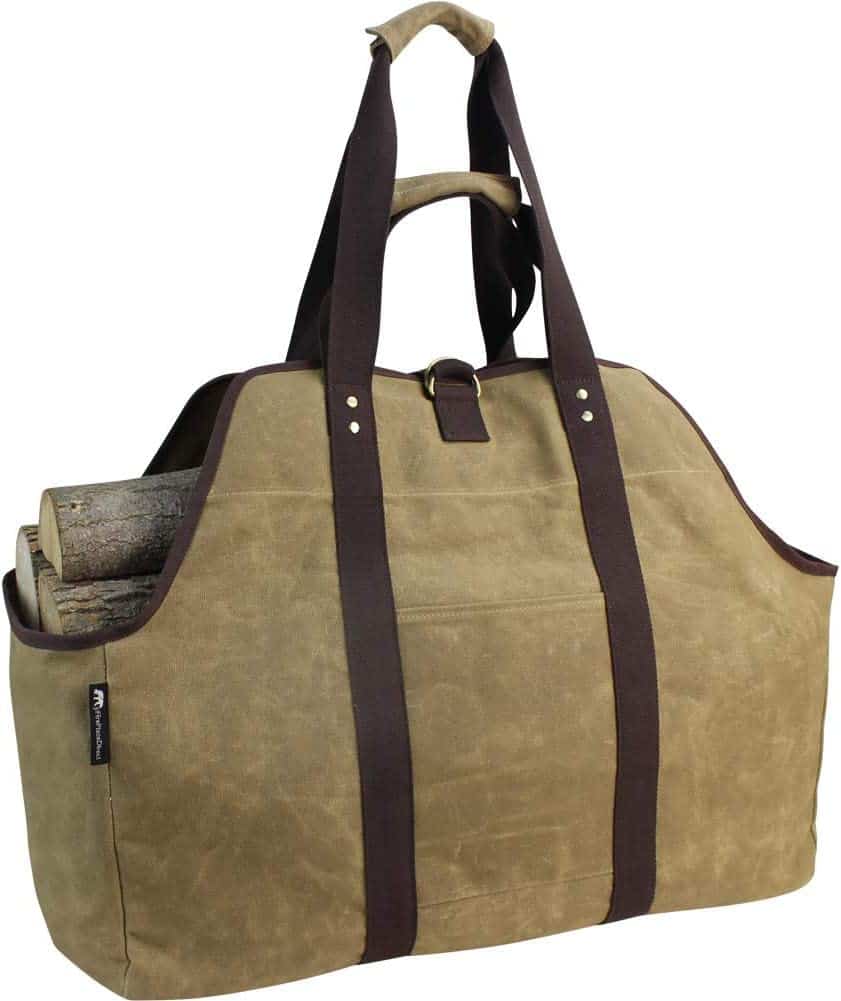 Heat Reflector
Some nights get colder than others and some people are much more sensitive to the cold when the night air cools down. What resembles a metal trash can lid, is actually a heat reflector – similar to what you see on propane patio heaters.
These deflectors help to divert heat to the people around the fire, rather than straight up into the air.
We recommend the Hiland THP 3-Hole Heat Reflector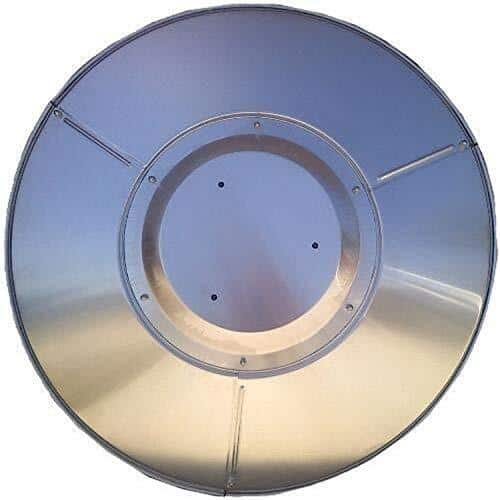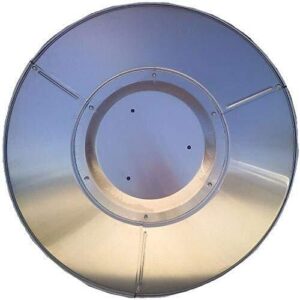 You will need to purchase some chain and a shepherd's hook to hold it in place. These are inexpensive and will make your outdoor experience much more enjoyable. SOLO Stove makes a branded deflector that you can check out on their site– SOLO Stove Deflectors
Hiland THP 3HOLE Heat Reflector Shield | Amazon
This will fit all patio heaters but in some cases it may require drilling additional holes to match the hole pattern of your particular heater brand.
Buy at Amazon
We earn a commission if you click this link and make a purchase at no additional cost to you.
12/05/2023 12:57 am GMT
Lid or Snuffer
Eventually, you'll need to pack it in for the night and head inside. Ideally, you should pour water over the entire fire until all the embers are out. However, with smokeless or stainless steel fire pits that isn't a viable option.  At least not if you want to maintain it well.
Instead, you'll want to spread all of the remaining logs and embers around and wait until they burn out before leaving the fire. Embers can still jump from the fire pit and cause a fire if left unattended. Use a snuffer to help suffocate the remaining coals and prevent embers from leaving the fire pit.
Breeo offers a stainless steel option for their X-Series fire pits. However, if you have a Solo Stove or another brand of fire pit, you may need to purchase a universal one from Amazon. Solo fire pit accessories are available there.
Fire Tongs AKA Log Mover
With most fire pits you'll need to rotate the logs every so often so they burn evenly and the fire burns efficiently. Fire tongs make this easier by offering an 'iron hand' that allows you to rotate them easily.
With a smokeless fire pit, you never have to worry about rotating logs. Smokeless fire pits like the Breeo X-Series or Solo Stoves, are engineered to draw air in through the bottom so that the wood burns on both sides evenly and efficiently.
We recommend UTEN's Fire Log Grabber Fireplace Tongs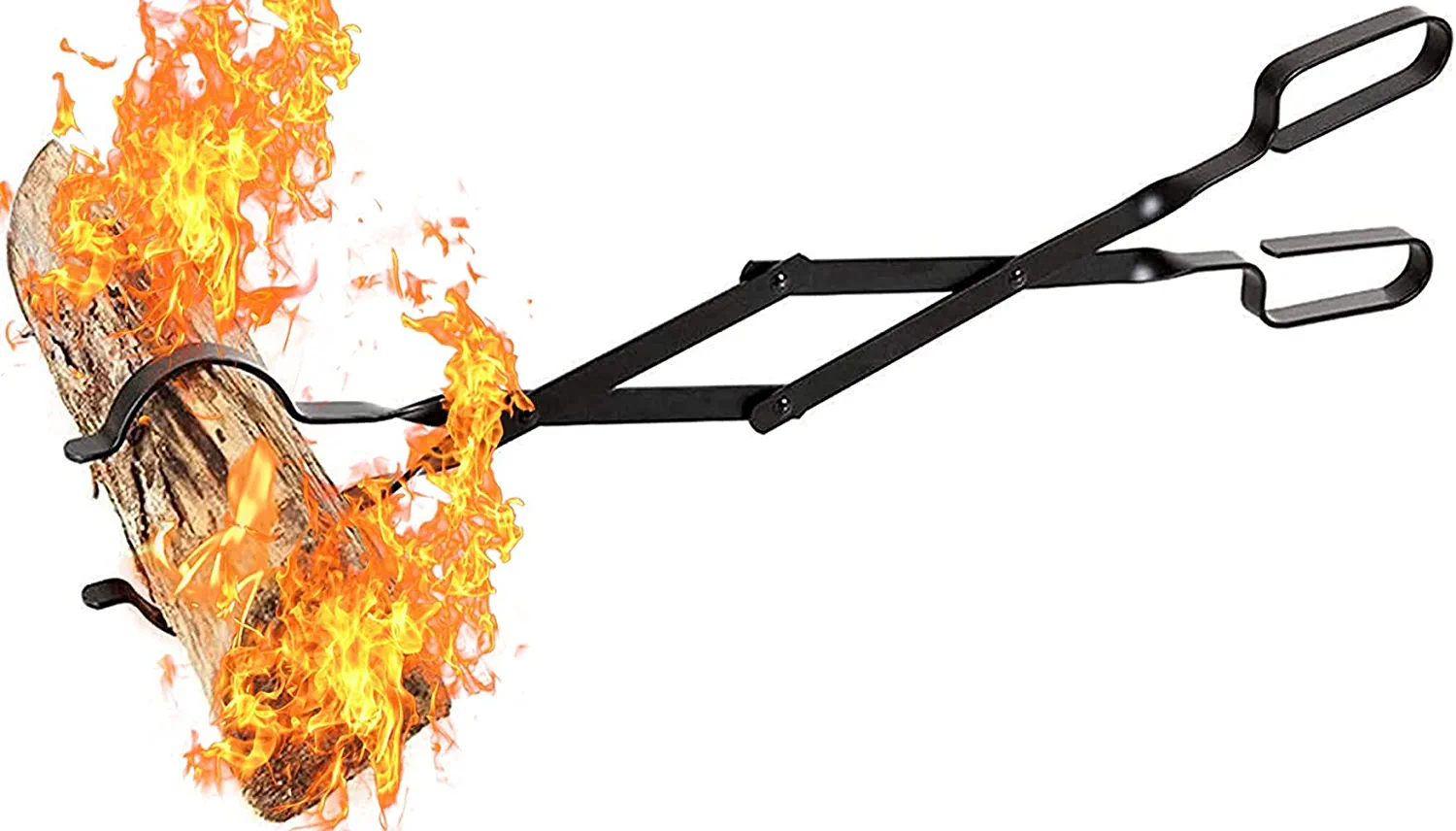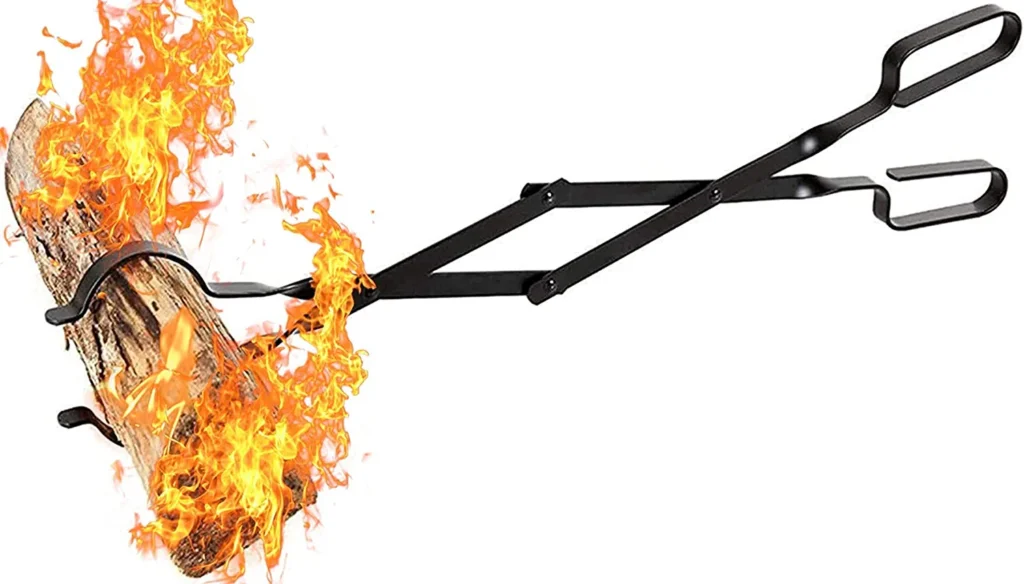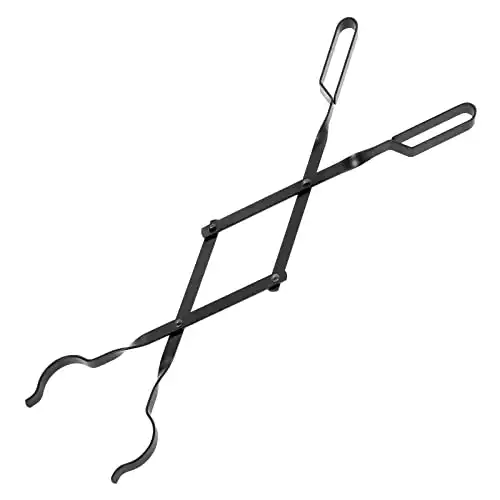 Uten's Fire Log Grabber Fireplace Tongs | Amazon
The Fireplace Tongs is 26 inch long which made of heavy-duty cast iron fire pit tools. Which makes it ideal for picks up heavy pieces of wood easily.
Buy at Amazon
We earn a commission if you click this link and make a purchase at no additional cost to you.
12/05/2023 01:23 am GMT
Axe or Firewood Splitter
Sometimes you might run into logs that are a little too large for the fire pit. Or ones that would burn better if split. Other times you might need to split off some very small pieces to use as kindling. This is where an axe or splitter comes in handy!
An inexpensive axe will work just fine. But if you value craftsmanship in hand tools you should check out Helko Werk German-Made Axes. These are premium options that any DIY-er will greatly appreciate. ​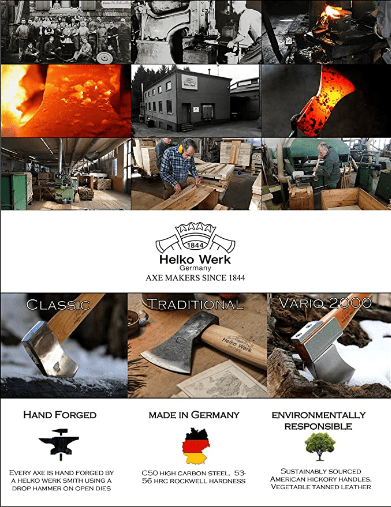 Another popular option is the Kindling Cracker which makes it easier and safer to split wood for kindling, rather than using an axe.
We recommend the Kindling Cracker Kindling Splitter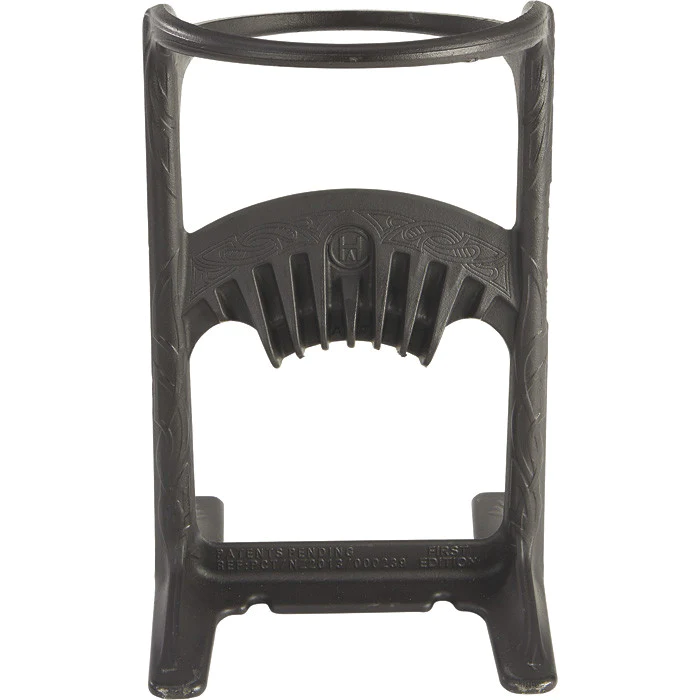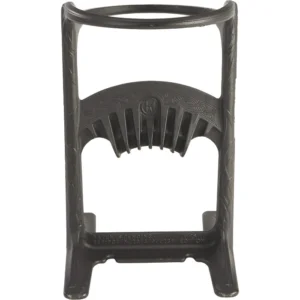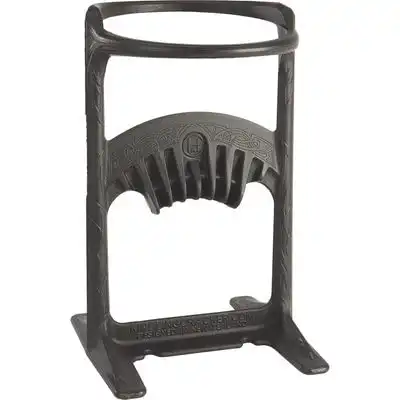 Spark Screen and Ember Mat
Using a lid or snuffer is great for when you want to leave the fire unattended. However, protecting your deck or yard while the fire is going is important as well. A spark screen will keep any embers from popping or jumping onto you, your guests, or your surroundings.
An ember mat is another great addition to help protect your deck or patio. Think of this as a giant fire-resistant rug that sits under the fire pit and any of the surrounding furniture.
We recommend Campfire Defender's Ember Mat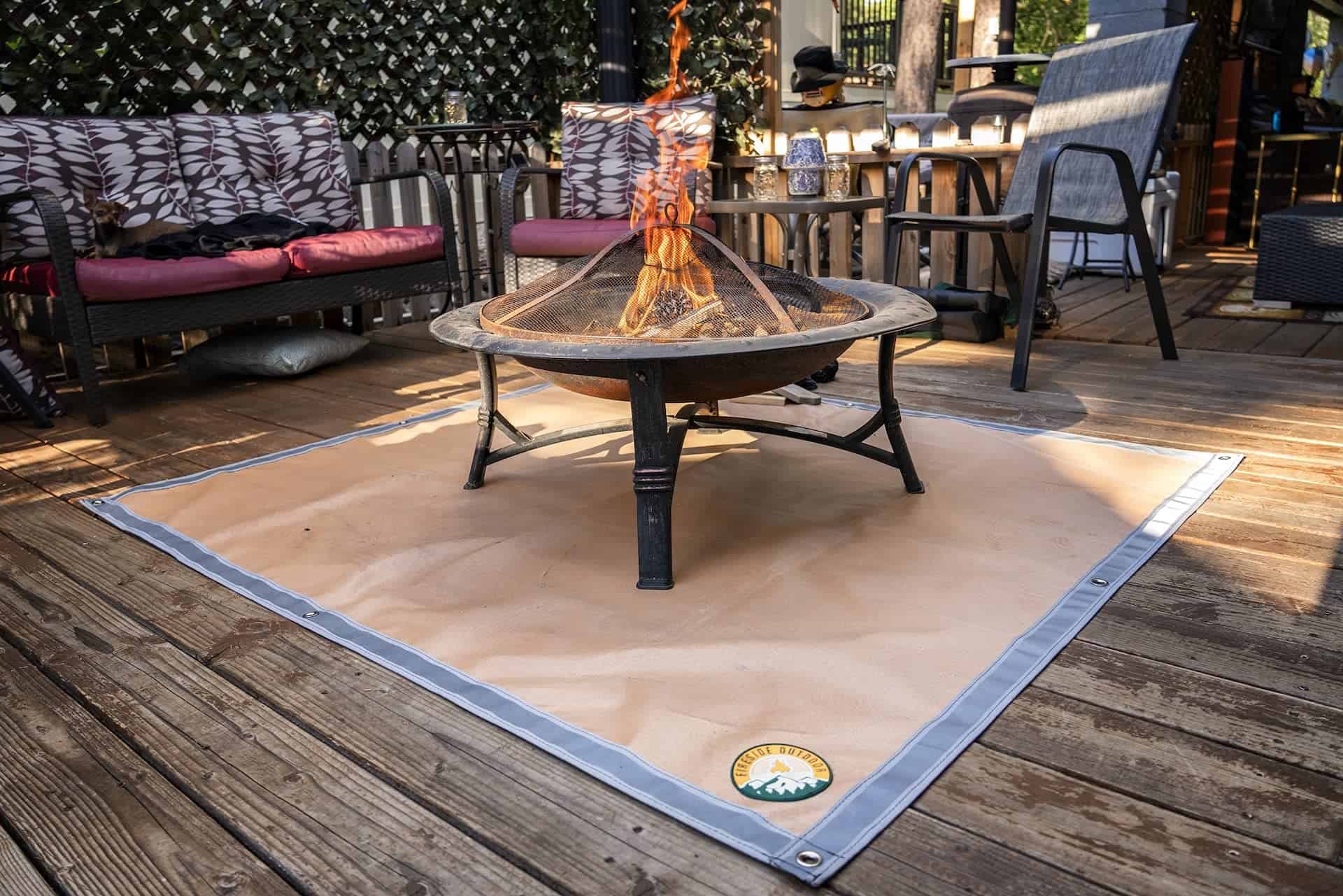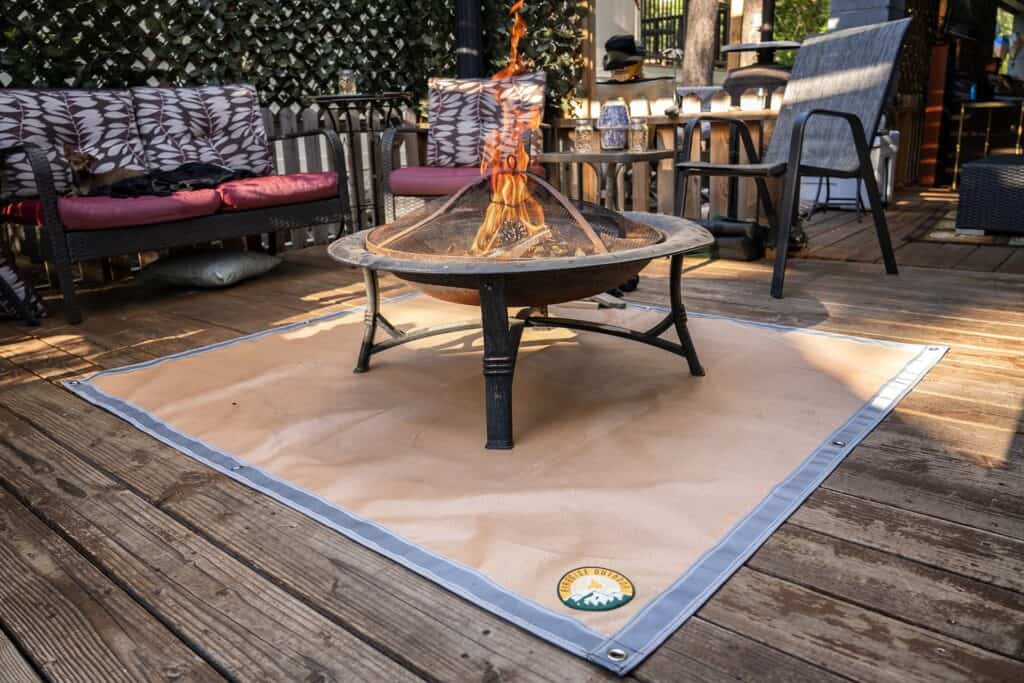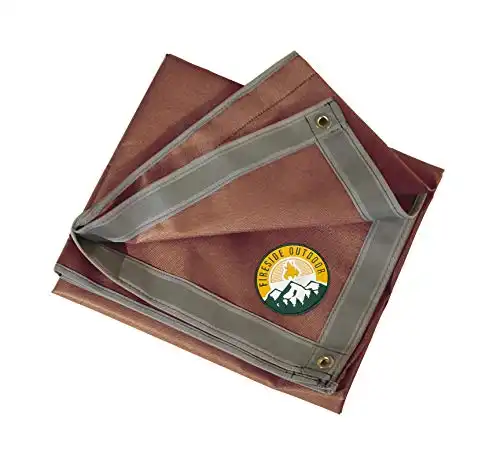 Campfire Defender's Ember Mat | Amazon
The Ember Mat is designed to stop popping embers or dripping grease from damaging the area around your fire pit or grill.
Buy at Amazon
We earn a commission if you click this link and make a purchase at no additional cost to you.
12/04/2023 01:47 pm GMT
Concrete Pavers or a Heat Shield
In addition to using an ember mat to protect your deck or yard, concrete pavers or a heat-reflecting shield are a must. The ember mat only protects against sparks or embers that jump from the fire but will not protect against prolonged heat in a single area.
Concrete pavers are an inexpensive method for dissipating the heat while using a heat shield helps to reflect the heat back toward the people around the fire.
Fire Pit Poker Set
Playing cards around the fire sounds nice, but this is a different kind of poker set. This one includes fire tongs, an ash shovel, and a pointed rod that allows you to maneuver the logs in different directions.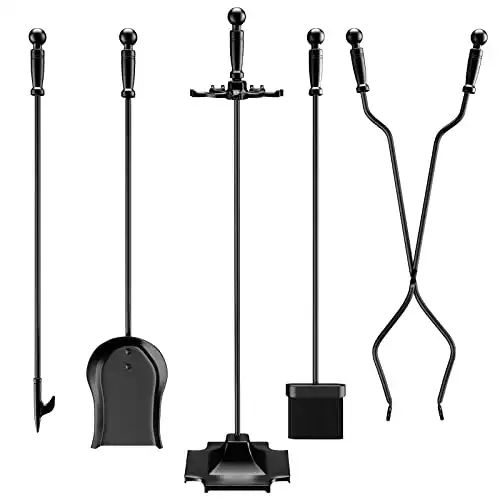 EveryMomentCounts' Fire Pit Poker Set | Amazon
5 Piece Fireplace Tools Set. Black fireplace tools are made of high-quality wrought iron that is more solid, more sturdy and durable than cast iron, and decently heavy as well.
Buy at Amazon
We earn a commission if you click this link and make a purchase at no additional cost to you.
12/04/2023 02:04 pm GMT
Shop Vac
In case your lawn doesn't need all the extra carbon, a shop vac makes cleaning up ash a whole lot easier than shoveling it into a bucket.
Mosquito Repellents
Nobody likes em' but the food chain needs them. Here are a few suggestions for keeping mosquitoes away from you and your guests that don't involve a can of spray.
• Citronella tiki torches or candles
• Planters around the area with lavender, citronella, rosemary, basil, mint, or sage plants.
• Use a log of cedar or pinon wood every 45 minutes or so throughout the burn
PRO-TIP
Behren's metal buckets mentioned earlier make great planters for flowers and other plants.
First Aid Kit
Accidents happen. Kids might grab the wrong end of the marshmallow roasting stick, a splinter gets stuck in someone's finger, or you might get a little too close to the fire pit. Having your standard first aid kit is always a good idea, but be sure to add a few other items too:
• A set of tweezers for those pesky splinters
• Pack of bandages
• Small packets of burn cream with Lidocaine
• A set of sterile nitrile gloves
If you are out camping, be sure to add in any other items you would need for the environment you're in. For example, in the Midwest, you may want to add something to treat poison ivy or snake bites.
Headlamp or Flashlight
Seems pretty self-explanatory. A headlamp may be the better option by freeing up both your hands to work on other tasks – like carrying wood.  Don't forget to keep an extra set of batteries nearby or consider throwing them in with the first aid kit.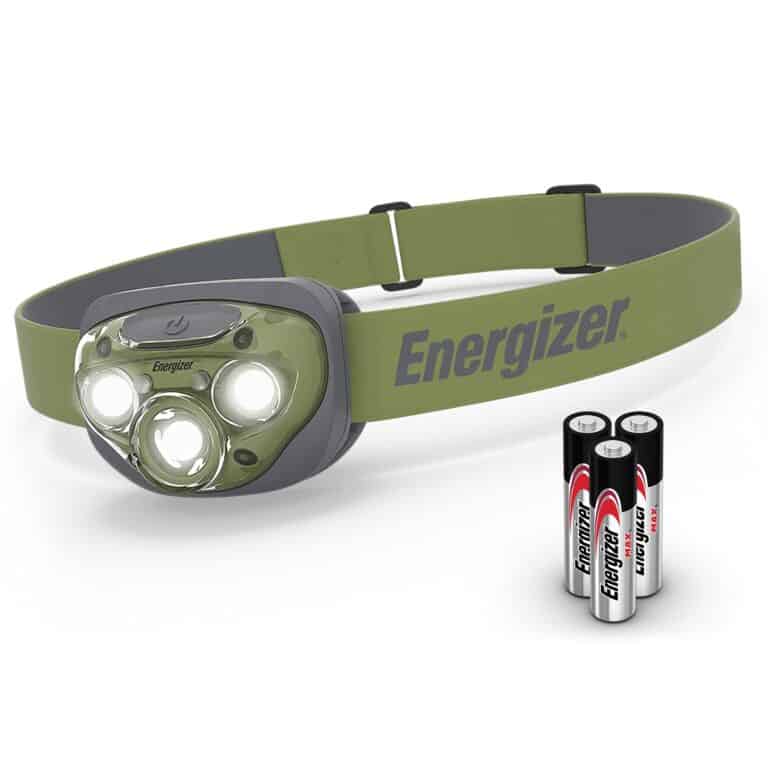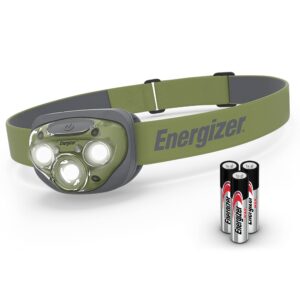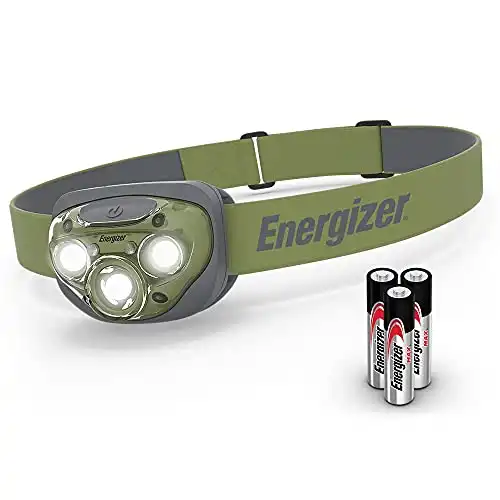 Energizer LED Headlamp | Amazon
Illuminates up to 80 meters with a 260-lumen beam of LED light in high mode - This head lamp can light up the room, or the campsite, with ease.
Buy at Amazon
We earn a commission if you click this link and make a purchase at no additional cost to you.
12/04/2023 03:01 pm GMT
Bonfire Entertainment Accessories
Tiki Torches
Adding tiki torches to the fire pit area really adds to the outdoor feel and provides some practical light for setting up marshmallows or being able to see where you're walking.
As mentioned earlier, citronella-infused tiki torches help to repel mosquitoes.  This is one of the handy bonfire accessories to buy.
Bluetooth Speaker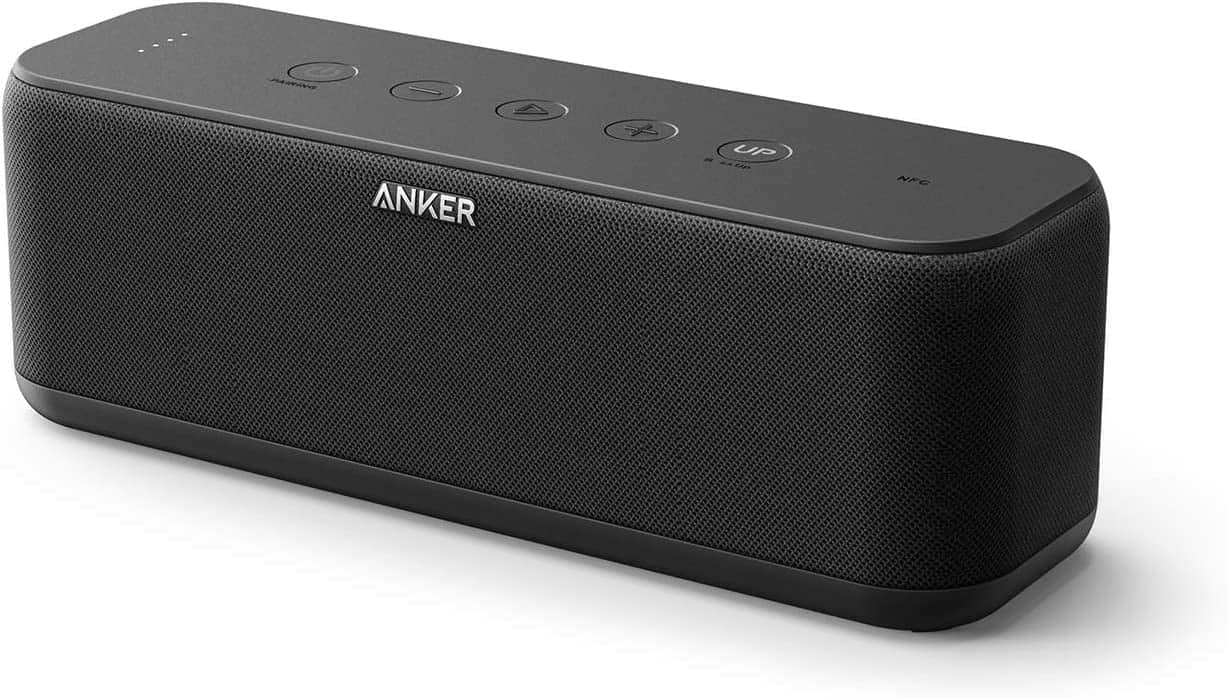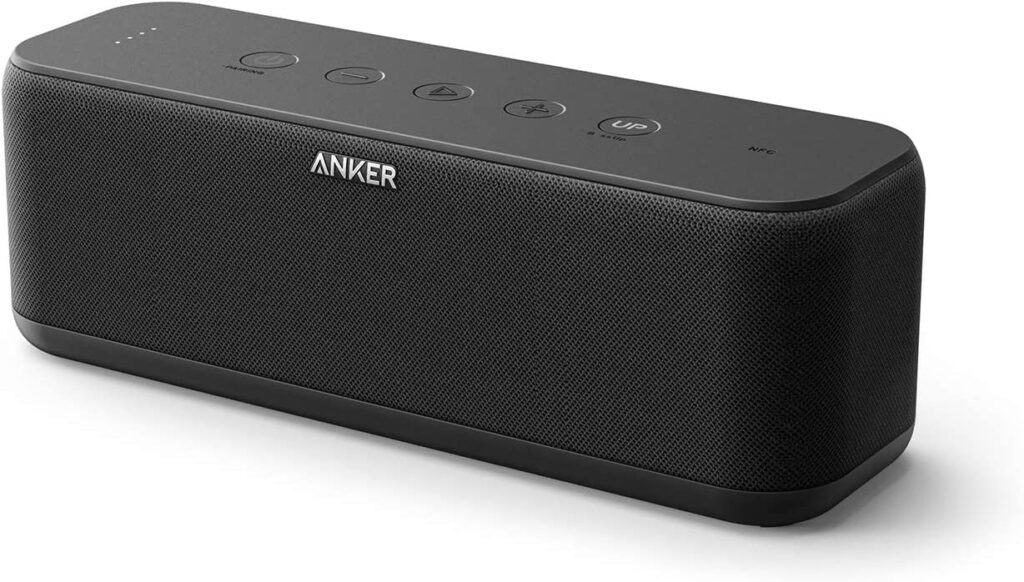 The night isn't complete without some tunes playing in the background. Crank up the country, rock, and roll, or whatever your heart desires.  The Anker Soundcore Boost is a powerful little speaker with a long Bluetooth range, 12 hrs of playtime, and is IPX7 waterproof.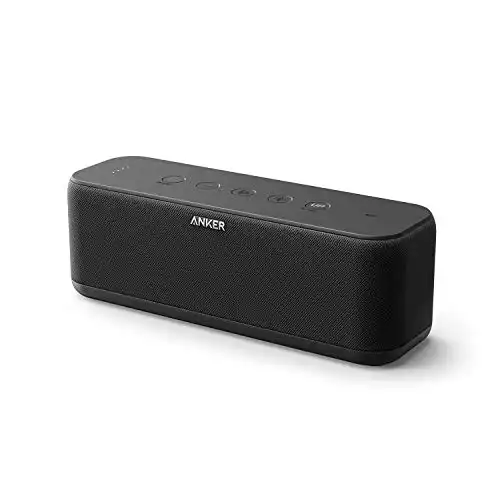 Anker Soundcore Boost Bluetooth Speaker | Amazon
Energize your dance tracks with BassUp intensifying the beat—instantly. Soundcore exclusive technology analyzes and enhances low frequencies in real time.
Buy at Amazon
We earn a commission if you click this link and make a purchase at no additional cost to you.
12/04/2023 03:12 pm GMT
Fire Pit Flame Color
Great for adding some wow factor for the kids or spicing up your next Instagram post. Magical Flames color packets transform the color of the fire and produce vibrant flames ranging from dark and light blues, purple, green, and yellow. The flames last for well over an hour and are safe to use in all outdoor fire pits.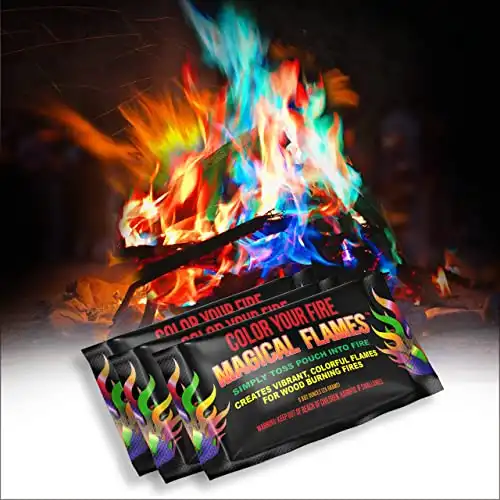 Magical Flames Fire Color Changing Packets | Amazon
Take your camping trip from 'meh' to 'marvelous' in seconds with our colorful solution for bored kids everywhere. Use 1-3 of these magic fire packets for instant rainbow flames.
Buy at Amazon
We earn a commission if you click this link and make a purchase at no additional cost to you.
12/04/2023 03:55 pm GMT
Best Outdoor Fire Pit Cooking Accessories
Roasting Sticks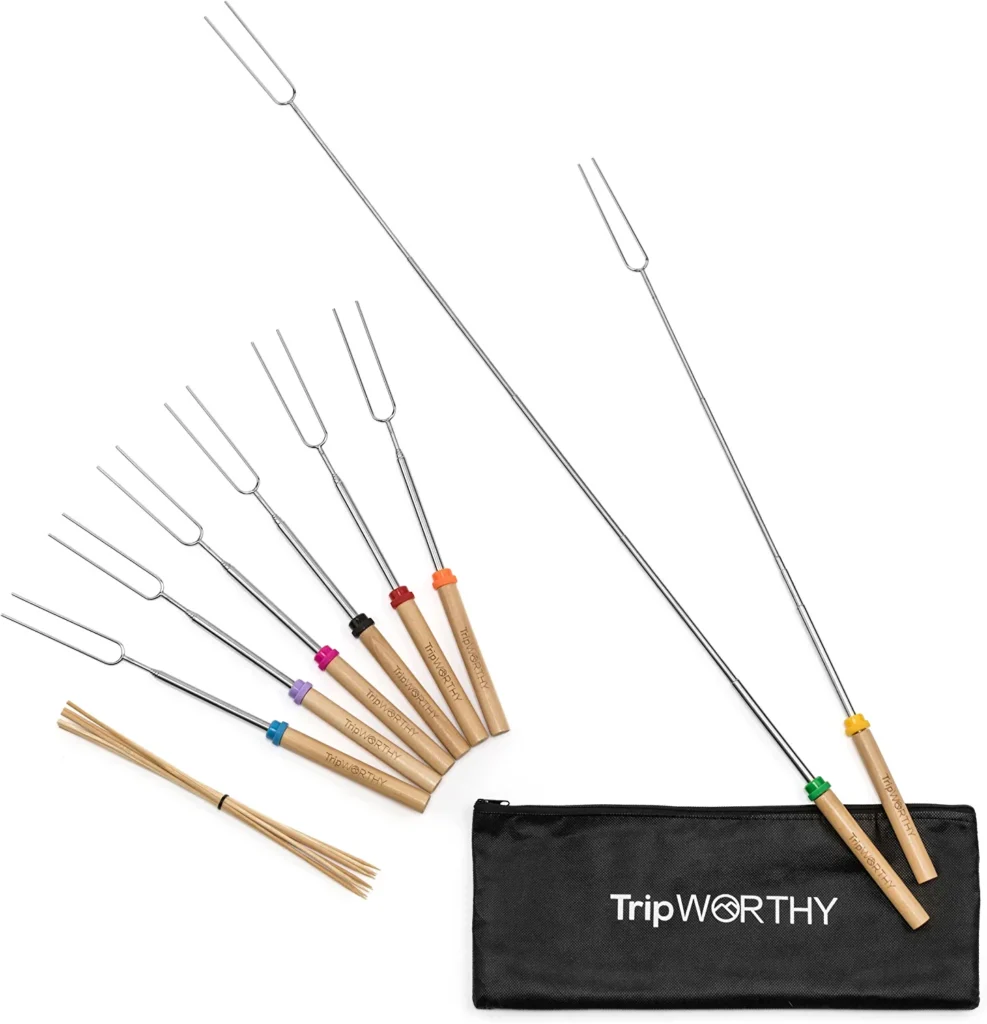 Perfect for marshmallows, hot dogs, and more. Generally, the longer the stick and the larger the wire the better. Check to make sure they're machine washable, otherwise, you'll want to keep some scrubbing pads on hand.  If you want to get really fancy, there are tons of custom and personalized roasting sticks that can be engraved with your name or even cut to specific shapes and sizes.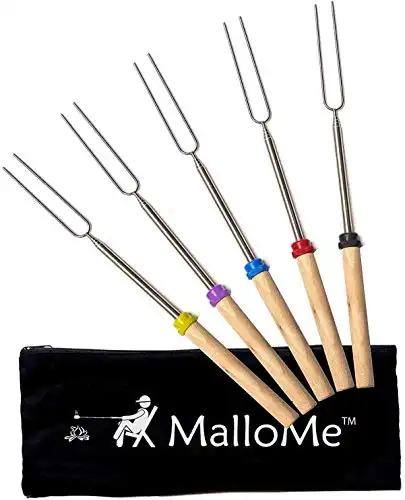 MalloMe Marshmallow Roasting Sticks | Amazon
Highest quality power welded forks use non-toxic 18/8 304 stainless steel to ensure easy cleaning, no rusting and safe roasting.
Buy at Amazon
We earn a commission if you click this link and make a purchase at no additional cost to you.
12/04/2023 05:11 pm GMT
Grill or Grate Attachment
Adding a grilling system, like Breeo's Outpost System, to your fire pit really brings your bonfire game up a notch! Using Breeo's system or adding a basic grate over the fire pit brings the opportunity to turn your fire pit into a cooking station, instead of just an entertaining centerpiece.
The Breeo Outpost is a universal system that will work with any fire pit as long as there is an area to stake in the ground.
We recommend Breeo's Universal Outpost System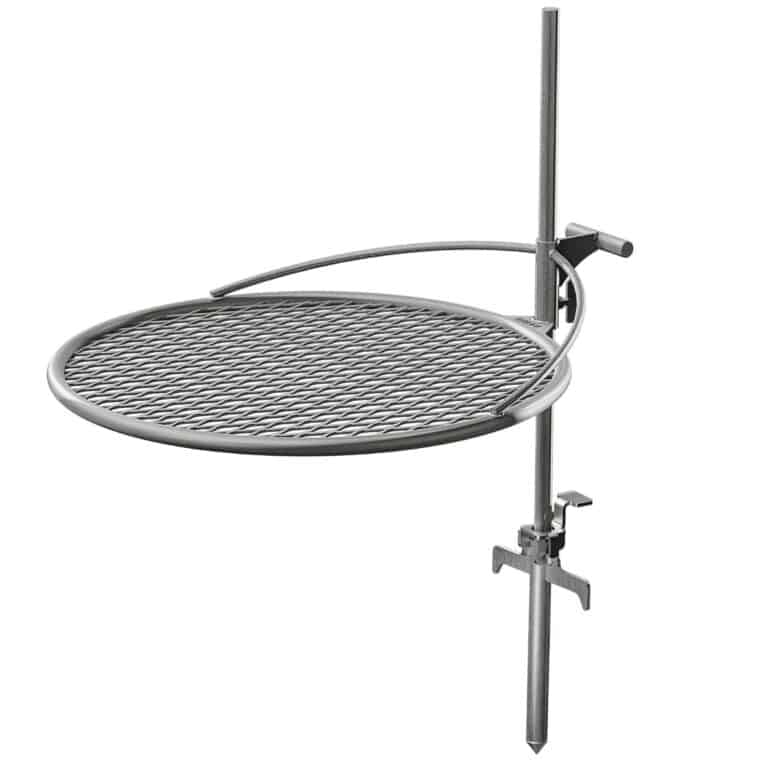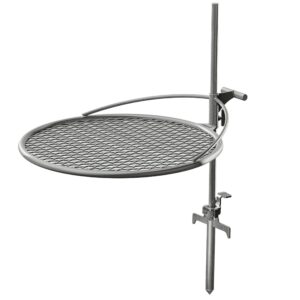 Be sure to read on for additional items you'll need to really enhance the cooking experience.
Silicone Tongs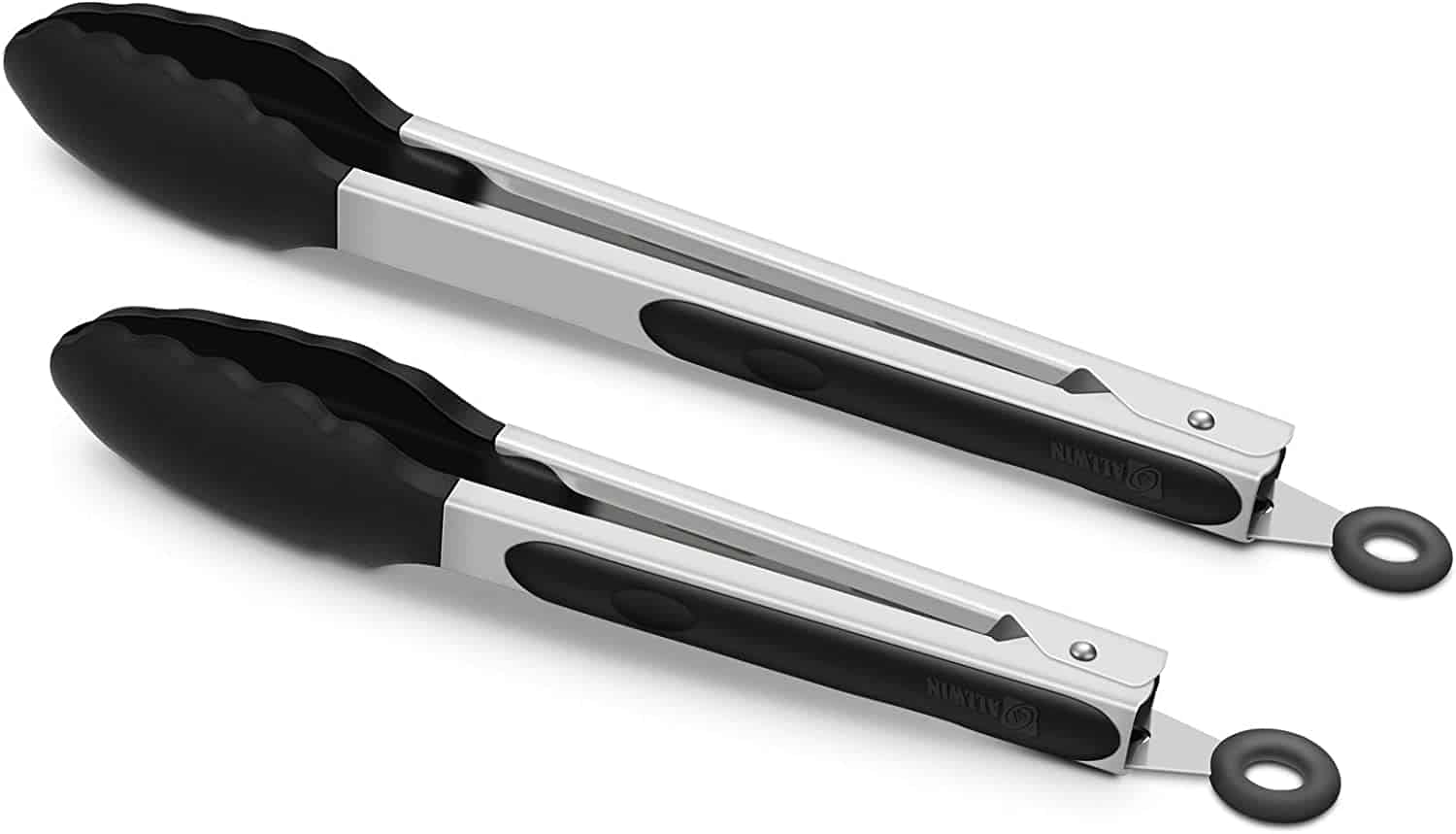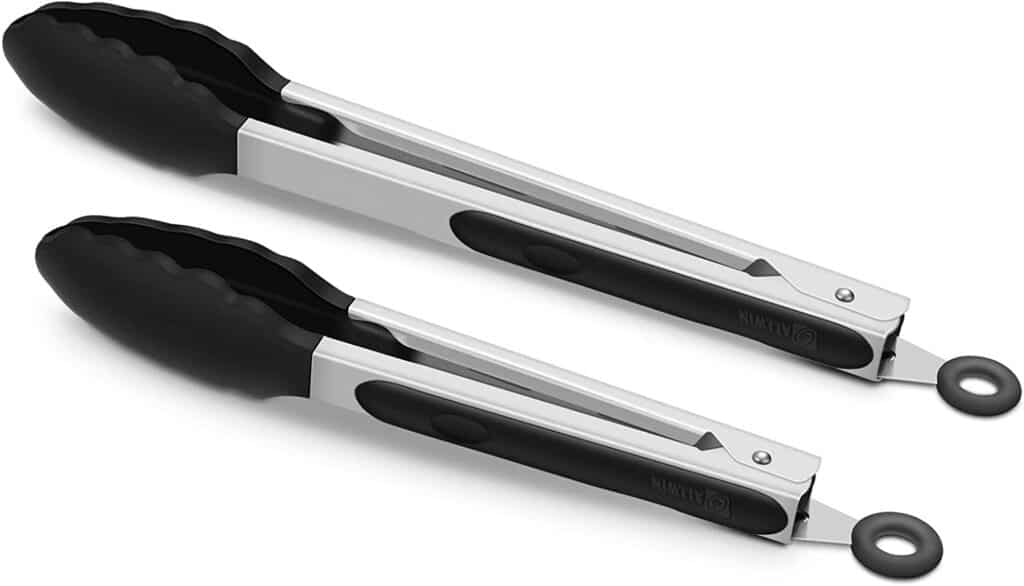 As satisfying as it is to hear the signature clacking noise of checking to make sure your metal tongs still work, go with silicone. Silicone has high heat resistance and won't scratch your porcelain grate, the stainless steel surface on Breeo's X-Series fire pit, or your cast iron.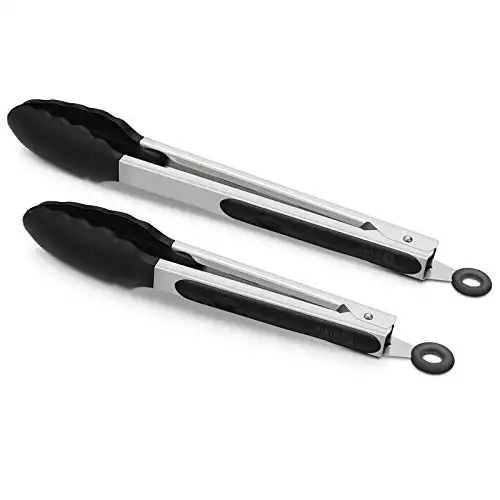 Cast Iron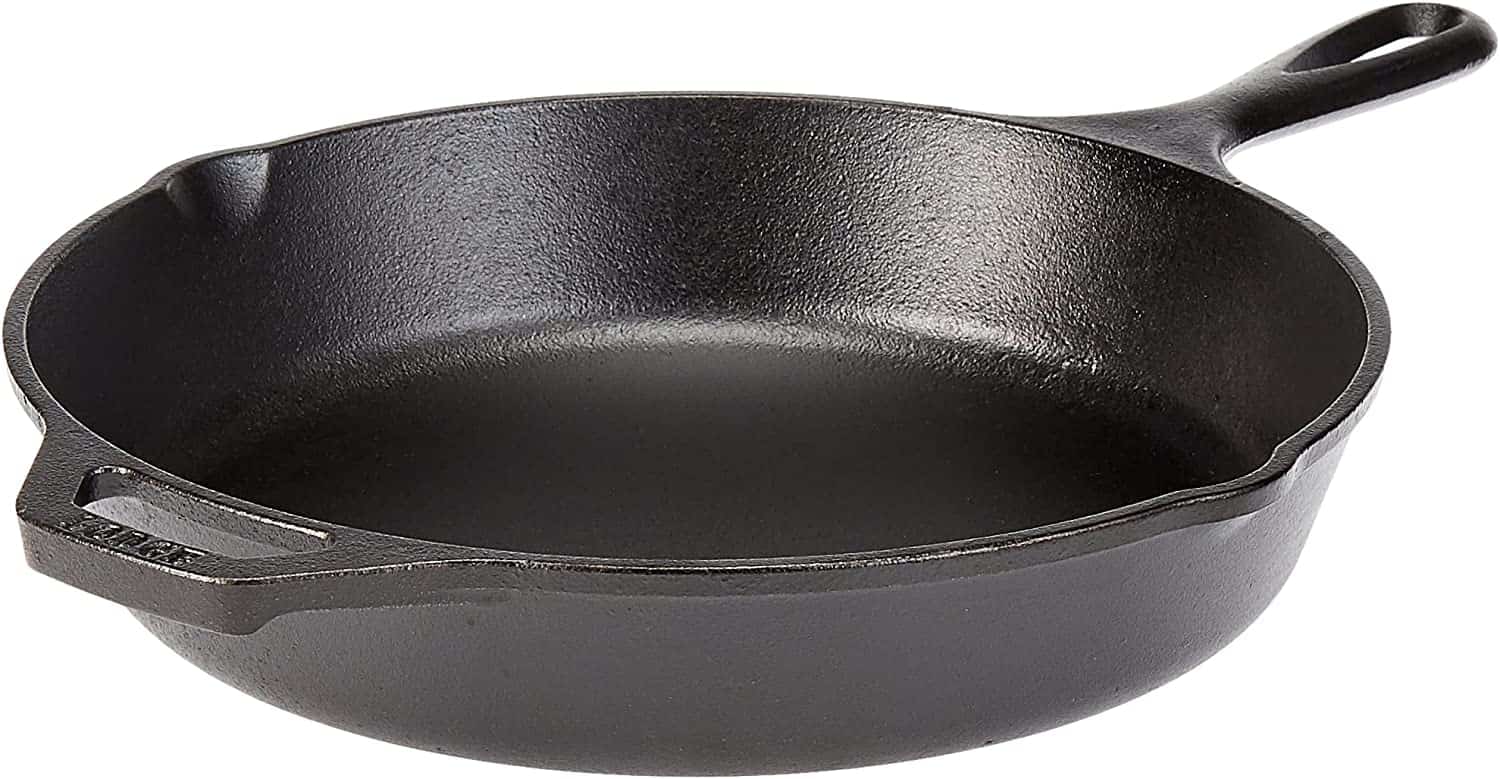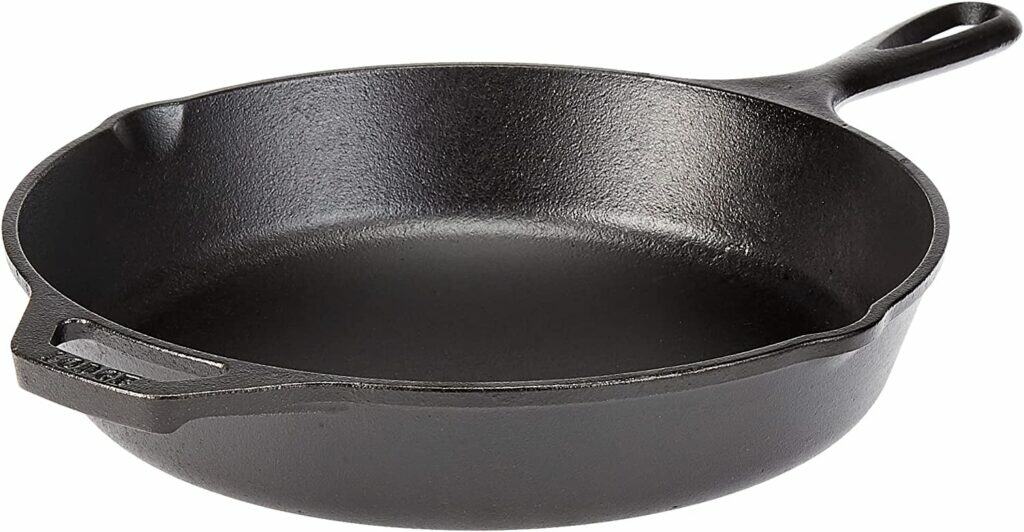 Speaking of cast iron, a 10" skillet is without a doubt the bare minimum you should have if you plan on cooking over a fire.
For those unfamiliar with cast iron skillets, these things are basically indestructible. You can leave them out on the fire for hours with no damage and ones that traveled across the country in wagons in the 1800s are still around today.
Cast irons come in all shapes and sizes and they're inexpensive to get started with. This guide is a great intro to cast irons. Apart from a skillet, here's a full range of cast iron products that you can use over the fire.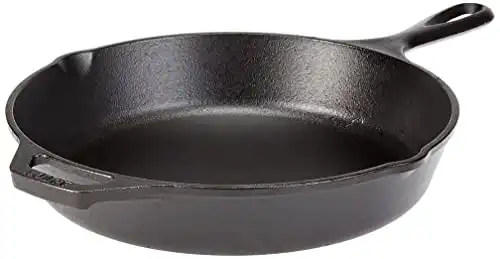 Heat Resistant Gloves
Heat-resistant gloves are a must if you plan on cooking over a fire pit! There will come a time when you need to adjust the height of the grate, or you'll be removing the cast iron from the fire.
Be warned, any sort of metal that's been sitting in the fire can easily reach 700F to 800F or more. In some cases, you may want to use your heat-resistant gloves in combination with a pot holder or double up on the gloves.
We recommend OZERO's Heat Resistant Gloves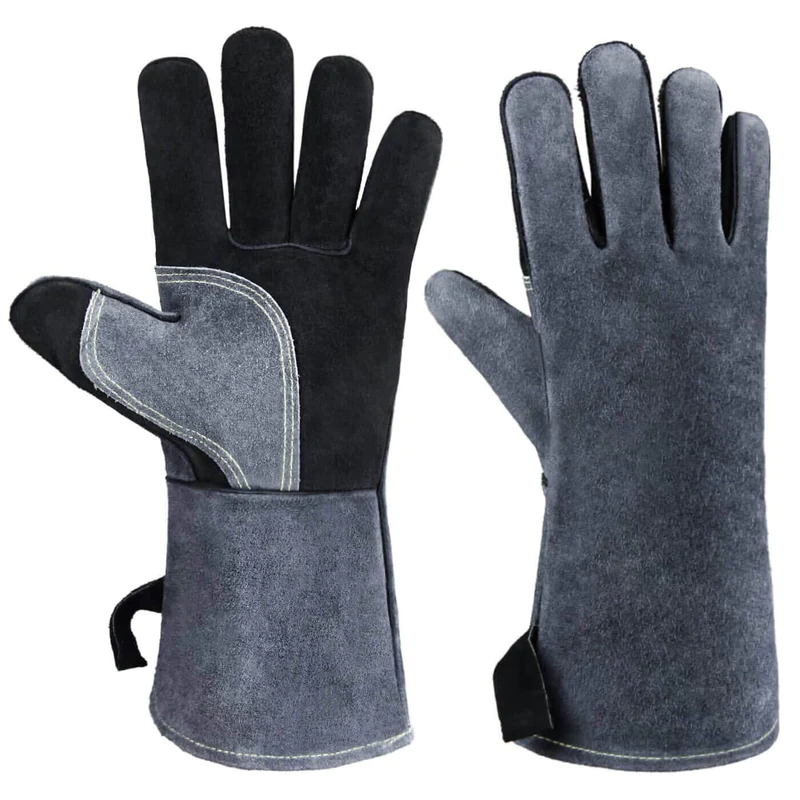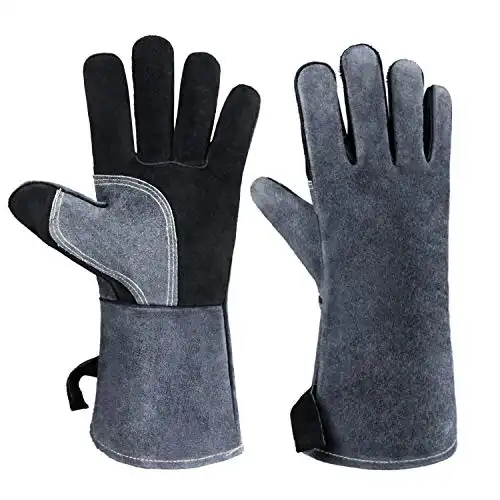 Digital Probe Thermometer
Cooking over an open fire is very tricky at first. It requires you to set up the fire correctly with the appropriate amount of heat and then adjust how close the food is to the fire while keeping the heat consistent. It's not easy and it's really easy to burn or not use enough heat and undercook the food.
This is where a digital probe comes in handy. For one, it prevents you from undercooking the food. Beyond that, it provides better insights into how adjusting either the fire or distance from the fire affects how quickly or slowly the food cooks.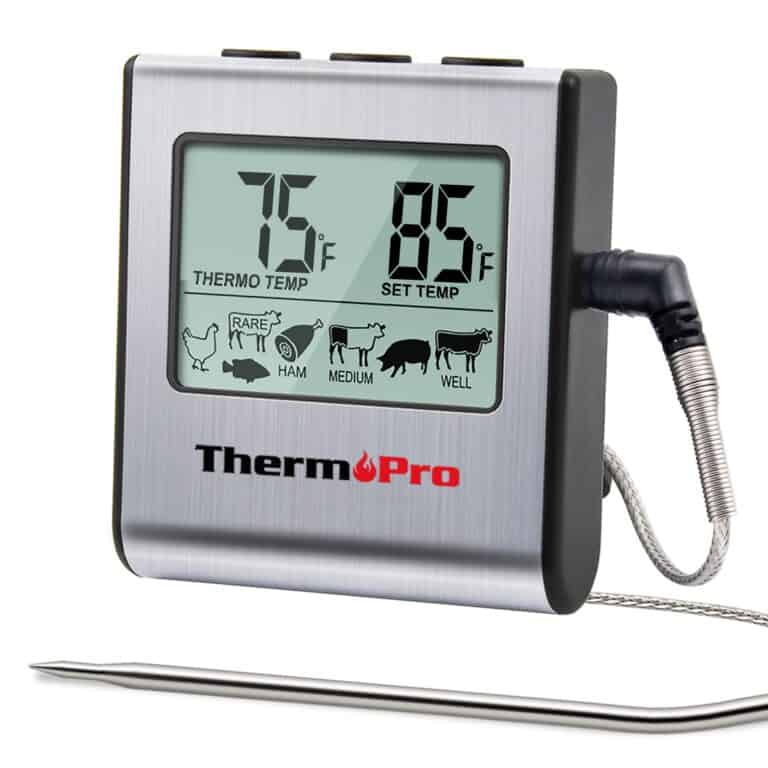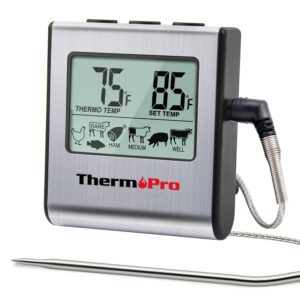 Again, these are inexpensive and you can leave them in the food while they cook. We recommend inserting the probe into the food when you think the food is close to being finished and then adjust as necessary.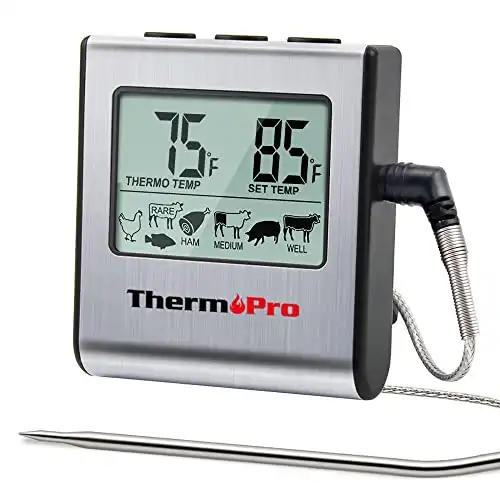 ThermPro's TP-16 Digital Thermometer | Amazon
The ThermoPro TP16 gives both inexperienced and experienced cooks the ability to quickly and accurately measure internal cooking temperatures using the simplest steps imaginable.
Buy at Amazon
We earn a commission if you click this link and make a purchase at no additional cost to you.
12/04/2023 09:08 pm GMT
Food Screen Tent
Flies and other insects are a constant nuisance and you don't want them landing on your freshly cooked food. Food screen tents keep the bugs away and the food smelling great.
If you're bringing the food inside you might find yourself opening and closing the door often. Consider purchasing a magnetic screen to help keep flies out of the house.
Serving Trays
When you're cooking loads of food, it isn't easy to fit it on a single plate all at once. Also, when it's dark out and you're bringing the smores out from inside, nothing says convenience like already having the chocolate and graham cracker set up.
Some serving trays are the perfect addition. Well, that wraps it up! If you liked this article, be sure to check some of our related articles. We'll help you keep your fire pit running in top shape and make sure you're using the right wood.