My first long camping trip was in the Mediterranean. Our campsite was right along the coast where we were deep water soloing (for those who don't know, it just means rock climbing over the ocean so that when you fall, you can swim back to shore; another term for it is "crazy"). Everyone in our group dabbled in camping, usually for weekend trips with their significant other. Still, we quickly realized that our tiny camp stoves were insufficient for larger quantities of water and food prep, let alone a bonfire, as evidenced in the photo below: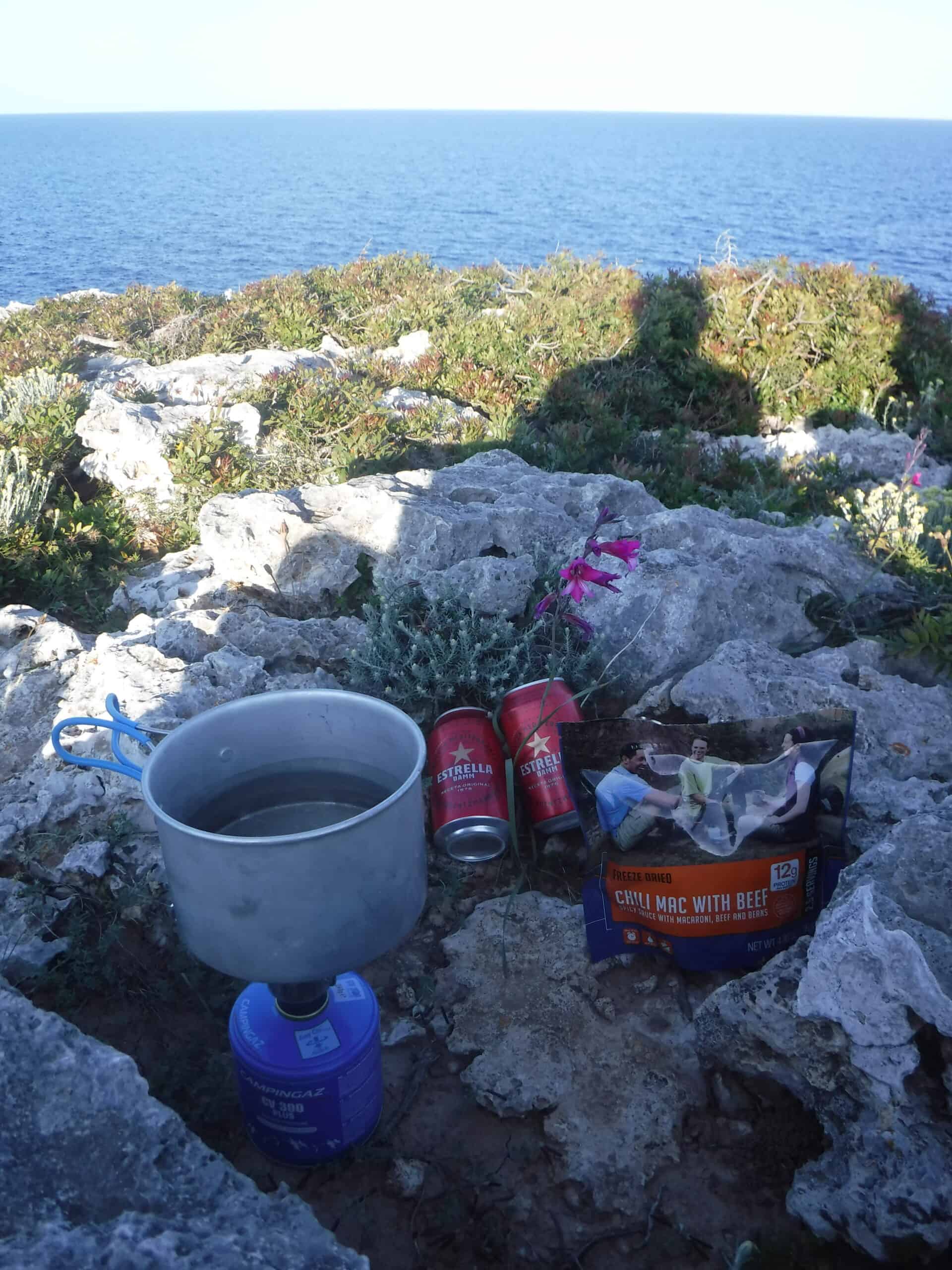 Bottom Line Up Front
The Solo Stove (primarily the Ranger) is a better investment for a campfire. Biolite seems like it has a lot of fancy bells and whistles, and it lets you grill, but all it really does is blow smoke, figuratively.
How Smokeless Stoves Work
Many older homes were heated with dual-combustion wood-burning stoves. I had one in California, and we were surprised that previous tenants never used it, probably because they didn't know how. But once we got it clean, unseized, and in working order, our propane heat bill in the winter dropped from $400 to around $100 per month.
Smokeless stoves work exactly the same way: they rely on secondary combustion.
This scientific term basically means each fire pit has two walls, the inner wall, and the outer wall, just like an insulated thermos. With traditional, rustic fire pits, the smoke goes straight up. But with smokeless stoves, secondary combustion means extra oxygen gets burned through these inner walls instead of making smoke.
The Solo Stove uses this method, and the Biolite uses a rechargeable fan to blow the air back so that it burns a second time and reduces smoke.
Solo Stove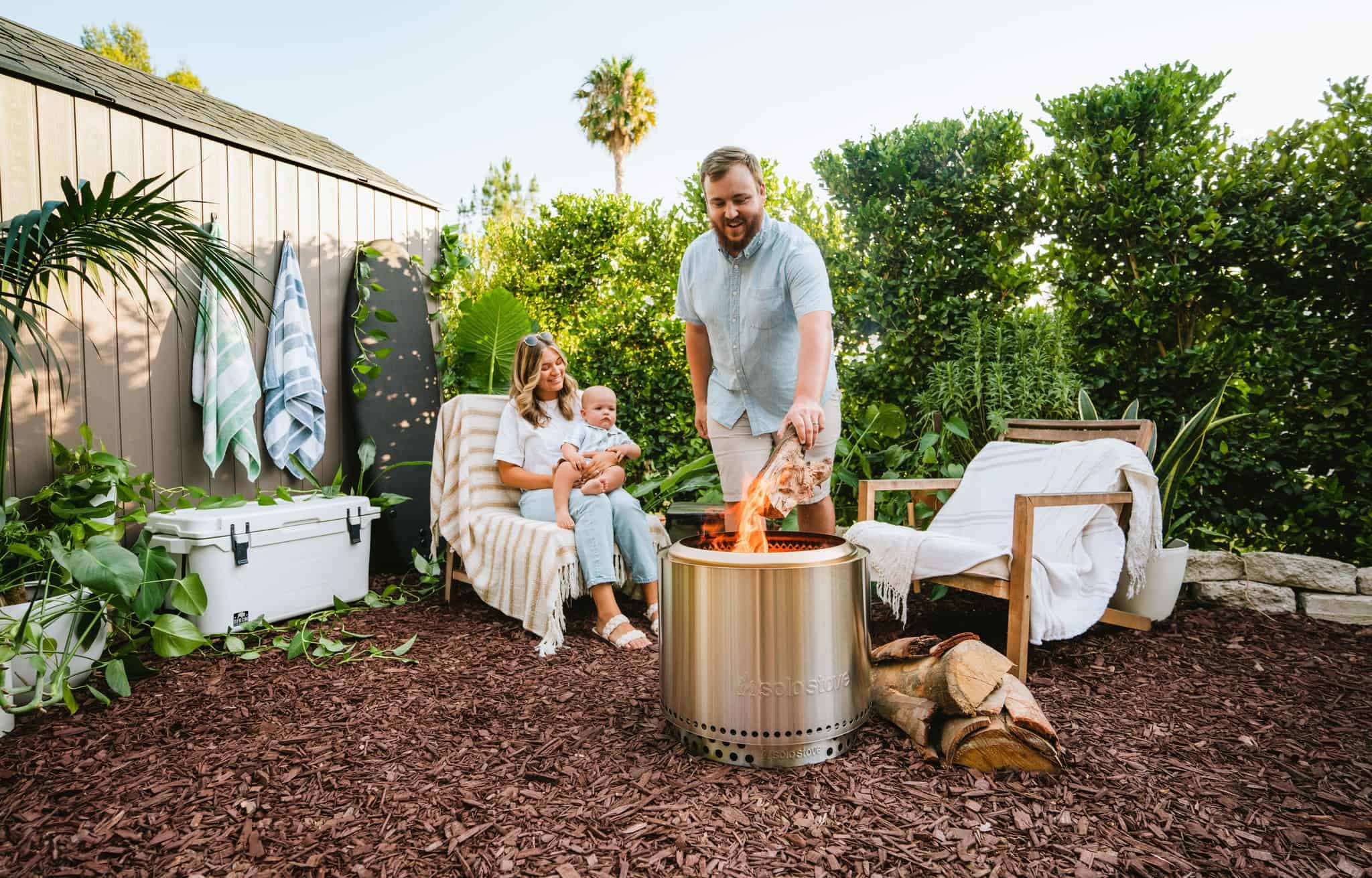 We are lucky enough to be surrounded by multiple mountain ranges; however, if I go more than 45 minutes in any direction, I'm not allowed to use wood from home because of the risk of contamination.
No matter where we go camping, especially out of state, we must buy local wood. Pellets, however, or a different matter entirely. I can bring pellets and a smokeless pellet stove across all state lines.
Why does this matter?
If you camp a lot (or even a little), you've probably experienced the same hiccup I have: you get in a little later than expected, the sun is going down, and you have no idea where to buy wood. All places with firewood bundles for sale are empty, and the stores are closed.
No warm fire. No smores.
Note: I've had this happen to me when we were camping on a very cold winter night using a two-person tent, so it's not like we were able to stay inside the RV and get warm.
Pellets vs. Wood
Wood pellets have low moisture content, so they provide a cleaner burn. They are easier to handle and have limited ash. You won't experience the same sparks, which can be particularly important if you live in a high-fire-risk region.
You can get away with burning wood pellets in the Solo Stove Ranger (which, based on size, is the closest to the Biolite), so that is something to keep in mind.
Models and Accessories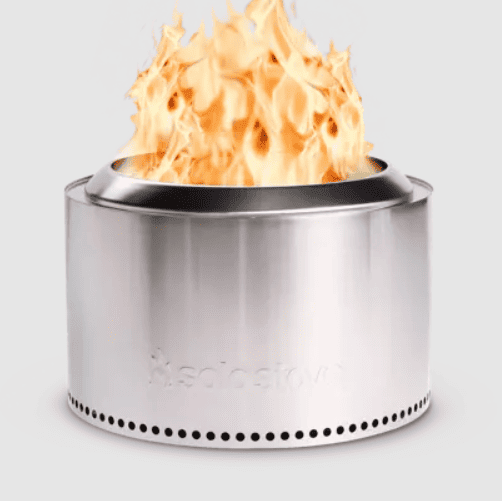 Now let me say Solo Stove has three models:
Yukon is the biggest and is meant for a permanent fire pit in your yard.
Bonfire, which I use most, is meant for socializing and at home but can be moved around.
Ranger is the smallest and is a portable design (though not significantly smaller than Bonfire) for camping.
No matter what model you get, invest in the accessories. The first is the cover, which the Solo Stove calls the "Shelter," and the second is the stand. If you have to pick one, the stand is the most important for safety because it lifts the entire stove off the ground so it won't burn a wood deck or concrete patio. The cover protects it against rain or debris, but you can just as easily bring the stove indoors when not in use.
Pros and Cons of Solo Stove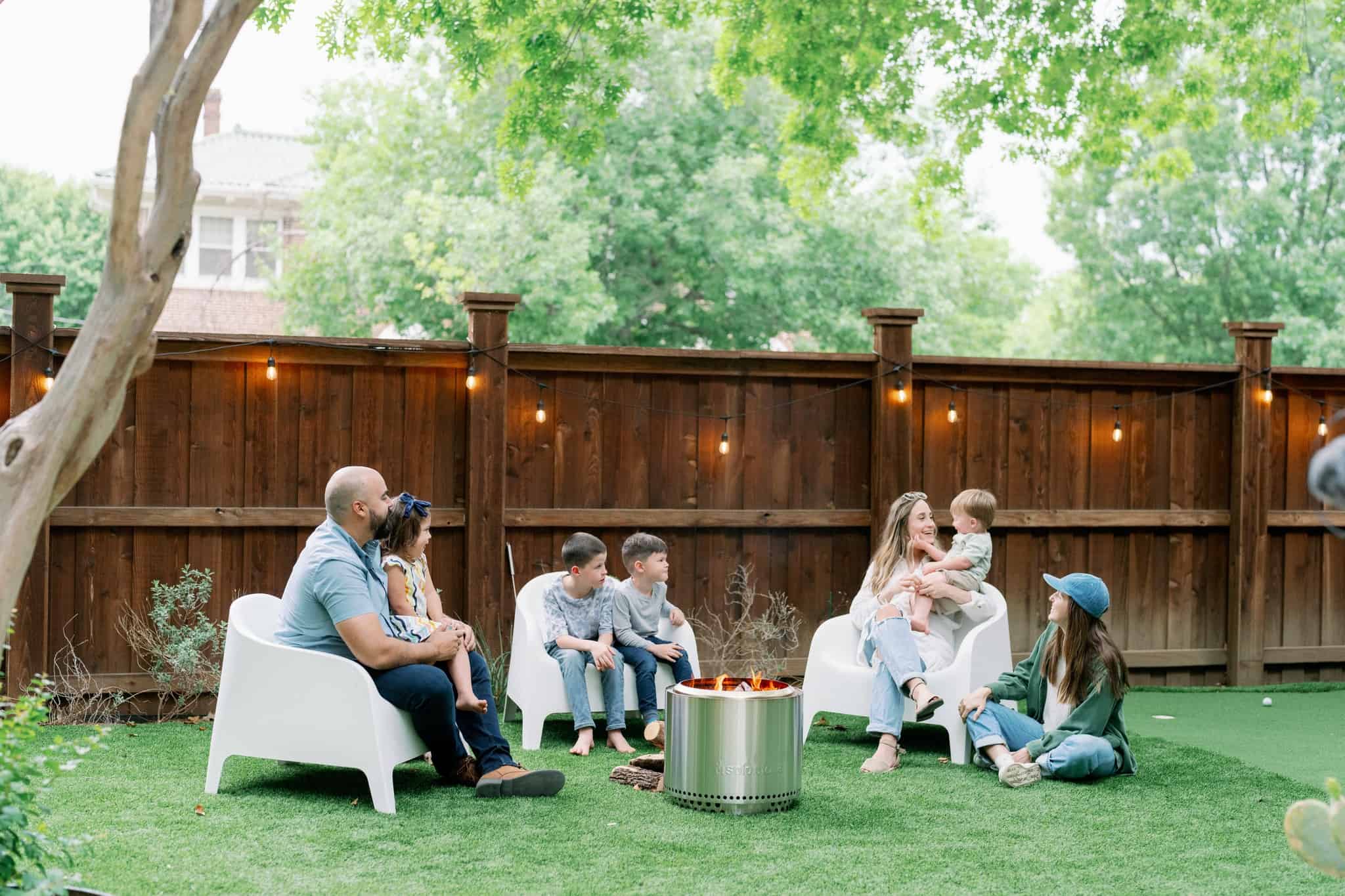 Pros
You won't have to deal with smoke which means you also won't have to deal with smoke-smelling clothes, an extra shower to your evening, or asthma.
It burns so efficiently that the clean-up is pretty minimal, with very fine white ash once your fire has completely burned through.
The design lasts for years without compromising quality.
The base stays cool, so you won't burn your feet (or shoes).
Cons
Unless you have the Yukon, you won't be able to fit big pieces of wood. I use my fire pit regularly, but I also get wood delivered yearly, so I'm responsible for cutting pieces to fit. If you buy smaller bundles for occasional bonfires at your local Home Depot or Lowe's, just make sure they are smaller than 16 inches in length.
It works efficiently, but that also means you will go through more wood than a larger bonfire.
If you invest in all the accessories (which you should) or upgrade to the Yukon, the price is going to be one of the biggest downsides.
Biolite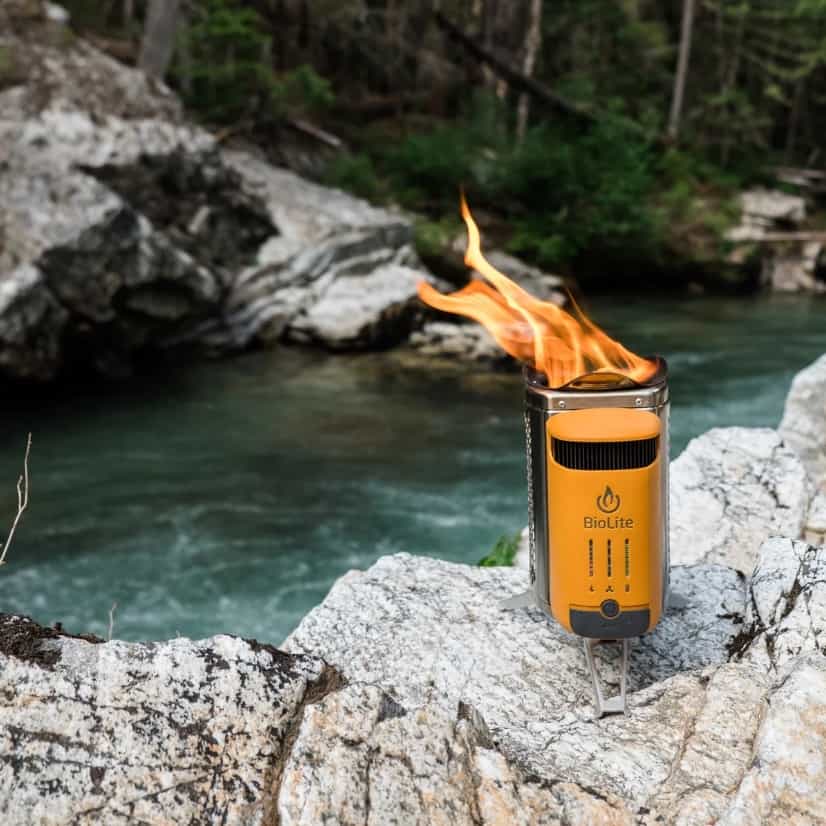 When I first investigated the Biolite, it gave me a headache. I wasn't sure what fuel it used, whether I was supposed to be warm when it was going, or whether the USB setup was meant to control the fire or charge my phone.
The Biolite is a small, portable fire pit that also functions as a grill where you can prepare food and also has a built-in fan with a detachable battery pack that keeps the fan going. Phew.
So, it works differently than the Solo Stove but still offers less smoke than an open fire.
One of the biggest selling points is the ability to use it as a grill. As someone who has camped a lot, having a portable grill sounds cool at first. But further investigation revealed that the Biolite isn't small enough to hike anywhere, so you are still car camping at best. What's more, while it has a crazy list of cooking accessories (toolkit, cast-iron griddle, lid), it all cooks right next to the high-tech battery pack, so one errant grease clump and you can kiss that fan goodbye.
Pros and Cons of Biolite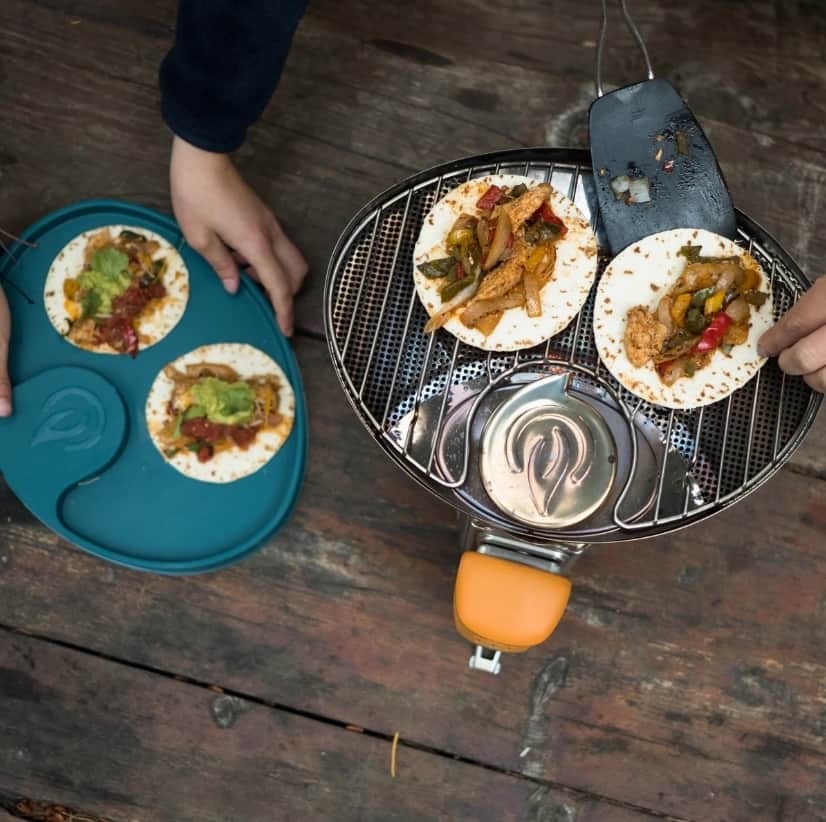 Pros
It is about 20 pounds and quite compact, so you can pretty easily take it on the road.
It has a mesh exterior which lets you see what is happening inside and increases the oxygenation (meaning less smoke).
The storage bag doubles as a carrying tote.
Cons
The manufacturer does not specify the grade of steel used but strongly recommends only storing it under the cover or inside, which suggests it isn't high-quality 304 stainless steel, at least for the black galvanized model.
It doesn't fit regular-sized wood because it is short and squat, so be prepared to burn only small kindling.
The fan design is not as efficient as the Solo Stove, and the fact that it runs on batteries means they can die at any time, leaving you with a smokier environment than you want.
It has foldable legs and a lot of extra pieces, especially if you get the grill sets, so there is a lot you have to set up before you can get a fire going.
Maintenance for Biolite or Solo Stove
Take care of your outdoor stove by protecting it or moving it inside and cleaning it after a fire.
Water can damage the stainless steel and collect at the bottom. Instead, let it die naturally. Once you reach the point of embers, you can put the cover (if you have it) on and safely walk away. Be sure to clear away the ash before the next rain, though.
This video demonstrates how this works:
Alternatives
Looking for something else? Explore these alternatives:
Brand
Aesthetics
What I Love Most
What I Don't Like 

Tiki

Classy, rustic design

Comes with a spark screen, poker-style tool, and a place to hang the lid when you add more logs

A bit heavy and meant to stay in once place

Breeo

Modern design

Functions as a fire pit and a grill or smoke pit

You have to shovel out the ash; there are no ash trays or basins. 

Blue Sky

Rustic, patina design

Has a wider diameter than competitors, so you can burn bigger logs

It is massive, with no accessories and an ash collection tray that has L-brackets to keep it in place (watch your fingers!)

Solo Stove

Bonfire or Yukon

Contemporary design

Has multiple models for camping, patios, or permanent use

Does not heat much around the base, and sends radiant heat upward
FAQs
Question: Where Can I Set Up the Stove?
Answer: I move my stove around a lot because we have three sections on our patio used for entertaining. If food is involved, I set it up near the large table; if we are just enjoying a few drinks after work, I set it up on the top-tier patio or near seating in the back if we are having a bonfire with s'mores and want to enjoy the view.
For each of these locations, I follow these safety steps (and you should too):
• Clear away leaf litter from around the base of the fire pit and use the stand (especially if you are putting it on your deck).
• Make sure you are about 5 feet away from any fences, railings, lighting, or the house.
• Clear away the overhead area from string lights, foliage, or roofs. *Remember, these designs push the heat up, not out, so if you have a hanging plant or string of lights overhead, they will suffer or melt. 
Note: BioLite is very clear that it should not be set up on dry grass or a wood deck.
Question: How Much Heat Will I Get?
Answer: Depending on the size you choose for the Solo Stove, you'll get quite a bit of heat. However, in my experience, the majority of the heat goes upward and not outward directly. Personally, I prefer this because it means I can rest my feet near the base of the Solo Stove without my shoes melting, but you enjoy a lot more of the heat if you are standing around the flame rather than sitting around the base.
Tip: You can buy a heat deflector that has a saucer shape and sits on the rim of your fire pit. This deflector redirects the heat toward anyone sitting nearby and can compensate for the heat that would otherwise go straight up. For the Biolite, you won't get nearly as much heat, but you can adjust the heat by adjusting the airflow, a feature that Solo doesn't have.
Question: Is the Solo Stove really "Smokeless"?
Answer: No, but it does eliminate up to 80% of the smoke you would get if you burned logs in an outdoor fire. When you start your fire, you can expect a little bit of smoke, especially if you are using things like Duraflame fire logs to get things going. But once it builds heat and everything lights, the smoke is considerably diminished.
Solo Stove vs Biolite: Bottom Line
The Solo Stove (primarily the Ranger) is much better for camping and portability. If you want something for your yard, get the Solo Stove Bonfire. The Biolite is a lot of weird bells and whistles and technology that doesn't need to be a part of your camp stove.
Read More:
• Best Fire Pits That You Can Actually Cook On
• Best Places to Buy the Solo Stove Online
Here are how some other brands compare: