For the purpose of this article, we'll assume you are using an outdoor, wood-burning fire pit. Here's a summary of our best tips to prevent fire pit rust:
Check the weather before planning a bonfire and make sure no rain is expected.
Clean the fire pit of all ash after it has completely burned out and cooled down.
Cover the fire pit with a UV and/or waterproof cover.
Apply a light coat of any common food oil to any exposed metal if the fire pit will not be used for an extended period of time or if you live in a high-humidity area like on the coast.
Check your fire pit a day before each use to spot and fix any early signs of a rusty fire pit.
Store your fire pit off the ground, under shelter, or indoors if possible.
Only burn well-seasoned hardwoods to prevent tree sap from building up.
There isn't a need for a college lecture here.
Water + Oxygen + Metal = Oxidation aka rust.
Removing, or at least, reducing the amount of water or moisture your fire pit comes in contact with eliminates or significantly slows down the formation of rust.
How to Keep Your Fire Pit from Rusting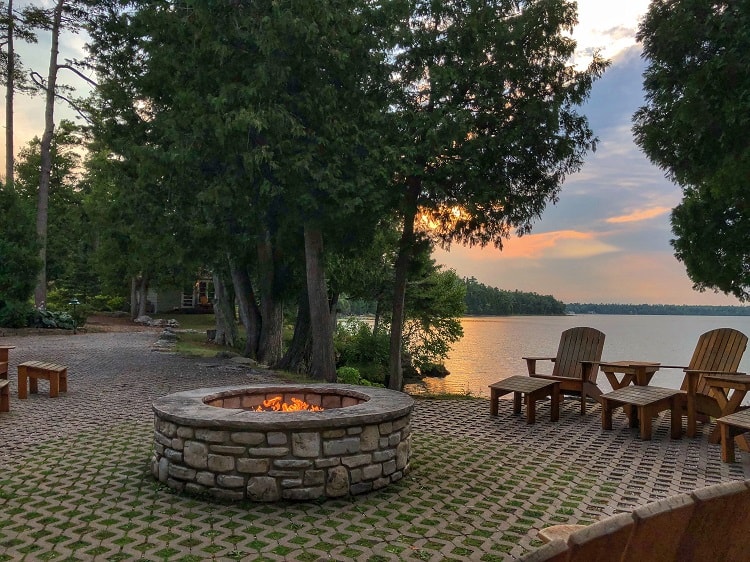 Rain is typically your biggest enemy. If possible, store your fire pit indoors, like in a garage, or under a covered area like your patio when not in use. If your fire pit is difficult to move, you may consider purchasing a furniture dolly to make it easy to move from point A to point B.
Otherwise, you can use a weatherproof cover like the one from Porch Shield below. These covers have a water-resistant undercoating so water beads right off the top and away from your fire pit.
We recommend the Porch Shield's 600D Waterproof Fire Pit Cover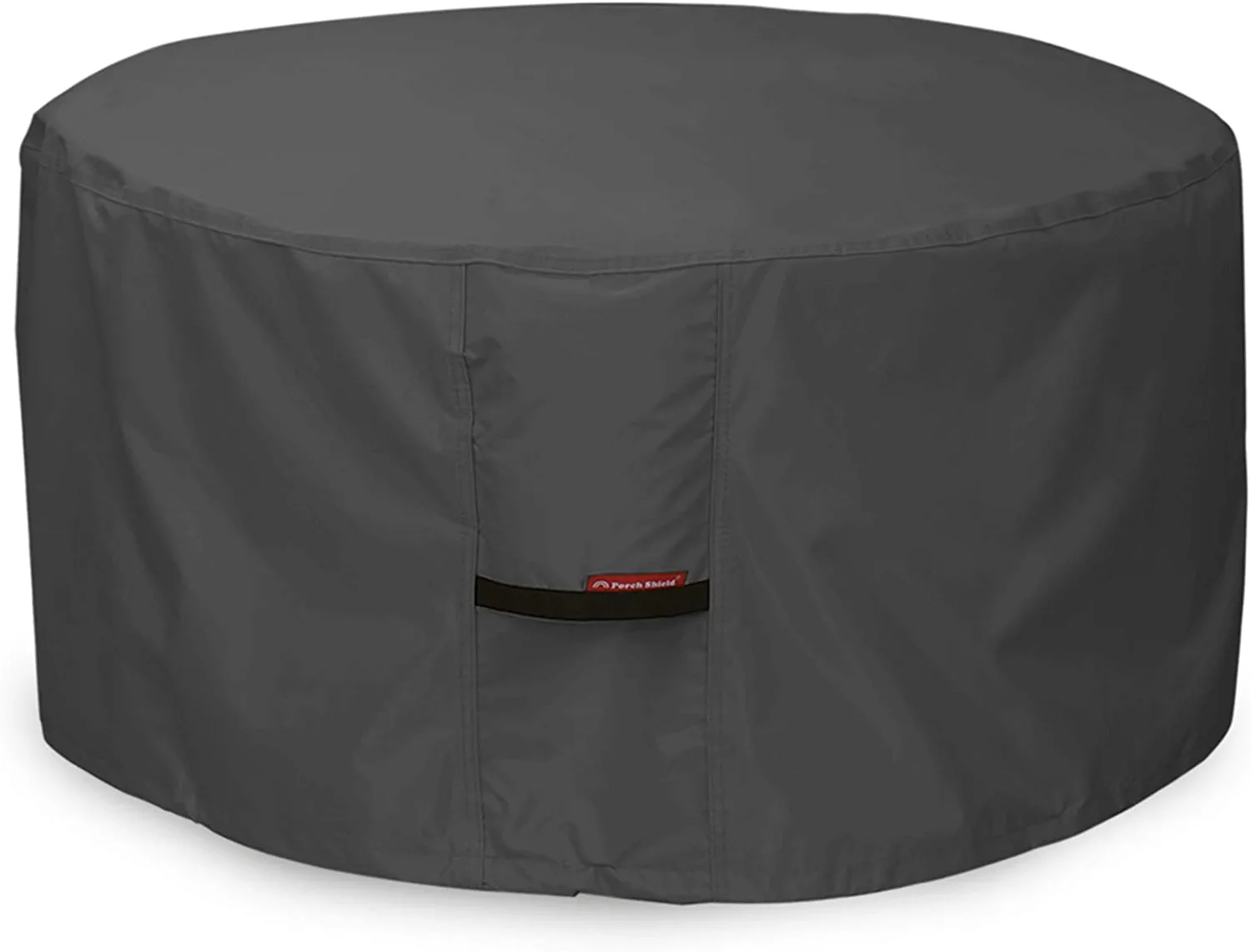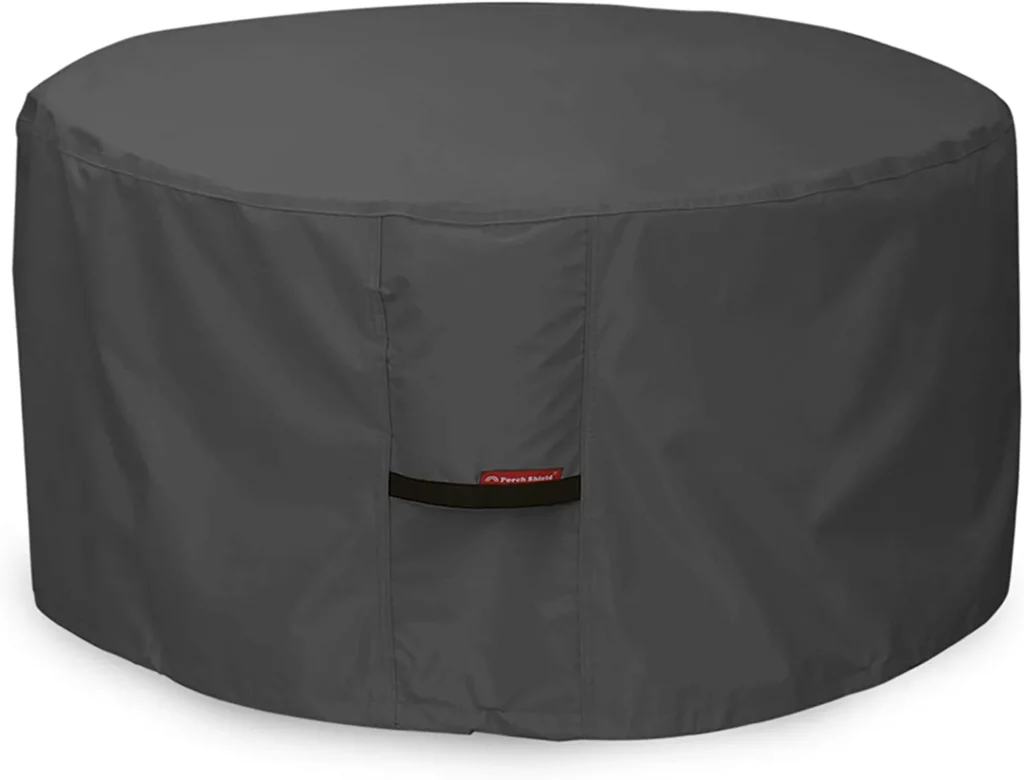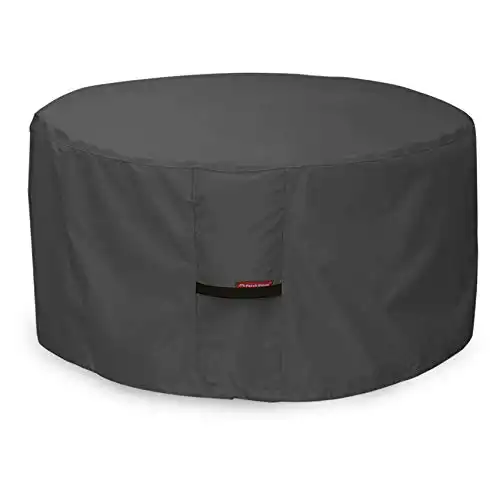 Porch Shield's 600D Fire Pit Cover | Amazon
Made of 600D Polyester fabric with added waterproof laminated undercoating. High-level double stitching sewn, all seams sealing taped can prevent tearing, fight wind and leaks.
Buy at Amazon
We earn a commission if you click this link and make a purchase at no additional cost to you.
09/21/2023 09:54 am GMT
Do All Fire Pits Rust?
Generally speaking, yes all fire pits will rust given enough exposure to the elements and time. Even copper and cast iron fire pits will start to show degradation over time. However, stainless steel fire pits, and fire pit rings (which are made from galvanized steel), will not show signs of rust for a long time.
More importantly, the steel used in these fire pits is often thicker and even though rust may form after many years, it does not affect the structural integrity of the fire pit.
You'll also want to use some stone pavers or bricks to keep your fire pit off the ground. Whether it's on the patio or in the grass, water can pool up anywhere and you do not want your fire pit coming in contact with stagnant water for long periods of time.
Lastly, check the forecast before starting a fire. You know you'll need to wait at least through the night before the fire completely dies down. Even then, there still might be some embers remaining the next morning. You won't be able to put a cover on while anything is still warm and if it rains, you're SOL.
Cleaning Out Your Fire Pit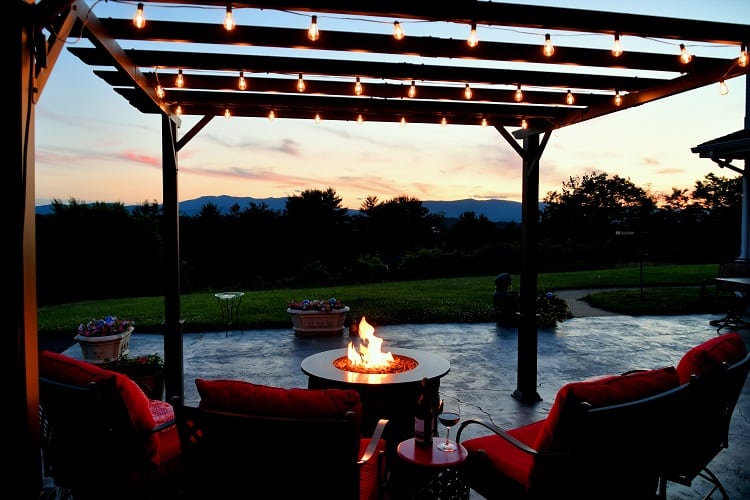 Cleaning out the fire pit isn't difficult, but remembering to do so is. Leftover ash can absorb moisture from the air or rain and hold that moisture right on the surface of the metal. To make matters worse, the inner surface of the fire pit is what experiences the most heat and is most susceptible to rust damage. It is difficult to clean a rusted fire pit.
PRO-TIP
If you're someone who forgets, a propane-powered or high-efficiency fire pit might be a better option for you. Gas powered fire pits leave no ash, while a high-efficient, smokeless fire pit leaves significantly less ash vs. a traditional fire pit.
After checking that there is not any heat still being generated by the fire pit and all the coals are out, you can dump the ash somewhere safe. Be sure to spray or water down the ash to be 100% sure there is not possibility of starting another fire.
Others choose to use a shop vac or ash vac to make clean-up easier.
Protecting your Fire Pit for Extended Periods of Time
The tips listed in this section are also recommended for people in coastal climates where a sea breeze may be present or areas with consistently high humidity.
After each use, you'll want to ensure the fire pit is free of ash as mentioned in the previous section. Afterward, apply vegetable oil (or any other cooking oil) to all exposed areas of metal with a paper towel.
Is There a Maintenance-free Fire Pit?
The closest you'll get to a wood-burning maintenance-free fire pit is the Breeo X-Series Fire Pit. The body of this fire pit is made with the same steel used to make bridges and forms an attractive "patina" on the outside. A patina is an intentional layer of rust meant to protect the rest of the body. Since there is not coating available that can withstand the heat, elements, and heavy use of a fire pit, this is the next best option.
The rest of the fire pit is made of high-grade stainless steel and did we mention you can cook on it? Check out Breeo's X-Series Fire Pit here.
The oil should not be dripping off and an emphasis is placed on "light coating". One wipe over the metal with a damp paper towel will be sufficient. The goal of using the oil is to cover the pores of the metal and prevent any water from getting to its surface.
Your fire pit needs to be free of any rust before doing this. In the next section, we'll show you how to remove rust from the fire pit and repair any damage.
How to Repair Minor Fire Pit Rust Damage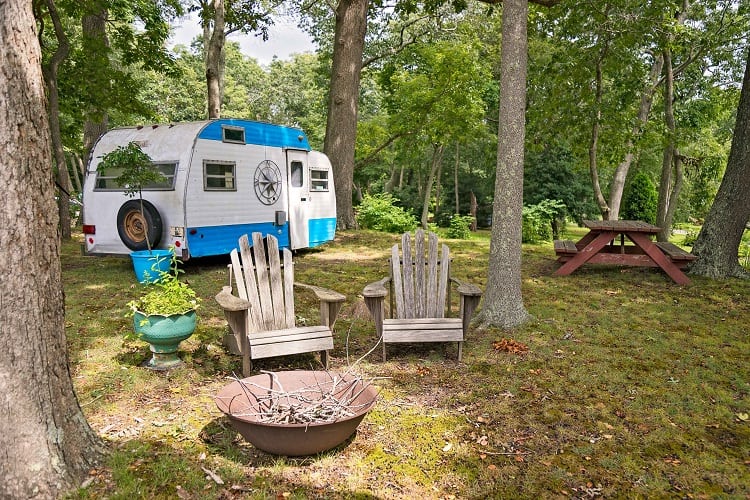 Hopefully, you've noticed the rust on your fire pit before it spread. For areas of minor rust here's what you need to do:
Using some soapy water, clean away any gunk or debris and as much of the surface rust as possible.
Wearing a respirator and using fine-grit sandpaper (220 or above), sand the area down until the rust is no longer visible. Tape off any surrounding areas with masking tape to prevent unintended damage.
Wipe away any excess dust.
Using high-temp spray paint, apply a light coat to the area, allow it to dry, then apply subsequent coats.
The key here is to make sure the rust has not penetrated through the metal. Your local home improvement store's $40-Labor-Day special won't last very long because the metal is thin and not well protected. If you do want to put the effort into restoring it, see the video below.
Repairing a Totally Rusted Fire Pit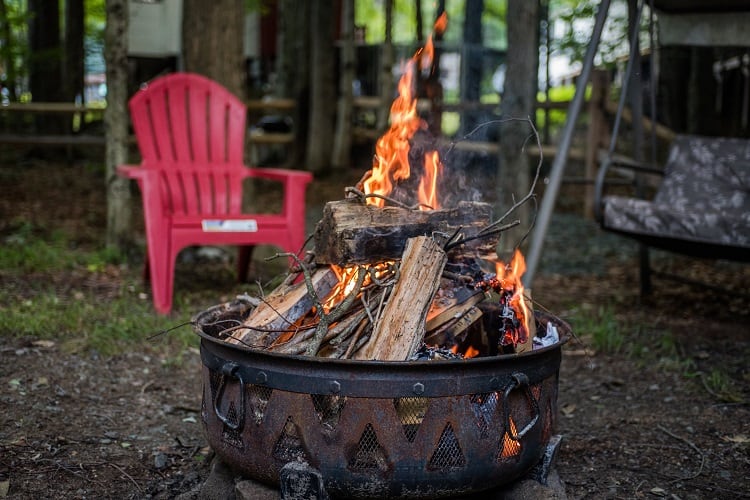 Before starting this, take into consideration whether or not it's better to replace the fire pit as a whole. If your entire fire pit is rusted out or has any significant holes in the body, it's probably time to kick it to the curb and upgrade to a stainless steel fire pit.
You'll find that most fire pits that you pick up from your local improvement store won't last very long. These are the most common in America and if you have one of these that is rusted to bits, you're better off purchasing a new one.
CAUTION
Can you use a rusted fire pit? In general, a little bit of rust is okay as long as it does not compromise the encasement of the fire. If there are any sections of metal missing or embers have a chance to escape from the pit and start a fire elsewhere, do not use the fire pit. Always keep a bucket of water and a fire extinguisher nearby at all times.
We'll start by saying that if you have a fire pit that is part of a larger table and has some sort of support underneath, then your job will be much easier. Below is a method of creating a new bottom tray for a circular fire pit.
Tools and Materials Needed
2x pieces of 26 gauge sheet metal.
Rivets
High-heat spray paint
Metal shears or tin snips
Sheet metal gloves
Drill, drill bits
Pliers
How to Do It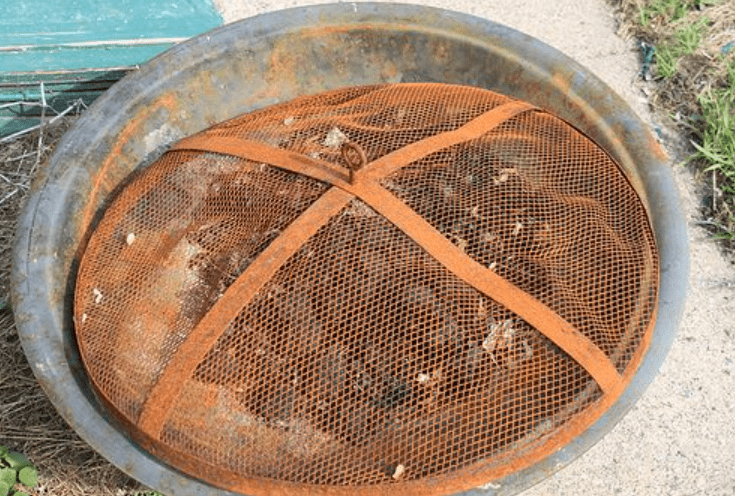 Start by purchasing some 26 gauge or thicker sheet metal that is large enough to cover the bottom of your fire pit. The second sheet should be long enough to wrap around the circumference of the fire pit and be high enough to cover the total height.
You will then need to trace the bottom of the fire pit on the center of the sheet metal. If it's circular, you can use a sharpie connected to a string taped down in the middle. Add a second circle about 1.5" to 2" just outside of the first circle.
Using your shears or tin snips, cut the circle out of the sheet metal.
In between the outside edge and inner circle, mark and drill a hole every 4"-6" that is the size of your rivets.
On your other piece of sheet metal, it is okay for the length to be a little longer than the total circumference. However, you will likely want to cut the width down to match the height.
Using some pliers, bend the extra 1.5" to 2" area on the first cut-out upwards. The corner of this bend should line up with the first circle drawn. This will be the lip where you rivet the second piece of sheet metal to.
Roll up the second piece of sheet metal to where it fits inside the newly formed 'pan'. Place some duct tape on the outside if it wants to unravel itself.
Using the first drilled holes as a guide, use a sharpie to make a mark where to drill holes on the rolled up piece of sheet metal.Be sure overlapping edges end on the same rivet.
Remove the rolled up piece and drill the holes on your new marks.
Mark and drill a  hole on the opposite end of the second piece of sheet metal for a top rivet. You may want to mark and drill additional holes along where the seam overlaps.
Place the sheet metal into the pan and start sending the rivets through both pieces of sheet metal.
A coating of high temp spray paint isn't necessary, but may provide some additional protection. Most high temp spray paints won't stay on long unless cured in a kiln.
Place your new interior into your old fire pit and you're good to go.
Best Rust-Resistant Fire Pit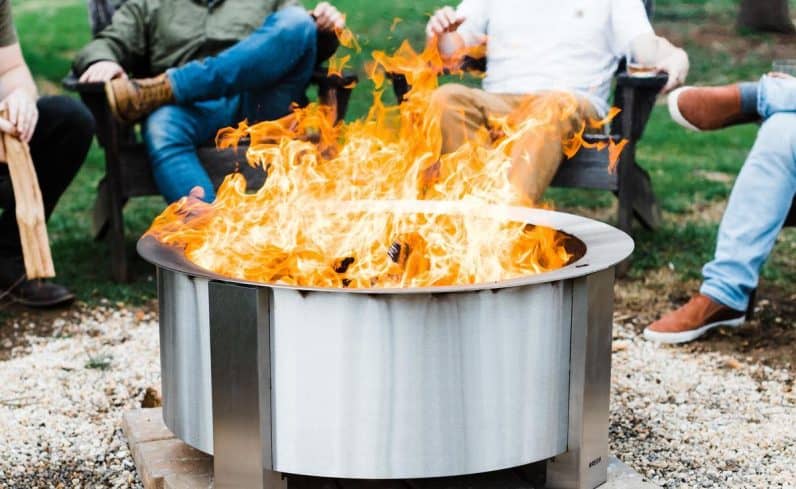 Sometimes, it's better just to start fresh and buy the right fire pit from the start. In our testing, we have found Breeo's X-Series fire pit to be the highest-performing and most well-built model on the market. These are the best fire pits that won't rust after some analysis we did.
Here are a couple of highlights of the Breeo X-Series Rust Resistant Fire Pit:
The main body is made of COR-TEN steel, the same grade steel used to manufacture bridges and other permanent outdoor structures
Stainless steel legs keep the fire pit elevated off the ground
A stainless steel sear plate is integrated into the rim to allow users to cook steaks, chicken, vegetables and more right by the fire
The unique airflow design makes the fire pit completely smokeless after a base of coals is established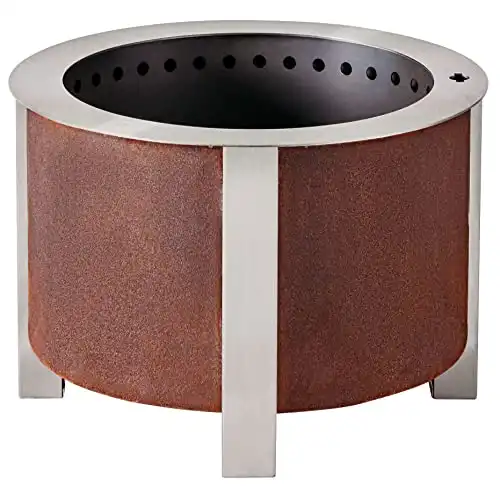 You can learn more about the Breeo X-Series by visiting Breeo's website.