If you appreciate the unique flavor of cooking over an open fire, you may be wondering whether your fire pit can also double as an outdoor cooking solution. Bringing together the best of both worlds, the right pit will offer the warmth and ambiance of an evening around the fire while providing the heat needed to grill mouthwatering meals. 
My husband and I recently moved to a cabin in the woods, embracing a much more rustic and "simple" lifestyle. With that came the opportunity to explore our love of outdoor cooking. 
With two permanent fire pits on the property and another portable option for use when traveling, we quickly realized that no two pits were made the same. While some support cooking at a higher temperature or offer more space on the grilling surface, others can provide a more even heat source for reliable and easy-to-control cooking. 
This Best Fire Pits That You Can Actually Cook On article will discuss the most important factors to consider when shopping for a fire pit. If you still need help selecting the best pit for you and your lifestyle, we will also share our top choices for fire pits you can cook on. Each of the options listed has the potential to create amazing meals that will have your family running back for seconds. 
Bottom Line Up Front 
With the right accessories, nearly any outdoor fire pit can be used for cooking. However, this doesn't mean that they are all created equally. To find the best fire pit for grilling and outdoor cooking, you will need to find a large enough product to support your grilling habits. Additionally, you need a fire pit that will burn hot enough for effective cooking, like the pit that made the cut to be included in our list below. 
Can You Cook Over a Smokeless Fire Pit? 
If you are new to using a smokeless fire pit, you may not fully understand how they work, what reduces or eliminates the smoke created, and how this could impact their cooking potential. Three elements are needed for a fire to burn – oxygen, heat, and fuel. This is also known as the Fire Triangle. When these elements are well-balanced or optimized, your fire will burn hotter and more efficiently, reducing the smoke it creates. 
Smokeless fire pits are designed to encourage higher burning temperatures and provide better airflow. In this sense, they aren't actually smokeless. They produce less smoke. There is also the potential for higher levels of smoke to be created when getting the fire started or if some design element isn't working correctly, like clogged vent holes. 
What Fuel Type is Best When Selecting a Fire Pit for Outdoor Cooking?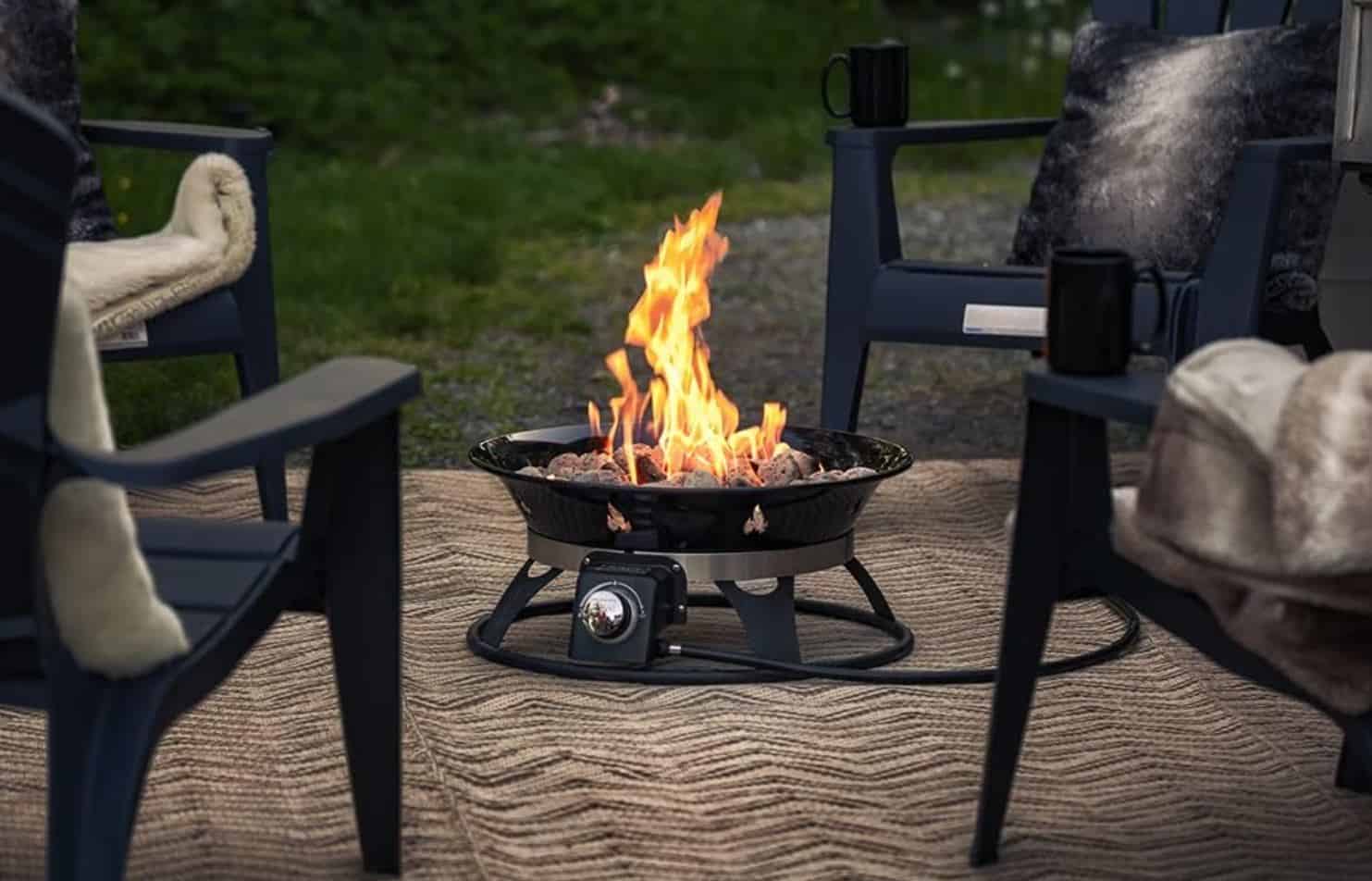 The fuel your fire pit requires will directly impact the cost of operating your pit and the reliability of the cooking temperature. Traditional fire pits are often preferred by those that love the crackling of a wood fire, but they can make it challenging to maintain a desired temperature. Additionally, the nature of a wood fire will lead to uneven cooking temperatures across the grill's surface. You may have a hot spot in one area while another barely provides enough heat to cook effectively.
To start cooking on a wood fire pit, you must also know how to build a fire. 
Propane and gas fire pits will cost a little more to provide the fuel required to operate, but they offer more control. This allows you to reach and maintain a desired temperature throughout your cooking time and easily remove the fuel source in an emergency using the control dial. Most propane fire pits can be lit with a simple push-button start. 
Local Laws and By-Laws
Depending on where you live, there may be restrictions regarding the type of fire pit you can set up, where they can be placed, or what fuel can be used. These rules may be in place year-round, especially if you live in an area with a homeowner's association or other more regulated living situations. 
Many towns and municipalities have rules regarding where a fire pit can be set up on your property in relation to your house, garage, or other structures. Contact your local fire officials if you are unsure about what is permitted in your area. 
In addition to the laws in your area, you may find yourself under a temporary ban or restriction. This commonly happens in high-risk areas during wildfire season. These bans may prohibit all fire pits regardless of the fuel they use. 
However, some areas will allow the use of propane firepits due to the fact they have a shut-off valve. This can be seen in the provincial parks in Ontario, Canada. If you know that you live in an area likely to face this type of restriction, you may want to choose a propane fire pit. 
Features to Consider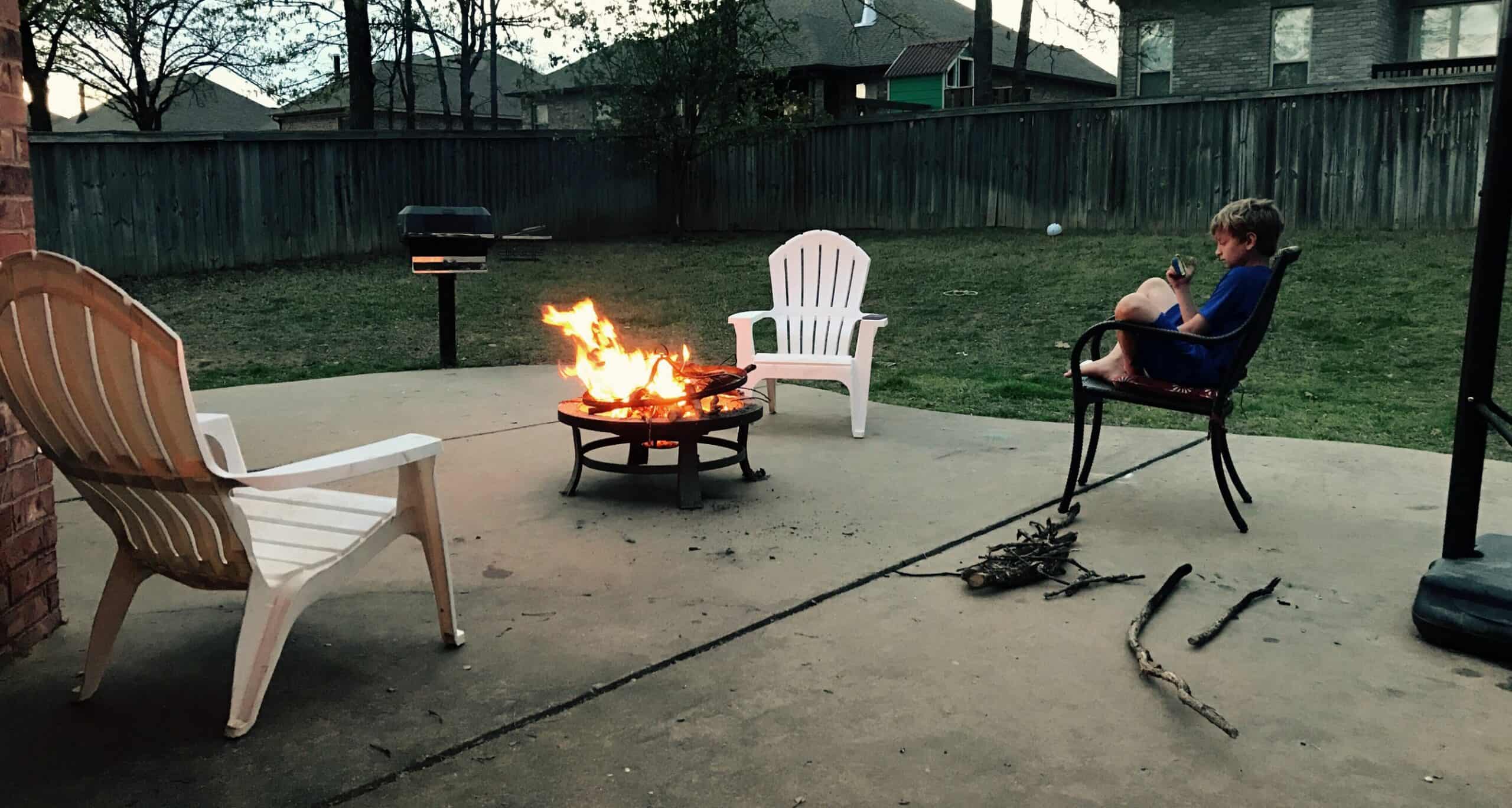 When selecting the best fire pit for your outdoor cooking needs, there are a few essential considerations. This includes: 
Size 

Portability 

Materials

Budget 

Style

Required Maintenance
There are also features that may be provided by some pits that can add to or enhance your experience. This could include the ability to adjust the location of your grill or safety features designed to prevent injuries to your kids or pets when the fire pit is in use. 
After carefully considering all these points, we believe the following options stand out above the rest.  
Best Fire Pits That You Can Actually Cook On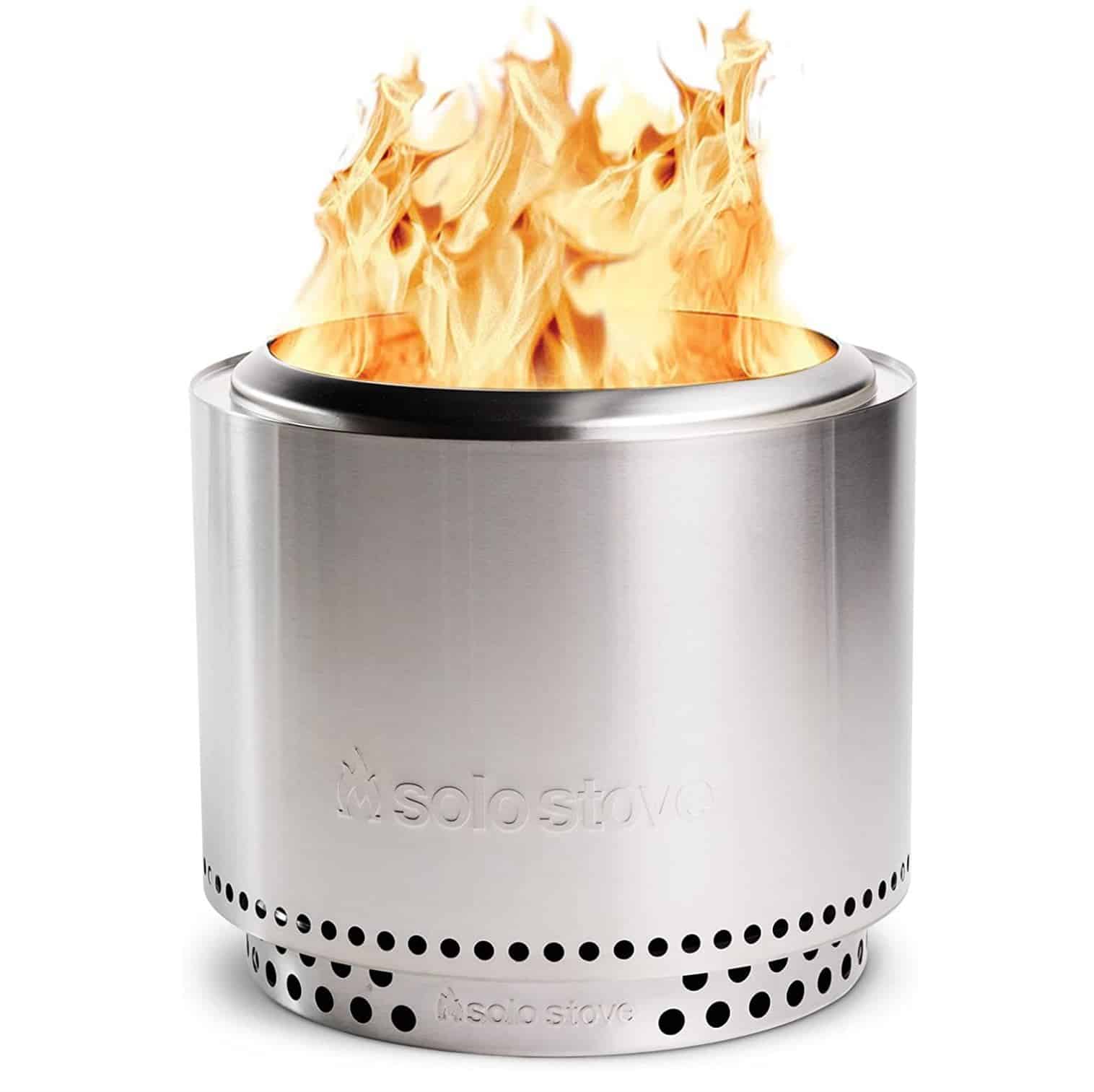 If you're looking for a portable, efficient, and eye-catching fire pit to add to your outdoor space while supporting your love for outdoor cooking, the Solo Stove Bonfire 2.0 is the best option. This stainless-steel fire pit uses the company's Signature 360-degree Airflow technology to reduce smoke while providing a steady hot airflow above the fire pit, creating a comfortable and effective cooking environment. 
Concerned that the pit is too small to support your cooking needs?  You may also be interested in upgrading to the Solo Stove Yukon.
While you could use this pit under any standard grill set-up, the company does offer fire pit accessories specific to the pit, including the Solo Stove Bonfire Grill Top and Hub and the Solo Stove Bonfire Wok and Hub. With three stabilizing feet, the hub allows you to easily elevate your cook surface of choice over the fire in a safe and reliable way for outdoor cooking enthusiasts of all skill levels. 
| | |
| --- | --- |
| Pros | Cons |
| Larger size is ideal for entertaining with or cooking for a group of people | Higher price point, plus additional costs associated with the cooking accessories |
| Company offers a lifetime guarantee  | Outside of the pit heats up significantly during use which could create a safety concern for young children and pets |
| Stainless steel stand allows you to safely use the pit on any surface, including grass or wood decking | While the pit is marketed as portable with a carry case, the smooth construction and lack of a handle make it challenging to pick up and move |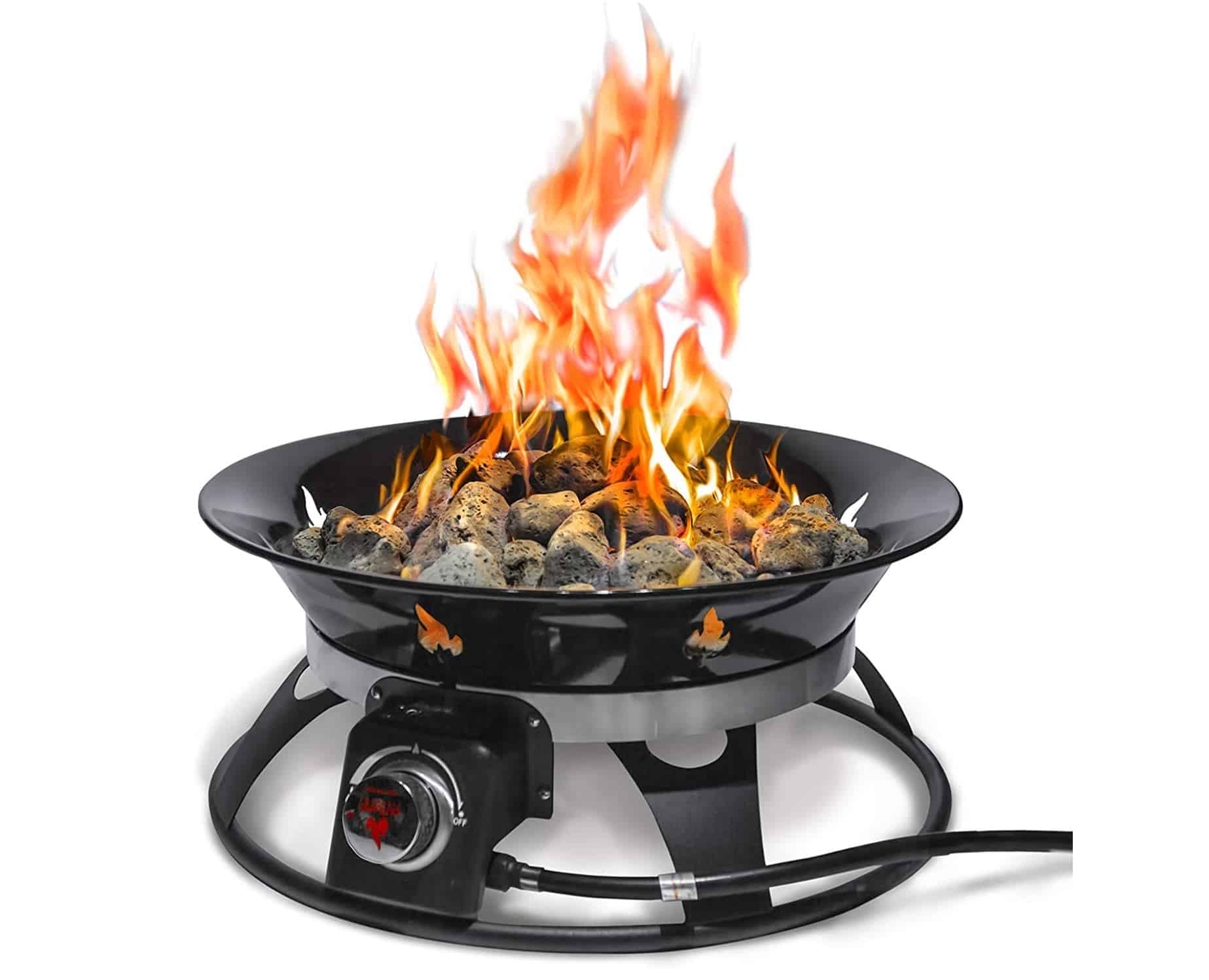 Like wood, propane offers a clean burn making it a safe option for a cooking fire. This pit is a popular choice among campers and outdoor travelers due to its ease of use and the fact that many campgrounds will allow it even during campfire bans. It allows many of us to still have a fire to gather around for a campfire ambiance as well as a reliable and safe outdoor cooking solution. 
Unlike the other options on this list, this brand doesn't have a grill specifically designed to work with this pit. However, it can be easily paired with any swing grill or campfire grill. This provides a more controlled and even heat source than a wood fire, making it an excellent choice for foods requiring better temperature control.
| | |
| --- | --- |
| Pros | Cons |
| CSA-approved propane pit can be used safely even when under most fire bans | Cooking on propane won't provide the added flavor provided by cooking over a wood pit |
| Small, portable design makes it easy to take the pit anywhere | Small pit size limits the grilling surface size that it can accommodate |
| Adjustable heat makes it easier to control the heat source for optimal cooking temperatures regardless of what you're making | Brand does not offer any grills or cooking accessories specifically designed for this pit |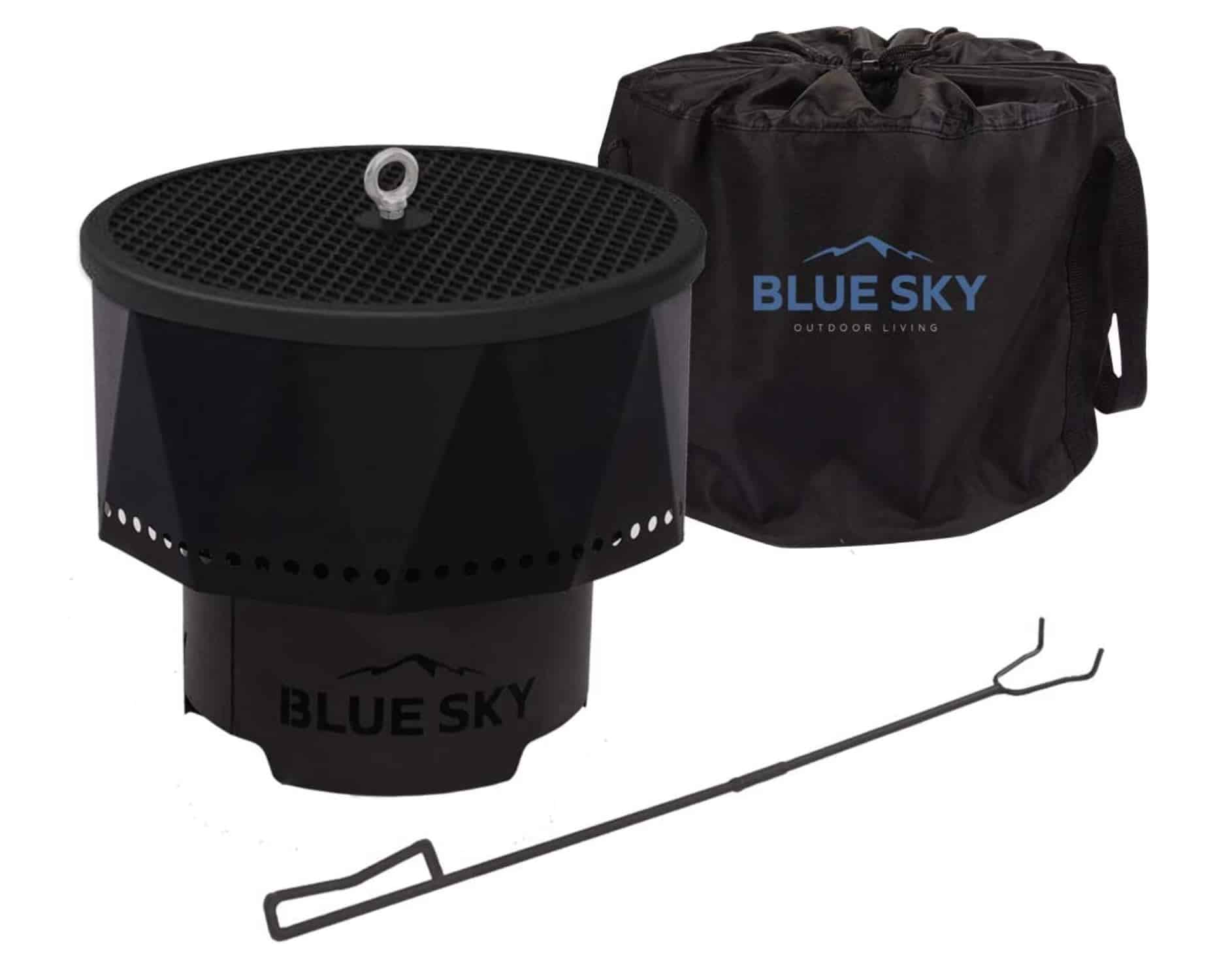 With its lightweight design, at only 15 lbs, and convenient carry bag, this grill is easy to bring wherever life takes you, including the backyard, beach, campsite, and more. Despite its surprisingly lightweight, the pit offers enough space for smaller pieces of firewood or an alternative, like wood pellets. The stand operates as an ash catch stand for easy clean-up when you're done.
This fire pit is designed to reach high burn temperatures, up to 1400 degrees Fahrenheit, making it an efficient choice for outdoor grilling. The company does sell a swing-away grill that can be paired with the pit, or you can use any other swing grill you currently own. 
| | |
| --- | --- |
| Pros | Cons |
| Portable design and carry bag make it easy to take the pit anywhere | Company does not offer a grill designed explicitly for use with this pit |
| High efficiency, high-temperature burn supports all cooking needs | Small size can only accommodate ½ size wood logs or wood pellets, limiting the cooking surface size it can support |
| Ash catch stand and ability to take the pit apart make it easy to clean after each use | Smokeless design is only efficient in controlling smoke when burning pellets, not standard firewood |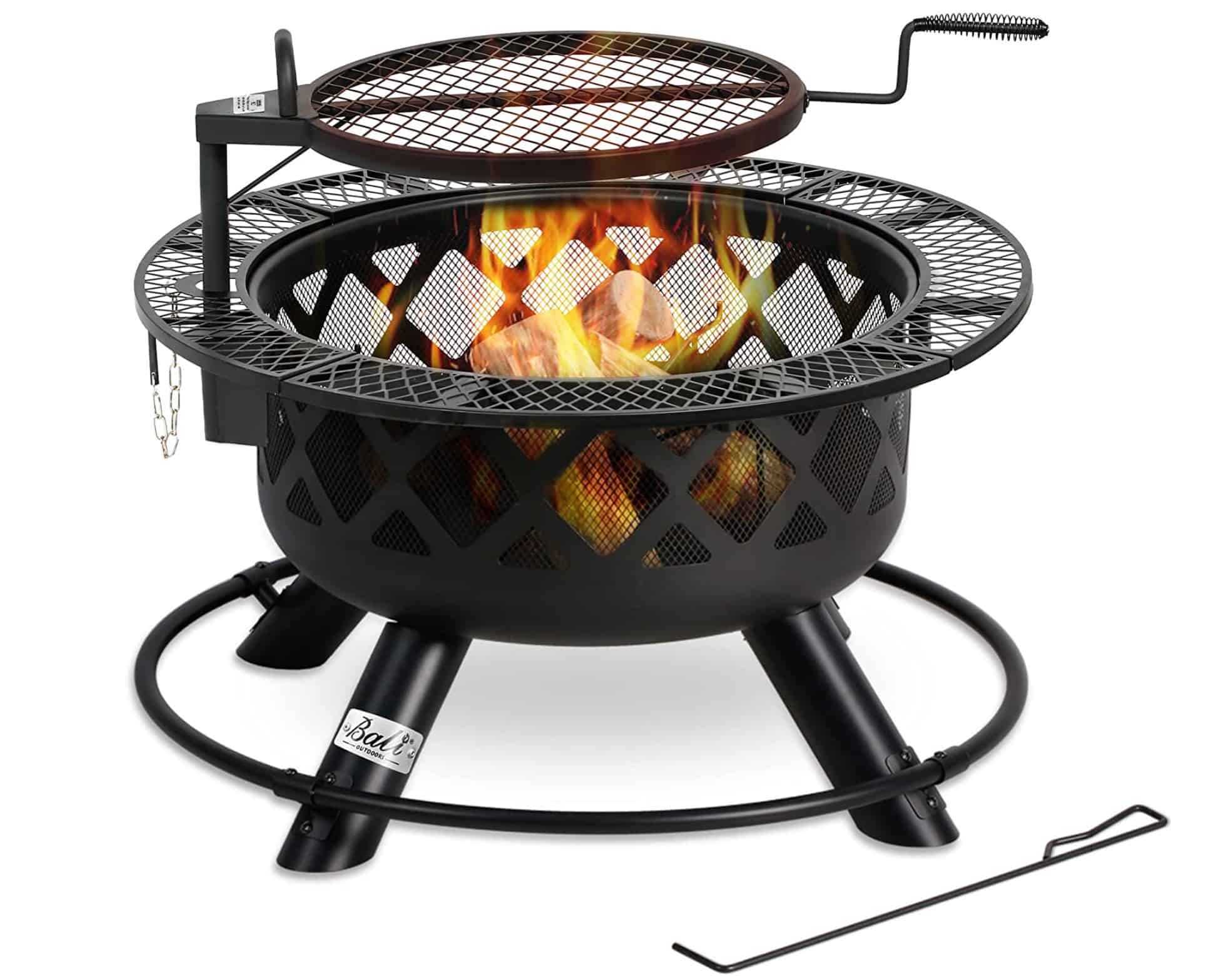 This wood-burning fire pit is a great option for those newer to outdoor grilling or simply looking for a budget-friendly solution. The fire pit features a traditional bowl-style pit with steel legs fixed to a steel outer ring for stability. It has an open-fire style design allowing for a complete view of the fire at every angle. The outer ring of the pit provides a small surface that can be used to hold drinks or grilling tools. 
The grill itself is relatively small compared to others on the list. I found cooking difficult for more than just a couple of people with the space provided. But it is adjustable, allowing you to raise or lower it as needed. It can also rotate 360 degrees or be removed entirely, making it a great pit for those that want a decorative fire pit first and foremost, with the ability to grill as an added benefit. 
| | |
| --- | --- |
| Pros | Cons |
| Durable steel construction makes it a solid long-term investment | Grill handle can get hot during use |
| The attached grill is easily adjusted to allow for cooking closer to or further away from the heat source | Grill doesn't easily accommodate other larger cooking accessories like a wok or griddle |
| Grill can be removed when not in use, making it a versatile choice for any outdoor space | The pit doesn't come with a cover to protect it from the elements, and there are no holes in the bottom to drain rain and prevent it from collecting |
Best Fire Pits That You Can Actually Cook On:
Final Thoughts
When choosing the best fire pit for cooking, there are many options to consider. To find the best fit for you and your lifestyle, you will need to consider the size, fuel type, cooking surface, budget, and other key factors. Of the options listed above, our go-to solution and the fire pit that I believe to be the best option for most grilling enthusiasts is the Solo Stove Bonfire 2.0. 
The modern appearance will add a fun touch to any outdoor space. Meanwhile, the traditional wood fire will allow you to create delicious meals with the unique grilling flavor that only comes from cooking over a fire. Enjoy the warmth and the sound of a crackling fire as you make memories and embrace your love of outdoor cooking.