One winter morning, we woke up to unprecedented snow in our area. There was so much snow that all the trees went down, and all the power was out.
As an experienced camper, I knew we were just fine. We started a fire in our smokeless Solo Stove on the porch and carefully balanced one of our cast iron pans. Using welding gloves for safety, I was able to make us eggs and toast for breakfast, and even go so far as grill some chicken and Brussels sprouts for lunch. Thankfully, the power returned that afternoon because I ran out of spontaneous food ideas.
Until then, I had never used my smokeless fire pit as a grill, but that's exactly what the Hotshot is designed to do and the Solo Stove can do.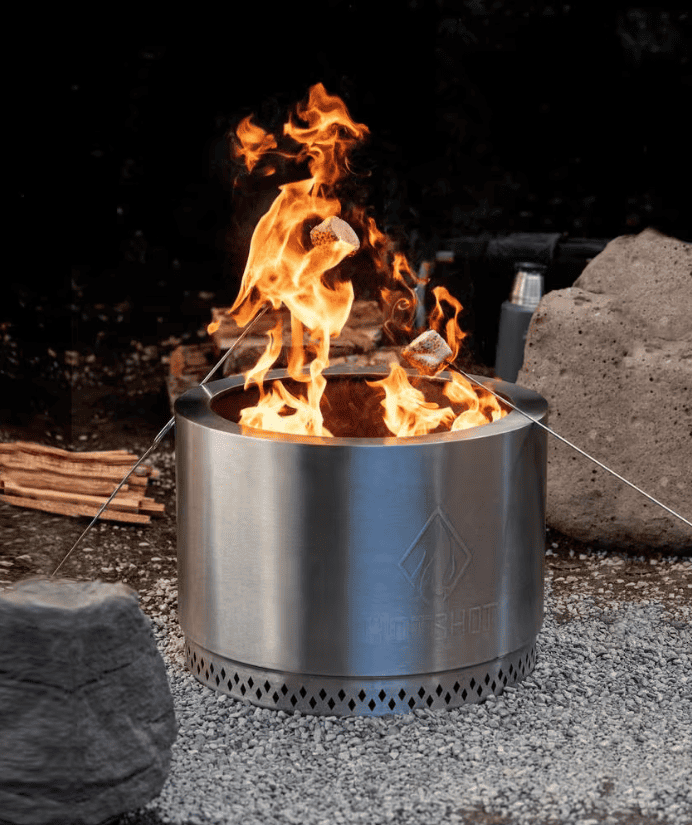 Bottom Line Up Front
Any of the Solo Stove models far outshine the Hotshot in terms of how well they function, how easy they are to get burning and stay burning, and how simple the cleanup is. When you burn in the Solo Stove, you will experience more heat for longer. But if you are on a budget and need a fire pit/grill combo for your patio, go with the Hotshot.
What Makes a Superior Fire Pit?
What makes Hotshot or Solo Stove a superior fire pit for your yard? My decision was based on the following:
How easy it is to move around and get started
How long does the fire burn, and what level of heat do you get
Read More: Solo Stove Ranger vs Bonfire
Which Steel and Why It Matters
A quick aside about steel: there are three primary types of stainless steel and different grades within those types. The one you choose should be based on your needs. Martensitic stainless steel is used for impact resistance, while austenitic stainless steel is better for corrosion resistance. Martensitic is most common in high-quality combustion stoves like the Solo Stoves. It comes in several grades, but 304 is very strong, durable, and rust-resistant, which is why it is the common grade for outdoor stoves.
However, any part of the stove that is not 304 Martensitic stainless steel is more likely to rust if left in the rain or snow.
If you've ever seen a camp table stand up to the elements but start to rust where there are screws, that's the perfect example of a design where the primary product is weatherproof or waterproof, but the accessories aren't.
This is important because the Solo Stove is mostly 304 stainless steel, and that is why it:
Lasts a very long time, but
Suggests covering it or storing it out of the elements
The Hotshot is also 304 stainless steel, but it has a few colors you can choose from for powder coating, which should also be protected with a cover or interior storage.
Hotshot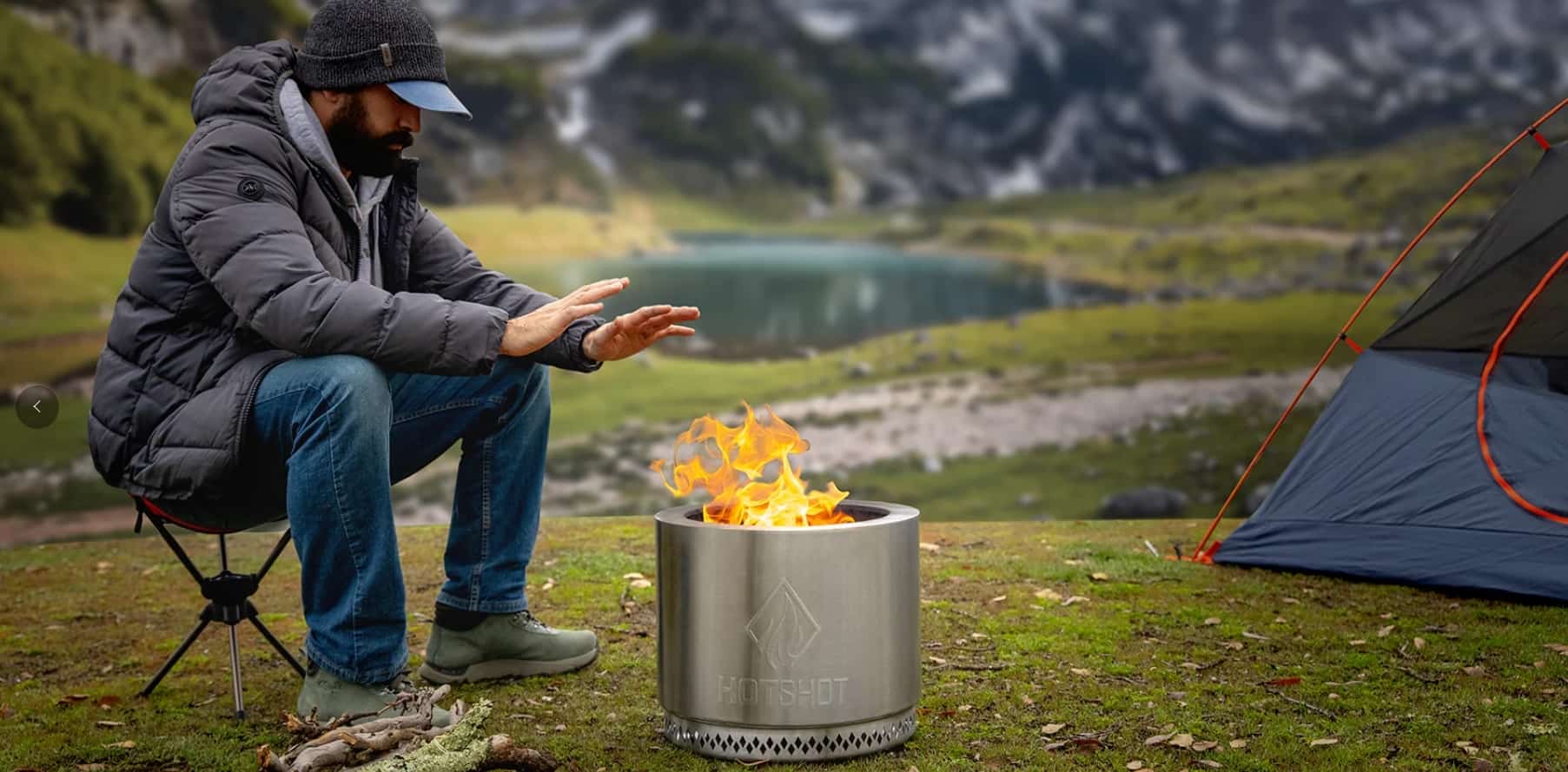 When I first glanced at the Hotshot, I thought it was the Solo Stove because they have almost identical designs. The Hotshot is a Costco smokeless fire pit. It is about the same size as the Solo Bonfire but somehow more expensive and with slightly less heat capacity.
Upon closer examination, there are some key differences.
Hotshot is a smokeless fire pit, the same as Solo Stove, and it achieves this with the diamond-shaped holes in the bottom and the interior pan that helps move air in the space between the inner and outer walls.
When you look inside, you'll see that the bottom of the fire pit has lines similar to different hours on a clock, and it's through these lines that air gets into the middle of the fire pit. Because air only comes in through those lines, it's not quite as effective as Solo Stove, where the air comes in from all over.
However, I should note that the difference in heat quality and capacity is negligible. It is so similar that you really have to make your decision based on what accessories or functions you prefer.
I, for example, have a massive and overpriced barbecue (which I purchased as a birthday gift) as well as a smoker, so I don't need my fire pit to double as an outdoor grill.
If you don't have space to accommodate a grill or you just want something smaller that makes it easier to cook and enjoy a fire, you'll get more bang for your buck with Hotshot over the Solo Stove because the Solo Stove cooking accessories cost extra and there isn't as much space to grill (except for 1 person).
Hotshot Pros and Cons

Pros
You get the attachments like the grill grate, spark screen, and cover as part of the purchase.
It is a better option for those who want to grill on top.
You get a base with your fire pit, so you can safely set up anywhere.
It has a multi-use handle you can attach to remove the grate or two-piece spark screen.
Cons
It doesn't have top holes, just a vent along the inner rim where the secondary burn takes place.
Solo Stove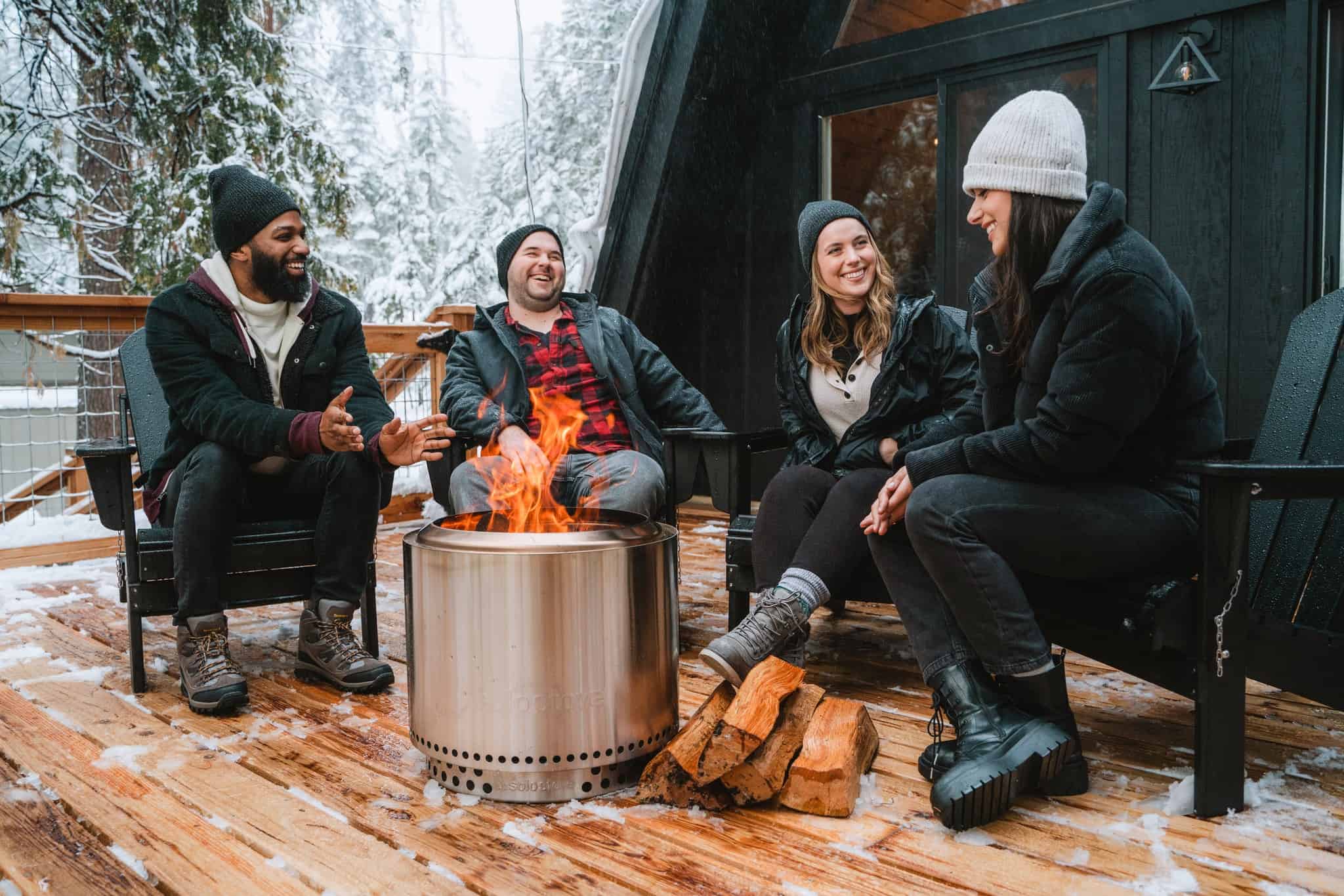 Solo Stove has three models from which to choose, all three of which are exactly the same in design and function. They only differ in size and, therefore, capacity.
Ranger
Ranger is the smallest of the Solo Stove models, meant for camping and portability. If you are setting up on grass, just make sure you have cleared the surrounding area.
Bonfire
Bonfire is the middle-of-the-road model (the one I have), which is intended for semi-permanent use. You can take it with you (I've lugged it to a neighboring property or beach before), or you can leave it (most of the time, it sits on the upper terrace).
These models are for individuals with small to medium-sized outdoor spaces who want a bonfire but don't necessarily have an open area for an inground fire pit or have a smaller city home where excess smoke would be sure to upset the neighbors.
Yukon
When you buy the Yukon, you can choose the stove or the "Backyard Bundle," which includes:
A cover
An ash catcher for the rim
Ash pan for easy removal
This is their most expensive model, so if you are willing to spend twice as much as the Bonfire stoves, just invest in the backyard bundle and have everything you need all at once.
Tip: The Yukon is very heavy and very large. This is a design intended for a permanent place in your yard.
Ranger Pros and Cons

Pros
The Ranger weighs about 15 pounds, so it won't add a lot to your camping material.
You can use it safely in campgrounds or national parks which don't allow open flames.
Cons
These are very small models, so only use them camping.
You can't cook or grill on them, so you'll still need a food prep camp stove.
Bonfire Pros and Cons

Pros
The Bonfire is very efficient and burns a full load for about 2 hours.
This model is more affordable than the Yukon.
This model can be easily carried or moved by one person.
Cons
These models can only handle smaller pieces of wood, so be prepared to measure.
Yukon Pros and Cons

Pros
You aren't restricted in terms of the wood size you burn. This bad boy will render anything down once it is lit.
The size means you can stand about 15 feet away and still feel the heat.
Cons
These models are very expensive (almost like buying a high-end grill).
If you leave it outside and forget to clean it, you will eventually damage it, like my first model in the image below.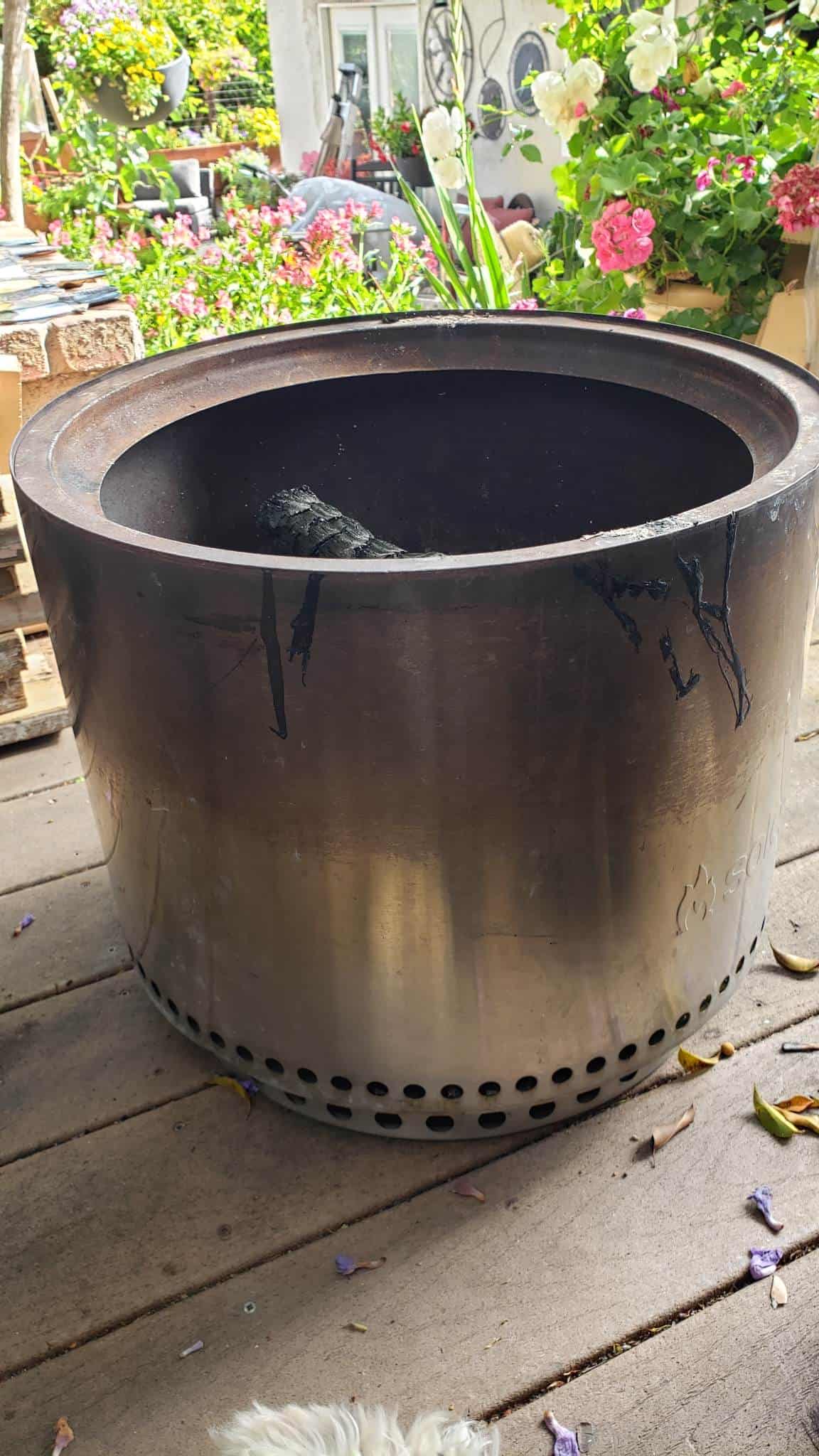 Main Differences between Hotshot and Solo Stove
The main differences between Hotshot and Solo Stove are:
Hotshot is a Costco store brand, whereas the Solo Stove is a proprietary brand from the company of the same name, so Hotshot is a bit harder to buy online compared to Solo Stove.
Solo Stove operates with air holes at the base, the bottom ring, and the inner top ring, whereas the Hotshot model does not have the same interior design or as many air holes, so it won't function quite as well.
Hotshot is almost as expensive as the largest Solo Stove, whereas the Solo Stove Bonfire (of similar size) is cheaper.
You have to be diligent about removing ash in the Hotshot because it accumulates at the bottom, whereas the Solo Stove has removable ash pan accessories.
Alternatives
Still not sure what you want? Check out these alternatives:
Tiki Fire Pit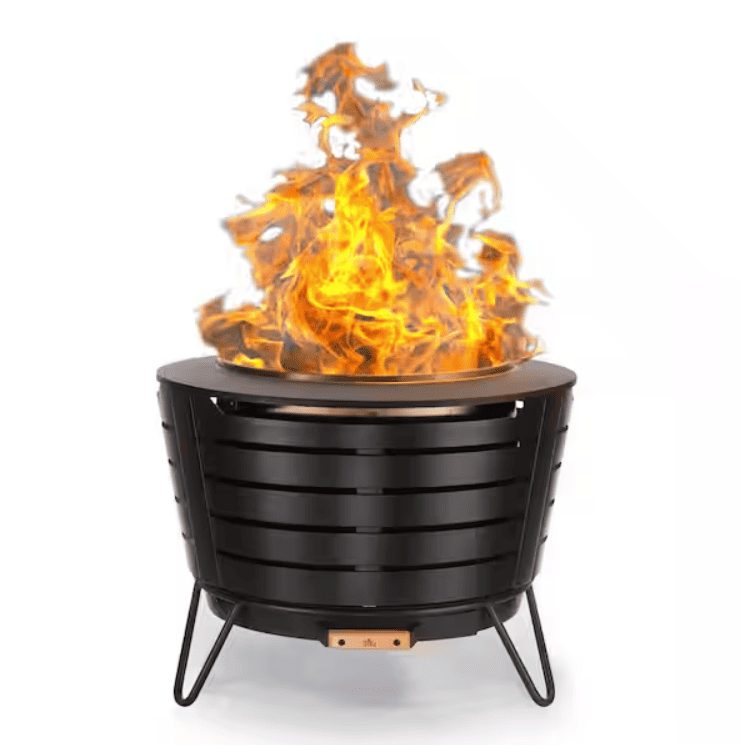 The Tiki Fire Pit is bigger than the Bonfire or Hotshot, at 25 inches.
It has a curved design that makes it much prettier for a permanent outdoor patio.
But it is heavy and doesn't have a spark shield.
Breeo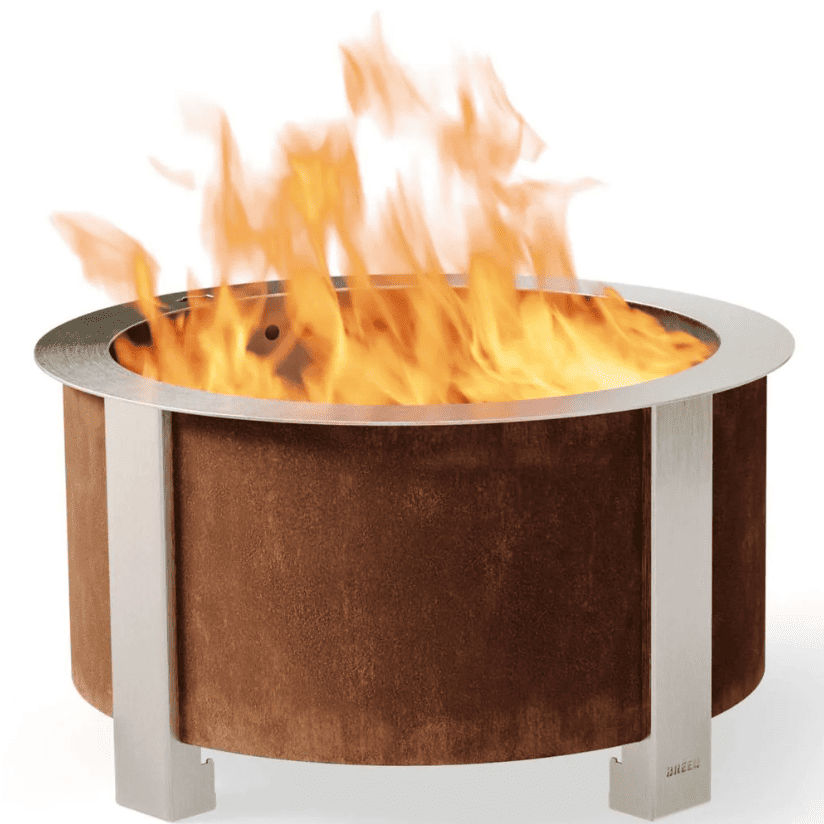 The Breeo is one of the oldest models of smokeless fire pit, and it compares to the Yukon.
It is one of the most expensive models on the market because it is handmade in America.
It has a grill option, too, but it is not meant for portability; it stays put.
Biolite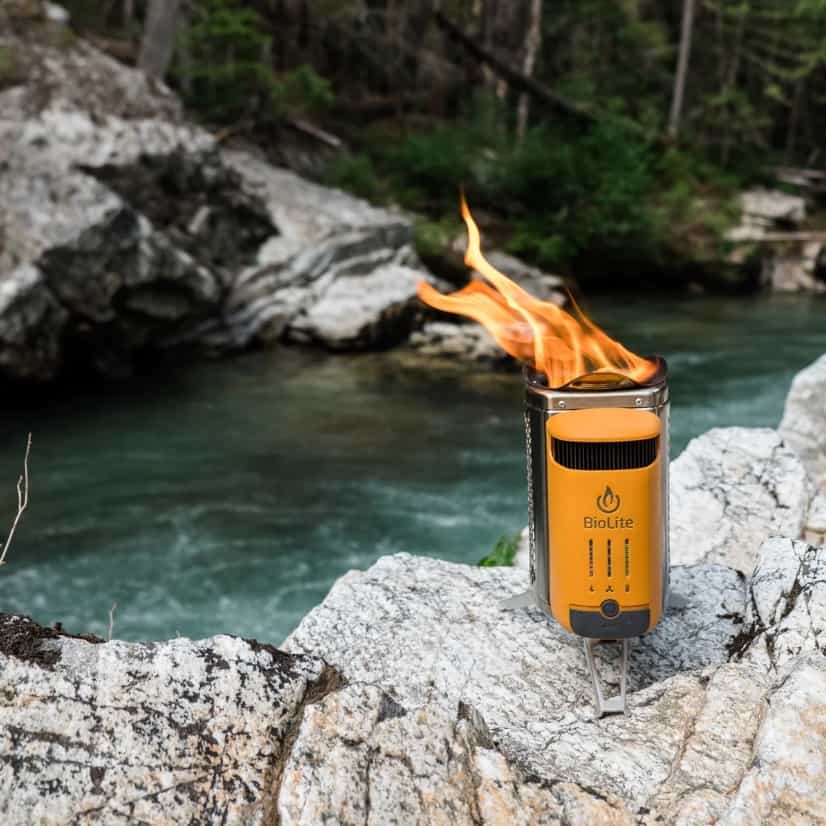 Biolite is intended for portability and grilling. Don't rely on it as a cheaper alternative to a backyard grill (less you live in a fifth-floor walkup with roommates and a tiny balcony fit for two). However, it is highly portable and works well as a camping fire pit/grill (if you choose to get the grill accessories).
The Biolite is much closer to the Ranger and is designed for camping and portability.
It has an odd rectangular shape with a mesh wall which is conducive to the smokeless aspect of its design, but it also makes it easier to see what's going on while it's burning.
The legs fold in, and it can all be stuffed into a carrying bag.
FAQs
Question: How Easy is Assembly?
Answer: Both models have super simple assembly. The Hotshot has a built-in base and few moving parts; just set it up, get the fire going, and put the grill or spark screen on top. The Solo Stove has a rim for the top and the base under the Solo Stove (if you bought it), but is similarly good to go.
Question: Where Can I Use the Solo Stove or Hotshot?
Answer: Either model can be used anywhere so long as it is:
1. A flat, level surface
2. At least 5 feet away from buildings, leaf litter, or other things that can catch on fire
3. In an area clear of hanging trees, canopies, roofs, or other overhead material
Note: If you invest in the Solo Stove, you'll need to buy the stand if you plan to set the fire pit on any type of temperature-sensitive surface, including grass or wooden decks. If you have pavement, dirt, or sand, you don't have to worry about leaving scorch marks.
Question: What Can I Burn in a Solo Stove or Hotshot?
Answer: Both models are wood-burning fire pits. The Solo Stove has an adapter if you want to burn wood pellets. I've done both, and I prefer burning regular hardwood. To that end, dried, aged hardwood is always best because it will light more effectively and it will burn longer. if you are using green wood, stuff that you just cut off a perfectly healthy tree, it's going to contain a lot more water and sap so it will take longer to burn and it will smoke more.
Both models can easily accommodate any type of dried kindling sticks, fire-starting sticks, Duraflame logs, or other accelerants.
Conclusion: Why Solo is Hotter than Hot Shot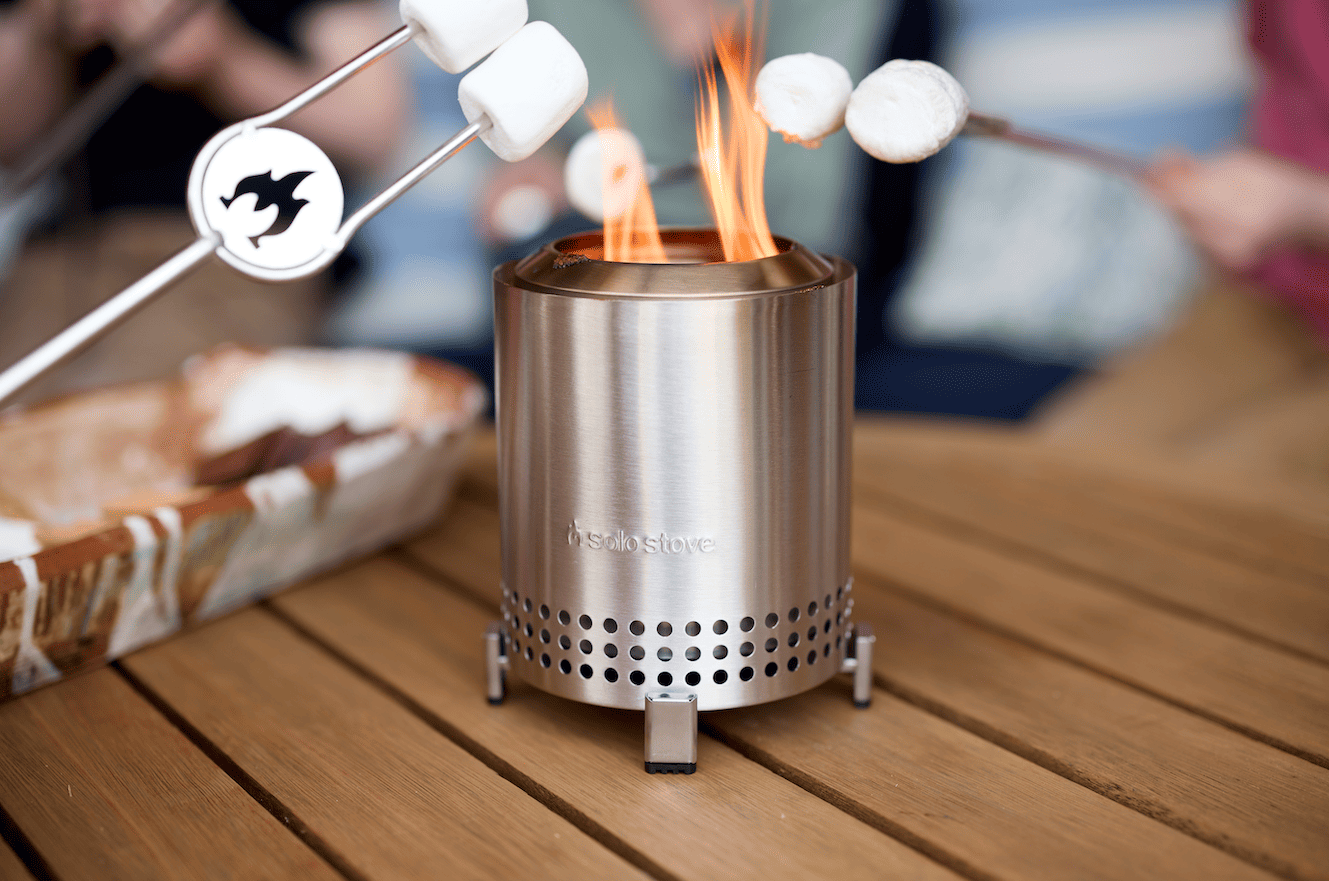 If you are looking for maximum efficiency, the Solo Stove (all three models) is the best option simply because of the airflow design. They have a proprietary design with holes not only in the base stand, around the bottom, and the top but all throughout the inside of the internal plate.
Other companies have created comparable designs but with limited intake holes in the internal plate (like the X-shaped bottom of the Breeo, which limits oxygen to the lines of the X) or the HotShot, which only has intake slots at the bottom and not the top. But if you are on a budget and are looking for a fire pit/grill combo for your patio, the Hotshot is just fine.
Here are how some other brands compare: