No matter the temperature, people love coming over for dinner and drinks by the firepit. They have loved it even more since I invested in the Solo Stove Bonfire because now, we don't have to move to the fire; the fire moves to us.
I've had my Solo Stove for years, and it has always been a hit, but how does it compare to other models?
Bottomline Up Front
The designs are almost exactly the same, so you would think it would be difficult to choose between the two, but there is a key element missing from the Duraflame: the base. Fresh air intake is much more limited than Solo Stove without this extra stand, but if price matters, you can save money with the Duraflame.
Main Differences Between Solo Stove vs Duraflame
The main differences between Solo Stove vs Duraflame are:
The Solo Stove has an interior tray with holes all around for maximum airflow, which fits snuggly against the inner wall, whereas the Duraflame model has the same thing but with a small handle in the center to make it easier to remove before cleanup.

The Duraflame models come with the interior ash pan you can remove for easy cleanup, whereas the Solo Stove 2.0 models have it, but the 1.0 models don't.

The Solo Stove comes with a base/stand on which the fire pit rests, which is great for added safety and air intake, whereas the Duraflame does not.

The Solo Stove can be quite expensive, especially if you get accessory bundles and the big Yukon model (think: $500 for the Yukon plus accessories and around $250-$300 for the Bonfire with accessories), whereas the Duraflame can be found for less than $200.
What Makes a Superior Fire Pit?
What makes Solo Stove or Duraflame the superior fire pit for your outdoor space? I used a few factors to make my decision:
I looked at the function and how well they

actually

produce smokeless heat.

I examined how long their fires last and how easy it is to get a fire going.

I compared the size and portability, as well as the price.
Duraflame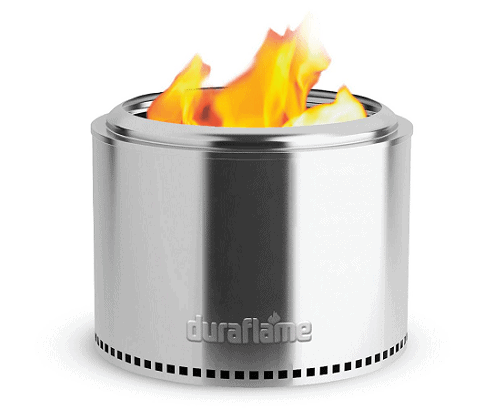 When I looked at the Duraflame, I thought I was looking at the Solo Stove at first. They are shaped the same, made from the same stainless steel, and have air holes located in the exact same locations. It took my brain a minute to realize that the design for Duraflame has square-shaped holes (are they still holes if not in a round shape?) rather than circular holes.
As someone who owns a Solo Stove, I can tell you that anything with a similar design for air intake is doing something right.
The design works quite well, gives off decent heat, is effectively smokeless, and all the other things you could want from a smokeless fire pit. It does not come with a grill kit, but that doesn't mean you can't toss a grate or cast iron pan on top of it.
It is, comparably, most similar to the Solo Stove Bonfire, and my main grievance with the Bonfire is that with a diameter of 16 inches, you can really only toss kindling on there, with a few small logs in the center once the fire gets going. The Duraflame, by comparison, has a wider diameter of 3 inches which might not seem like a lot, but really is where logs are concerned.
Moreover, it is a cheaper model compared to the Solo Stove, and if you buy at hardware stores on holidays or with things like military discounts, it can be much cheaper than the Solo Stove.
Pros and Cons of Duraflame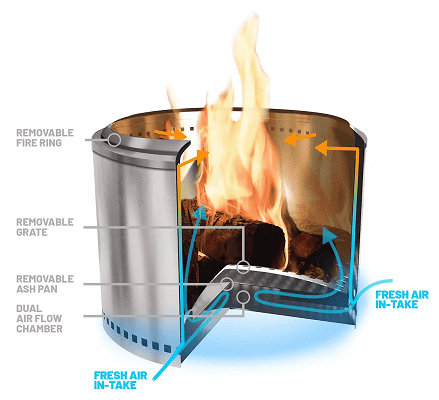 Pros
You get all the accessories, including the removable fire ring, the removable grate at the bottom, and the removable ash pan for easy cleanup.

It has a 19-inch diameter which makes it wider than the Ranger or Bonfire, so you won't have to worry as much about cutting logs to fit.
Cons
It doesn't have a stand like the Solo Stove, which, because of the design, means it limits the fresh air intake.

It is made from a combination of 304 and 201 stainless steel, which means it is more likely to rust than the Solo Stove if left outside or uncovered.
Solo Stove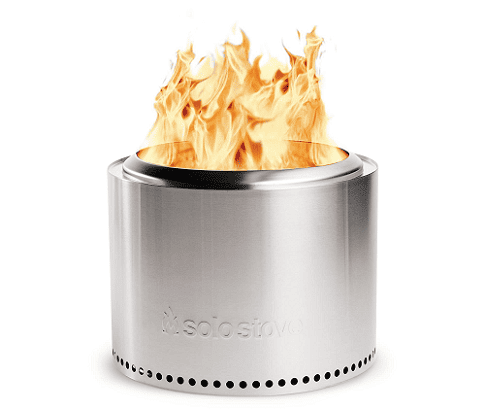 The Solo Stove is intended for durability and smoke-free fires. Made from 304 stainless steel, it has a high anti-corrosive property. There are three models available:
Yukon: This is the biggest, able to burn pretty much any sized log, but it is meant to stay in one space in a spacious backyard.

Bonfire: This is the one I have because it fits my front patio better (we have a few different seating areas in between the flowers, but they only fit about 8 people maximum), and it weighs about 20 pounds, so you can pick it up and move it as needed. It can comfortably provide warmth for about 5 people (or four couples sitting on their partners' laps).

Ranger: This is the smallest, most portable, and most compact model intended for camping or really small apartment balconies.
Each can come with an accessory pack which I strongly recommend you get. The accessories include the fire pit flame ring, the base/stand, and a cover. You can also get the following:
A spark screen

A lid

A handle

A grill set
What I love most about the Solo Stove design is the base/stand. This is important because of how both Solo Stove and Duraflame smokeless fire pits work.
They work by allowing fresh, cool air into the bottom of the fire beneath the logs. It also allows air to circulate through the inner walls, which is what enables secondary combustion (another round of burning what would otherwise be released as smoke).
It is easy to get started, and if you have a 2.0 model, cleanup is easy too. Once you fill the Bonfire, for example, you will get warmth for 2 hours before the fire burns out, which is about when I want people to go home anyway.
Pros and Cons of Solo Stove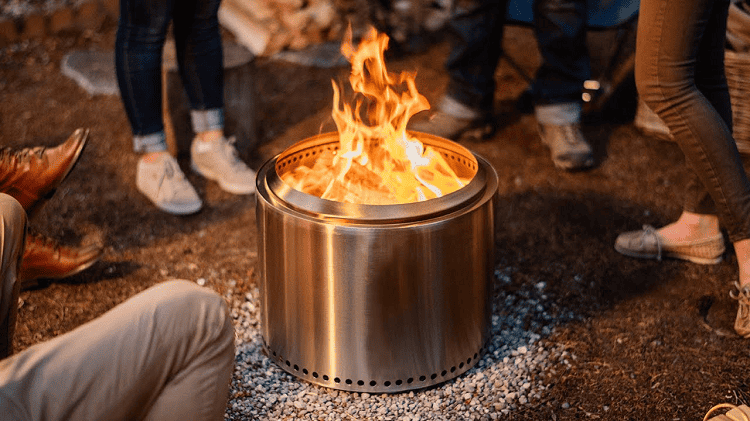 Pros
The dual wall design minimizes ash (even if you burn things you aren't supposed to, like beer cans).

Three sizes mean you can find something no matter your available space.
Cons
Almost

all of it is made from 304 stainless steel, but not quite everything, which means you shouldn't leave it out in the rain.
Alternatives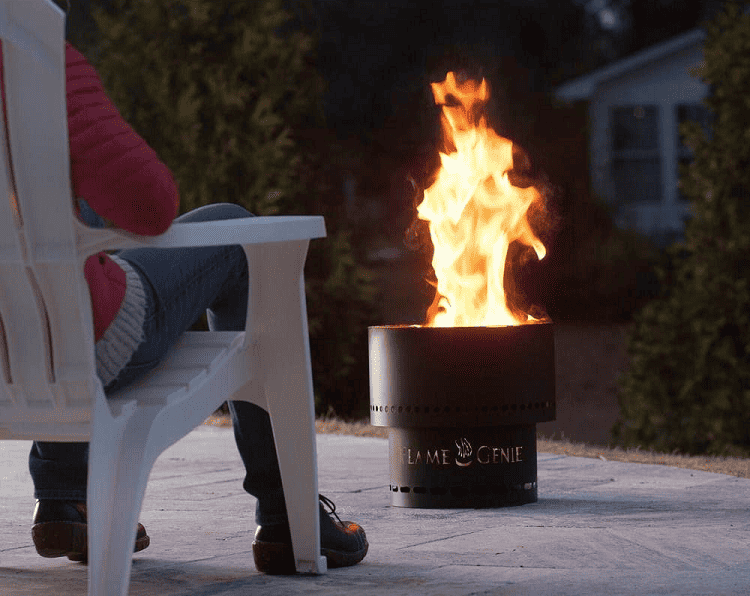 If you aren't sold on either, there are a handful of alternative products you might like:
If you want a wood pellet fire pit instead, the

Flame Genie

has an option you might like. They have a portable 13-inch diameter model comparable to the Solo Stove Ranger and a 19-inch model bigger than the Bonfire.

If you want an option for grilling

and

a fire

pit,

Breeo

makes an incredible design, the smallest of which is 19 inches. Be prepared for an outlandish price, though.

If you want a model for camping, the

BioLite

fire pit is a combination fire pit/grill which is portable and comparable in size and weight to the Solo Stove Ranger.
Duraflame vs Solo Stove: FAQs
Question: How Easy Is It to Assemble the Solo Stove or Duraflame?
Answer: Assembly for both is almost non-existent. All of the pieces arrive in their respective boxes already in the order they need to be. So when you pull it out and remove all the wrapping, you just put the ash pan at the bottom, the great on top of that, and the ring around the perimeter.
Question: Will the Solo Stove or Duraflame Actually be Warm?
Answer: So, here is where the smokeless fire pits all have the same drawback: By design, they stay cool around the base, which can be beneficial for a lot of people, especially if you, like me, always have the issue of having to tuck your feet under your chair so they don't get too hot and your shoes don't melt.
The drawback to this design feature, as seen in both models, is that most of the heat goes straight up instead of out. The ring that you put around the top of both models encourages that. I have found over the years that most people end up standing around my Bonfire when it's cold because they just don't get warm enough unless they're big flames.
Tip:  My dad constructed a homemade heat deflector to fix this problem, using a few metal rods and an aluminum metal pan. He drilled holes around the perimeter of the top ring for his Solo Stove, into which he could hook the metal rods that attached 12 inches to the metal pan in which he had drilled several holes into the base and around the perimeter.
Basically, it looked like a hot air balloon, and it trapped the heat without any smoke and pushed it outward to better warm the surrounding area. If you have a drill and are willing to spend the extra $20, it is quite easy to do. 
Question: Is Starting a Fire Easy?
Answer: I build my fires the same way I do in an outdoor fire pit: I like the log cabin design normally, but it is a little tricker in a round stove, so I usually give up and end up with a half teepee half log cabin set up. I start with dry kindling (usually store-bought or shaved off my larger logs) at the center, with smaller logs crisscrossed around the center.
I have smaller logs at first, with a few flame-starting sticks that burn for about 15 minutes. My dad likes to substitute this step for lighter fluid. As the fire builds, I add larger hardwood logs. 
Here are how some other brands compare to Solo Stove:
• Hotshot vs Solo Stove
• Solo Stove vs Biolite
• Flame Genie vs Solo Stove
• Ohuhu vs Solo Stove