I do a lot of camping, but most of what I do requires hiking into the campsite, so everything I bring has to be carried. But I also can't function without my morning coffee, so I need a camping stove that will work fast, stay lit, and fit in my pack without weighing me down.
Which brings me to the matter at hand. Is Solo Stove or Ohuhu the stove for the job?
Bottomline Up Front
I prefer the Ohuhu because of its accessories and the two adjustable heights for heat. These adjustable heights mean you can grill or lightly warm things based on needs. I also love the pot supporter and larger diameter, which is an essential tool for anyone on an outdoor adventure. You can use it with full-sized pots or pans too!
Main Differences Between Solo Stove vs Ohuhu
The main differences between Ohuhu vs Solo Stove Lite are:
Ohuhu is quite cheap, at only $20, whereas the Solo Stove Lite is $90. 

The Solo Stove only has a carrying case, whereas the Ohuhu comes with half a dozen accessories. 

The Ohuhu weighs 8 ounces, whereas the Solo Stove weighs 9. 

The Ohuhu has an almost 6-inch wide diameter which makes it better for food prep, whereas the Lite only has a 4.25-inch diameter. 
What Makes a Good Camp Stove?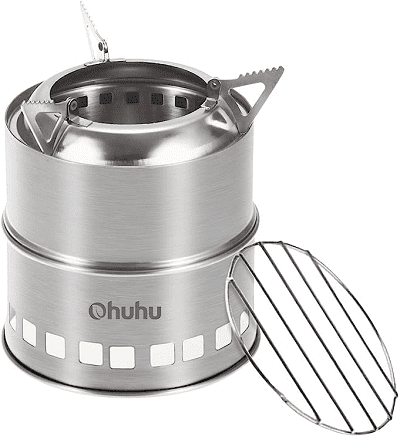 For the sake of comparison, I am going to stick with the Solo Stove Lite because it is a compact, portable design. So what makes a good camp stove? I used a few factors to decide:
Fuel Source
I have always used the small fuel canisters, but these are a huge pain in the butt, in my opinion. Firstly, you have to be incredibly careful with how you store and use them.
Secondly, you can end up with a mess on your hands if there's a leak or a huge fire risk if they fall over. You have to buy them and recycle the empty cans at very specific locations, and you have a finite supply of fuel for any camping trip.
Size
The size will affect not only whether you can fit it in your pack or easily take it with you but how large a pan or camping pot you can use on top and how quickly your food is prepared.
As someone who almost always starts the campfire and food prep when she's already hungry, I can tell you that there's a fine line between a small, portable size and a size that's big enough to get the job done.
Function
Obviously, you need the stove to work well. But in my opinion, working well doesn't just mean it produces fire. You need to be able to manage that heat source effectively and control whether you are warming up a beverage or boiling water for your next meal.
Accessories
Accessories are important for any camping stove. You don't just want a portable stove that will create an ongoing flame. you want something that you can use, and that might mean stove chambers, pot supporters, or grill tops
Ohuhu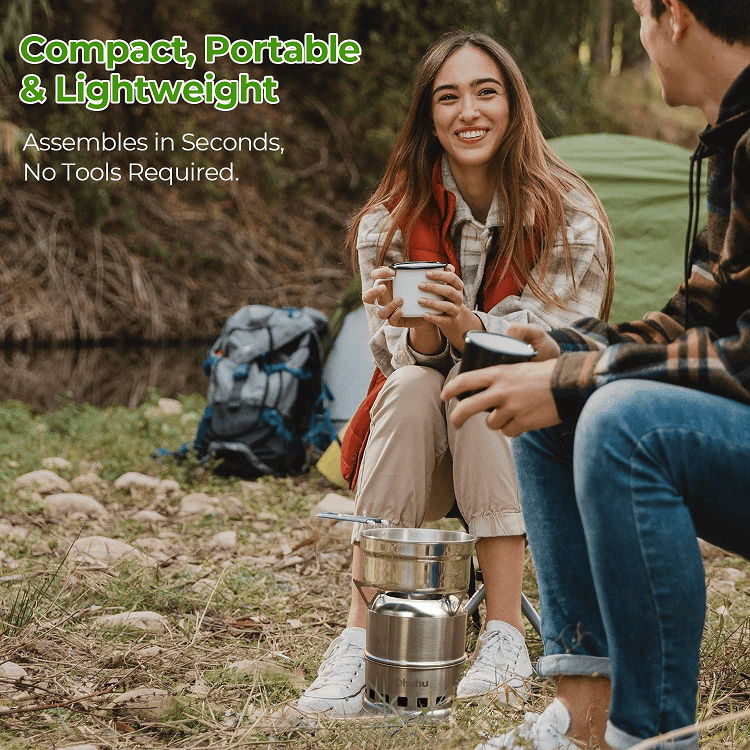 The Ohuhu is also a mini wood stove meant for camping. If you have the Ohuhu and want to use it for camping, hiking, fishing, or mountaineering, you are in luck. It has all the accessories you need. I prefer buying new products like camp stoves that have all the accessories even if I have another version or brand of those accessories in storage because there is nothing worse than realizing too late your old accessories don't fit the new model. 
Accessories are one of the biggest selling points for me. You can use the adjustable ash catcher, which lets you change the height of the flames where they contact your food. I've yet to see this with other models (and we have a lot of expensive camp stove models with our gear). I also like that you can use traditional fuel sources if you have them (we have a few canisters still, and they worked well with the Ohuhu). 
The stainless steel pot supporter and grill or barbecue plate are some of the best accessories because you can add any type of camp stove pot or pan on top and make your meals. You can also get accessories like the windshield, which I cannot recommend enough because it helps protect the delicate Flames from intense wind while allowing air through the bottom vents. 
Tip: If you are out in the woods, look for easy material at your campsite, like dried leaves, grasses, wood, or pine cones. 
Pros
Two levels of heat adjustment for food prep. 

You can use lots of fuel sources, including traditional gas, fuel tablets, or wood.

It has an ash catcher for easy cleanup, which is ideal in some camping spots where you can't have a fire on the ground. 

It comes with lots of cooking accessories that are essential when camping. 
Cons
Some of the accessories, like the windshield, are extra. 
Solo Stove Lite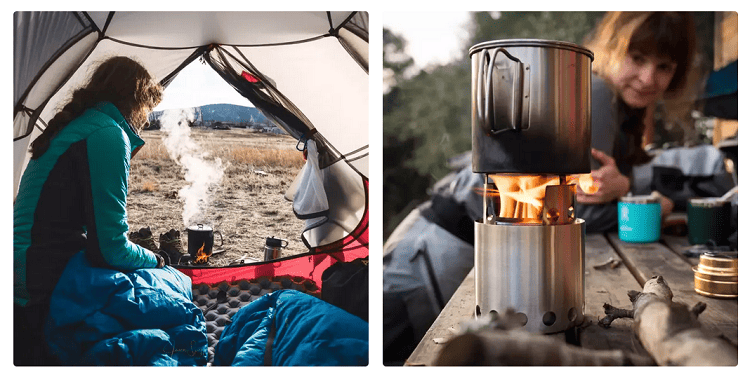 Solo Stove makes a lot of different stoves, including a series of smokeless fire pits, but the Lite is their camp stove equivalent to the Ohuhu. What I love about this model is that you can just burn whatever is in your area, grabbing small sticks and twigs around your campsite instead of having to rely on a fuel canister. This also means you have reduced weight in your pack, so you have more room for other things like s'mores.
The Solo Stove is more expensive because of the low-smoke design. Like their other smokeless fire pits, the Lite has a double-walled interior with holes at the bottom to encourage a low-smoke fire that burns hotter and longer than traditional open-air fires. This is a great feature to have, but it doesn't compensate for the other shortcomings this model offers. 
Once you are done using the Solo Stove, be sure to put out your fire safely. 
Pros
The entire model is made out of 304 stainless steel, which is the most anti-corrosive, so it will survive much better outside against the elements.

It only weighs 9 oz, so you will hardly notice it if you shove it in your backpack.
Cons
It only comes with the stove and a carrying case, with no other accessories. 

It has a small diameter, so you can't cook with larger camping pots or pans. 
Alternative Products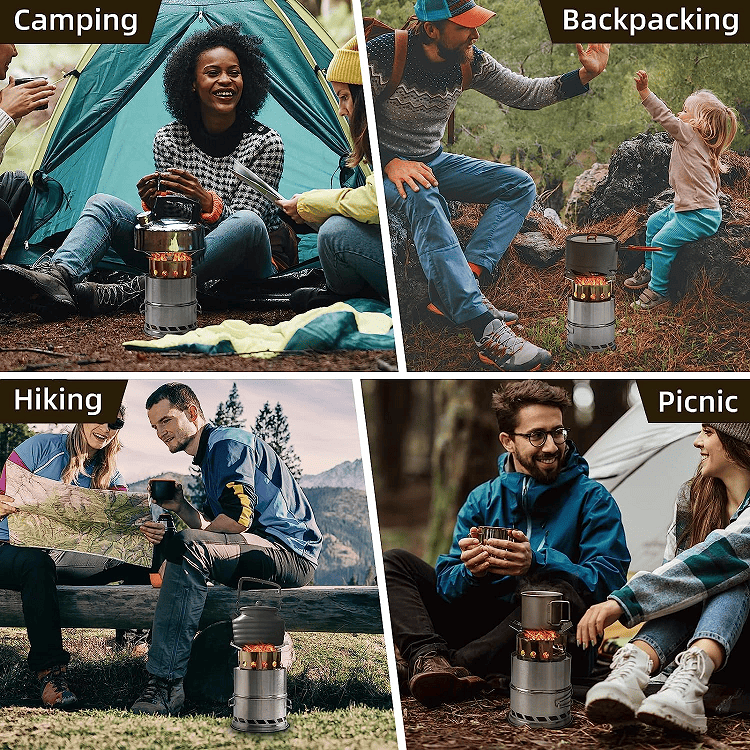 Not happy with the Lite or Ohuhu? Check out these other options:
If you love portability, this

camping stove

 has a width in between the Lite and the Ohuhu, with a small anti-scald handle, gloves, and a thick design. This model is similar to other camping stoves I've owned with anti-scald handles, and that can be especially nice if you need to add more fuel to the fire. 

Similarly, 

Esbit

 has a stove that looks like a miniature cave into which you can shove pine cones, wood shavings, and other materials to keep the fire going. It draws in heat through the large opening on one side and through the vents around the bottom. It includes a cookout too. 

There is an American-made 

Pyro

 model, which is a box. It looks pretty fierce with its stainless steel design. It is sturdier than the circular models, but once you get the fire going inside, you can't easily add more fuel unless you remove the top cook plate. 
FAQs
Question: What Can I Burn in the Ohuhu or Solo Stove?

Answer: The Ohuhu and Solo Stove both use firewood. Hardwood is the best thing to burn, but since this is a smaller camp stove, you are likely to have better luck with hardwood kindling pieces, branches, twigs, pine cones, and other readily available materials. 
Tip: We have a woodshop, so we save all the wood chips, shavings, and other smaller pieces from large projects. They are almost always from untreated pine, so they light really fast, produce next to no smoke, and can be used for fire pits where you want to cook something.
If you know someone who does carpentry, ask if you can take their wood trash off their hands; they are almost always happy to oblige. 
Question: Is There Anything I Should Avoid Burning?

Answer: I recently went to a going-away party where they had a massive bonfire. It wasn't until an odd smell hit me that I realized they were using the bonfire to burn all of the cheaper Ikea furniture they weren't taking with them.
I cannot stress enough that you should not use either of these stoves for that purpose. Any type of chemically treated wood, like wooden pallet pieces (which they also burned), can create noxious fumes.
Particle board shards like Ikea furniture contain a lot of glues that can damage your lungs. Certain accelerations that you might want to use to cheat your way to a roaring fire can tarnish the stainless steel, something my father learned firsthand. 
So stick with natural fire starters like the debris in your local area and hardwood if you want to pack in fuel. 
Question: How Long Does it Take to Get a Fire Going?

Answer: Because of the ultra-efficient design, you will find that kindling and twigs turn into a decent flaming fire in a matter of minutes. The exceptional airflow at the bottom means that it'll take a few minutes to get the fire started, and you can boil water in less than 10 minutes.