The best places to buy the Breeo fire pit online include straight from the manufacturer (for the latest and greatest models/accessories), from Ace Hardware (you can apply lots of discounts and use interest-free payment plans), Home Depot (same thing as Ace but for cool people who live in a big city), and Amazon (where you can find slightly cheaper, older models that work just fine, or find "used but new" models).
I know these are the best because we just replaced the rusty, useless fire pit that sat in the backyard (originally serving as, I believe, an ashtray for the previous owners and a climbing gym for the local squirrels). I (stupidly) made my better half swear that they would remind me any purchases or endeavors made to spruce up the old farm would be the "best way" and not the "cheapest" (apparently, I have a Dollar Store "problem," PFT).
So when I started looking online for the "cheapest" places and not the "best," I got a nice reminder (while knee-deep in removing ancient and tobacco-stained wallpaper, structural changes so that the floors weren't trampolines, new plumbing, and a new roof) that we couldn't settle for the lowest dollar amount, but for the best.
Search Criteria: What Makes the "Best" Truly the Best
In my search, I determined that the best places to buy online were from the company directly (yes, this represented what my better half called the "best way"), from our local Ace Hardware, Home Depot, or Amazon. I based this decision on the following:
Available Models: If you are like my family and you are looking for the best quality and the best accessories and the best everything else (including, somehow, outlet covers and light switches no one sees for the house) you need to know where to go, and the manufacturer always sells the latest and greatest.

Shipping: Sometimes, getting it before your next party is important, and in my experience, remembering to make that online purchase before the next party tends to happen one or two days in advance, so fast shipping is important.

Payment Plans: Did I mention those structural changes, plumbing, and a new roof? Every day has brought a new cost, which is why I like payment plans, even for small accessories like a fire pit. It helps me budget a little bit better throughout the year, and if you are looking to budget like me, you'll find some great options.
Bottom Line Up Front
Buying directly from the company will cost you an arm and a leg, expose you to the newest options, and give you all the bundled accessories. If you aren't concerned with your Breeo doubling as a grill (and any self-respecting adult shouldn't be; they should have an actual grill), save yourself some money and buy it directly from Amazon or Home Depot.
Buy Directly From Breeo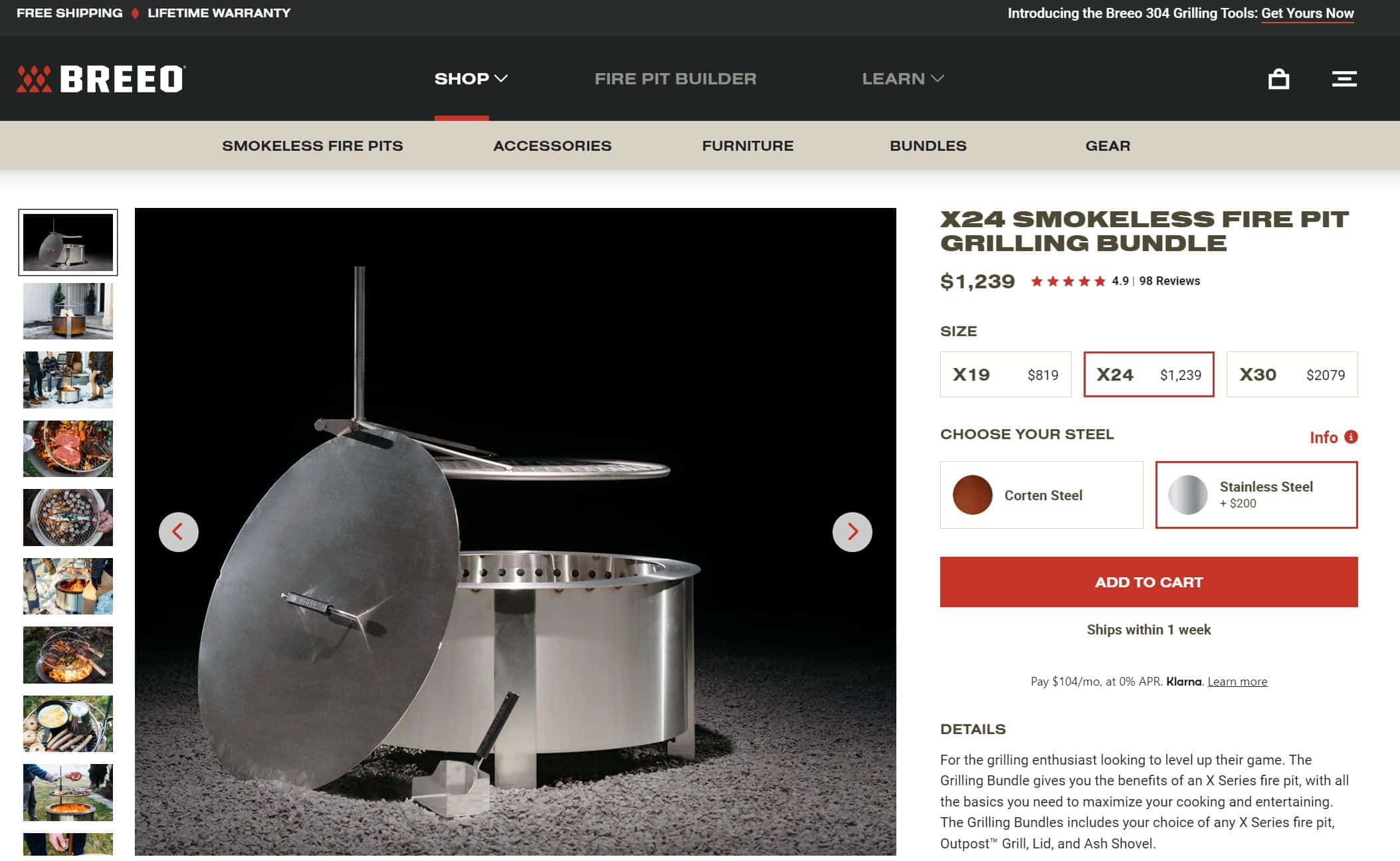 Let's start with where I made my purchase. If you are looking for the absolute best model and the best accessory bundles, go straight to the source.
If you purchase directly from the website, you get free ground shipping, and you can track your order status at all times as long as you live in the United States. Yes, it's going to be the most expensive option but, as my better half reminded me, it is a one-time payment which provides the best long-term investment and really, you only think of the cost once (or like, for years if you put it on a credit card).
The shipping time isn't particularly extreme, and if you desperately need it overnight, you have the option to pay for that, which is nice because not all companies give you that. But they have many different designs, so if you are unsure which one is best, learn more here.
Buy From Ace Hardware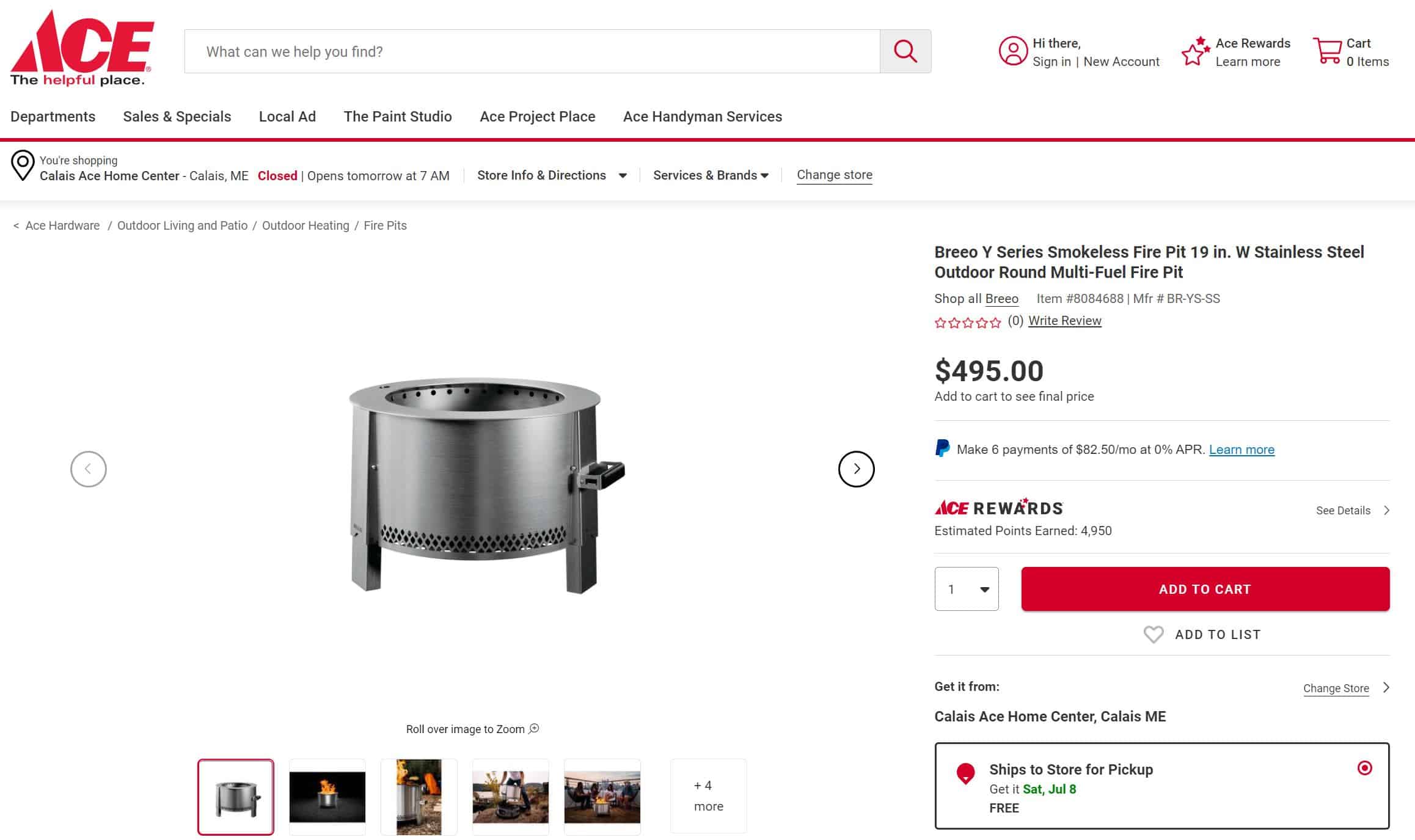 You can order the Breeo fire pit online from Ace Hardware. This was our second contender, personally, because if you are already a loyalty member, you can apply discounts, especially to shipping options, and if you are military, you get a military discount, and it stacks on top of the other discounts.
One nice thing about buying from here is that you can buy firewood at the same time if you don't have any. And, if you are perhaps buying for a loved one, you can pick up some extra grilling tools or a manly apron (the one I bought includes a bottle opener, lined pockets to keep beer cool, and a place to store bottles of hot sauce).
The catch, though, is that when you order online, it is affiliated with a specific store.
Tip: If you are lucky enough to live in a big city, you can choose different stores until you find one with the fire pit you want.
Buy From Home Depot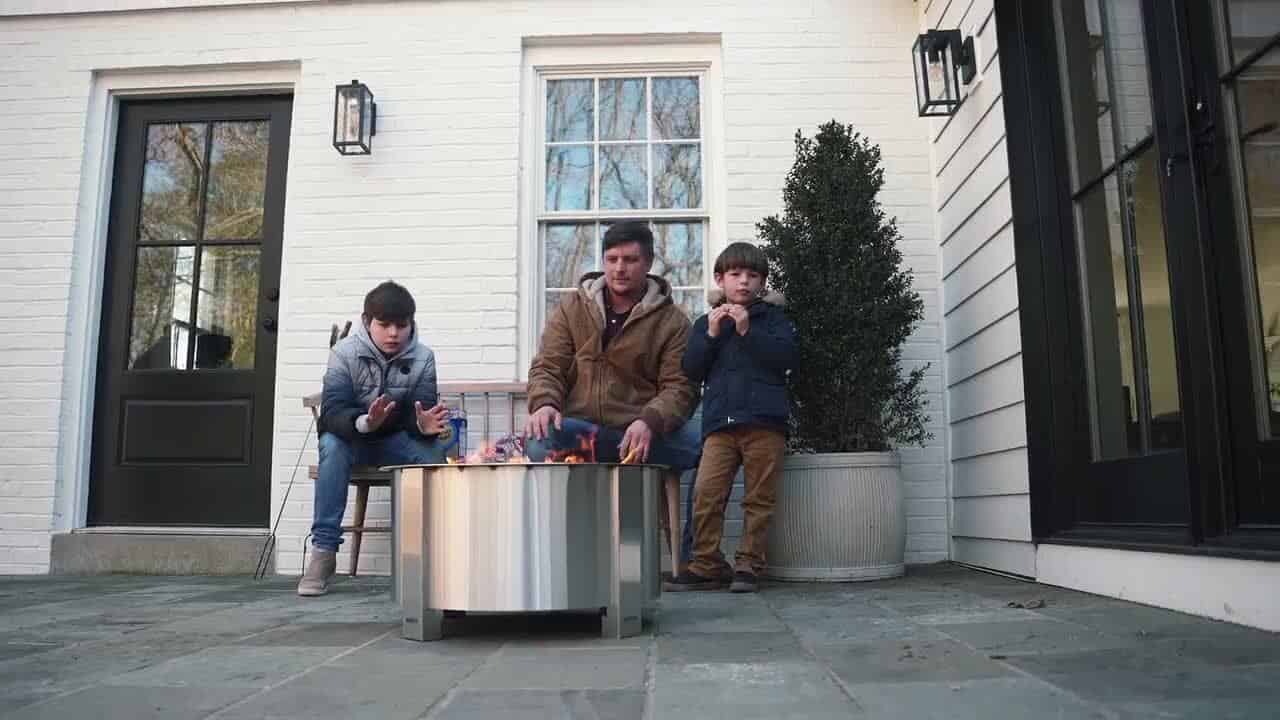 You can also order a Breeo fire pit online from Home Depot. You can use your Pro account to get discounts if you are already a loyalty member. And much the same as Ace Hardware, you can apply a military discount to the price.
If you don't have an Ace Hardware nearby, but you have a Home Depot, I would advise going with Home Depot. We didn't have one where we lived before, so we were constantly making trips to our far-too-small Ace Hardware (with the absolute worst parking lot design) for any accessories.
Tip: If you aren't ready to pay the full price, Home Depot offers consumer credit cards which can give you an upfront reduction of the total cost and help you pay for the fire pit over the next several months. If you keep your eyes open, they regularly offer deals where you can purchase without interest for 6 months.
The only thing I don't like is that you can't necessarily find different materials or accessory bundles, and you are stuck with whatever is available. As far as the accessory bundles are concerned, that part isn't the end of the world because you are, after all, standing in the place where all of my childhood dreams of playtime and toys went to die. You can easily pick up some grill accessories or a makeshift stand if you want it.
You can check out this review of the three Breeo models and their accessories to see if you want the extra investment or if you want to wander aimlessly down all 28 aisles until you find a grill lid.
Buy From Amazon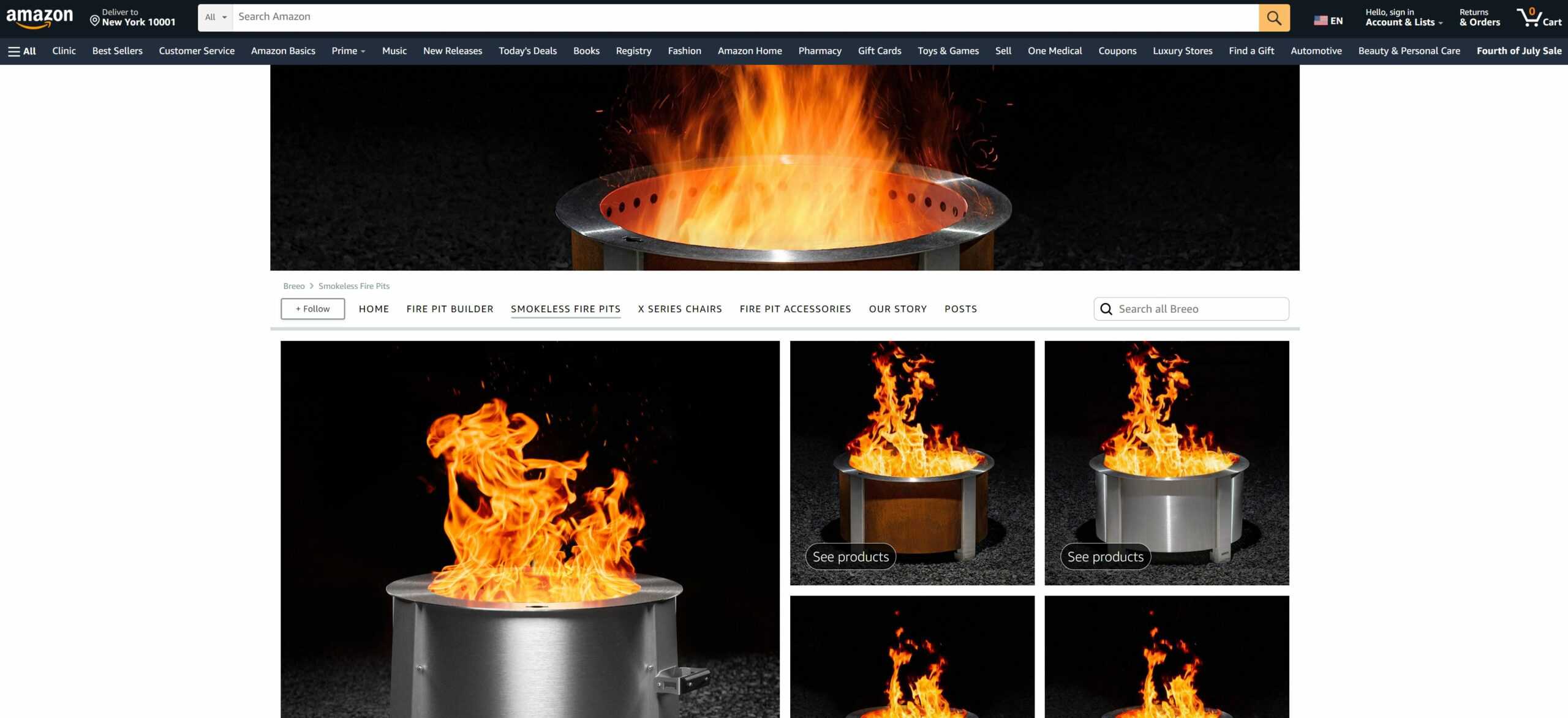 If you buy from Amazon, you can find several options from the Breeo store. They have the older Y and newer X series, which is surprising but cool. They also have lots and lots of payment plans subject to approval.
One of the things I like most about buying from Amazon is that you can find new and "used" models for slightly less than the original cost. And when I say "used," I include the quotes because often, these are packages that were never opened and put together by a customer but had minor damage to the package itself and got returned. You can review why the item is considered "used," and if you are okay with the issue, like damage to the outside packaging, you can save yourself $100 or more.
Tip: Before I invest in used products, I check why they were returned. In my experience, I can save between 10% and 30% on the original cost if I'm willing to purchase a used item whose exterior packaging suffered minor damage in transit but is otherwise unharmed.
FAQs
Question: How long does it take to ship from Breeo?
Answer: All of the products are shipped from Pennsylvania, so it can take a few days for your order to be processed and then up to two weeks for your order to be shipped. Once the order is shipped, it will take up to 5 days. If you live on the east coast, closer to Pennsylvania, you'll get your order sooner than someone all the way in California (take that, Dad!).
Question: Where can I order a Breeo fire pit online for international shipping?
Answer: If you are in Canada, you can order from the company directly. You can also use Amazon to ship internationally.
Question: What if I want to buy an older Breeo model?
Answer: The Y series is the older Breeo series, and you can find that on Amazon, Home Depot, or Ace Hardware. If you buy directly from the company, you can find the newer model series, the X series. 
Best Places to Buy the Breeo Fire Pit Online: Wrap Up
There are several places that I would consider the best places to buy the Breeo fire pit online. If delivery time is important, stick with Amazon, Ace Hardware, or Home Depot. If you want accessory packages and more options for size, go with Breeo directly. If payment plans are important for you, Amazon is best for quick approval, while Home Depot has options for Home Depot consumer credit cards. 
In the spirit of Breeo Pits, check out some of the best models our staff has written for:
• Breeo Double Flame Fire Pit Review
• Breeo X-Series Smokeless Fire Pit Review
• Breeo 19 vs 24