Maybe you want to protect your surfaces, but can you put a fire pit on an outdoor rug? The truth is, fire pits can cause immeasurable damage on surfaces like wood and concrete. Yes, even concrete. You could be basking in the hot and sweet embers of your fire pit on a cold evening and dealing with the case of a cracked wall the following day.
Most people want to put a fire pit on an outdoor rug, but they are concerned that it will catch fire or be damaged if too close to the flame.
Can You Put a Fire Pit on an Outdoor Rug?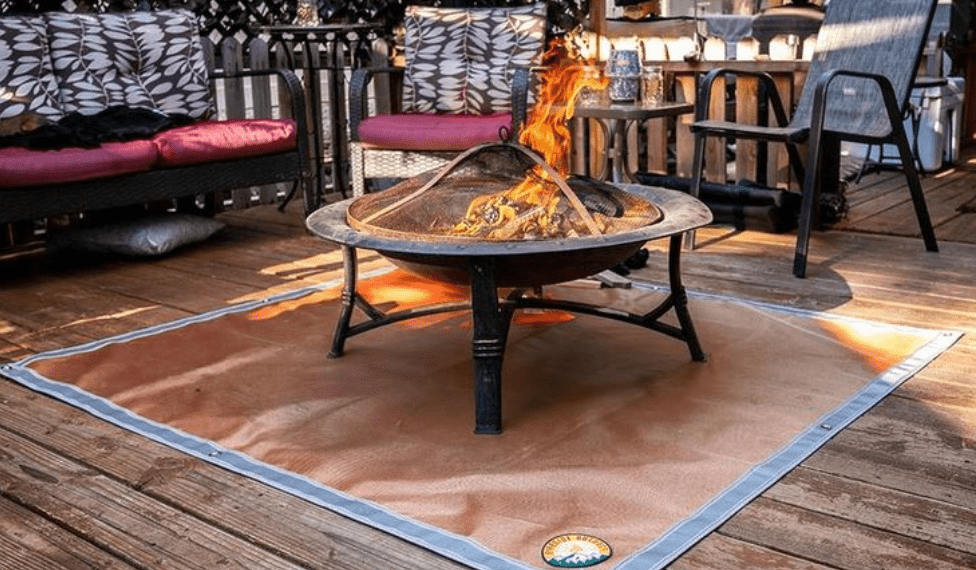 Sadly, sometimes, this question is not a straightforward yes or no. It depends on the type of rug and fire pit you are using.
It is not advisable to place outdoor rugs, or any rugs for that matter, below a wooden fire pit. Unless specifically developed for this specific use. These rugs are made using non-flammable materials. Still, it is recommended that you exercise a lot of caution when using any clothing near a wood fire pit.
On the other hand, fire pits that use gas and propane are safer to use an outdoor rug. Still, not every propane fire pits are the same. Therefore, you should exercise extra caution when placing propane fire pits on an outdoor rug, even if using a fireproof rug beneath the fire pit. These could cause a fire when exposed to extreme heat conditions.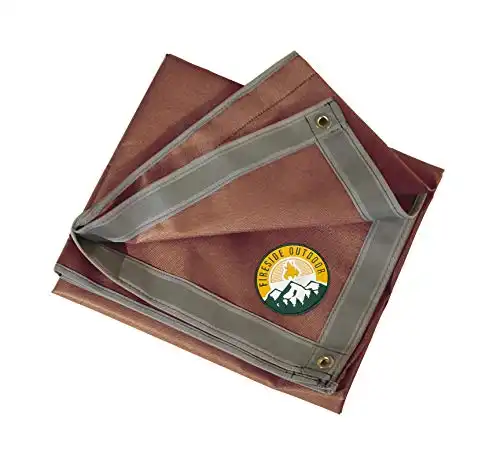 Campfire Defender's Ember Mat | Amazon
The Ember Mat is designed to stop popping embers or dripping grease from damaging the area around your fire pit or grill.
Buy at Amazon
We earn a commission if you click this link and make a purchase at no additional cost to you.
12/04/2023 01:47 pm GMT
Are Outdoor Rugs Highly Flammable?
Outdoor rugs made of synthetic material or polypropylene are highly flammable, and you should avoid placing them near a fire pit or an open flame.
Check the fabric of all outdoor rugs you are thinking of buying before taking them home. You don't want anything potentially hazardous near your fire pit.
What Should You Use On an Outdoor Fire Pit?
If you really must place something below your fire pit to protect the surfaces of your home, you should consider all the available options. Then, settle for one that suits your budget and needs and provides the safest solution.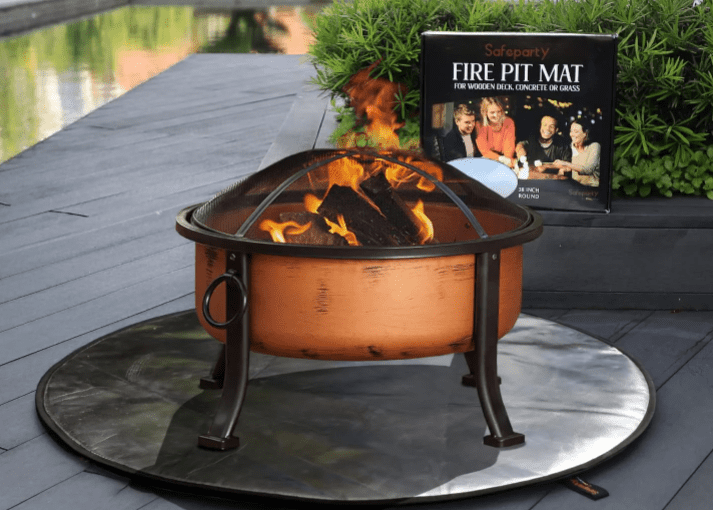 Fire Pit mats are an excellent option for shielding your patio or deck from the heat generated by a fire pit. The top has insulating and cushioning properties so that it won't damage the surface below, and you can spend the time you want sitting around the fire pit.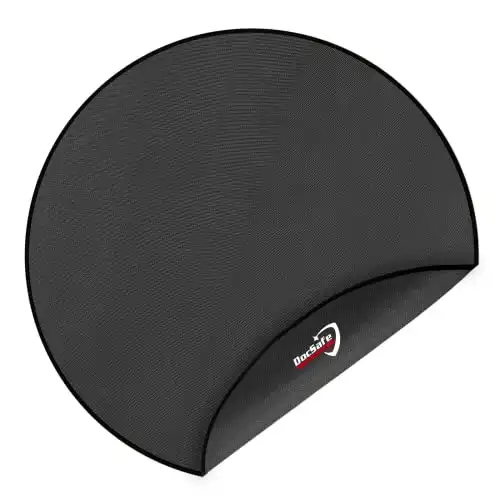 48" Round Fire Pit Mat | Amazon
Fire pit mat is not only fireproof but also waterproof, grease does not stick to them and they are easy to clean.The four layers of material make it last longer.
Buy at Amazon
We earn a commission if you click this link and make a purchase at no additional cost to you.
12/04/2023 09:29 pm GMT
2. Heat Shield
One of the problems that arise while using outdoor fire pits is stopping a burn through beneath from burning coals or the flame itself. You can avoid this by buying a fire pit shield, which will help disperse the heat and keep it from damaging the surfaces beneath the fire pit.
If you have a stone patio or even grass, installing a fire pit shield will keep your home and provide you with peace of mind when enjoying the flames.
3. Bricks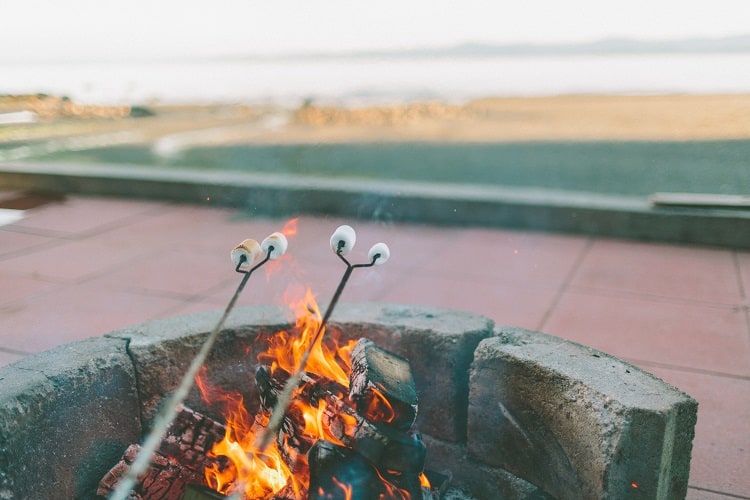 Bricks are inexpensive, simple to set up (some come with grids or plastic spacers to keep the bricks off the ground), and can be stacked for easy winter storage.
They're also aesthetically pleasing, and if properly cared for, they can last for decades. Some people believe that when you surround fire with stone, it has more depth than when set on top of wood /logs embers.
4. Slates or tiles
Tiles or slates provide a far more direct fire pit experience because they are designed to withstand the high heat from the fire pits and will not break or crack like a traditional brick.
Outdoor fire pits made of your preferred tile are also easy to maintain. In addition, unlike brick, there isn't mortar holding it together, so it will not chip or break. Finally, you can avoid unappealing black soot on the patio floor from the burnt wood and coals with surround tiles, popular with fire pits.
Selecting the Best Outdoor Rug for Fire Pits
Any rug you plan to use on the patio should be formed of waterproof materials. Because of their capacity to attract and retain moisture, classical wool rugs are the wrong choice. Consider a synthetic fabric instead.
Four synthetic materials, in particular, are ideal to be used in outdoor rugs, and they are as follows:
Vinyl
Vinyl rugs, also called polyvinyl chloride (PVC), are strong, durable, and waterproof. They're also easier to clean than most rugs because of these features, making them a good choice for patios and other outdoor living areas.
Polyester
Polyester is a second fabric to take into account for your outdoor rug. This fabric is cheap and widely available. The drawback is that it's not as long-lasting as nylon or vinyl. It might not be a problem if your patio receives little foot traffic. However, if you use the patio regularly, you must consider a different material for the rug.
Nylon mats are an excellent choice for outdoor use. Nylon is a soft, durable, and easy-to-handle synthetic material used to make a wide range of items, including rugs. Nylon rugs are highly resistant to moisture and stains. They are also less prone to fading once exposed to direct sunlight, which is why property owners prefer to use them outside.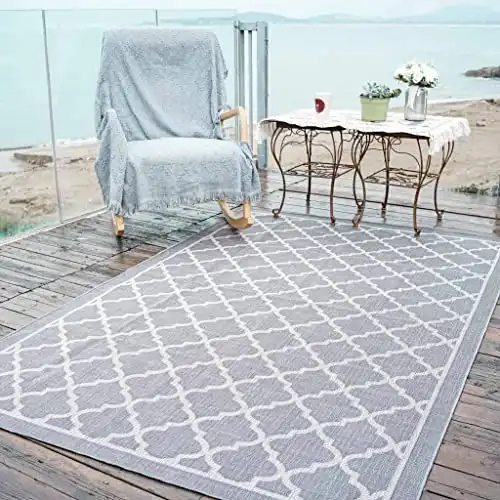 Aucuda Nylon Straw Outdoor Rug | Amazoon
Replacing the polypropylene and plastic rug with a nylon fabric outdoor rug, makes the outdoor carpet much more tougher, fade and broke resistance, nylon indoor outdoor rugs are made for long time use.
Buy at Amazon
We earn a commission if you click this link and make a purchase at no additional cost to you.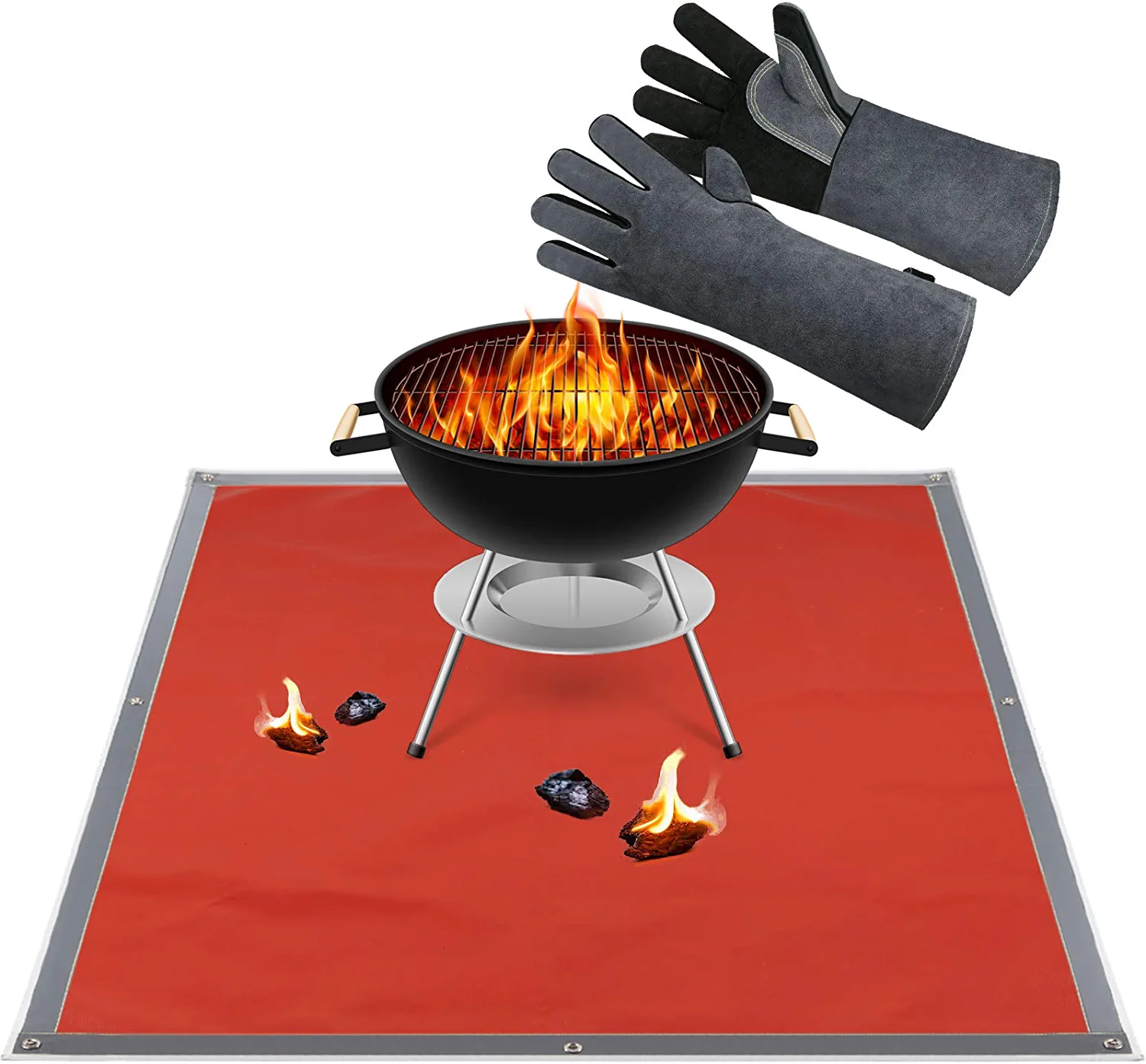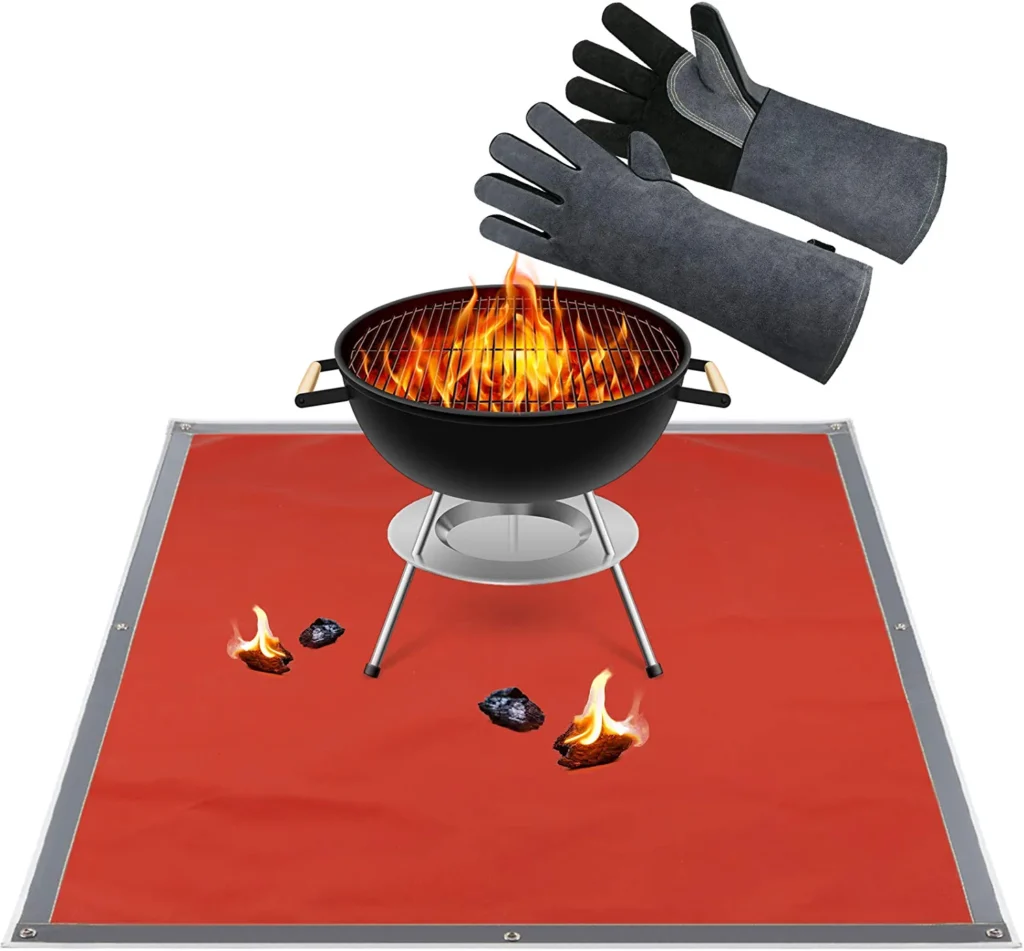 Polypropylene is a synthetic material commonly used in the production of outdoor rugs. It's made of a strong, durable, and waterproof plastic polymer. Therefore, polypropylene rugs can have a rough and rugged feel. Despite this, they remain a popular option for patios and outdoor living spaces.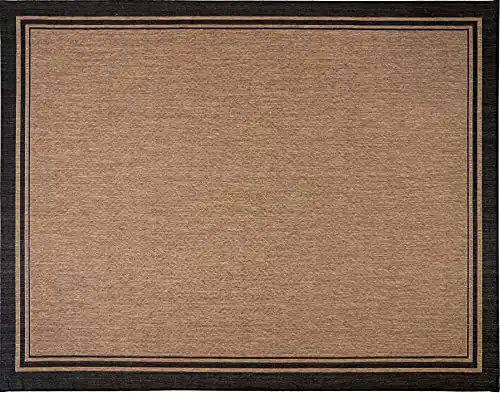 Gertmenian Polypropylene Outdoor Rug | Amazon
Perfect for use in the backyard, patio, porch, balcony, deck, sunroom or any high traffic area indoors including the laundry room or mudroom. To clean your area rug, simply wash off with a garden hose! Quick-drying material.
Buy at Amazon
We earn a commission if you click this link and make a purchase at no additional cost to you.
12/04/2023 09:01 pm GMT
You can place a fire pit on an outdoor rug. First, however, make sure that it is the correct type of rug. While a traditional cloth rug isn't the best option for stability or high durability, there are several rug-like alternatives. An ember mat is a must-have item if you're a frequent camper or traveler. A  heat shield, brick, and pavers will end up serving you well if you enjoy a backyard retreat.
Can you put a fire on an outdoor rug? Yes. However, it depends on the type of rug and firepit you're using. Whatever you decide, keep in mind that safety comes first. Check with your town or city to ensure that all rules and procedures on fire pit construction are followed. A well-built fire pit with a fire-resistant rug will warm both hands and souls.
FAQs
Question: What do you put under an outdoor fire pit?
Answer: You can use a fire ring, a pit mat, or a heat shield to protect the concrete beneath your fire pit. The good news is that, unlike a wooden deck, concrete will not catch fire. Concrete is entirely inflammable. The unfortunate thing is that extreme heat causes some concrete materials to expand.
Question: Can you put a propane fire pit on a rug?
Answer: You can place a rug beneath propane fire pits as long as there is a barrier between them. This is best accomplished by laying a wire mesh or metal grate on top of the rug to establish an air gap that prevents close contact with flames and sparks.
Question: Do you need a mat under a fire pit?
Answer: If you're going to put your wood fire pit on a flammable deck (vinyl, wood, PVC, etc.), you'll probably require a fire pit mat under it. A short-base fire bowl or fire pit on the deck can become very hot and melt, damage, or burn the finish.