We moved to an old farm and have renovated four campsites on our property, complete with in-ground and standalone fire pits. Unfortunately, we live in a particularly windy area, and the wind always seems to pick up precisely when I get my fire going. Smoke tries to be my best friend, and I have smoke-induced asthma. Then I visited my dad, who had just purchased a Solo Stove. I was hopeful at his claims of being "smokeless," but he has been known to lie before, so I waited to see.
I was able to spend the whole night in front of the fire pit without any issues. My s'mores tasted better, and my shoes never melted. That's when I decided to head home and get one myself. But which one to choose?
Bottom Line Up Front
For heat, function, and form, go with the Solo Stove. The Tiki Fire Pit is certainly much more appealing aesthetically, but it has a shallow pit and a tapered body which, while increasing the visual appeal, decreases how easily you can fit logs when building a fire.
Main Differences Between Tiki Fire Pit vs Solo Stove
The main differences between the Tiki Fire Pit vs Solo Stove are:
The Solo Stove comes in three sizes, whereas the Tiki Fire pit comes in one.

The Tiki Fire Pit has a shallow base with a tapered cylindrical design, whereas the Solo Stoves are all straightforward cylinders.

The Tiki Fire Pit can only burn wood, whereas the Solo Stoves can burn wood or pellets.
What Makes a Superior Fire Pit?
I have owned every type of fire pit there is, from the in-ground fire pit we built in our backyard, the regular campsite fire pit that we have on the back part of our property directly on the ground, the dome-shaped bowl pits, larger pot-bellied designs, to the smokeless designs.
For each, three things make a superior stove:
How well it holds and disperses heat (we use them to stay warm, after all)

How easy they are to maintain and clean

How well they fit the space
Tiki Fire Pit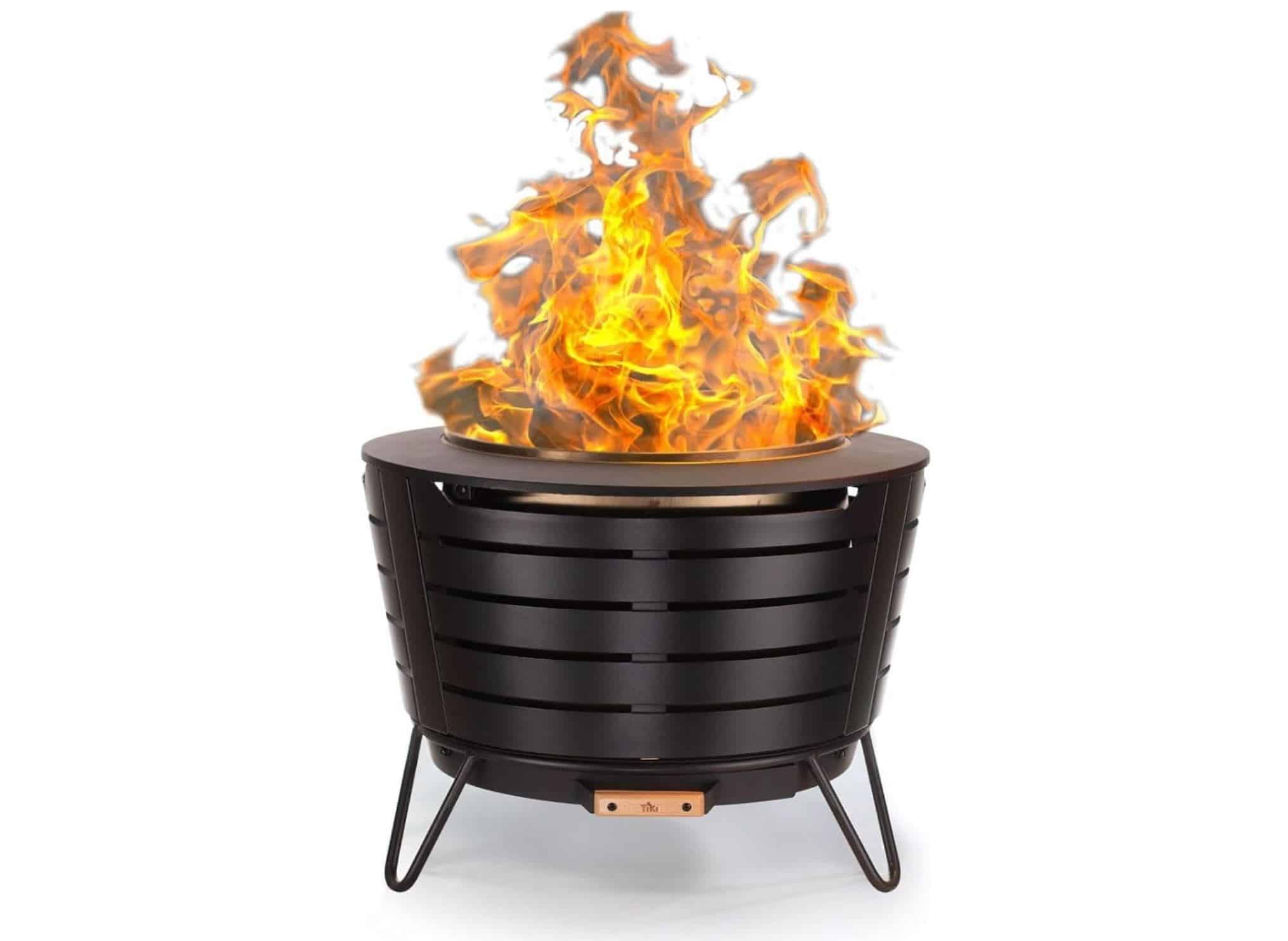 Let's start with the Tiki Fire pit. This model has a cylindrical design that is slightly tapered. It is easily one of the most beautiful designs I've seen for smokeless fire pits. It has a subdued black powder coat finish, but unlike the powder coat finishes of models like Biolite, it won't burn off with use.
Building a fire inside is a little trickier because of that tapered design, and the cylindrical body has a very shallow pit compared to the Solo.
But let me back up a bit.
The Tiki Fire Pit is unique among smokeless fire pits because it can burn regular wood or wood pellets. You can buy wood pellets directly from the manufacturer or use any generic wood pellets you get from a garden or home improvement store.
If you like the tapered design, burning wood pellets might be a better option because you can create a flat layer along the bottom rather than deal with longer logs in the middle and shorter logs around the perimeter.
Who Should Consider the Tiki Fire Pit
The Tiki is a perfect choice if you want a fire pit that's easy to clean with a wide rim and a classic design.
Pros and Cons of Tiki Fire Pit
Pros:
A poker-style tool comes with the fire pit, making it easy to rearrange logs and remove the spark screen once the fire is burning.

The walls are thicker than the Solo Stoves, so you get much more radiant heat moving outward, not just up.

All of the models come with an ash collection plate that you can pull out during cleanup (don't be surprised at how small the ash is; the double combustion process means all the particulates are incredibly small).

If you remove the lid, there's a space for it to hang on the rim of the fire pit, so you don't have to risk setting it down somewhere and leaving a scorch mark.
Cons:
It is a slightly heavier design which means it's better for people who have a designated spot and not people who want to move their stove around throughout the evening.
Solo Stove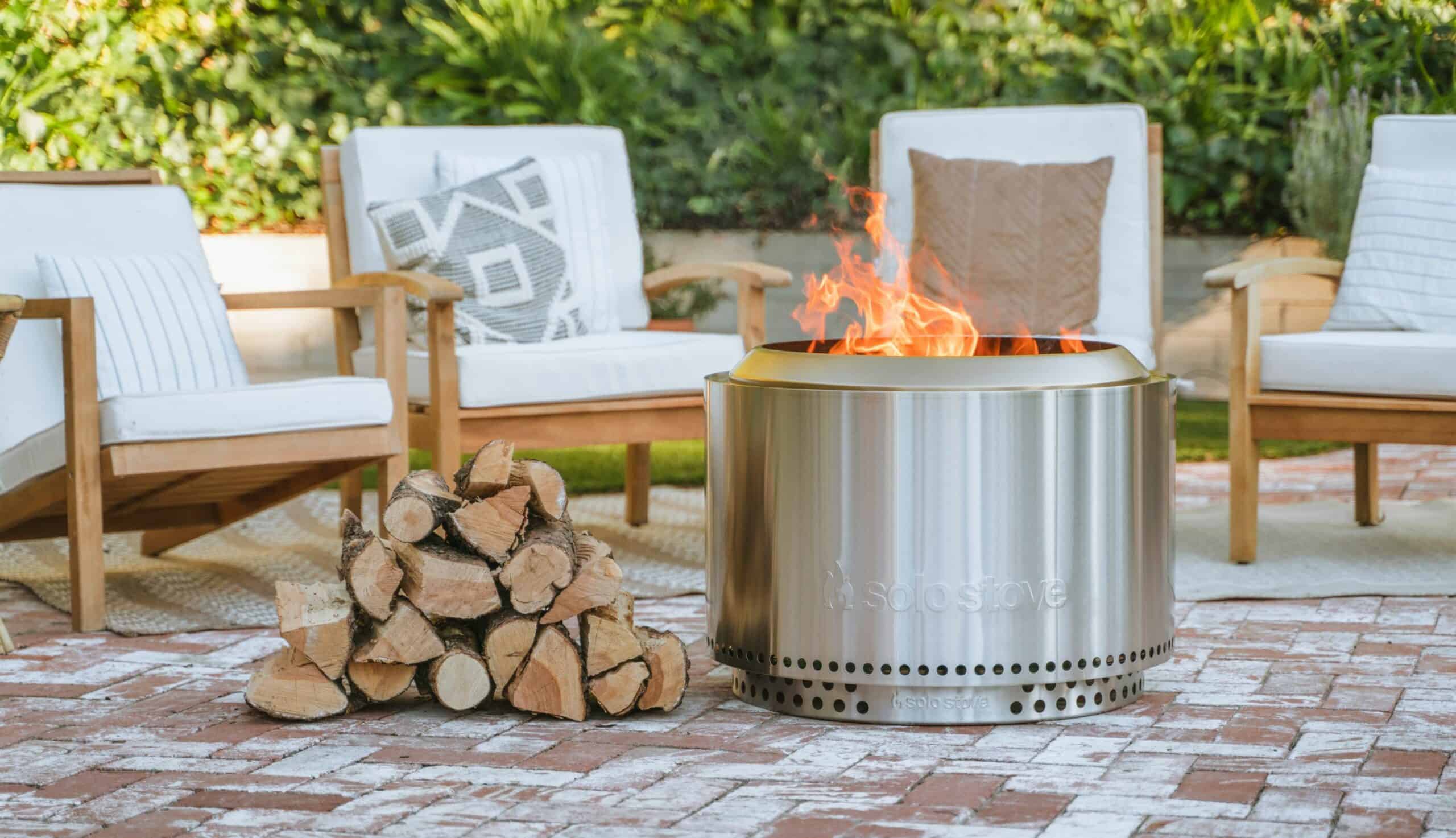 Solo Stove has three models of smokeless fire pits, each of which works the same way and has the same design. The difference between them is the size and capacity. All three burn wood (preferably seasoned hardwood).
Solo Stove has three models:
First is the

Yukon

. This is the biggest fire pit they have, something that is quite heavy and intended for a permanent place in your yard. Don't expect to pack this on your next vacation or bring it to a BBQ at your friend's house.
The biggest drawback to this model is the size and the cost.
The second is the

Bonfire

(the model I have). This is a great choice for smaller social events, bringing to the beach (where permitted) or a friend's house and moving around your yard.
The biggest drawback to this model is it only fits logs up to 16 inches.
Third is the

Ranger

. This is the smallest option. That only weighs 15 pounds. I would recommend this option for car camping or RV camping. It's a bit too heavy to shove in a backpack and hike through the woods with you, but it's the perfect size for vacations or small city balconies.
The biggest drawback to this model is the size; if you thought cutting logs for the Bonfire was tricky, this one is even more so.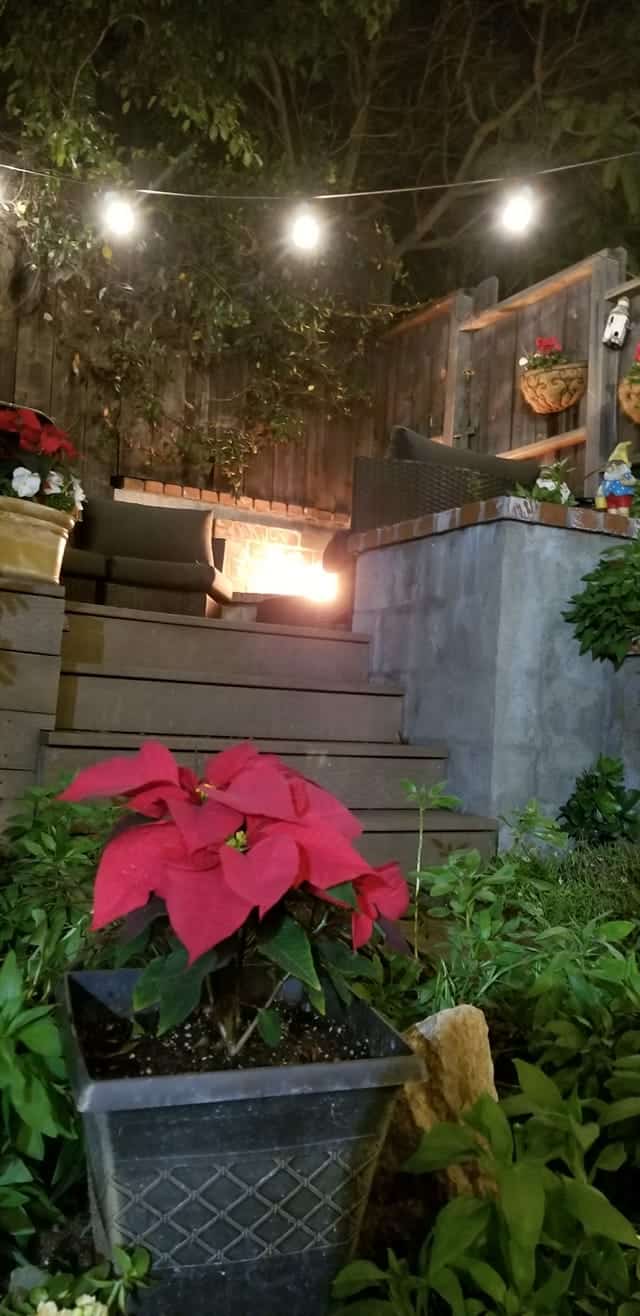 Who Should Consider the Solo Stove
If you want a lightweight fire pit you can store when not in use and then quickly bring out on your patio when the company arrives, the Solo brand is a great fit.
Pros and Cons of Solo Stove
Pros:
Perfect for high fire-risk areas (like California, where I live) if you get the two-piece spark screen.

You can get the removable ash pan and grate; the deck stands for better oxygen.

You can pick from three sizes based on your needs.

You can safely burn in small spaces, decks, or patios without damaging the surface below.

You can reduce up to 80% of smoke compared to an open wood fire

It is easy to load with wood.

The

Bonfire

is lightweight enough to move around your patio or backyard as needed.
Cons:
Without a cover, you can't leave it out in the rain or snow. If you do, the rain will mix with any ash at the bottom and corrode the inside. They sell fabric and metal covers, though, for an additional fee.

You have to clean up the ash from the bottom of the tray–if you forget (and have the ash pan), it will quickly overflow and diminish the effectiveness.

The thinner gauge metal of the walls holds less radiant heat compared to beefier designs like the

Breeo double flame

.

The smoke-reducing design means most of the radiant heat goes up, not out.
Storage for Tiki Fire Pit vs. Solo Stove
Where storage is concerned, you have to be really cognizant of your natural environment. Where I lived in California, we didn't get a lot of rain, so I didn't have to worry as much about rust.
If you live in an area with a lot of moisture, it's better to cover the stove when you're not using it or bring it inside just to extend its lifespan.
My Solo Stove cover has lasted for years without any tears or damage. The Tiki Fire Pit comes with a carrying case/cover, so use it too.
Clean Up for Tiki Fire Pit vs. Solo Stove
The Tiki Fire Pit comes with an integrated ash pan, so all you have to do is sweep all the ash so that it falls into the middle of the pit through the holes. Obviously, wait until everything has cooled down before you do this, and then slide the ash pan out and toss it.
The Solo Stove has an option for the ash pan. If you don't pick it, you'll just have to tip the whole thing over to dump out your ashes. You might have slightly more ashes compared to the Tiki Fire Pit if you burn wood pellets in the Tiki.
Normally I don't deal with this cleanup until the next day, but always make sure you do it the next day.
I forgot to clean out the ash once, and we had an unexpected rainstorm while I was at work. It rained so hard that it filled the basin halfway and left a thick, caustic mess that I had to deal with.
Alternative Products
If neither of these really fit your style or you want something bigger or smaller for specific purposes like camping, I have other options for you:
Biolite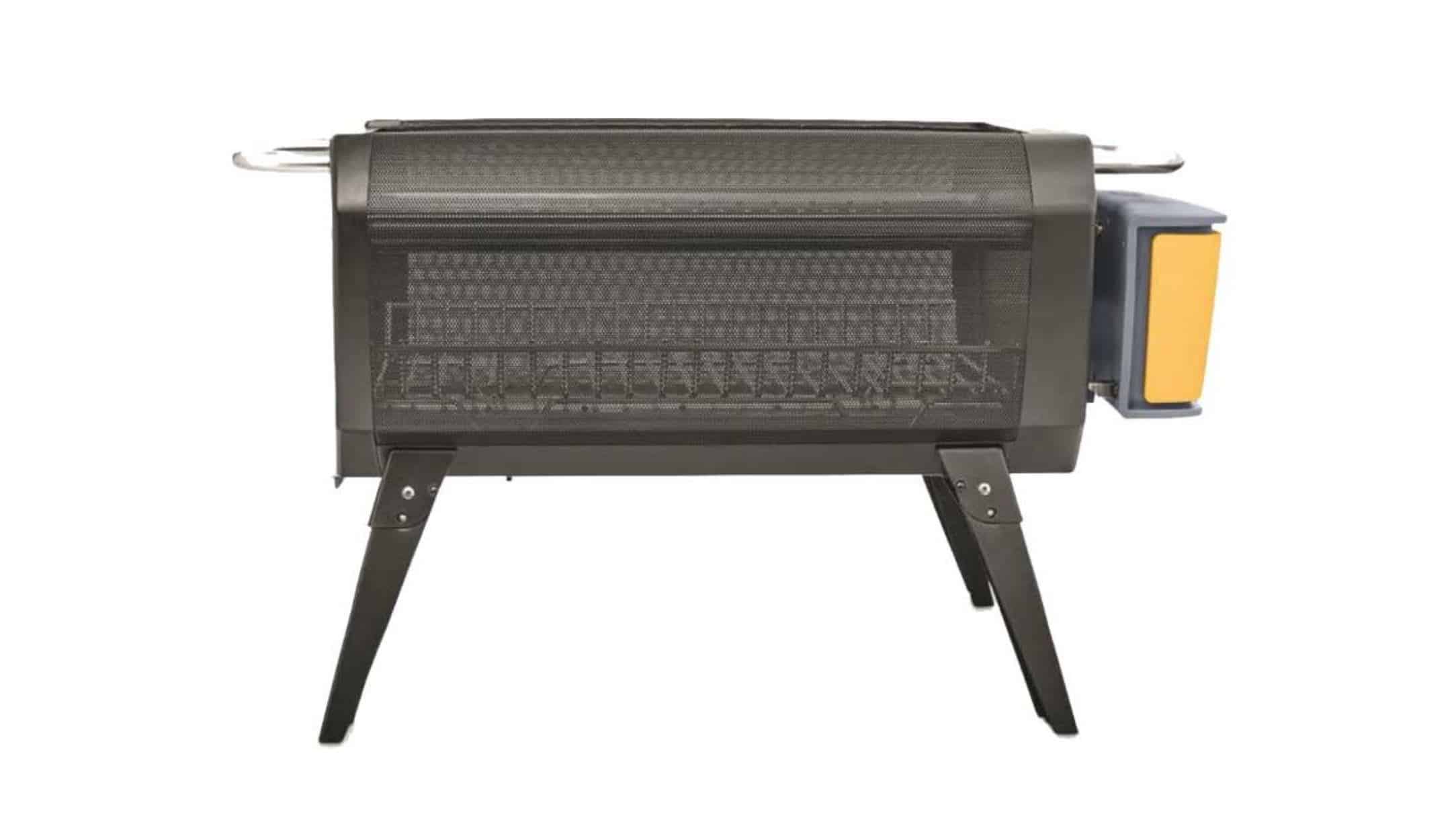 Design: Biolite is a portable, rectangular design that can fit four logs.
Best Feature: It has a fan to modulate the intensity and flames and a grill grate if you want to cook on it.
Worst Feature: Uses a rechargeable USB power pack to function, so if you are going on a long camping trip, bring a charger.
Flame Genie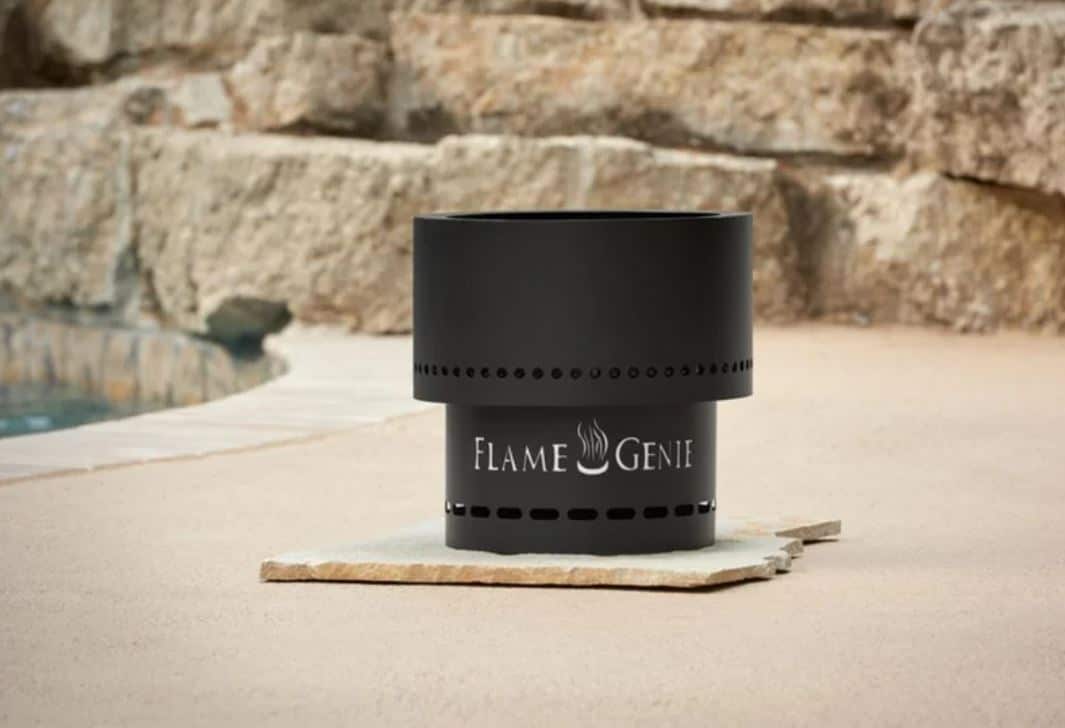 Design: Flame Genie is a short, round design on an even smaller cylinder base.
Best Feature: It uses wood pellets, so you have limited cleanup or spark.
Worst Feature: It is small, so you won't be using it for a permanent setup.
Burly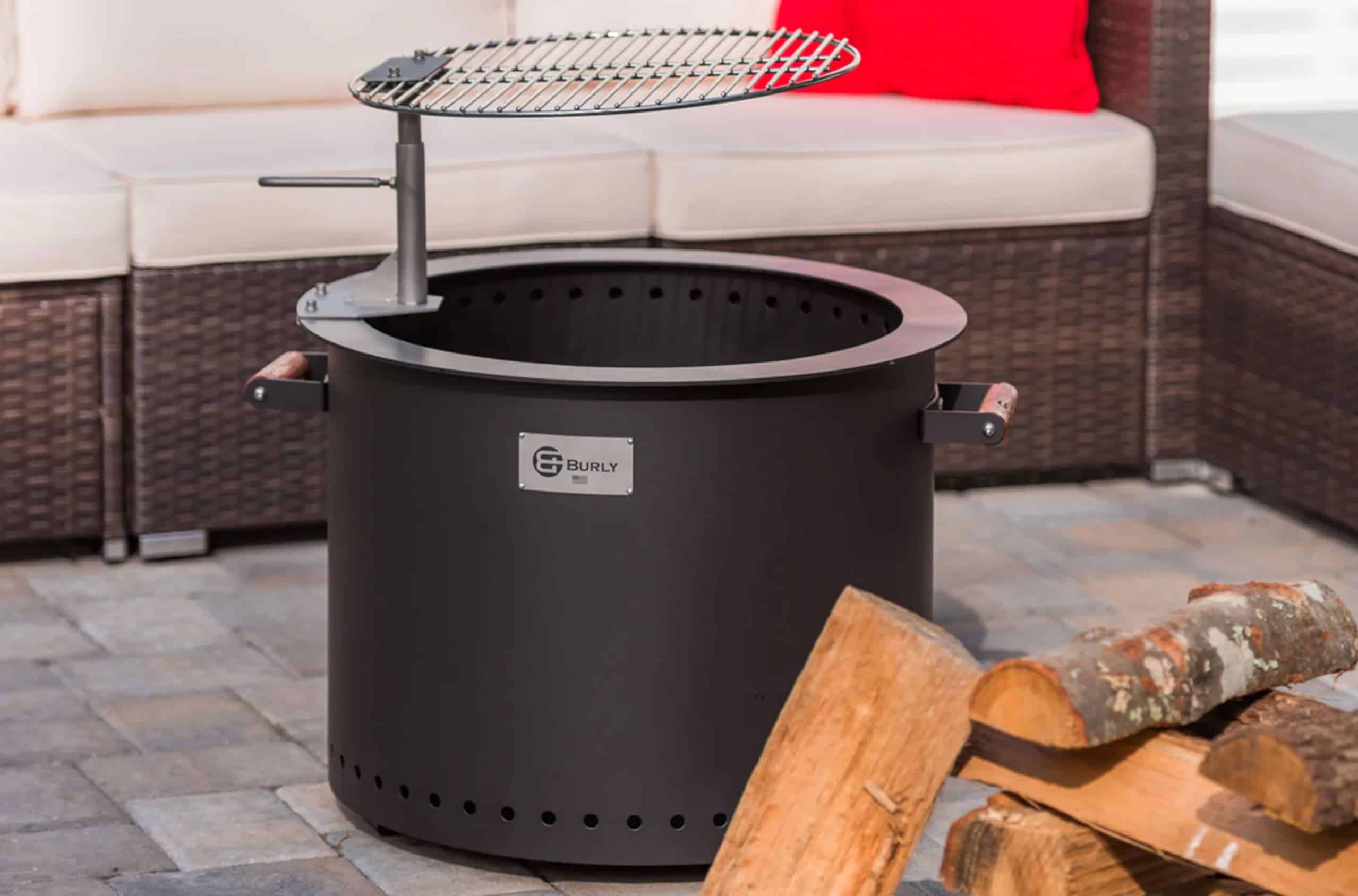 Design: Burly has a solid, contemporary design
Best Feature: This is one of the highest-quality designs on the market, with high-quality steel and hand welding (and the price certainly reflects that fact).
Worst Feature: It has two pieces: the outer cylinder and insert, which just makes it harder to move or clean.
FAQs
Question: What Happens If I Burn Wet or Green Material?

Answer: If you recently trimmed a tree or cut back your bushes and have a lot of green material, you can burn it in the stove quite easily. I get rid of at least half the green material on our property with my fire pit. Just be aware that green material has higher water content, so it'll take a little longer to start the fire, and you might experience more smoke when it first starts burning.
My tip is to burn your fire for at least 30 minutes with aged hardwood, then throw the green material on top.
Question: Am I Able to Cook with the Solo Stove or Tiki Fire Pit?

Answer: I wouldn't recommend it on the Solo Stove unless you buy the dedicated grill set and you have the Yukon model. I've managed to do s'mores over my Bonfire, but if there are more than four people, you risk bumping into one another's marshmallows because of how small the diameter is on the Bonfire.
As for the Tiki Fire Pit, the company manufactures a Fire Pit Griddle, which you can use to cook over your stove. 
Question: Is There Really No Smoke?

Answer: When you first start your fire, you'll have some smoke, but once it starts burning, there is very little smoke especially compared to an outdoor fire pit or regular wood-burning bonfire. You'll be able to have seeding and conversation all around the stove without anyone having to do musical chairs.
Tiki Fire Pit vs Solo Stove: Final Thoughts
Unless the Tiki Fire Pit perfectly matches your yard and outdoor furniture and you're willing to settle on that basis alone, stick with the Solo Stove. The Solo Stove has a body design that is easy to work with when creating a fire and a deeper pit for longer burns.
Read More: Ohuhu vs Solo Stove