The Breeo X-Series smokeless fire pit is more than just a fire pit. It's a new way to cook delicious meals and bring the kitchen outdoors. Made from the same durable material used in the construction of bridges, this all-weather cooking station will provide years of mouth-watering meals and nighttime warmth.
The 24" model seen here features a 5" sear plate across the upper rim that is perfect for cooking chicken, shrimp, steaks, scallops, vegetables, and so much more.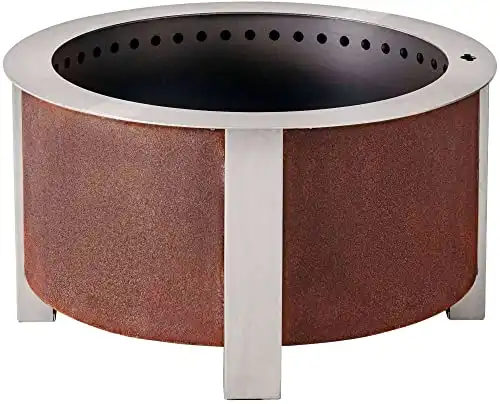 Enough with the steel talk, if you've never seen or heard of a smokeless fire pit before, here's where you need to start taking notes. 'Smokeless' is more of a marketing term here. This fire pit and others like Breeo's Double Flame or the Solo Stove are mostly smokeless under a few conditions:
For one, there will be smoke in the beginning until you can get the fire going and a bed of coals made. Two, you need to be using the right firewood – well-seasoned hardwood is preferred. Using wood that isn't fully dried out or has a higher sap content will make it more difficult to achieve an efficient burn. Lastly, you'll want to keep the burn below the rim of the fire pit so you can achieve the secondary burn if the fire is big enough.
Even when the fire is going strong, these fire pits are… call it 98% smokeless.  My advice to people in the Breeo Facebook Group, which you should join, is to go with the X-Series even if you're on the fence.
At the least, you have the option to cook steaks, scallops, bacon, burgers, and other food later on if you change your mind. Even if you never use the sear plate, the overall build quality is still superior in my opinion.

| Specification | 19″ X-Series | 24″ X-Series |
| --- | --- | --- |
| Inside Diameter | 19″ / 48.3cm | 24″ / 61cm |
| Outside Diameter | 23.5″ / 59.7cm | 29.5″ / 74.9cm |
| Total Height with Feet | 15″ / 38.1cm | 15″ / 38.1cm |
| Material | 304 Stainless/COR-TEN | 304 Stainless/COR-TEN |
| Weight | 56lbs / 25.4kg | 78lbs / 35.4kg |
| Price |   |   |
Features and Benefits of the Breeo X-Series

COR-TEN Steel
The body of this fire pit is composed of primarily COR-TEN steel. Unless you're a structural engineer that specifically works with building bridges, you're probably asking, "What in the heck is COR-TEN steel and why does it matter?"
What is COR-TEN Steel? 
COR-TEN steel is a name brand for what's called "weathering steel," which as I touched on previously is used to build bridges and other large steel structures. This type of steel is meant to develop a stable, rust-like appearance so it does not require paint, but also does not sacrifice strength over long periods of time in the elements.
In the fire pit industry, this rust-like appearance is called a "patina," and is desired for its "RUST-ic" appearance – see what I did there?
Sear Plate
Let's talk about the sear plate. It's a 7 gauge stainless steel plate that wraps around the top of the fire pit. As the fire pit heats up, this ring caves in ever so slightly to pull any grease that may be coming off the food into the fire and away from your feet or guests.
The sear plate is pretty easy to cook on, but there are a couple of tips you'll want to follow that I'll later cover in this video.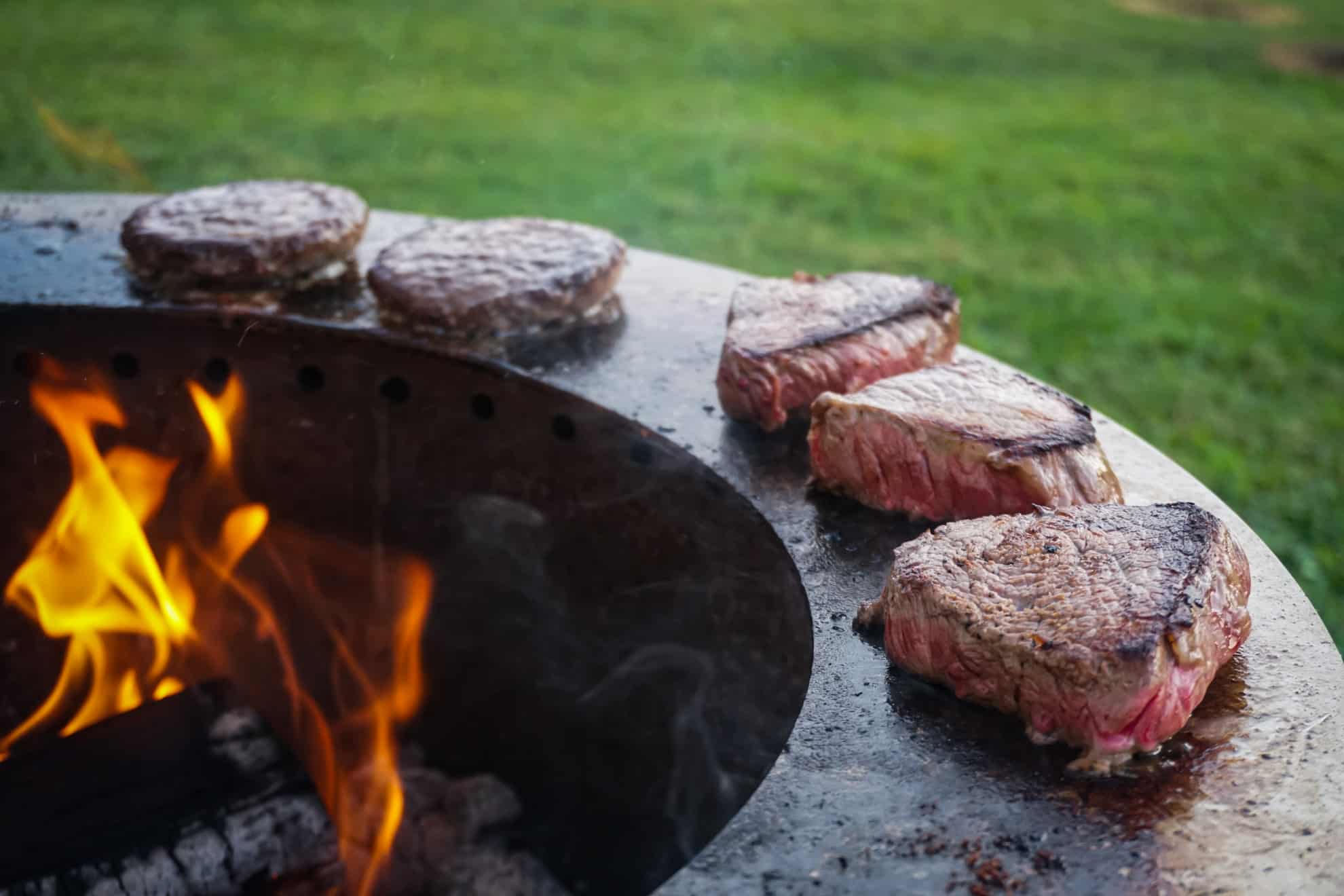 Large Cooking Space
The width of the sear plate measures 5" and by doing some math, you have a total cooking space of about 384 square inches of cooking space, equivalent to a 32" x 12" rectangle of space.
Speaking practically, you have about enough space for 13-15 average-size burger patties. I haven't checked the latest conversion rate for burgers to sirloins, but I can tell you you'll probably have enough space to cook for your family and a few friends.
Naturally Sanitizes Itself
Because of the heat, the surface naturally sanitizes itself and you can clean it as often or as little as you like. Most people end up scraping off whatever remains after they're done cooking. Otherwise, you can use some of this Bar Keeper's friend and a scouring pad to get a deep clean. With a little elbow grease, it doesn't take very long to get the surface looking like new again. 
We recommend Bar Keeper's Friend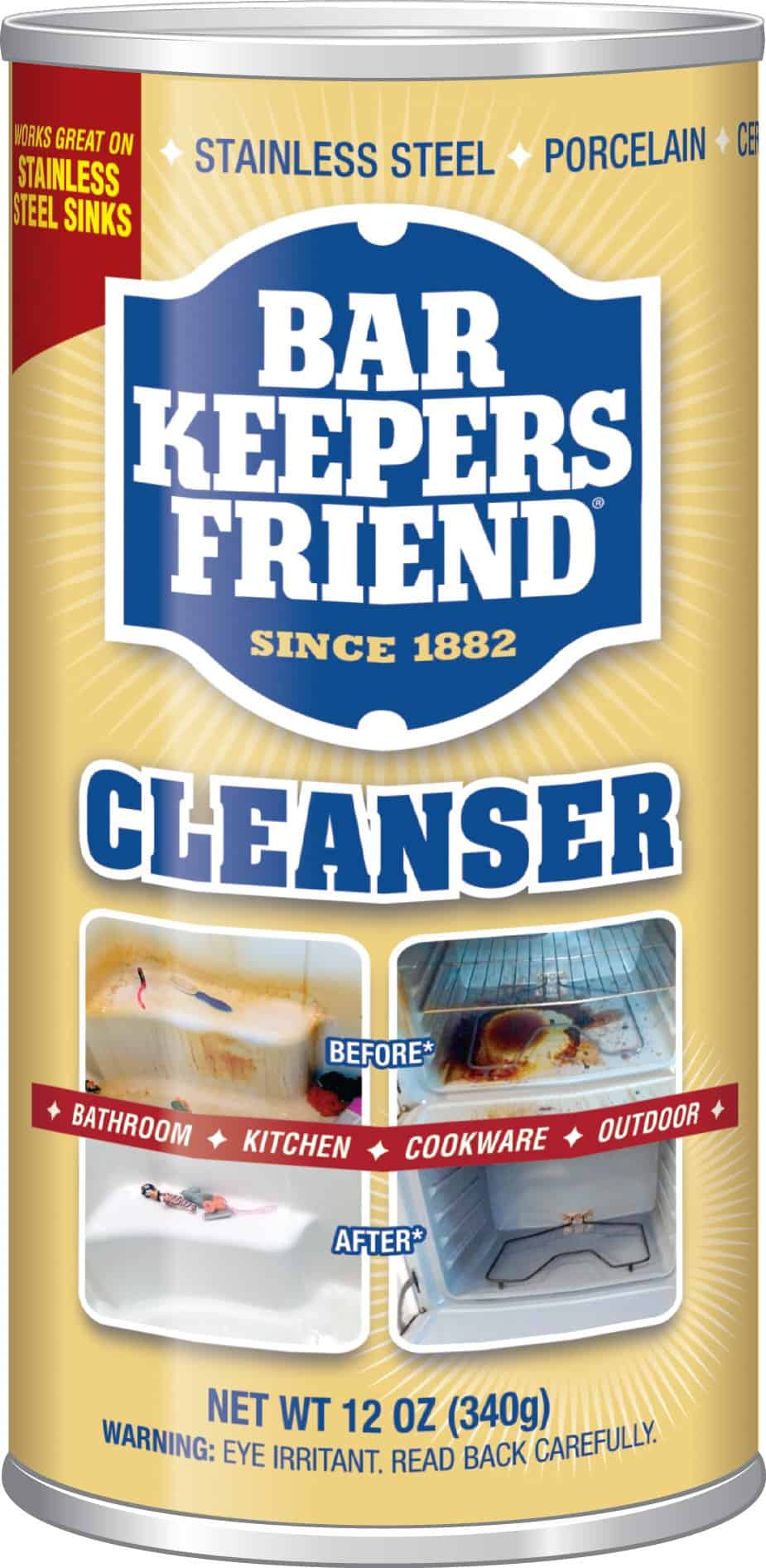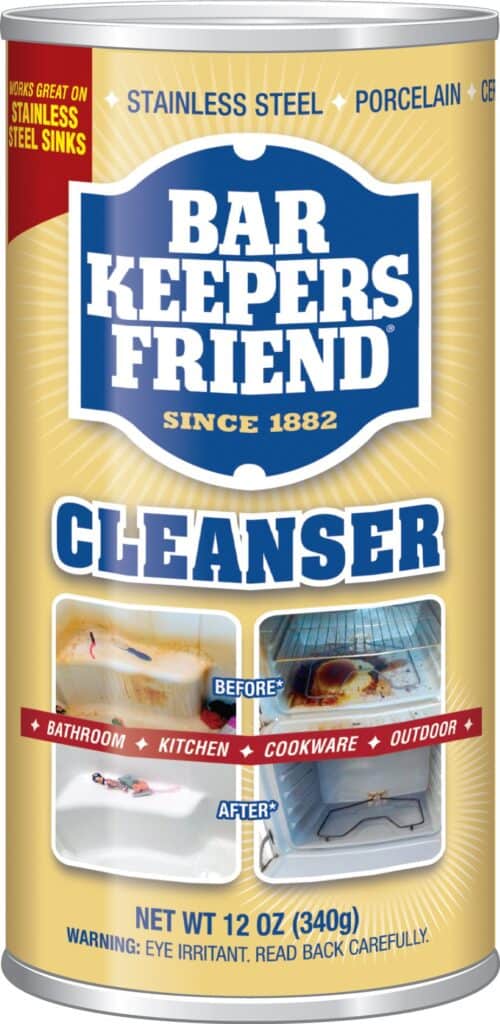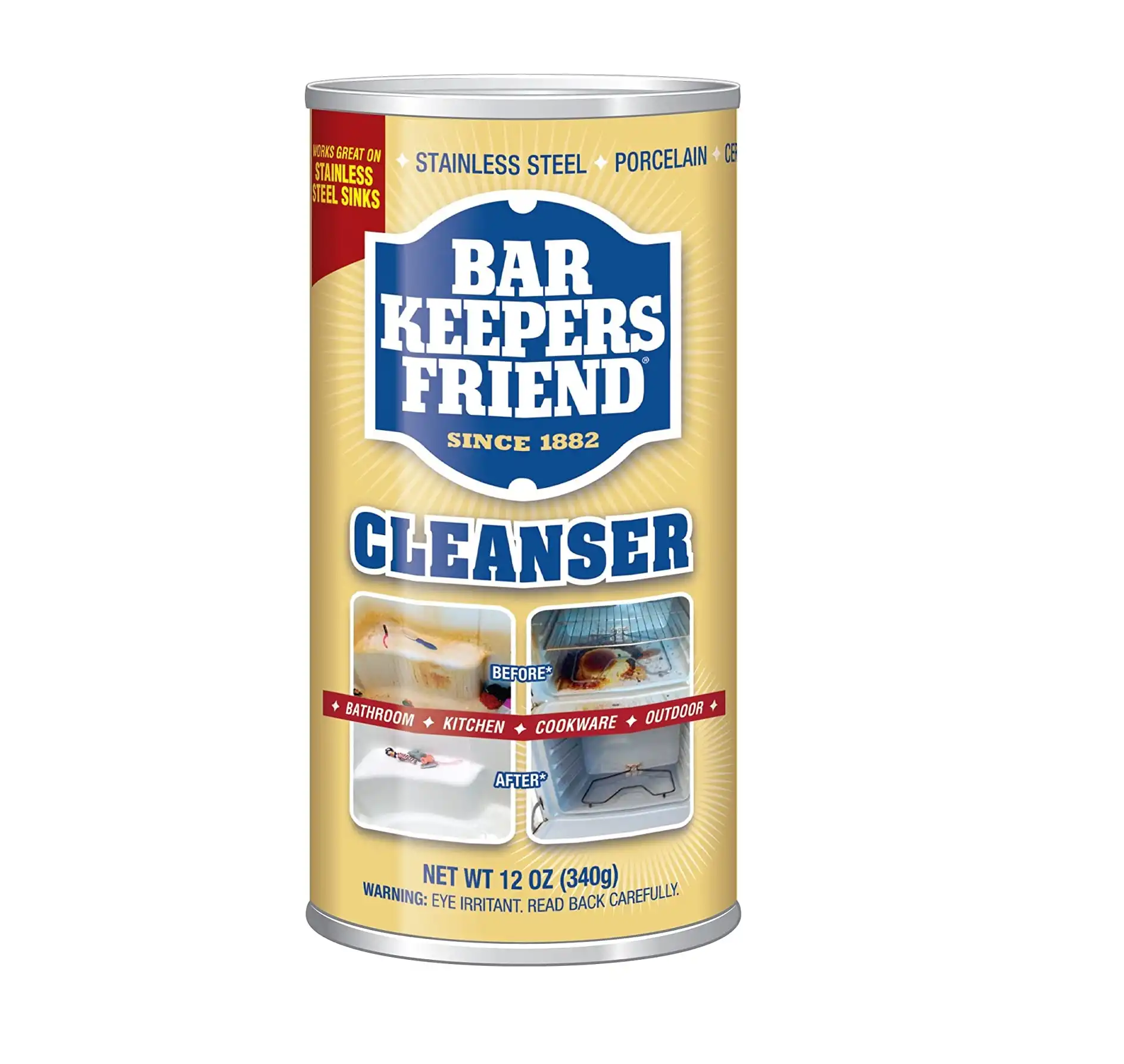 Bar Keeper's Friend Powdered Cleanser | Amazon
As a bleach-free product, Cleanser & Polish is an ideal stainless steel cleaner and can easily remove rust, tarnish, mineral deposits, and tough stains from most surfaces.
Buy at Amazon
We earn a commission if you click this link and make a purchase at no additional cost to you.
09/21/2023 01:33 pm GMT
Outpost System
Secondly, let's look at the outpost system. Breeo sells a separate outpost system in 19" and 24" models. You can use either interchangeably with the X-Series or Double Flame fire pits. The mounting holes are exactly the same.
What the outpost system gives you is additional cooking space to cook more meat, and vegetables, or even hang a kettle of soup over the fire. The system is self-explanatory and the height is adjusted using a screw. The outpost system can become very hot so you'll want to use a pair of welding gloves or high heat-resistant gloves to adjust in the middle of cooking.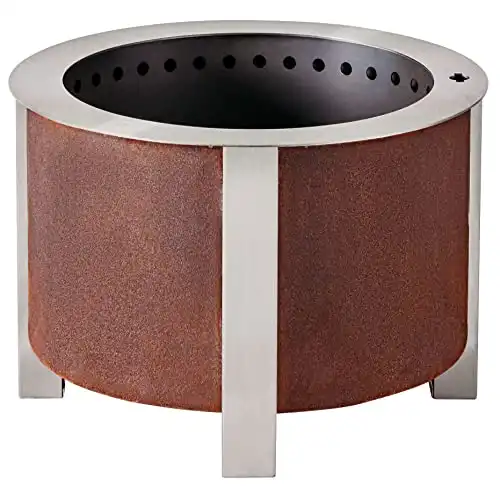 Drawbacks of the Breeo X-Series

May Need to Elevate
With all these great things being said and how much I love the X-Series, it does have its drawbacks. For one, you need to elevate this fire pit from the ground if it will be on grass, a deck, or treated concrete. It gets extremely hot underneath and will also sear the grass beneath it.
CAUTION
Without any protection underneath, the fire pit will char the grass beneath it or cause premature wear and damage to the deck. Based on people's setups in the Breeo Facebook Group, 4 pavers in addition to a heat shield, help to dissipate the heat and protect the surface beneath it.
Learning Curve to Cooking
Secondly, there's a learning curve to cooking. It's not difficult, but it does take 3 or 4 times before you'll figure out how to best cook on it. Sometimes I'll need to rotate the food so equal amounts of heat get distributed or I'll need to add another log closer to that area. There's a little bit of trial and error to it, so don't expect to be Gordon Ramsey within the first couple of weeks.
Easy to Knock Food into the Fire
Third, I wish there was some kind of additional lip to the sear plate to keep from knocking food into the fire. While filming this I managed to accidentally push in about 4 scallops, one burger, and a small handful of sliced onions. Admittedly, I was overconfident and didn't think I needed the cast iron, but I think a small lip on the sear plate could make a huge difference – just my uneducated opinion.
Overall
Overall, it's a great fire pit. Easily the best one I've owned and I don't have any doubt this will last until my kids are entering high school – and I don't even have any kids yet! The sear plate is fun to cook on – really, it's a fun twist to an otherwise routine task of cooking dinner. Not to mention, the fire pit in itself is still impressive even if you're not cooking on it for the night.
Compared to the Solo Stove's largest model, the Yukon, it's a no-brainer. Even if you ignore the sear plate on the Breeo, the build quality is all around better in my opinion – just look at the weight alone. The Breeo doesn't need a cover and it develops an attractive patina over time.
The Breeo is manufactured in Pennsylvania, while the Solo Stove is made in China. I work for an American manufacturing company, so the fact the Breeo is made in America is a big plus for me.
However, I encourage you to do your own research. Watch other people's videos, check out the manufacturer's websites, and join the Facebook groups to ask more questions. I try to cover everything I can here and be as unbiased as possible. Doing more research can only help you figure out which is best for you.
Tips for Cooking Over the Fire
Here are some tips for cooking over the fire. If you want to see a complete list with links to recommended products, I have compiled a lengthy fire pit accessories list of 40-something items you'd want for your bonfire in the link in the description.
Start the Fire Early
You want a base of coals that produces an even and consistent amount of heat to cook over. When the fire is going early on, the flames tend to fluctuate and it's difficult to evenly cook food.
Use a Good Hardwood
I've written an article on this as well, but in short, you want to use a well-seasoned hardwood like white oak. Hardwoods burn hotter, longer, and produce less smoke than softwoods. Softwoods do not burn as long and can produce more smoke that can mess with the food's flavor. This is not the smoky flavor you want.
Get a Cast Iron
Whether you're cooking on the sear plate or over the fire with the outpost system, it's a little tricky at first. It's easy to knock things into the fire or have uneven heat. Cast irons take a little longer to heat up, but they'll help to even out the fluctuations and temperature and make it easier to cook the food.
Use Tongs, Not a Spatula
Tongs allow you to grab the food instead of trying to slide under it. Plus, you get to test them out right before you use them every time. 
We Recommend High-Heat Silicone Tongs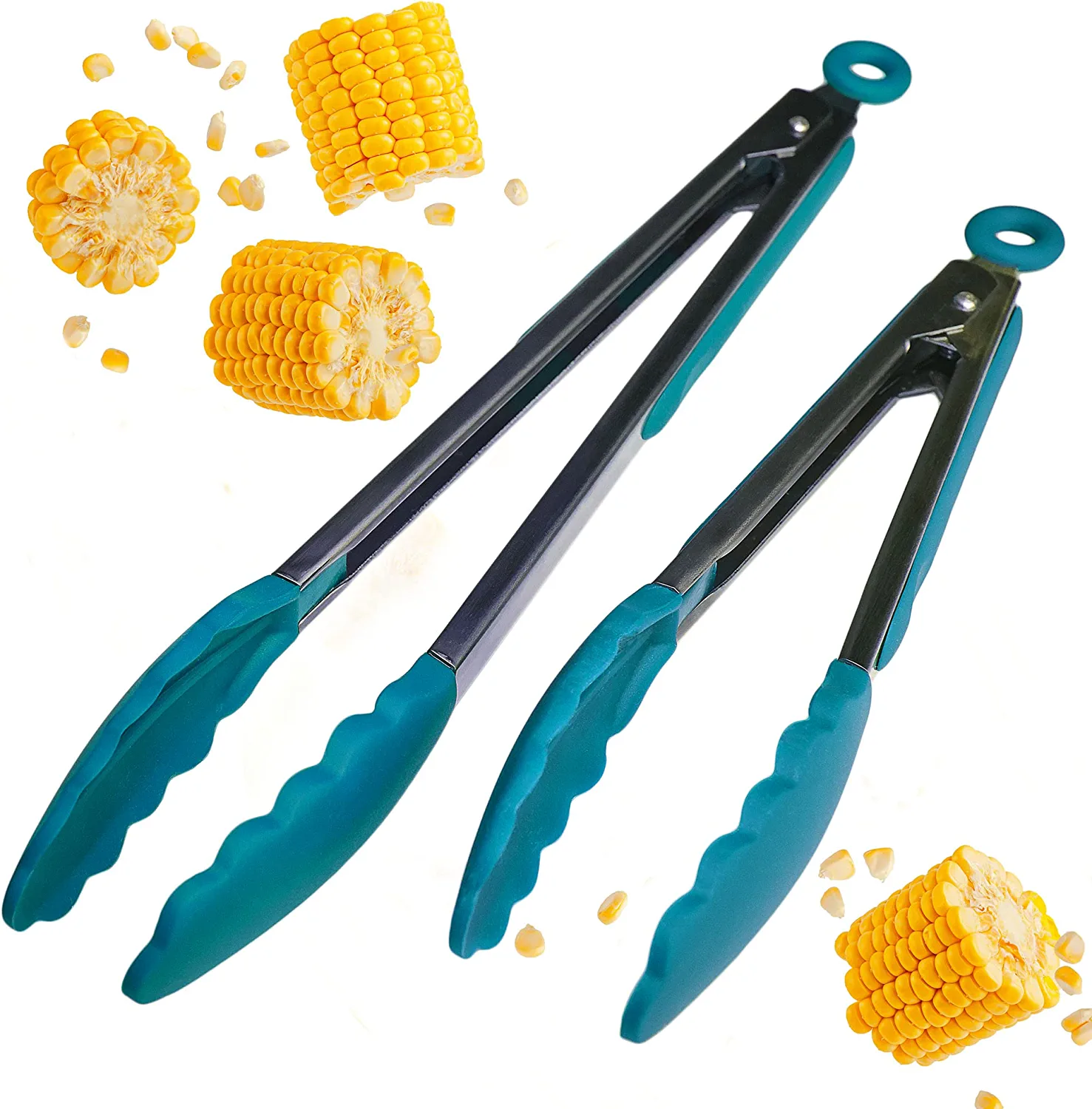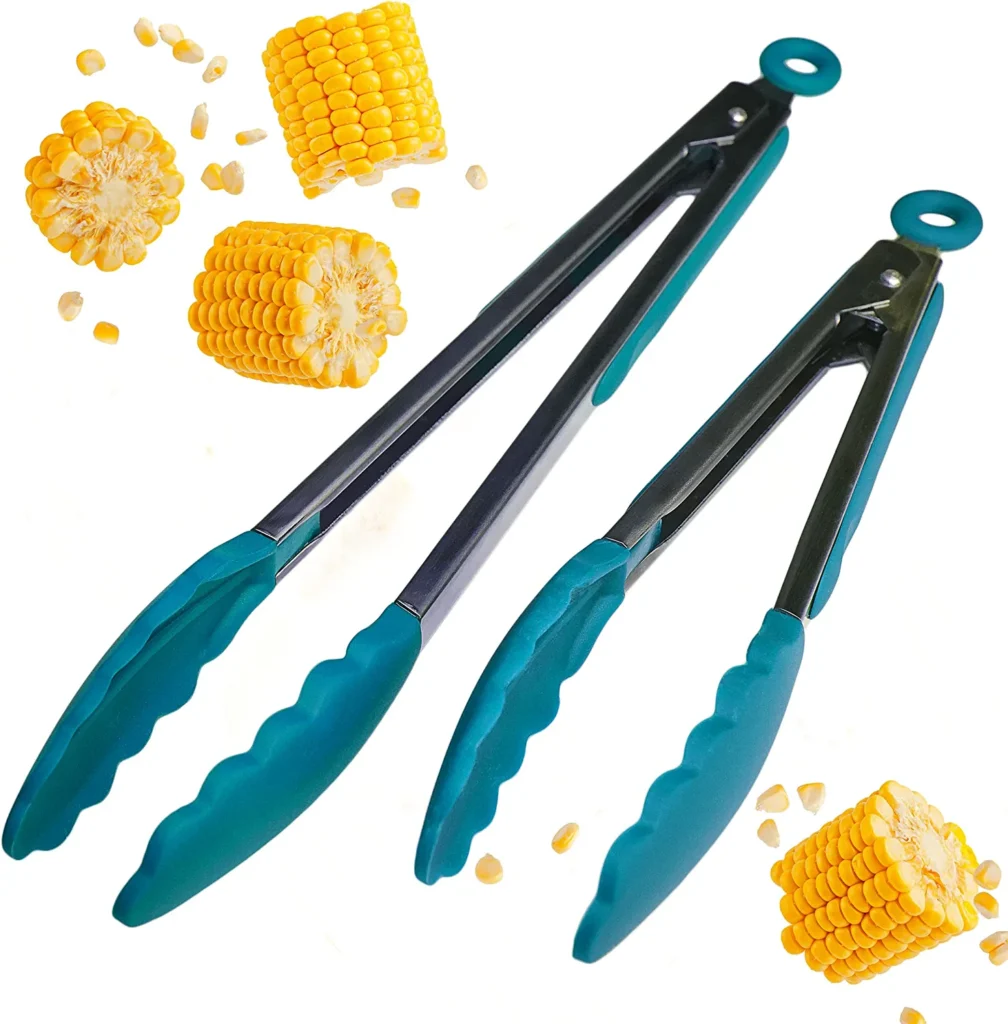 Prepare Food Ahead of Time
Prepare all the food BEFORE bringing it outside and have a small table handy. You do not want to be running back inside for a plate when the burgers are just the right amount of done. Get all the food laid out before bringing it outside and be ready to take it off of the fire. It helps to line some baking sheets with tin foil and have a few extra plates handy.
Buy Extra Food
Accidents are inevitable. You're going to knock a few things into the fire by accident at first, so pick up a few extra of whatever you're cooking at the store. If you don't knock anything in, then great, you have something for lunch tomorrow.
Keep the Fire Pit Clean
Clean the fire pit out each time before you use it. Getting rid of all of the previous burn's ashes helps to create better airflow for the next fire. I use a shop vac with my woodworking dust collector attachment.
Feed the Fire Oxygen
If you're struggling to get the fire going or the wood doesn't want to catch, use a leaf blower or air inflator to feed oxygen into the fire.
Breeo X-Series vs Solo Stove Yukon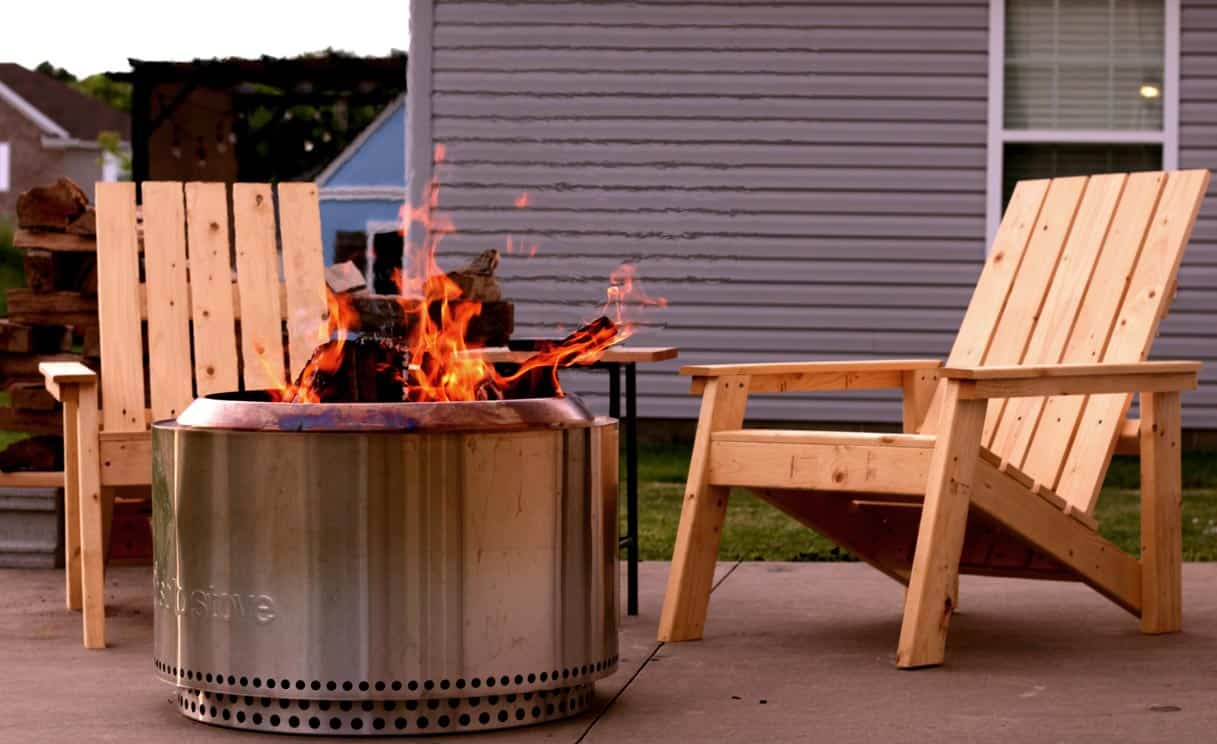 | Technical Detail | 24″ X-Series | 27″ Yukon |
| --- | --- | --- |
| Height / Diameter | 15″ (38.1cm) / 29.5″ (74.9cm) | 16″ (40.6cm) / 27″ (68.6cm) |
| Material | 304 Stainless / COR-TEN | 304 Stainless |
| Weight | 78lbs / 35.4kg | 38lbs / 17.2kg |
| Price |   |   |
| Enter your text here… | United States of America | China |
Breeo X-Series vs Breeo Double Flame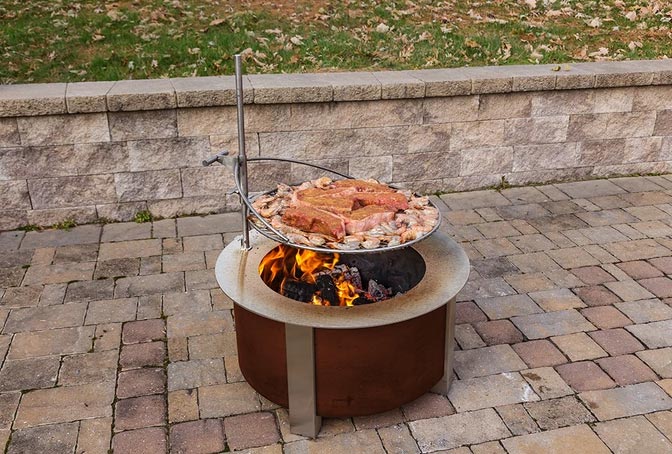 | Technical Detail | 19″ X-Series | 19″ Double Flame |
| --- | --- | --- |
| Height / Diameter | 15″ (38.1cm) / 23.5″ (59.7cm) | 16″ (40.6cm) / 22″ (55.9cm) |
| Material | 304 Stainless / COR-TEN | 304 Stainless |
| Weight | 56lbs / 25.4kg | 48lbs / 21.8kg |
| Price |   |   |
| Enter your text here… | United States of America | United States of America |
Read More: