There is something profoundly meditative about relaxing in front of a fire, especially a fire outdoors. After a long day of hiking, working on the farm, or just being stuck in the office, I love nothing more than building a bonfire and tucking into my adult beverage.
Where I lived in California, I only had a wrap-around porch and no place for an in-ground fire pit. I also had to be very careful about fire safety so that a single spark didn't cause the next wildfire. That's when I started looking into small campfire stoves. I bought the Solo Stove Bonfire and have never looked back.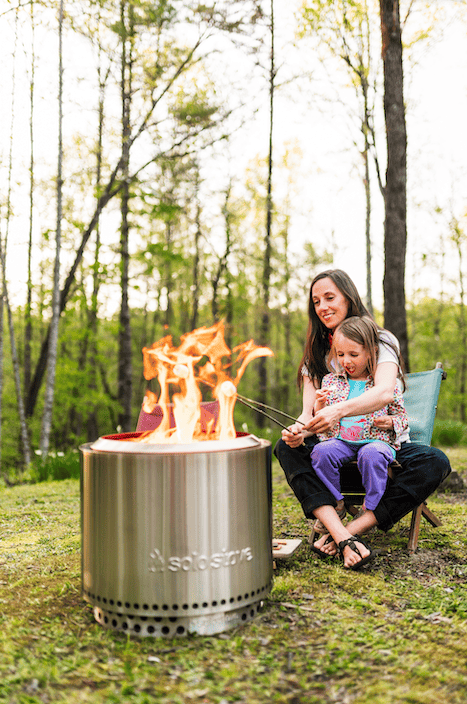 Bottom Line Up Front
If you want something you can take camping, then settle for the Ranger; otherwise, stick with the better investment of the two: the Bonfire. It isn't significantly larger than the Ranger, but it works noticeably better and will fit any home, yard, or patio.
What Makes a Superior Fire Pit?
As someone who has owned almost a dozen different fire pits and smokeless bonfire products, what makes a superior fire pit is:
How well it works (and keeps me warm without melting my shoes in place)
How easily it gets going and stays going (I don't want to babysit the fire if I am trying to socialize too)
And how long it lasts
How the Solo Smokeless Designs Work
Both models are designed to improve airflow, bringing more oxygen directly into the center by way of vents in the bottom. This creates a more efficient burn and burns what would otherwise be emitted as smoke. You get less smoke and a much hotter, cleaner burn.
Bonfire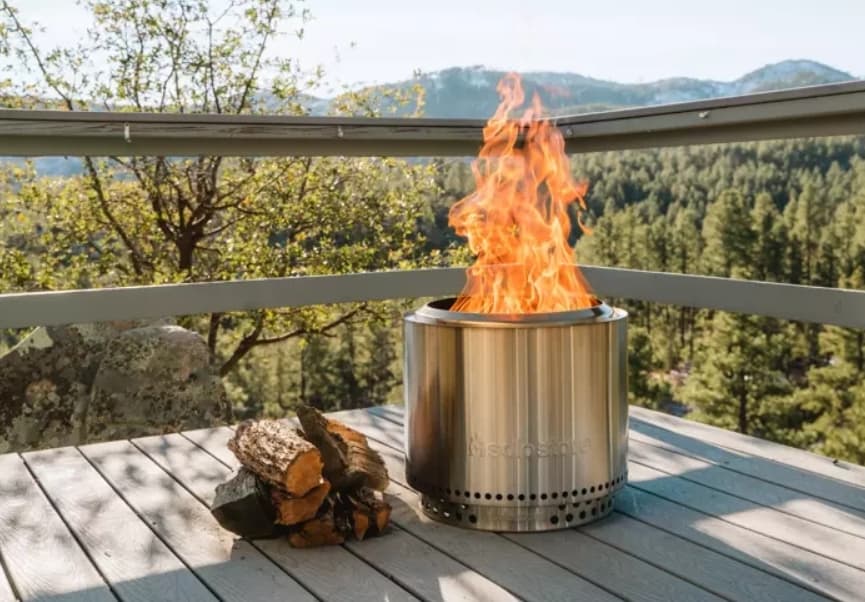 For starters, the Bonfire lasts at least 6 years. That's how long I've had mine; it works exactly the same as the day I bought it. It has never once melted my shoes, and I don't have to babysit it.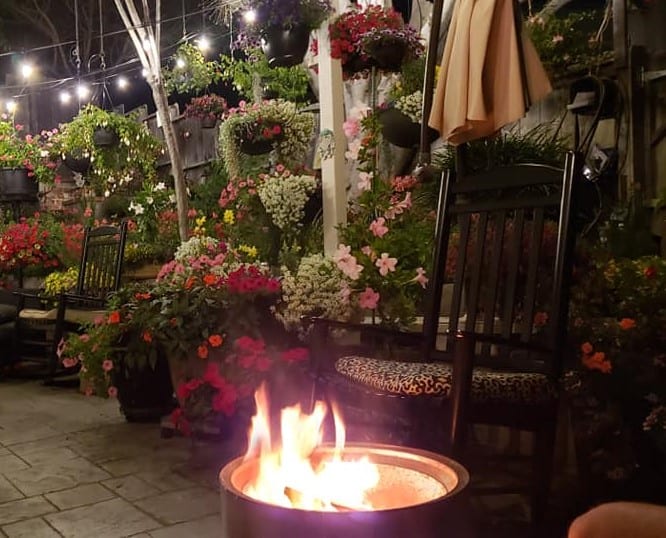 But let's take a closer look.
The Solo Stove Bonfire has two iterations:
Bonfire 1.0
Bonfire 2.0
These two function exactly the same, are the same size, and have identical designs save for one item: the removable ash insert.
Removable Ash Insert
The Bonfire 2.0 comes with a removable ash insert that sits at the base of the stove and catches all your ash. When you are ready to clean up:
You remove the ring.
Take out the base plate–make sure it is cool!
Remove the ash insert and dispose of the ashes.
I have the original Bonfire 1.0, so I don't have this feature. Originally I used a small scoop from my indoor fireplace to get rid of the ash, but after a particularly large bonfire, I tend to wrap a trash bag over the top and flip the stove upside down to empty the ashes.
Tip: If you are on the fence between these two, the only difference is the ash insert, so if you live in a place where you can't just dump the ashes in your backyard or you don't want to flip the stove upside down every time it's full, Bonfire 2.0 is a better deal. Otherwise, there's no reason to spend the extra money, and you can get by with Bonfire 1.0 for years. 
Pros and Cons of the Solo Stove Bonfire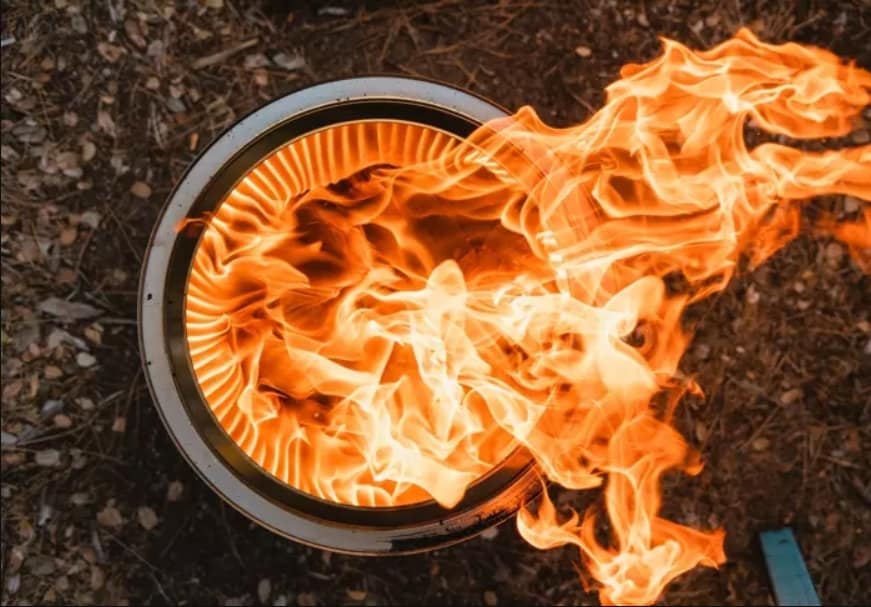 Pros
The base does not get hot, so you won't melt your shoes while sitting around it.
The compact size and weight make it easy to move around a patio or porch (before you get the fire going) to accommodate multiple seating arrangements.
Comes with a deck heat ring that you place underneath the stove to safely burn on a wood deck, patio, or porch.
Cons
You can't fit pieces more than 16 inches. If you order bulk wood deliveries or fell trees on your property like I do, invest in a reciprocating saw to cut things down to size. It's much easier than a pair of cutters and safer than a chainsaw.

Ranger
This self-contained fire pit is great for camping because you can just pick up wood and small debris from the trail and burn it. It also won't leave a huge mess behind, which is ideal for campsites with strict cleanup.
This is the smallest model, with a base and a ring that goes on top to redirect flames away from you and into the center. As it is the smallest design, you won't be able to fit large pieces of wood, and you won't really be able to use the log house or teepee method.
However, you won't need to since it has all those air holes at the bottom, top, and inside. Lighting your bonfire is easy with store-bought materials or homemade materials.
Tip: I like to collect dryer lint and egg carton cardboard and then wipe up grease or oil with paper towels which I set aside for later. These make egg-cenellent fire starters, as do cotton balls filled with vaseline. 
Pros and Cons of the Solo Stove Ranger
Pros
It comes with a carrying case because it is designed to be portable. Just cinch it up in the tote bag.
You can't have fire pits that leave damage or open flames in many campsites, and the Ranger is neither, which means you can take it to many places where other fires aren't allowed.
Cons
It is the smallest of the three smokeless models offered by Solo, but it isn't small enough to pack in a hiking pack, nor is it big enough to use with company.
Base and Ash Insert
Be sure to invest in the package with the base/stand. The stand increases airflow and keeps the ground safe. It is available for all three models but is especially important if you plan on taking the Ranger with you on vacation.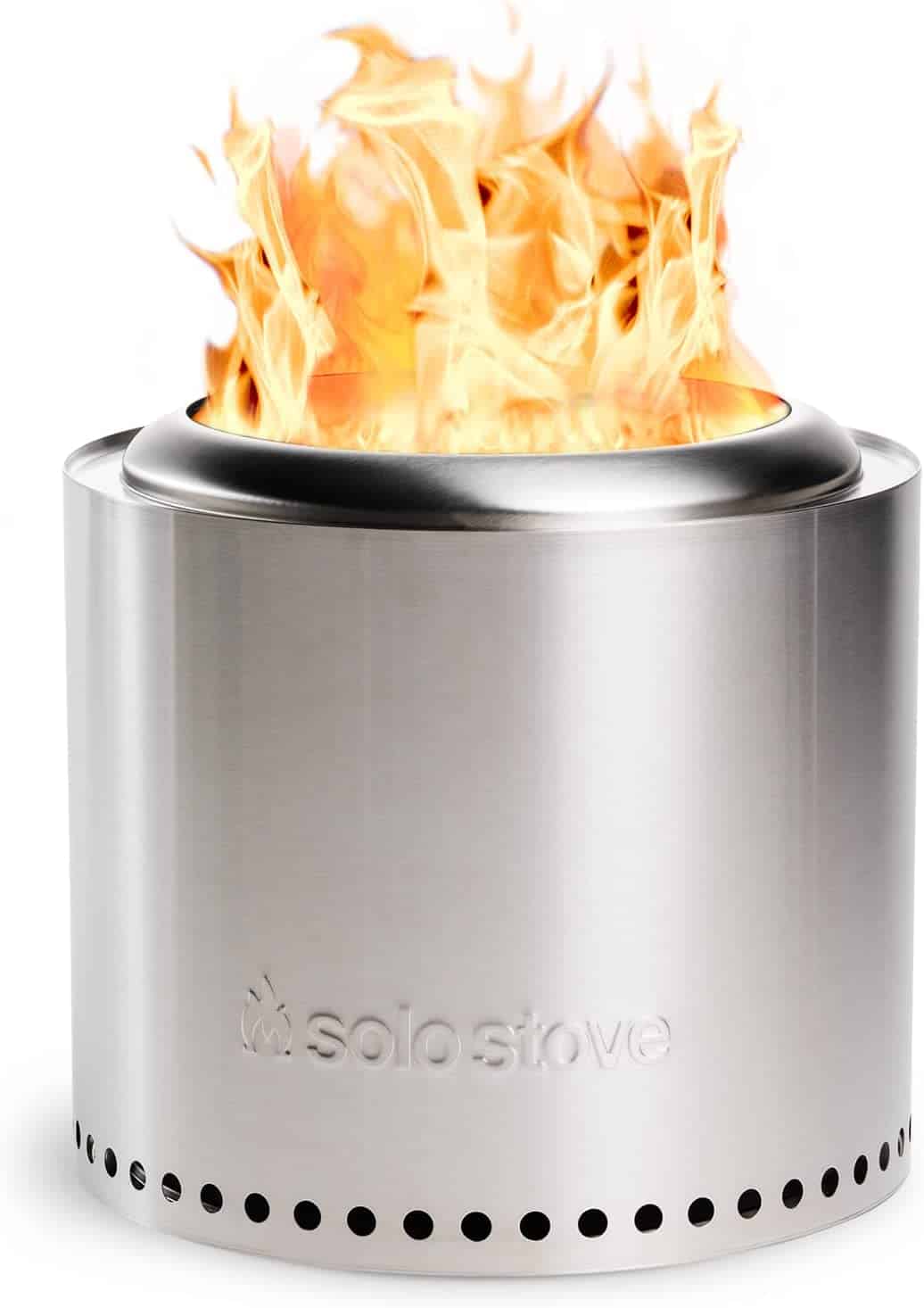 Similarly, you will pretty much need to invest in the ash insert if you plan on taking this with you on the road because you don't want to leave a mess behind and have to flip it upside down into a garbage bag while taking down your tent.
Accessories
The accessory options are exactly the same for both models. Namely, you can buy a stand to go on the base, a cover, and/or a spark guard.
The Solo Stoves use 304 stainless steel but not for the entire stove. For that reason, the company actually says not to leave it outside, exposed to the elements full time. The cover can help you extend the lifespan.
Alternatives
Not sold on Solo Stove? I have a few other options you can look at (before you come back around and decide on the Solo Stove):
| | | | | |
| --- | --- | --- | --- | --- |
| Model | Biggest Downside | Smoke/Heat | Material | Air Flow Designs |
| Solo Stove | Accessories are extra | Smoke free/Very hot once it starts burning | 304 Stainless Steel (not for the entire unit) | Air holes at the bottom to bring in air |
| Breeo | Very heavy (about 50 pounds) | Smoke free/Very hot once it starts burning (can be used for outdoor grilling) | 304 Stainless Steel (the entire unit) | Integrated stand with vent ports in the bottom |
| Craftsman | No accessories so you have to be careful of sparks and can't cook on it | Reduces smoke by up to 70%/Very warm once it starts burning | 304 Stainless Steel | Air vents at the pit base |
| Biolite | Smaller sizes and the black finish can't be left outside | Burns pellets, so you get a longer, cleaner burn/Very hot once you light it | Stainless steel (some options have a powder-coat) | Gravitational afterburner which brings in air at the middle |
| Stand up bowl designs | Only last about 1 season; weather will cause rust immediately | Makes lots of smoke/Not very warm unless you are close to the flames | Different steel, which are often poorer quality | Air flow from the top of the bowl, which is prone to wind and elements |
FAQ
Question: How Much Wood Do I Need?
Answer: It's up to you to decide how long you want your fire to go, but in my experience, it takes about 10 minutes for the fire to get hot enough that I can add full-size logs to the Bonfire, and then I fill the chamber to capacity and let it burn for about 2 hours before I have to add anything else. so I can sit outside and enjoy dinner or drinks with friends and family for a few hours without having to add more wood.
The Ranger is smaller, so it lights faster, but it also burns through in about 1.5 hours if you fill it to capacity.
Question: Can You Use a Solo Stove on a Deck?
Answer: Yes, you can, but it's better to use the deck stand accessory. This is included in most packages, and if it's not part of yours, you can order it separately. It fits neatly underneath and increases airflow without damaging the surface below.
Question: What Can I Burn in a Solo Stove?
Answer: Dry, well-seasoned firewood is ideal for any outdoor fire pit. if you don't have dry wood, it will hiss and smoke more. You can use plenty of materials to start your fire, such as fire starter sticks, paper, cardboard, or kindling. It's better to stay away from things like newspapers that have plastic textures or a lot of ink because these can generate harmful pollutants.
Solo Stove Ranger vs Bonfire: Final Thoughts
While there are a lot of smokeless wood-burning fire pits, the Solo Stove Bonfire is great for the quality and the features that come with it. I've had mine for years, and it has never ceased to be the center of our socializing.
Read More: Hotshot vs Solo Stove