The most considerable concern most people have with putting a fire pit directly on their grass is whether it will cause damage or catch the grass on fire. Rest assured, there are plenty of solutions to protect your lawn and have a safe backyard fire going at the same time. A little bit of prep work will go a long way. 
Safely Using a Fire Pit on Grass
First and foremost, before using any of the alternatives below, you need to follow proper safety when using your fire pit. Location, location, location! Be sure to check the ordinances or laws in place for your city or town. Some areas are stricter on open fires than others. Also, be sure to the guidelines in your HOA as they may also have provisions in place. 
Keep your fire pit, at minimum, 20 to 30 feet away from your home, shed, or any other structure. 

There should be no overhanging branches, fences, or other structures within 20-30 feet that could catch fire. 

Never operate a fire pit beneath a building overhang or in a partially enclosed space.

Never operate a fire pit during a drought.
In other words, anything you wouldn't want catching on fire, or any flammable material should be kept a safe distance from the fire pit. Don't forget to account for embers or sparks that can jump from the fire. Using a spark screen is highly recommended.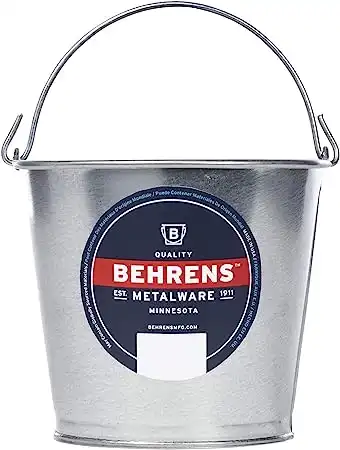 Behrens Galvanized Steel Utility Pail | Amazon
Built with the highest quality material, this utility pail is durable, made to last, and comes in both galvanized and hot dipped galvanized steel.
Buy at Amazon
We earn a commission if you click this link and make a purchase at no additional cost to you.
06/05/2023 01:31 am GMT
How to Protect Your Grass from a Fire Pit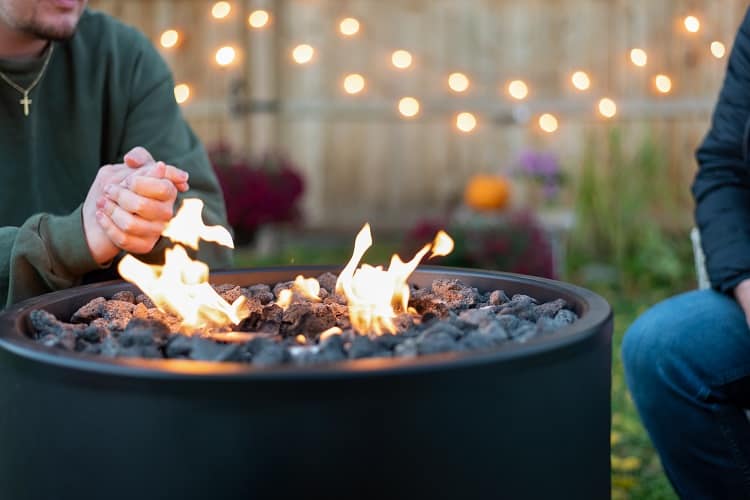 The problem with using a fire pit directly in your yard is the heat stress that occurs underneath and around the fire. The grass can become dry, brittle, and suffocated if the fire pit is left on it for extended periods. To keep your lawn and the area surrounding it looking nice, you'll need to do one of two things: replace the grass underneath or elevate your fire pit. 
Replace the Grass Underneath
You'll want to consider the fire pit, a semi-permanent structure of your backyard. Odds are you won't be moving it too much and it will become a centerpiece for your backyard escape. So instead of having dead grass, consider replacing it and the grass around it with concrete pavers, decorative rock, gravel, or stone.
You can get this done on the cheap side for less than $20 and have a nice looking, and more importantly, safe, setup.
Your local home improvement store has plenty of different shapes, colors, and stone designs to choose from. The only thing you'll want to do is clear the area of grass and dirt, set some paver's sand (or regular sand), and level out your stones once you have them all in place. 
This is an easy DIY project and can be completed in just a few hours so you can sit by the fire by the time the sun is setting. 
Elevate Your Fire Pit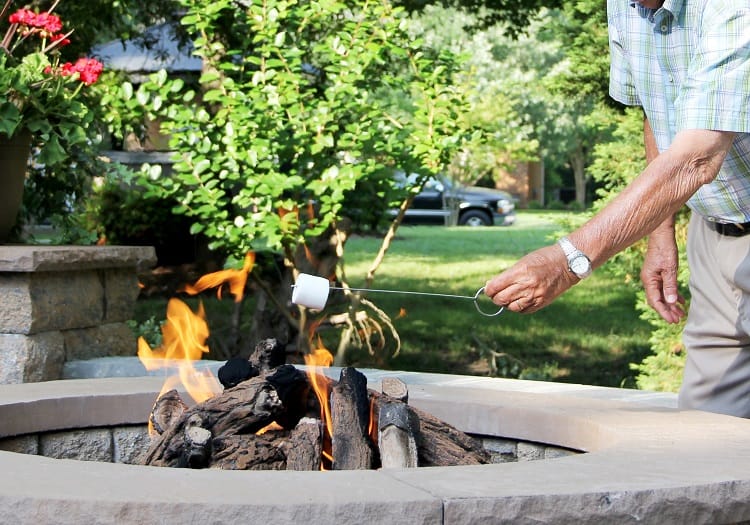 A more straightforward, but sometimes more expensive option is to elevate your fire pit with a universal base. A steel base will raise your fire pit off the ground to protect your grass from heat and allow air to flow through even when in use. 
Some fire pits are exclusively designed this way, while others have a stand that is separate from the bowl itself. Keep in mind, these fire pits have a higher likelihood of being knocked over, so it's best to only use one of these if you don't have kids, pets, or wild animals nearby (what's the difference between the 3 anyway?).
Additionally, you can still build a stone base around the elevated fire pit and surround it with rocks or pavers. This helps to reduce the risk of fire if your pit tips over or sparks jump from the logs. 
Other Options
If using your fire pit on grass is only temporary, you may also consider purchasing a rubber heat mat that goes under the fire pit. These mats are more commonly used to protect decks or patios, but they may also be used to protect your grass from heat stress.