The BioLite fire pit is a grill and fire pit combo all wrapped into one. With a rechargeable fan attached to the side, the fire receives healthy airflow that ensures the logs won't suffocate. The result is a warm, beautiful fire that warms your guests or your food! 
But with this new-age design, does the BioLite hold up and perform to its expectations and price point? In this review, we'll cover the pros, cons, rust issues, and other factors you'll want to consider before purchasing. We'll also compare the BioLite to the Solo Stove competitor. 
| BioLite Fire Pit Dimensions | Measurement |
| --- | --- |
| Size: | 27" x 13" x 15.8" / 68.6cm x 33cm x 40.1cm |
| Weight: | 20 lbs / 9.1kg |
| Colors: | Black |
| Cost: |   |
BioLite Fire Pit | Amazon
Smokeless wood burning fire pit that gives you an efficient burn with way less smoke; USB rechargeable powerpack will run the integrated air fan for 30 hours on a single charge.
Buy at Amazon
We earn a commission if you click this link and make a purchase at no additional cost to you.
09/21/2023 07:13 pm GMT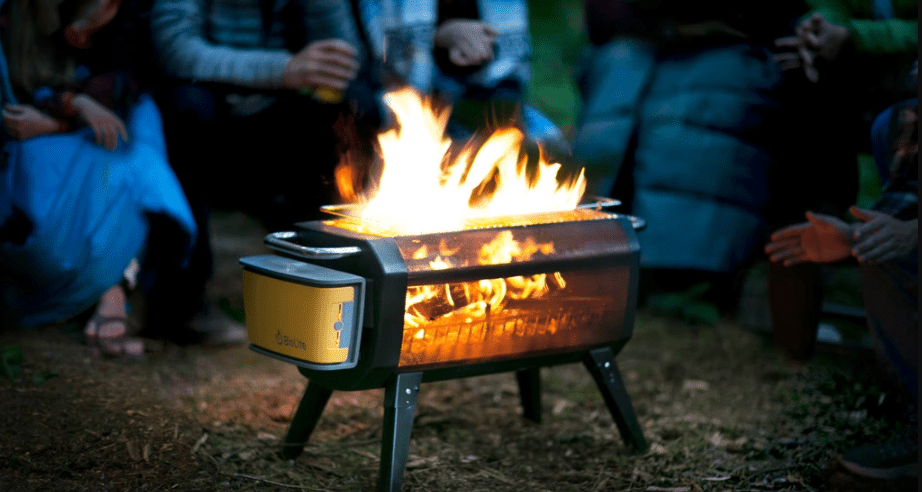 Portability
Even if it's been burning for 6 hours, you can still move it! The handles on the side make it easy to lift the entire pit by one person as long as the fire is not too hot. The handles themselves do not get too hot to touch. Practically speaking, the benefit of this is that it's easy to move the fire pit under cover in the rain or the back of the truck sooner if traveling. 
Leaves No Trace
For those who frequently camp or visit state parks, this provides all the benefits of a bonfire, without leaving ground scars or other remnants of human activity. As more people move outdoors, it's becoming challenging to preserve nature 'the way it is.' This includes even 'natural' events, like a bonfire. 
What is 'Leave No Trace'?
The Center for Outdoor Ethics is the organization behind "Leave No Trace," that seeks to sustain healthy and vibrant natural lands. Humans are usually the cause of damage to natural areas, polluted waters, destructive fires, and wildlife issues. As a result of this, Leave No Trace is meant to remind and inform people to leave the area as nature intended – without trash, pollution, and human interference.
Smokeless
The BioLite is a smokeless fire pit, although it's designed and works a little different from others like the Solo Stove or Breeo. The concept is the same. Heated air is sent towards the top of the fire for an additional, secondary burn that aids in burning any smoke that would usually be released into the air. 
However, instead of bringing air in through the bottom, a fan pushes air through 2 pipes that run along the upper rim. With the proprietary fan and battery, you can control the intensity of the fire. 
With the added airflow, the fire burns more efficiently, resulting in a mostly smokeless fire. 
Grill Combo
Unlike any other fire pit out there, the BioLite doubles as a grill without excessive attachments. Simply place the included grate in the BioLite, and you can easily throw chicken, steak, burgers, kabobs, or other summertime favorites. 
If you use a hardwood like cherry, hickory, or common smoking wood, you'll get some of the smoky flavor infused into the food. 
Mesh Grate Siding
Biolite dubs this as their "X-Ray Mesh," a grate that allows you to see the fire from almost all angles. Unlike other fire pits where you can only see from the top down, the BioLite projects light out from both lengths of its body. 
Ultimately, this results in more light, making it easier to see those around you and better heat distribution, despite its small size. 
CAUTION
While the X-Ray Mesh is a great feature, there is a potential fire hazard as embers or sparks can jump from the side. Ensure there isn't any dry material that could catch fire around the fire pit.
Power Bank
Don't be fooled by the size of the battery; 90 % of the housing is for the fan. However, functionality is built into it. With the battery bank, you can charge your electronic device from its USB port. The 10,400 mAh battery is equivalent to the size of the battery bank seen below. 
While this is convenient, you are better off buying another battery bank specifically for your phone, instead of using up the fire pit's battery. 
We recommend the Anker's 10,000mAh Power Bank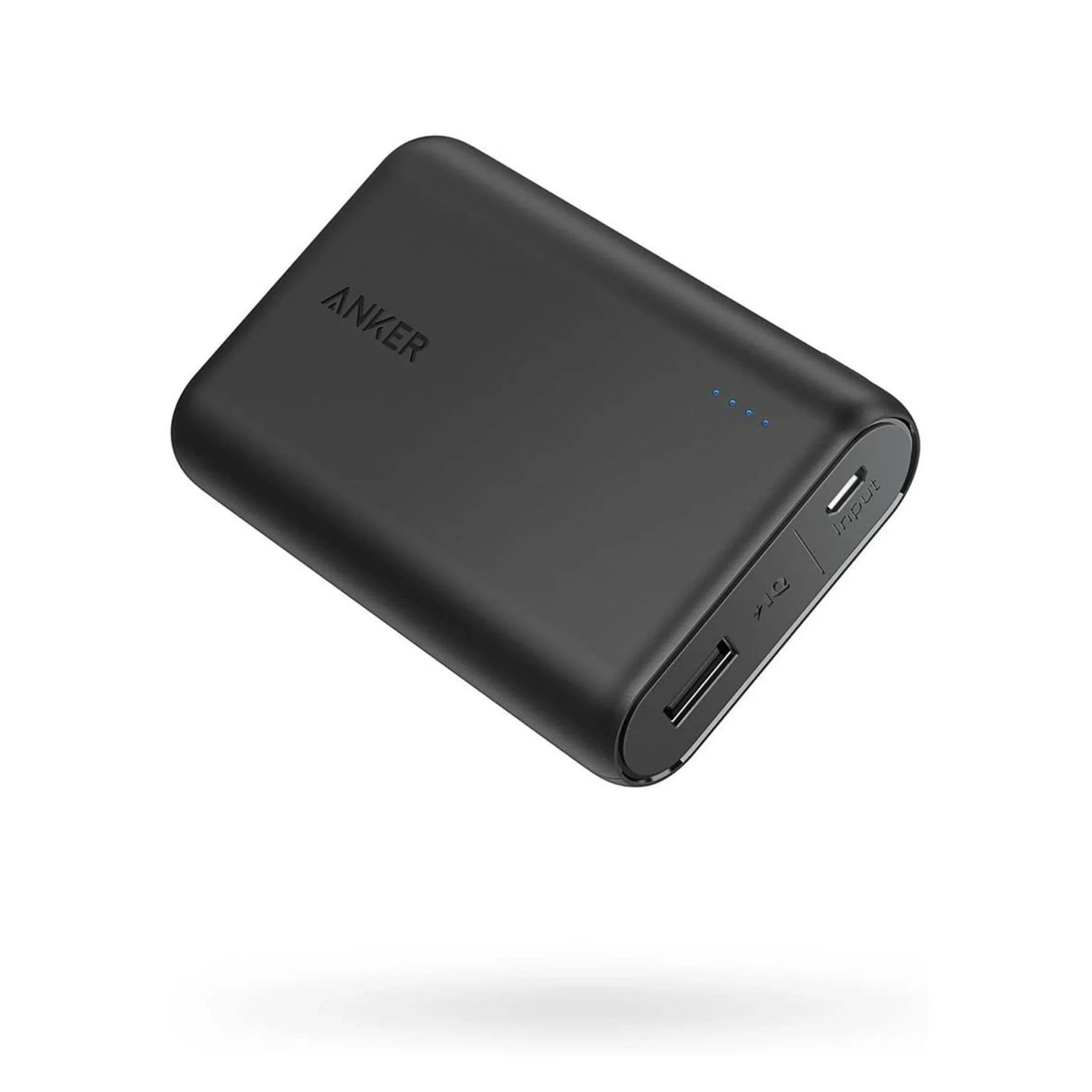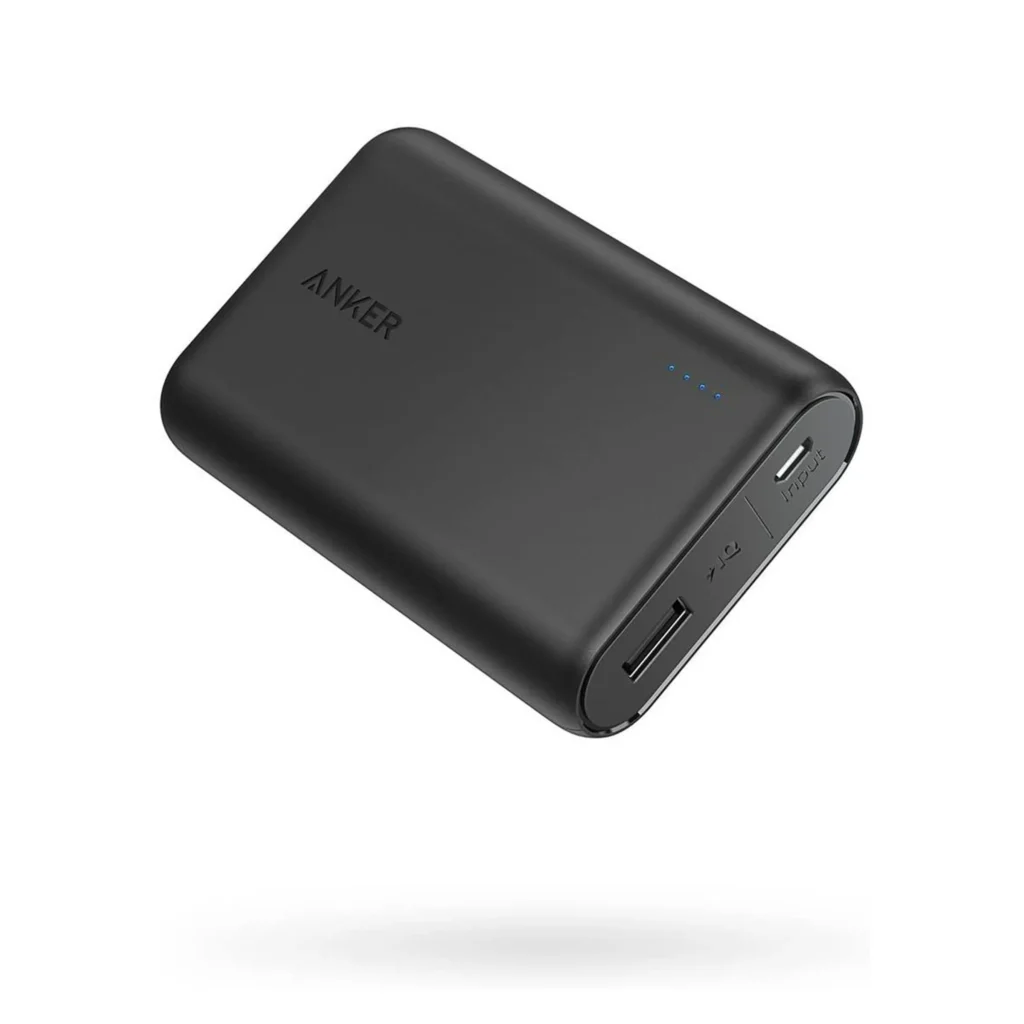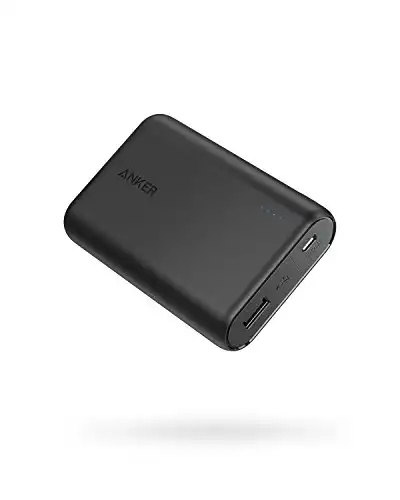 Anker PowerCore 10000 Portable Charge | Amazon
One of the smallest and lightest 10,000mAh portable chargers. Provides almost three-and-a-half iPhone 8 charges or two-and-a-half Galaxy S8 charges.
Buy at Amazon
We earn a commission if you click this link and make a purchase at no additional cost to you.
09/21/2023 07:28 pm GMT
Drawbacks of the BioLite Fire Pit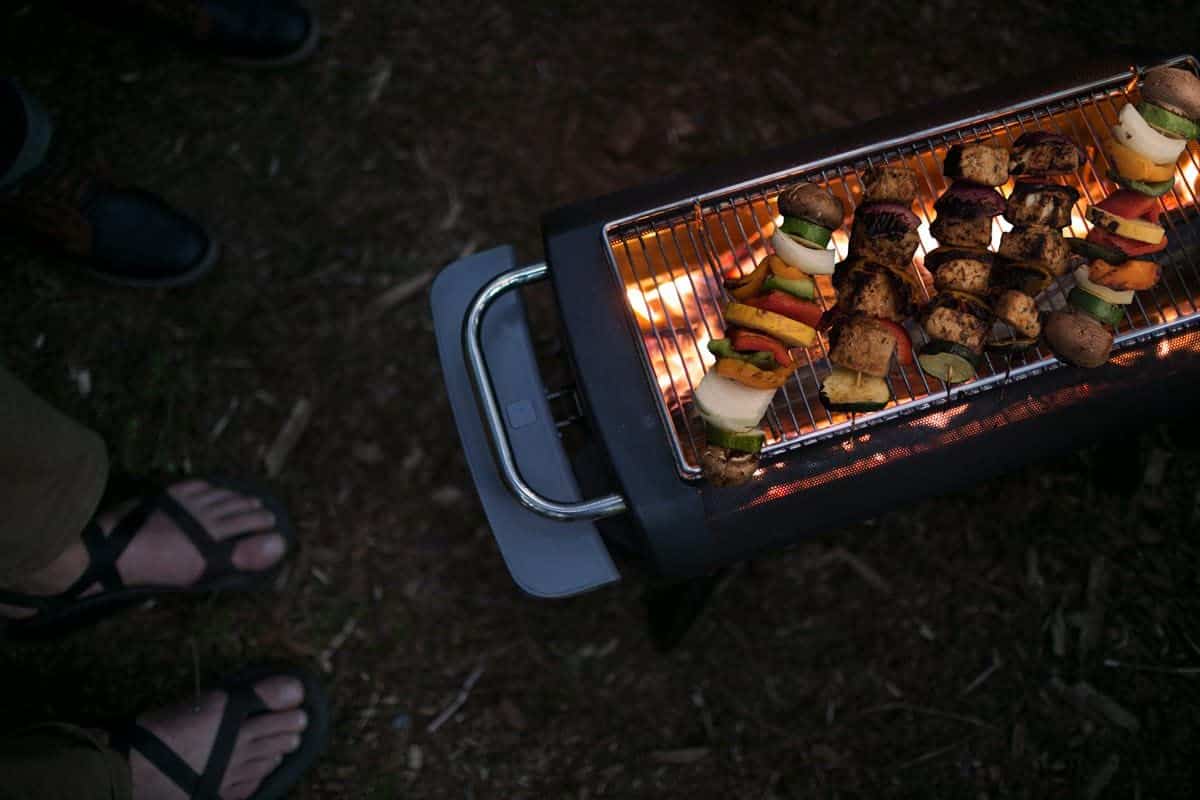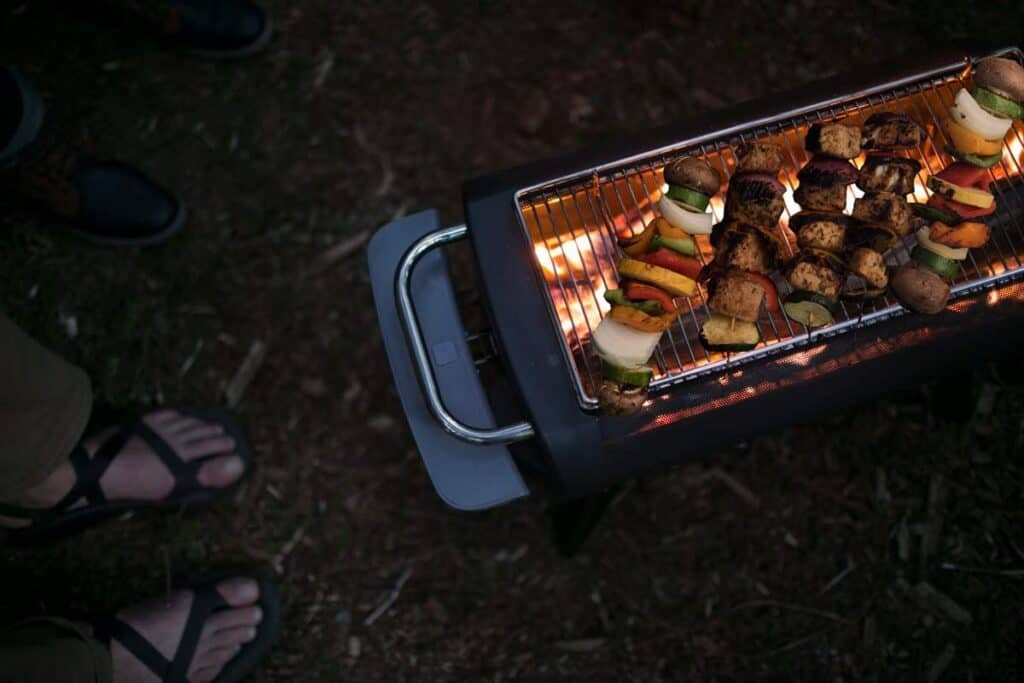 Rust 
The most notable issue with the BioLite is the rust that forms on the out mesh grate that allows you to see the fire through the sides. Because this is a relatively thin piece of metal, any finish burns off within the first several uses. 
When that finish burns off, moisture in the air is enough to cause areas of it to rust. For those dry areas like Arizona, this likely won't be an issue. However, for everyone else, you will have to deal with the unsightly rust and post breakdown, or regularly touch it up with a high heat spray paint. 
You can see the rust build up in the video below.
Requires Power to Be Smokeless
While it is technically a smokeless fire pit, it's only smokeless when the battery has power. Otherwise, it's a costly fire pit with a see-through side. Don't forget to charge the battery, or purchase the solar charger and hope it's sunny out. 
Small Capacity
The drawback to its portability is its size. You can only fit about 2-4 16" logs before it's at full capacity. At that point, you almost need to rely on the fan to ensure there's enough. There is no building a teepee or cabin in this fire pit. 
This is okay for smaller groups or a single-family. However, if you have multiple guests or it's a particularly cold night, this likely won't be enough to keep everyone warm. Don't forget, the less wood you can put in, the more times you'll be getting up to keep feeding the fire. Store your firewood correctly, and this won't be a big issue. 
The Solo Stove Bonfire, in comparison, offers almost 3x the capacity, at a similar price.
Fan Noise and Longevity
Anything above the low setting for the fan is a minor annoyance. Due to its design, and the speeds the far reaches, there's a lot of vibration in the housing. This results in an annoying constant hum or buzz. If you're trying to enjoy the peace and quiet of the outdoors, good luck hearing it over the sound of the fan. 
In the video listed above, you can hear the buzz throughout the entire video!
While the fan's lifespan depends on how often it's used and how it's cared for, the fan and battery component is another moving part that has the potential to break. If you have a background in working with electronics, the battery is likely easy to replace. However, the fan design is proprietary, and will be more challenging to find a replacement for. 
No Good Way to Extinguish a Fire
If the party wraps up early, unfortunately, there is not a good way to put out the fire if there's still a few hours of life left in it. Due to the mesh grate, using a snuffer to suffocate the fire is impossible, and dumping water on the fire will only cause rust on the components. 
Our recommendation is to either accelerate the fire by turning the fan on high (hope the battery has enough juice left) or shoveling the coals into a metal bucket full of water. 
We Recommend the Behren's Galvanized Steel Utility Bucket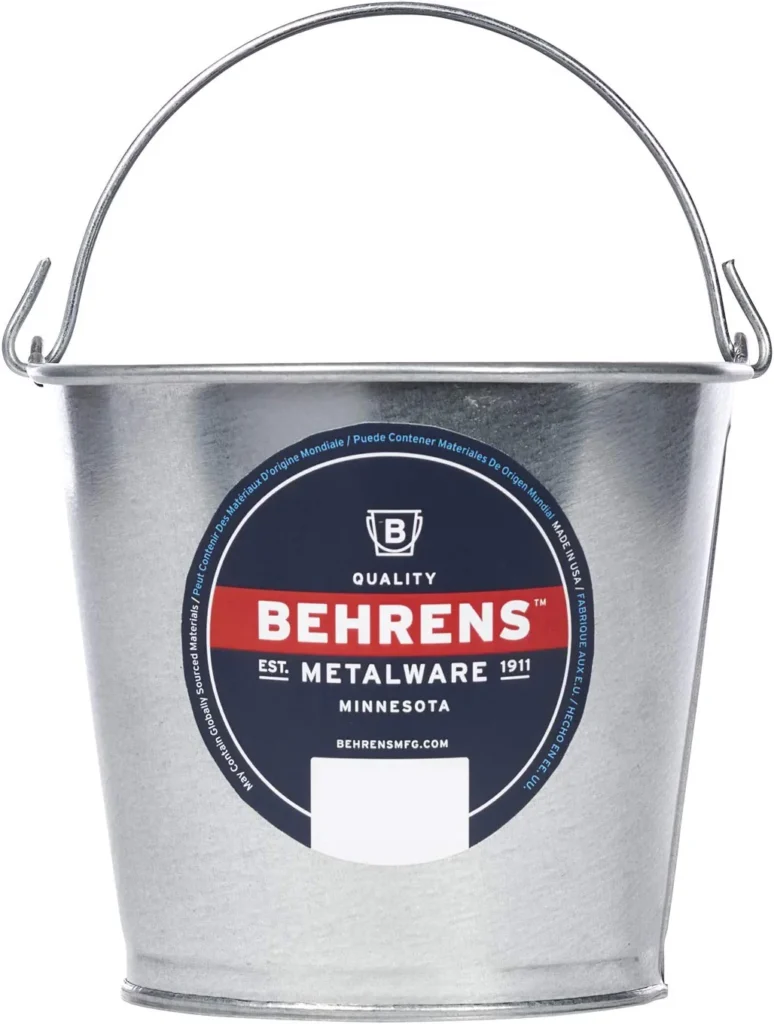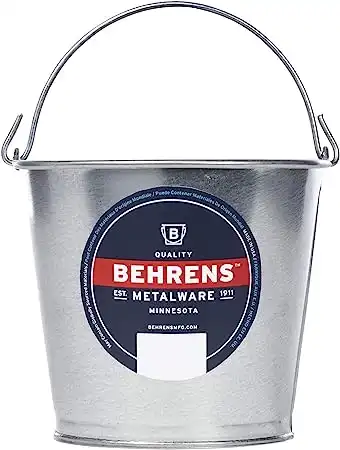 Behrens Galvanized Steel Utility Pail | Amazon
Built with the highest quality material, this utility pail is durable, made to last, and comes in both galvanized and hot dipped galvanized steel.
Buy at Amazon
We earn a commission if you click this link and make a purchase at no additional cost to you.
09/21/2023 07:58 pm GMT
Solar Charger Is a Hassle
Solar charging for anything is great! It's green, but unfortunately, it's not efficient. The solar panel has to be in near-perfect conditions to get a full charge in a timely manner. In an area where there are few clouds and few trees, this isn't an issue. However, with moving shadows, constant overcasts, or a few areas of direct sunlight, the solar charger isn't worth the hassle.
If you're in the latter type of area, be ready to make adjustments and hope it's charged when you need it. 
Factors to Consider
Primary Use
First off, does it make sense for you to have a grill and fire pit combo, and if you will be using the grill, how many people will you usually be feeding? Remember, this grill is not that large. It will probably be alright for some burgers or chicken to feed a family of 4, but any more than that and you'll be doing multiple sessions on it.
Secondly, where will you be using it? This is the ideal solution for tailgates because of its size and multiple uses. However, if you only need something to set in the backyard and stay there for the majority of its life, there are better options with fewer issues and better designs. 
Type of Wood  
For cooking, bonfires, or even heating a home, well-seasoned hardwood is an ideal choice. However, if you find yourself on the road often, say RV-ing, and the wood you purchase may still be a little green or even wet from recent rain, the BioLite can assist. 
Getting green or wet wood to catch is possibly the most annoying issue anyone starting a fire can encounter. It's not impossible, but you must continuously fan the flames and make sure it doesn't die. The BioLite helps make lighting wet a wood easier because it provides that constant direct airflow. 
Another option is to keep an air inflator nearby, like the ones used to inflate car or bike tires. The output on these is high, and the batteries last quite a while, at least the ones from a reputable brand, seen in the video below. 
BioLite Fire Pit vs. Solo Stove Bonfire
| Technical Detail | BioLite | Solo Stove Bonfire |
| --- | --- | --- |
| Dimensions | 27" x 13" x 15.8" | 14″ High / 19.5″ Diameter |
| Weight | 20 Pounds | 20 Pounds |
| Volume | 6.62 Gallons | 18.10 Gallons |
| Price |   |   |
In terms of portability, the BioLite wins hands down. It's much easier to transport from point A to point B having handles and already being elevated above the ground. However, in terms of the effort needed to keep a good fire going, the Solo Stove takes the gold. The Solo Stove holds more wood and doesn't require a battery pack to continue producing a smoke-free fire. 
The Solo Stove is the way to go if you won't be traveling much and already have a grill. For tailgates, RV-ers, and everyone else that likes to take the fire on the road, the BioLite is a clear winner here. 
Best Backyard Fire Pit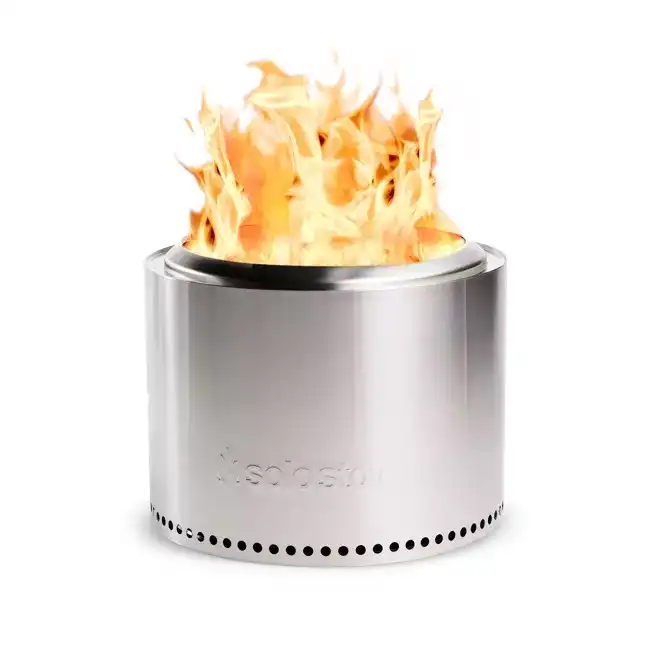 Bonfire 2.0 Solo Stove
Fire pit built for the backyard and beyond. Easily light up smokeless fires anywhere life takes you.
Check Price
We earn a commission if you click this link and make a purchase at no additional cost to you.
Bottom Line
The BioLite is a cool, maybe even a little odd, looking fire pit that also doubles as a grill. It works as intended, but it has so many little stipulations that add up over time. This is not a fire pit that will get better with age. Instead, over time, the battery will lose its ability to hold a charge, and the fans moving parts will wear out. As already seen, there's a lot of vibration that causes the buzzing noise at high speeds – not a good sign right out of the box. 
Expect to spend more money and time within a few seasons as you will need to re-coat the mesh grate with high-temperature spray paint. Although the spray paint is inexpensive and the job is easy, you shouldn't have to do this for a fire pit in the $250 to $300 price range.
Additionally, the small capacity of the fire pit isn't great for chilly nights or large groups. It seems BioLite tried to fit too many features into too small of a fire pit and ultimately ended up with a model that attempts to get consumers buying replacement parts later on. 
A Solo Stove or Breeo is likely a better option, even if you do travel frequently. There are vibrant communities for both brands on Facebook that offer all sorts of tips and tricks to make the experience seamless. 
We recommend the Breeo Double Flame Smokeless Fire Pit