A newly built Amish shed adds pleasant aesthetics to your home's exterior. Their impressive crafting skills and excellent choice of materials ensure the sheds are durable (well-constructed wooden Amish sheds have a lifespan of between 15 and 20 years).
They are also fairly priced for the quality and durability you get in return. This must be why you stumbled on this article; you want to know how much it will cost to set up an Amish shed in your yard.
There is a limitless variety of Amish sheds to choose from, as they come in different designs and sizes. You need to determine your needs and prioritize them as you shop for your ideal Amish shed so that you get the best value for your money.
Throughout this article, we will look at the variables that influence how much Amish storage shed costs and provide ballpark estimations to help you estimate how much it will cost to set up your ideal Amish shed. Stick around if you want to be ready with a realistic budget.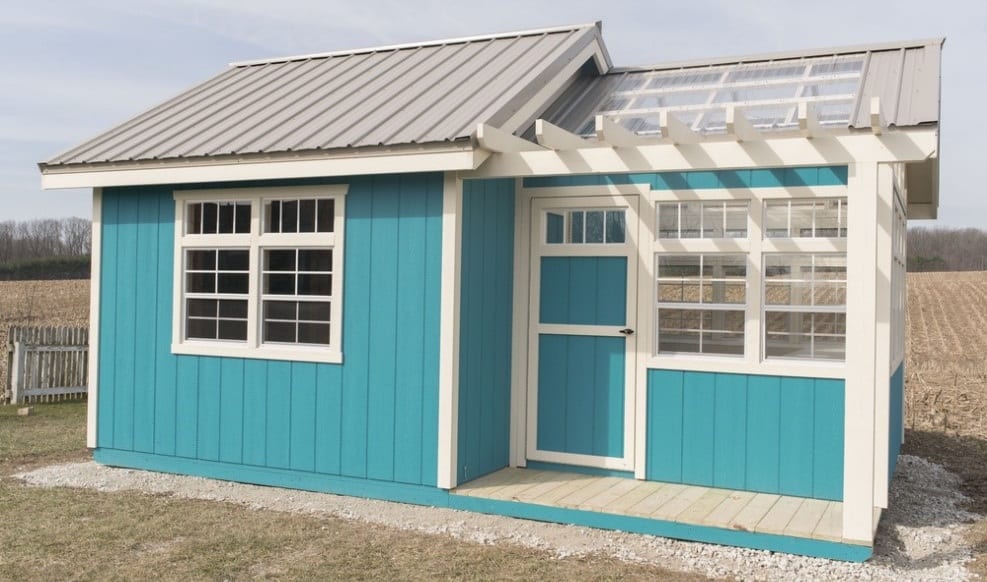 What Determines How Much an Amish Shed Costs?
The final cost of setting up an Amish shed is determined by an interplay of variables that can't be isolated, as they are all important considerations when selecting the best Amish shed for your circumstances. Let's explore these features.
The Amish Shed's Exterior Construction Material
The top contenders for Amish shed construction materials are wood and vinyl. Vinyl is preferred over wood for Amish shed construction because it doesn't require maintenance and lasts longer. However, it is more expensive, so it will significantly raise the Amish storage shed purchase price, as we will see shortly.
There are different types of wood that are used for the siding if you opt for the traditional board and batten. You can choose natural wood that retains the natural look or painted wood to further customize the shed. The quality of wood will also influence the price.
Premium wood sidings include Douglas fir and DuraTemp, which are durable, strong, have a natural textured appearance, and are protected by a water-resistant phenolic resin. When it comes to vinyl, you can choose a color that blends with the home.
The Size of the Amish Shed
The bigger the shed is, the more material will go into its construction and the more labor-intensive. Consequently, the price will be higher as the size increases.
For example, a standard small shed of 6 by 8 feet will cost approximately $1,700 with wood siding and $2,000 with vinyl siding. The same design at a size 8 by 10 feet or 10 by 12 feet will range between $2,000 and $3,000 with wood siding and $2,500 and $3,500 vinyl siding.
The large version measuring 10 by 20 feet or 12 by 20 feet will have a ticket price between $4,000 and $4,500 with wood and $4,500 to $5,000 with vinyl.
Your ideal size depends on what you intend to be keeping in the Amish shed. The large size can accommodate a professional-grade riding mower or double as a garage, but the additional cost might burst your budget. It will be less value for your money if you don't need the extra space.
The Amish Shed's Design or Style
There is a vast range of designs to choose from, and the choice will be hinged on your resources and needs. You can pick from simple lean-tos, mini barns, A-frames, cape cod designs, Quaker designs, cabins, garages, fancy buildings such as potting sheds, and roofs with dormers.
The price difference on account of the design can be significant, depending on your other requirements. Standard lean-to sheds and mini barns measuring 10 by 10 feet, for instance, will range between $4,300 and $4,400, while on the other extreme, a garage (which is larger by default) with a footprint of 10 by 20 feet can cost anything from $9,900 to $14,900.
Potting sheds with their requisite glazed walls and windows will range between $8,000 and $9,000.
Roofing Style
The Amish shed's roof also significantly contributes to the overall price. There are different types of roofs, each with its price point. The overall cost effect will be tied to the size of the shed it covers. A lean-to barn has the least expensive roof as it leans on the main building and only slants one way. A-frame roofs are also straightforward and uncomplicated, making them easy on the wallet.
Barn-style roofs are preferred because they facilitate additional storage space in the shed while presenting an appealing rustic look. They are more expensive than the previous two. Other designs like the cape cod vary in price depending on what else is included on the roof. Windows will certainly push the price up.
Amish Shed Extras
There are countless upgrades, add-ons, and finishes that you can choose for your Amish shed, which also impact the final price. You will need to decide if the additional cost is worth the extra comfort and convenience. Let's explore some of the common choices which are also practical
Additional Widows
These are important as they let in natural light. You will appreciate them, especially if you will be working in the shed. Extra windows will cost between $75 and $120 each, depending on the size of the window.
Additional Doors
These allow access to the Amish shed from different directions; it is convenient for lean-to sheds when you want direct access from the house. It will range between $200 and $250 for double doors and $100 to $200 for a single door
Changing the Type of Door
The most common request is usually the installation of a garage-style door. It is bigger and opens wider than a normal door which is important when you fit large pieces of equipment into the shed or essentials like your riding mower. A garage-style door will cost approximately $850.
Many other adjustments can be made whose prices can't be approximated in this manner
• Built-in shelves diversify your storage and create more space in the shed.
• Interior walls
• Hemlock roof planks that make the interior look more finished
• Plywood floors to give the floor a smooth finish
• Side porches
• Exterior wood treatment like staining
You can customize your Amish shed with as many touches as you want, as long as your budget allows it.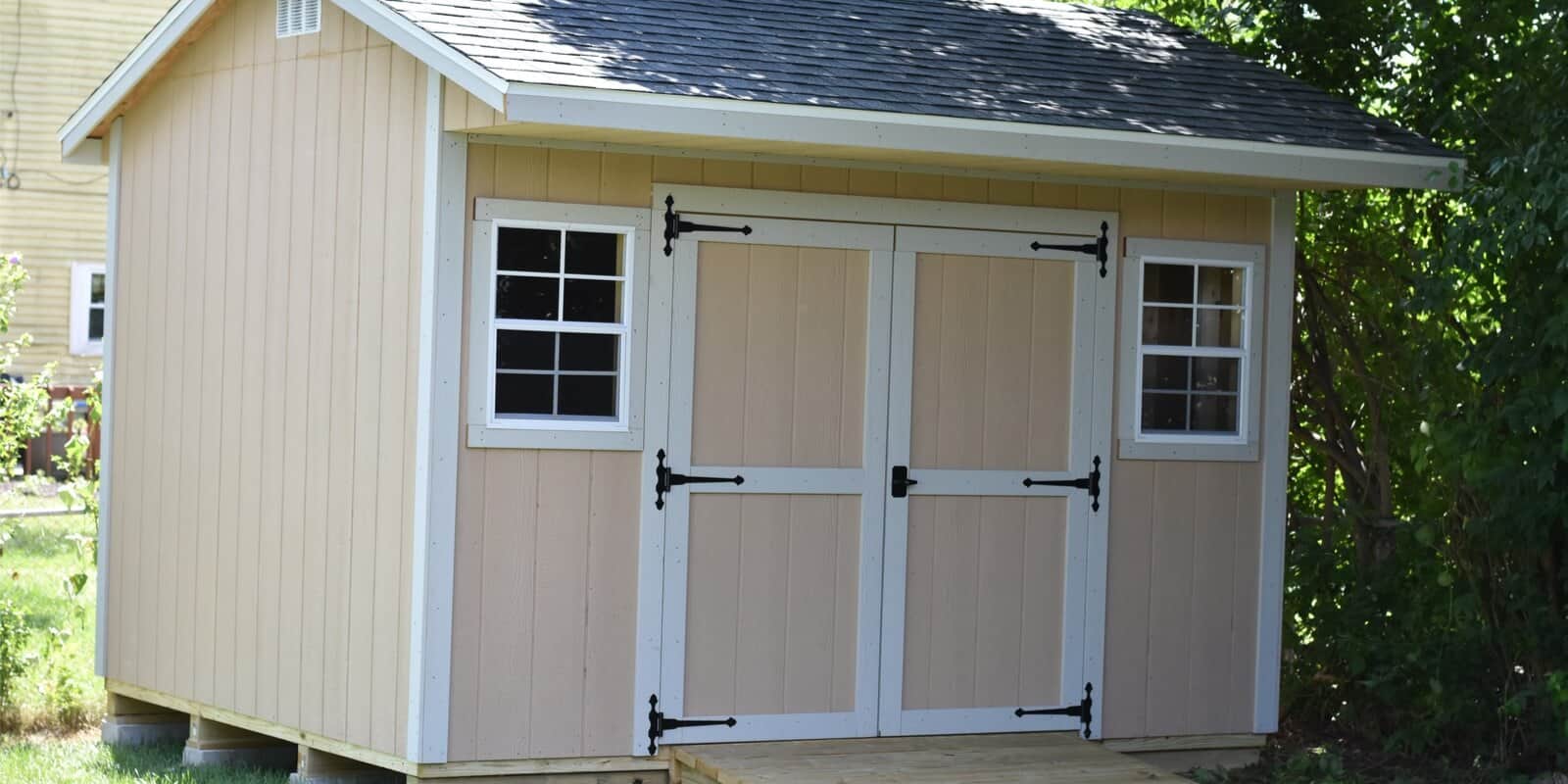 Site Preparation
A common mistake people make when budgeting for an Amish shed installation is forgetting to allocate funds for preparing the site. The ground needs to be leveled and any protrusions like tree stumps removed before you can set up the shed. You also need to make arrangements for electricity if you want the finished shed to be connected to your mainline.
The people contracted to set up Amish storage sheds are typically not armed with equipment for leveling the ground, as it is a foregone conclusion that it will have been taken care of already.
Make advance arrangements for site preparation for your outdoor structure to avoid getting stuck when the Amish shed is delivered. The cost of preparation is unique for every property as it depends on the amount of work that needs to be done on the proposed site.
How Much Does an Amish Shed Cost: Our Take
The most important consideration which you should hold above everything else is quality. You can always get a bottom-of-the-barrel price online for a hardware store 'Amish' shed, which has everything on your checklist.
Keep in mind that all the bells and whistles come at a premium, and it will not make sense for the dealer to give a price that is way off our confirmed estimates. The cost of taking it down and getting a replacement will be much more than any perceived savings.
Store-bought sheds are limited when it comes to size options and hardly come with provisions for customization. They might look good and appear sturdy but don't compare to the high quality and craftsmanship you will get from true Amish buildings made by an Amish craftsman. These are carefully handcrafted and assembled with great detail, making them durable and worth every penny.
It is also not wise to splurge on features you will not use. For example, don't get extra windows if you will use the Amish built shed purely as a store. Your equipment doesn't need natural light, and you can turn on the power switch every time you have visibility issues.
If the Amish shed is too big, you will be paying for real estate that you will never use, which will make it much harder to realize value for your money.