Want to build a fire pit but aren't sure if you can put a fire pit on concrete? Of course, you can always put a fire pit whenever you want. However, taking the necessary precautions to ensure you do not endanger yourself, your loved ones, and your precious home is absolutely necessary.
Truth be told, many homeowners are unsure whether or not they can put a fire pit on concrete. Now that you are here, we know you can join the bandwagon guilt-free.
We are here to ensure you get the fire pit you want *deserve* without having to worry about damages.
Can You Put a Fire Pit on Concrete?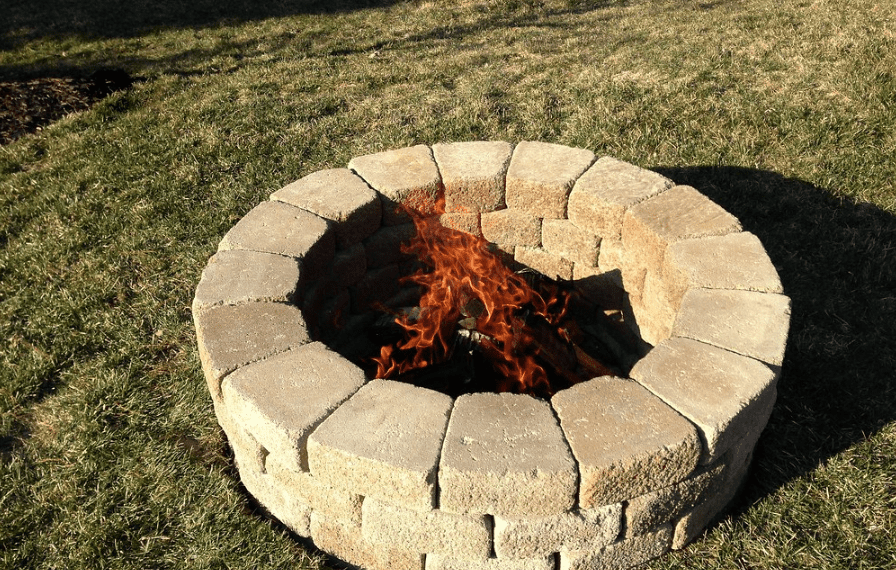 The answer is yes; you can put a permanent or temporary fire pit on concrete. Fire cannot easily damage concrete like wood. Concrete is sufficiently resistant to fire to survive short-term exposure unharmed. So, if you cannot wait to bask in the warm amber rays of a fire one of these fine days, that's your cue to start building one.
That said, it is best to keep in mind that the extreme heat will eventually harm the concrete. That's why it is important to understand how to preserve concrete against fire pits. While the damage might seem minimal, it can be pretty costly in the long run.
Repairing concrete cracks is typically ineffective since they remain weak points in the concrete foundation. Rather than that, it is better to remove and redo the concrete base, even though this is a time-consuming and costly process.
By knowing how to protect the concrete when building a fire pit or using a commercial one, you can be confident that your concrete floors are protected against severe damage from the fire. It also ensures you protect your home against accidental fires.
Here's what you can do:
Use Additives or a Barrier
You can place certain additives into the concrete to prevent premature cracking. Additionally, you can add some fire-resistant rock to create a barrier between the concrete and the pit. We recommend talking to a professional before you embark on building your fire pit on concrete. They can help you with all the necessary installation options that protect your concrete.
Elevating the Fire Pit
If you elevate your fire pit, you can install a heat-resistant mat beneath it to keep intense heat from reaching the concrete. These mats are reasonably priced and far less expensive than completing a full concrete restoration every year.
This is also an excellent strategy to reduce ash accumulation, making cleanup quick and easy after a fire. Again, such an approach is ideal since the heat will never come into direct contact with it.
Additionally, the mobility of the fire pit protects a specific region of the concrete from excessive heat. Now and then, reposition the fire pit some few feet to ensure that the concrete continues to look good for years ahead.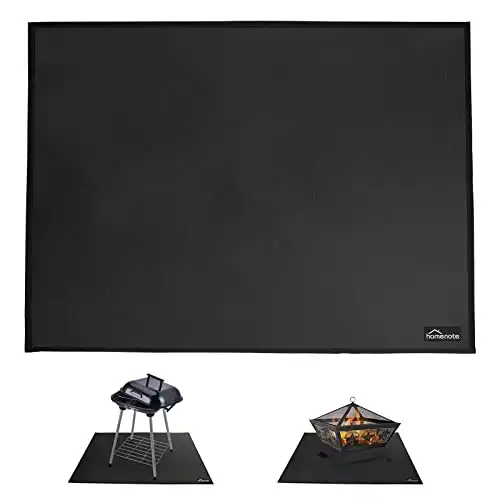 Using a Readymade Fire Pit
Choosing a readymade pit with legs is also an excellent solution. It ensures that the concrete isn't in direct contact with the fire.
Alternatively, you can purchase a smaller fire pit with no legs but a protective foundation. You can set the foundation directly on the surface of the concrete base to help moderate some of the heat.
How to Form a Fire Pit on a Concrete Slab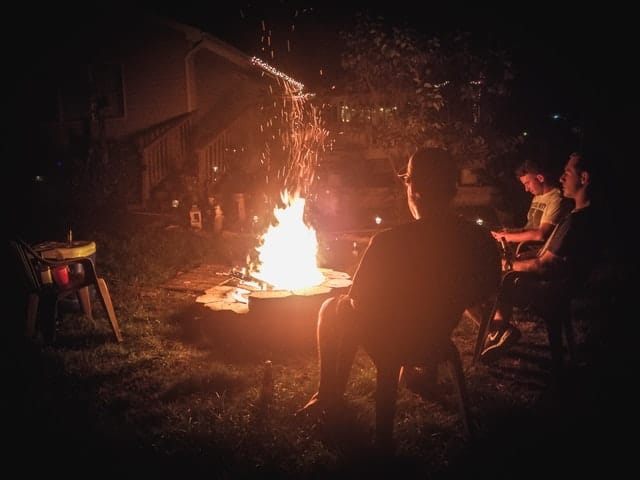 Now that you know how you can protect your concrete floors from the damage of a firepit, here's how you can build a fire pit on concrete:
1. Select a Location
While you may build your fire pit on any concrete surface, it is preferable to have a concrete patio. You can then choose a place for the pit central to the porch so that you can arrange chairs around it. Finally, choose a location away from the margins to avoid sparks from the fire igniting the grass!
2. Purchase a Small Fire Pit
You need a round metal fire pit purchased from a store to construct the fire pit. This pit should be around 35 inches wide and include a grate or lid for the top. This will be necessary for subsequent measurement purposes.
In addition, the pit's lip should be wide enough to extend over the edges of the concrete block. If you currently own a fire pit and wish to convert it to a concrete pit, you can reuse the parts and save money instead of purchasing a new one.
3. Obtain Stones or Cinder Blocks
To make your fire pit, you will require concrete blocks or stones. The blocks should have flat tops to facilitate stacking and should not necessarily be made of cement but can be made of fire-resistant material.
4. Arrange the Blocks
Stack the concrete blocks to create the fire pit's base. If built correctly, a stable foundation can last for several years!
5. Secure the Base of the Fire Pit
Start by preparing the bowl. Remove the bowl from the support of your fire pit. You can achieve this by flipping the fire pit and locating the edge where the bowl meets the leg.
Fasten it together so that you can remove it with a screwdriver. Turn the screwdriver to the left to dislodge the legs and remove the bowl. You can utilize the fire bowl part without detaching the legs if you have a fire pit assembly kit.
Spray the bowl using high-heat paint to help cover the pit and extend its life while maintaining its fire resistance.
6. Installation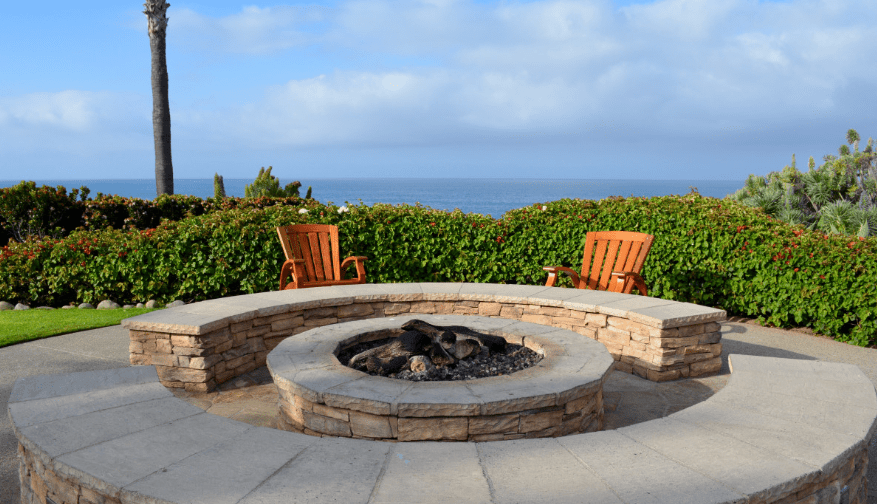 After spraying the base, place your bowl on cinder blocks, extending the lip of the base over the edges to ensure a perfect fit. You can use cement or glue to secure the bowl's lips to the cinder blocks, but leaving them unattached allows you to move it as necessary and quickly empty ash or sticks from the fire pit for easy cleaning.
In conclusion, the answer to can you put a fire pit on concrete is yes. While it is safe to put a fire pit on concrete, cracking may occur due to the high heat. Before purchasing or constructing your fire pit, taking the necessary precautions is best to avoid substantial damage.
You can seek advice from a specialist in the relevant field. Let the specialist examine your home to determine your choices for incorporating a fire pit into it. With professional guidance, you may feel more confident about your fire pit for years to come.
Can You Put a Fire Pit on Concrete: FAQs
Question: Can you put a fire pit on top of concrete?
Answer: Yes, you can put a fire pit on concrete. However, there are some things to consider. First,  Is the fire pit a temporary or permanent fixture? Remember that the concrete can spall and crack due to the flames' intensity. As a result, you should put a fire pit on a block of concrete that you are not concerned about being damaged.
Question: What do you put in the bottom of a fire pit on concrete?
Answer: What is the proper way to fill the base of your fire pit? You will want to begin with a sand layer at the bottom of the fire pit, followed by gravel, fire pit glass, lava stones, paving stones, or even bricks. Alternatively, you can use dirt.
Question: Will a portable fire pit damage concrete?
Answer: Yes. While the process is slow, a fire pit can eventually damage concrete. To protect the concrete beneath your fire pit from harm, you could use a pit mat, a heat shield, or a fire ring.