It's hard to think this could be a good idea. My gut tells me NO!  My heart is saying "please, let it be YES!" Flames, Fire, and Fabric have rarely been the model trifecta. But let's dig a little deeper into it and figure out if a canopy-covered fire pit could work.
The Material of The Canopy
While it might be safe to put a canopy or shade cover over a fire pit, the material could either be the answer to your shade and ambiance hopes or end in disaster. So, as you shop for the right canopy, go find one made from non-flammable, or at least flame-resistant, material.
Second, give some thought to a hole at the top of the canopy's structure. The whole purpose of this is to allow for the smoke and carbon dioxide to escape freely. If all sides are wide open you might be ok. But I'd recommend the safe rather than sorry approach.
Try to have some vertical paths for smoke and heat to escape as well as horizontal. Otherwise, your canopy may soon be filled with smoke and become a health and safety hazard.
Take The Necessary Precautions For a Fire Pit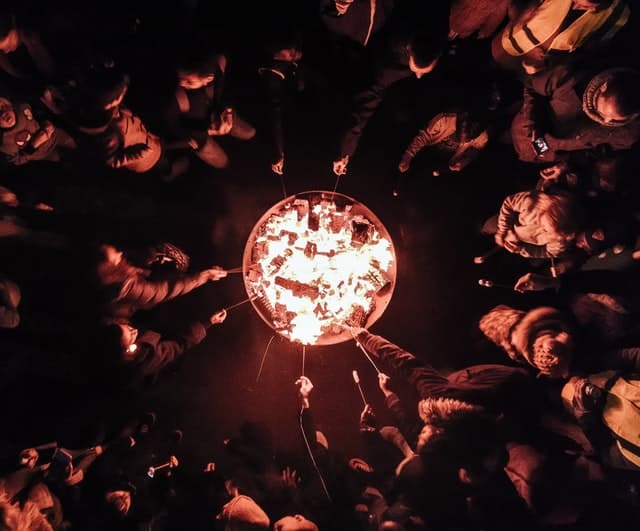 If you decide to create a fire pit, you'll want to follow general safety guidelines. Before building it out, check with your city and/or county. Some locations prohibit the installation of fire pits. In some situations, you may be required to obtain a permit.
If you need to use a smaller canopy and your seating will be close together and near the heat source, you should think twice about adding a fire pit into this mix.
Here are some precautions to consider:
Ensure there is enough space around where you want the pit.
Set up your fire pit away from any hanging twigs or tree trunks. And I would give you plenty of areas for you to stroll around without touching the edges of the fire pit.
Select the appropriate material for the outdoor furniture. It is advisable to choose metal furniture or benches built of marble or cement. In many cases, I would avoid the use of wood furniture around a fire.
Before using a fire pit, ensure that all drapes are properly secured or removed. Obviously, this is only if you are using side curtains around the canopy.
Select the appropriate flooring material for the area where you wish to build your pit. Stone and concrete flooring are both durable and heat-resistant, they are the ideal options to consider. Because wood and composite materials burn easily, they are the least desirable materials. Vinyl is a possible choice, but it can break when heated or melt when sparks or flame touch it.
Install a protective screen to safeguard you and your belongings from flying sparks if you are using a wood-burning fire pit. It will help keep stray sparks from injuring neighboring items such as patio cushions, wood decking, plants, and your skin and clothes.
Consider a gas-burning fire pit.  These can be safer since they generate a cleaner fire.
Never keep your fire pit unattended or sleep near it. Before retiring to bed, always extinguish the fire.
Never let children hang out around the fire pit unattended.
Have a fire extinguisher ready at all times. In addition, you and your family should know how to use a fire extinguisher in an emergency.
In conclusion, can you put a canopy over a fire pit? Yes.   Be smart about it.  Put common sense into practice as you build out your arrangement.
Enjoy it!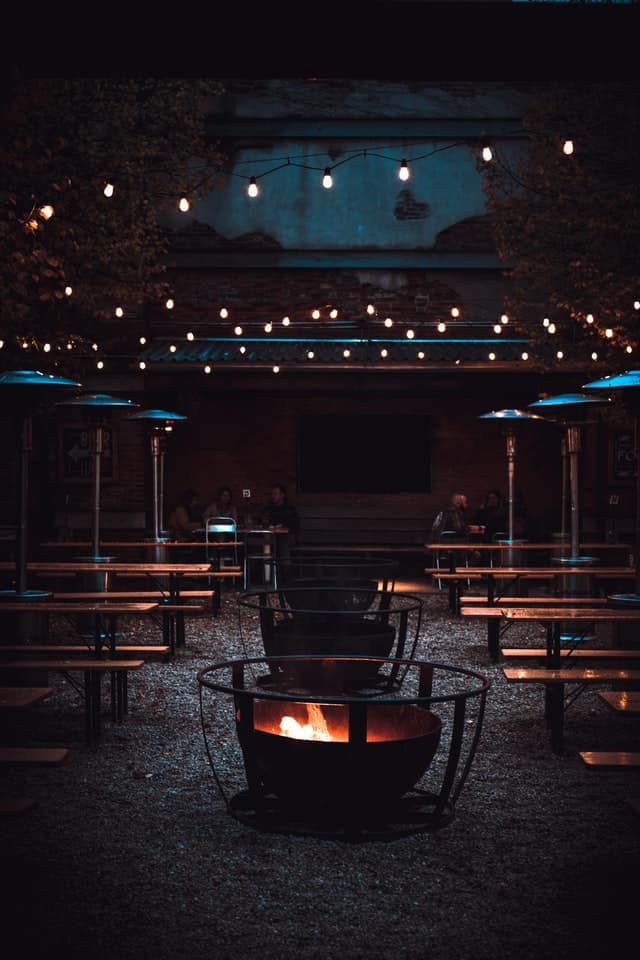 Can You Put a Canopy Over a Fire Pit: FAQs
Question: How much clearance do you need above and around a fire pit?
Answer: Check your local regulations to see how far from the building a fire pit should be and how much overhead clearance they might require. Most sites require a 21-foot clearance just above the fire pit to accommodate overhead branches and other potential hazards that could catch fire.
Question: Can you put a fire pit under an awning?
Answer: As with a canopy or shade covering, use caution when under your awning.
Question: Can you put up a pergola over a fire pit?
Answer: You certainly can. You may enjoy the atmosphere of a fire pit under a Purple Leaf Louvered Pergola.  It would have generous ventilation and you should be in good shape.