Best Patio Heater Overall of 2019
Thermo Tiki Propane Patio Heater – Stainless Steel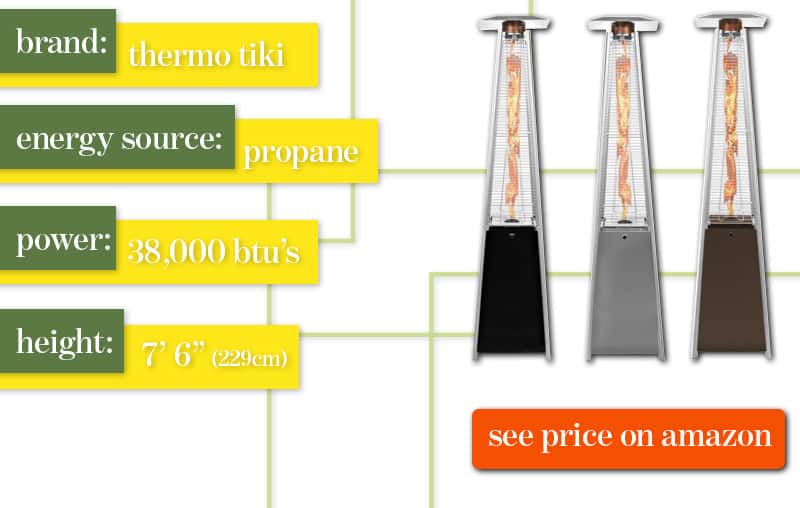 This heater additionally takes the spot of "Best Propane Patio Heater" and "Best Standing Patio Heater."
Safety is the biggest concern when dealing with anything that generates a significant amount of heat. Thermo Tiki's Pyramid-Style Standing Patio Heater meets ANSI, CE, and CSA specifications – which is very important. This means this standing patio heater meets the rigorous safety specifications set by 3 internationally recognized organizations.
Not only that, it performs well and beautifully designed. The flame in the middle 'dances' as the heat rises to the top where it is dispersed out at an advertised 15' diameter. Additional safety features are built in, and the one-touch push-button ignition offers fast and easy operation. Stainless steel is attractive and modern for any backyard and ideal for humid climates or those living near a large body of water.

Best Table Top Patio Heater of 2019
AZ Patio Heaters HIL-1821 Table Top Electric Heater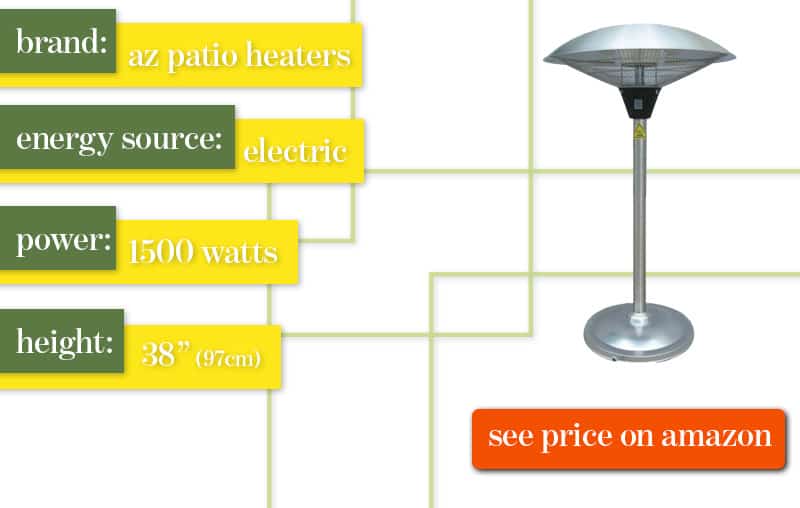 As the name suggests, this is an electric patio heater and perfect for setting up on table with friends or family around. However, the 1 caveat is if you plan on placing this far from an outlet, you will need a special extension cord. You will need at least a 10GA extension cord, which can be purchased here. The reason being is this heater, like almost all heaters, draws a significant amount of power.
The benefit of this model is you will never need to replace a small propane tank, however if you would prefer to not deal with the extension cord, consider this table top propane powered heater.

Best Wall-Mounted Patio Heater of 2019
Sundate Electric Indoor/Outdoor Infrared Space Heater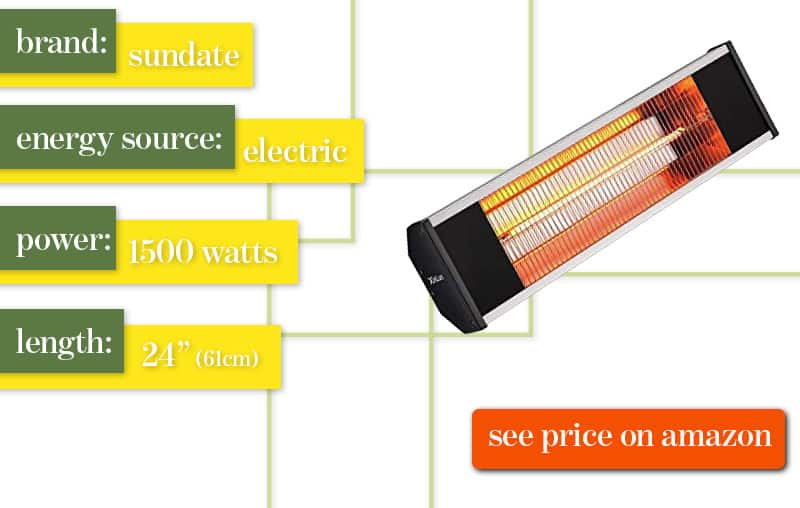 Compared to much more expensive models, this simple electric heater is an ideal choice for someone with a small patio. You can plug it straight into a standard wall outlet without having to fuss with a more complicated installation. In the event 1 is not enough, consider purchasing 2 or more. Considering how inexpensive they are, you could have 3, 4 or maybe even more compared to another model's high price tag.

Best Hanging Patio Heater of 2019
Ener-G+ Hanging Electric Patio Heater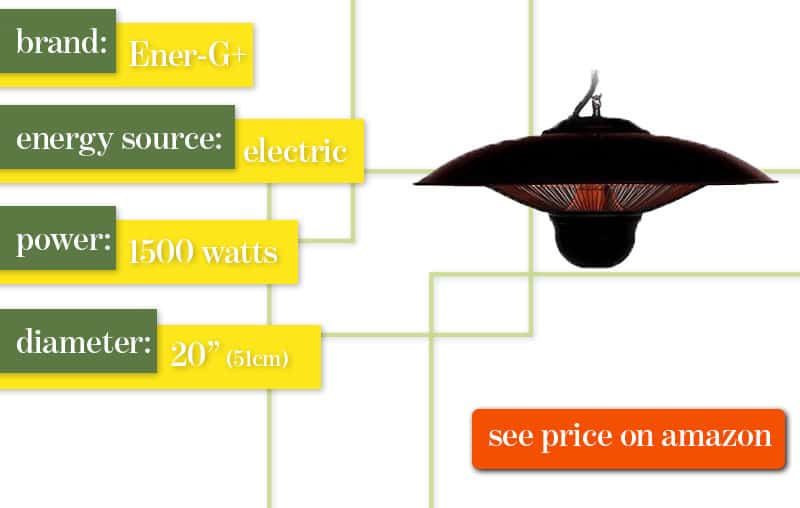 With built-in LED lighting for ambient lighting, 3 easy-to-select settings, and the ability to be plugged into a standard outlet, Ener-G+'s hanging electric patio heater is an obvious choice. This heater works great for gazebos, enclosed porches, and other outdoor structures. Just be sure to use at least a 10GA extension cord if running farther than the length of the heater's cord.

Best Electrical Power Heater of 2019
Infratech WD4024SS Dual Element 4,000W Electric Patio Heater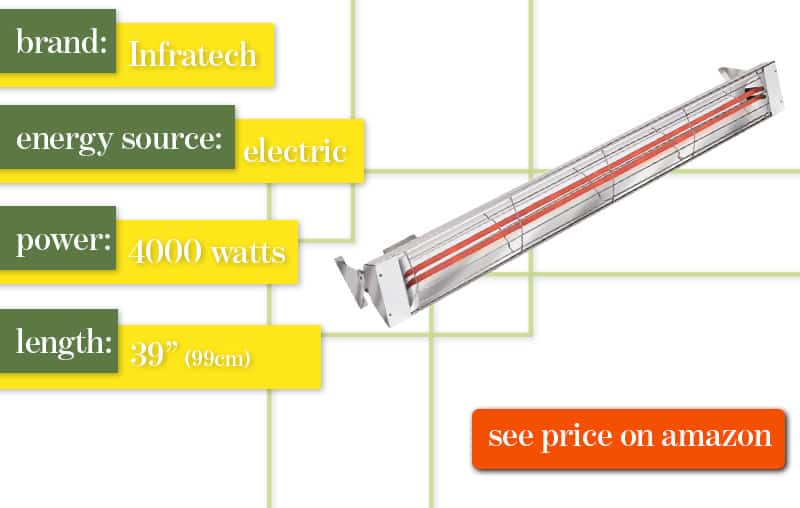 Enjoy dinner on the terrace, or cocktails on a chilly fall evening. Infratech's 4000W low-profile electric patio heater provides all the power you need to keep your favorite outdoor spots warm even on the chilliest of nights. It's stainless steel design will only add to your home's outdoor look and it's slim design ensures it stays out of the way.
This heater is rated at 16.7AMP, so you will likely need to run a new electrical line to where you plan on mounting it. Have no doubt, the extra work will be worth the effort when the leaves start to change and the days get shorter.

Patio Heater Buying Guide
Types of Patio Heaters
With 4 different style of patio heaters with varying energy sources there is one that will fit your space and your budget. Let's take a look at the 4 styles widely available.
Standing
Typically the largest of the 4 and will produce the most heat. These are your ground units that have a large heating element in the center or top of the body. A patio heater of this size requires a gas to be powered, usually your standard propane tank.
Mounted
If a standing patio heater doesn't fit the bill, a wall-mounted heater will do the trick. These heaters will stay out of the way and radiate the warmth you need. If you have a small, covered space, like a gazebo, these are the ideal choice.
Hanging
Sometimes you don't have ability to attach a wall-mounted unit, or you have tall outdoor ceilings. A hanging patio heater is your next best bet. These units are strung on a chain and can be lowered to closer to the heating area for better coverage.
Table Top
A table-top unit is exactly what it sounds like. Imagine a standing unit, but in a miniature version. Table top heaters are ideal for small groups of people in close proximity.
Energy Source
Each of the 4 types of patio heaters mentioned has a heating element that is powered by either electricity or gas. While each have their pros and cons, propane is typically the most common because it's inexpensive, burns cleanly, and is available anywhere.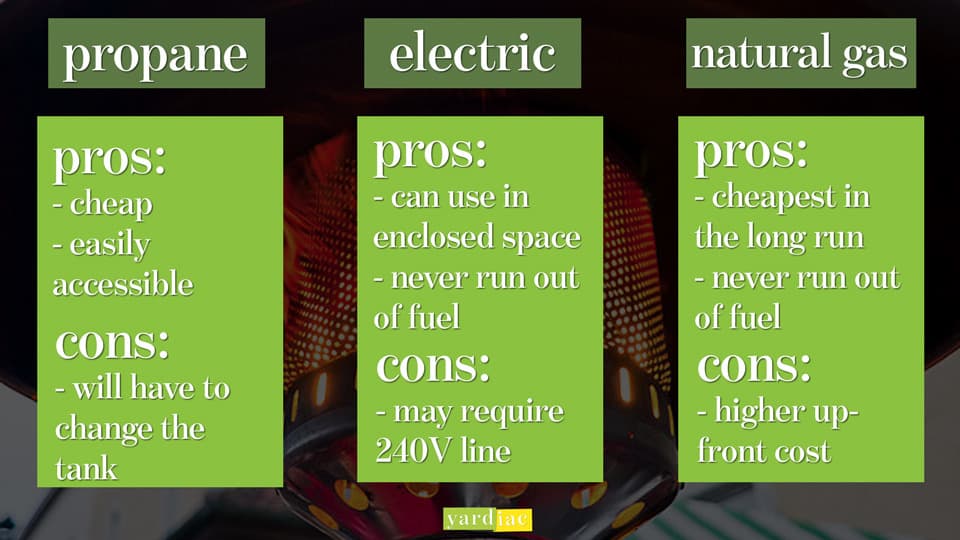 Propane
Propane is the most affordable and the most practical option of the 3. Hook up your standard 20lb tank and you're good to go for anywhere from about 9-15 hours. For table top models, these usually require a 1lb tank – the ones found in the camping section. Those will run about $3-$4 and last around 2-4 hours.
Electric
If you're someone who doesn't want to mess with changing out a propane tank, or plans on using the heater in a semi-enclosed space, this is the option you'll want to go with. No gas is involved, so you don't have to worry about having ventilation. However, if you plan on being indoors, consider purchasing a regular space heater or blower heater. These are designed for indoor use and will have specific features that make them a better option.
Natural Gas
A natural gas patio heater is the middle ground for those wanting a slimmer heater and energy bill. Anything with a heating element uses a significant amount of energy and that can make an impact on your electric bill. A natural gas heater will be about 3-4 times cheaper than an electric one, all other factors ignored.
Just keep in mind you will need a gas line running to where you want to place your heater. If one is not present where you'd like to place your heater, it typically costs around $300-$700 to have a new line installed. However, this cost can be recouped in a few years when compared to an electric one, depending on usage.
Key Features
There are dozens of patio heaters available online and in-stores. So how do you know which one to pick? Below are the main features you should be looking for and are the most important. Regardless of which heater you pick, make sure it has
Safety Certifications (UL, CSA, ANSI etc.)
Apart from the auto shut-off and tip-over protection, this is one of the most important features you'll want to find. There's an obvious fire hazard with anything that has a heating element, so you want to be sure you're buying a safe product that isn't going to burn down the house.
UL, CSA and ANSI are all acronyms for various third-party organizations that set standards for products to deem them safe for consumers. These organizations have stringent standards that are updated on a regular basis. Look for heaters that advertise these certifications or have them somewhere on the product.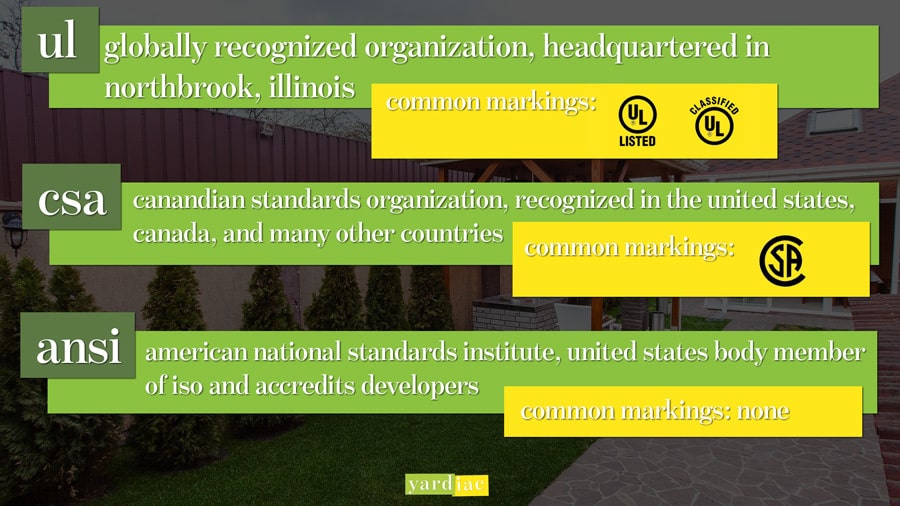 More on symbols and markings can be learned here.
Tip-Over Protection / Auto Shut-Off
You forget to turn the heater off and a storm knocks the heater over. Or maybe you go inside to use the restroom really quick only to a hear a loud crash in the middle of your break. Accidents can happen, and a patio heater accident usually isn't a good one, especially if gas is in the picture.
This feature is a necessity, as it wouldn't take much for the heating element to cause a piece of outdoor furniture, a plant, or whatever to catch fire. That fire can spread quickly and potentially reach the propane tank, causing an explosion. The point isn't to scare you, but to ensure everyone knows the safety measures that should be in place.
Assembly
Who doesn't love instructions that are only partially in English with pictures that appear to have been drawn by a 5-year-old? Better yet, it'll likely take you more than a hour to complete and you probably put something on backwards thanks to the poor directions.
Electronic Controls & Adjustable Flames
Most standing patio heaters have a knob that allows you to adjust the intensity of the heat. Some wall-mounted units will only have an on or off switch which will vary from brand to brand. Generally speaking, most, if not all, gas units will be adjustable. Some units even have a remote control if you decide to place them in a harder to reach area.
Warranty
A 1-year warranty against manufacturer defects is most common. Some brands like AZ Heaters, offer replacement parts and have full service centers along with technicians that can help the DIY-er.
Factors to Consider
Cost
You don't want to skimp on price with a patio heater. Keep in mind these are connected to a gas or electric power source and you don't want a part failing from cheap construction.
Cost typically weighs most heavily on the unit's output and it's construction. Simply said, the most durable units that have a higher heat output are going to cost more.  However, that doesn't mean you have to spend a lot to get a well-made heater.
For a standing unit, expect to pay in the $150 and up range. Table-top versions run less than $100, a decent wall-mounted unit will run between $300-$650, and hanging patio heaters less than $200.
Location and Clearance
It should go without saying, but patio heaters generate heat and too much heat in 1 place can cause a fire. The heater needs to have ample room for not only heat dispersion but ventilation of the gas burn-off.
Secondly, consider the heater falls over. It gets knocked over by a freak gust of wind or a ball hits it while it's turned on – where would it fall?
Power
A power source is only an issue for electric or natural gas-powered units. Patio heaters powered by a propane tank can be placed just about anywhere. As mentioned earlier, natural gas units need a line connected to them in order to operate and you will need to call a licensed plumber to do so.
With an electric unit you can sometimes just run an extension cord and plug them into your standard wall outlet. However, for some larger units that product greater amounts of heat, you'll need to have an electrician run a 240V line to the area.
Children and Pets
Folks with small children or pets may opt for a wall-mounted unit so it's out of the way. A table-top or floor unit could easily be accessed by a child or knocked over by a pet.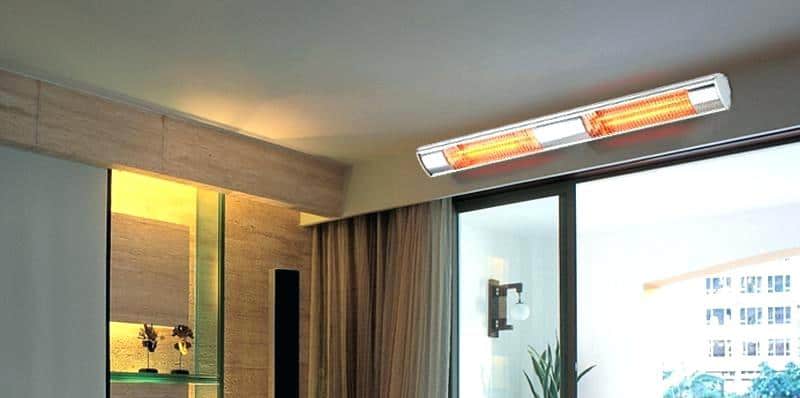 Weather / Climate and Wind Conditions
For standing or hanging units the weather is another concern. If possible it's best to take your heater into a garage or shed after each use to protect it from the elements.
For those living on a coastal city or an area where it's humid, you may opt for a stainless-steel model or one that is powder coated to protect it from rust. Additionally, a cover would be a good investment to further protect it from the rain and humidity.
Lastly, adding or tying canopy weights to a standing unit can aid in the heater's stability if the wind decides to pick up. Never use a patio heater when the wind speeds exceed 10MPH.
Ease of Use
Ever had trouble lighting a propane grill? The experience can be similar for some patio heaters since they use the same gas and are turned on the same way. This may make the one-time setup of a natural gas or high-output electrical unit worth it. Not to mention an electrical unit may include a remote for further ease of use.
BTUs and Watts
What Are BTUs?
You'll see BTUs advertised in the titles of both heaters and air conditioners. Without getting to technical, this is basically a standardized measurement of the unit's output. More BTUs = More Heat Production.
How Many BTUs Do I need?
This is a bit trickier to answer, since there are several factors in play. Assuming no wind, you'll want to know the size of the area, whether it's covered/partially enclosed, and how many people will be in that.
Many patio heaters advertise a certain range or circumference – this is typically inflated or at least stretched. For example, many of the standing units advertise a 10' radius. There are a lot of complaints that you can feel it at 10', but it's not going to keep you warm.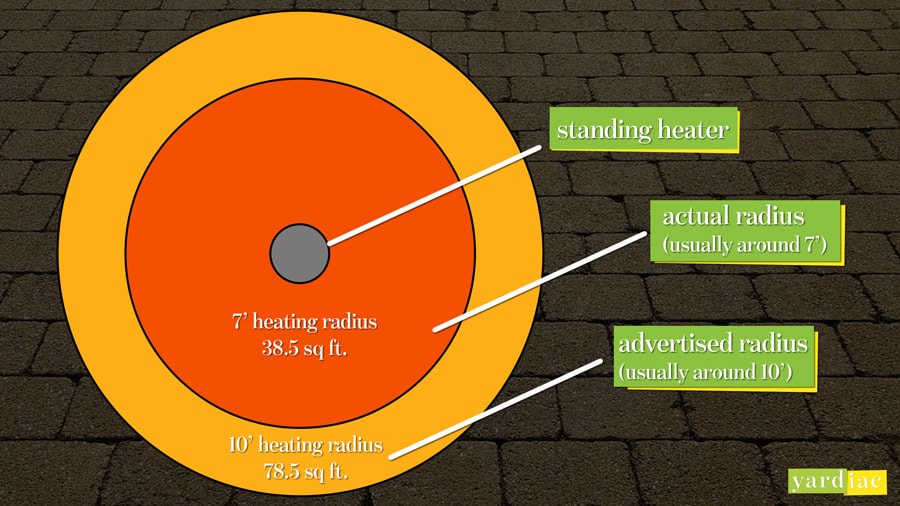 Take those ratings with a grain of salt and remember that heat rises. So, if you're in a semi-enclosed area like a gazebo, that will keep the area warmer than just an open patio.
In short, the BTUs won't matter a whole lot, but assume the actual radius is going to be 20%-35% less than the advertised radius.
What Are Watts?
Watts are a measurement of electricity and as so, are used exclusively on electric patio heaters. The higher the wattage, the more power it uses, and the larger the heat output. Electric heaters in the 1500W rage can still safely be plugged into a regular wall outlet, anything around the 2000W+ range or anything pulling more than 15Amps may need special wiring.
Be sure to consult your owner's manual and an electrician before installing. You do not want to overload a circuit.
How Many Watts Do I Need
The amount of power you need will, again, vary based on the area you're heating. Most electrical units are going to be wall-mounted and most wall mounts will be used in a semi-enclosed structure. Typically, you will be able to get more heat with fewer wall-mounted heaters vs. standing heaters.
For a 10'x10' semi-enclosed space a single 1500W-2000W wall-mounted patio heater will be enough.
Safety Considerations
Location
Keep your patio heater away from any fabrics, outdoor furniture, plants, or other flammable materials that may be nearby. You'll want to keep at least 3 feet of space on every side of the heater.
Be sure to only use the heater on a hard level surface like brick, concrete, or a solid wood deck.
Turn Off / Unhook after Use
Always be sure to turn off the heater after every use. If using a propane powered heater, fully turn off the gas and disconnect the tank from the rest of the unit.
Use a Cover
For standing units that aren't being stored indoors, a cover is an inexpensive and wise investment. It'll help to keep moisture away from the heater and any pests or other corrosion from causing damage.
Check for Damage or Corrosion
Speaking of damage or corrosion, be sure to check your unit before each use and especially when bringing it out for the first time at the start of the season. Check electrical cords and gas lines for dry rot. Ensure all the connections are secure and no pests have damaged any of the heating elements.
Double check that all the burner passages and air circulation passages are clear.
Use Additional Weight
If you plan on purchasing a standing unit, it's highly recommended to purchase additional weights to help secure the unit. You can't predict the wind or when you children are going to throw an errant pass. Whether it's a few more cinderblocks holding the base or canopy weights wrapped around it, the more the better.
Cleaning and Maintenance
Stainless Steel Cleaner
If you purchased a unit with a stainless steel exterior, then it only makes sense to use stainless steel cleaner. Using a paper towel or terry cloth simply wipe the exterior of the heater until it's clean. Do not use let any of the cleaner come in contact with the heating element.
Soapy Water
For all other exteriors, some warm soapy water will do the trick. Again, make sure to not let any of it come in contact with the heating element.
Compressed Air
If it's the start of the season or some dusty and debris have found their way into the heater, use some compressed air to blow it out. This is especially useful if bugs or leaves have found their way into the crevices around the heating element. No one wants to smell burnt bugs.
Patio Heater vs. Fire Pit vs. Chiminea
The mercury is dropping, and you know you want to stay outside longer, but can't decide the best way to stay warm? While it's tough to beat a great bonfire or sitting around a chiminea, patio heaters offer some big advantages.
Cleaner
No wood to store, no wood to move around, and no ashes to dispose of. Never worry about critters making a home in the wood pile or having to clean up bark, other debris that can gather near your pit or chiminea.
No Smoke, No Smell
You could argue the smell is a plus, but that's not usually the case afterwards. Propane and natural gas burn cleanly, so you won't have worry about showering after the fire. Plus you'll never need to worry about the wind blowing the smoke the wrong way and hurting your eyes.
Easy to Start
Forgot to pick up a fire starter log? Is the wood too wet? You lost another lighter? We've all been there and there's nothing more disappointing than the most crucial part of a bonfire. With a patio heater all you need is turn gas on and light, or with an electrical unit, just flick a switch!
FAQs
Patio Heater Commonly Asked Questions
Can a patio heater be used indoors? In a garage? Under a roof? In a gazebo?
While natural gas and propane patio heaters burn cleanly, you will want to have adequate ventilation. Although small, propane and natural gas heaters produce Carbon Monoxide, a deadly gas. A mostly-open structure like a gazebo would be fine, although a garage or other enclosed space would not be. Never use a patio heater indoors and always make sure there is adequate space and ventilation around the heater.
Can a patio heater get wet?
Most patio heaters are built to withstand some moisture and are 'water-resistant' although this will vary from model to model – check your owner's manual. Do not leave you patio heater in an exposed area where it can get rained on and consider purchasing a cover if it will be outside for extended periods of time.
What patio heater is best?
The best patio heaters are listed at the top of this post. You will want to take into consideration your unique needs before following through with a purchase.
How does a patio heater thermocouple work?
A thermocouple in a patio heater is a device that allows the gas switch to send gas to the burner in your propane or natural gas heater. It is an electrical safety mechanism that opens the main gas line once it detects the pilot light is lit.
If your patio heater won't start, it's possible your thermocouple could have gone bad. If it is the thermocouple, it means it is not sending the signal that allows the rest of the gas to flow to the pilot light to be lit.
How many patio heaters do I need?
For most people a single, standing patio heater will be enough to cover a 8'x8' to 10'x10' area. The number of people, ambient temperature, and other factors will affect the number of patio heaters you'll need. Read more above to learn more.
How much clearance for a patio heater?
Generally patio heaters should have at least 3' of space or more on every side and top and bottom. Always consult the owner's manual for the most accurate info.
Will a patio heater melt snow?
A patio heater can melt snow, although you should clear off any snow in, on, or around the unit before use. It is not recommended to operate a patio heater in temperatures below 40 degrees Fahrenheit.
How long will a patio heater run?
For a 20lb propane tank, most patio heaters will last around 9-15 hours depending on the settings. Never let a patio heater run consistently for more than 2-3 hours.